For salon and spa owners, having an online presence is a must. You can advertise your services, show off those stunning photos of your space, and even allow guests to book their appointments all through your website. No matter if you have a hair salon, a day spa, or another type of service-based salon business like a tattoo parlor, TemplateMonster offers the best WordPress themes for your enterprise. With our templates, you don't have to be an expert in coding and web design to have a beautiful website that conveys the feeling of peace, beauty, and wellness.
If you want to promote your brand, look for the themes that offer customization options, so you can set just the right colors and typography to match. If you want to let the customers book online, look for the themes that include booking plug-ins to create the perfect salon WordPress theme. You can even get the themes that include blog formatting so you can share style and wellness tips, as well as keep your clients up-to-date with your current services and prices. Many of our templates also have built-in features that allow you to easily set up a shop; WooCommerce plug-ins can have you selling salon supplies in no time.
TemplateMonster has the best in WordPress themes designed specifically for salons and the spa industry. Read on to see the top themes for 2017.
Espero – Massage Salon Responsive WordPress Theme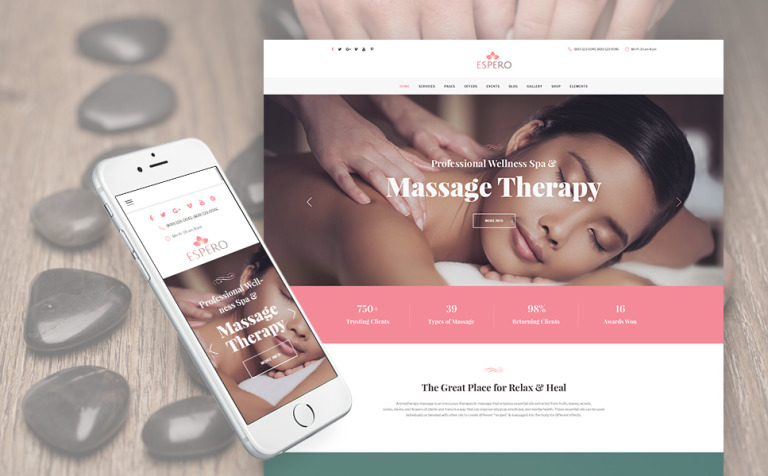 Are you looking for an all-encompassing design for your massage salon? Look no further than the Espero Massage Salon WordPress theme. The theme looks great, is supported by Cherry Framework and includes a huge package of plugins that includes Team Members, Search, and Sidebars, all of which help the functionality of your site.
With the Espero theme, clients can book appointments directly through your website, and the responsive design makes this possible even on small screens like smartphones. The content modules make it easy to add all types of content to your pages, such as buttons, contact forms, and images.
If you want different ways of displaying content, take advantage of the custom widgets that add to a user's experience. Widgets include a post carousel, calendar, and social media, all of which add to your online presence. In addition, if you want to make changes to the design, you can use the Live Customizer to see changes immediately without having to reload the page.
Jericho – Barber Shop Modern WordPress Theme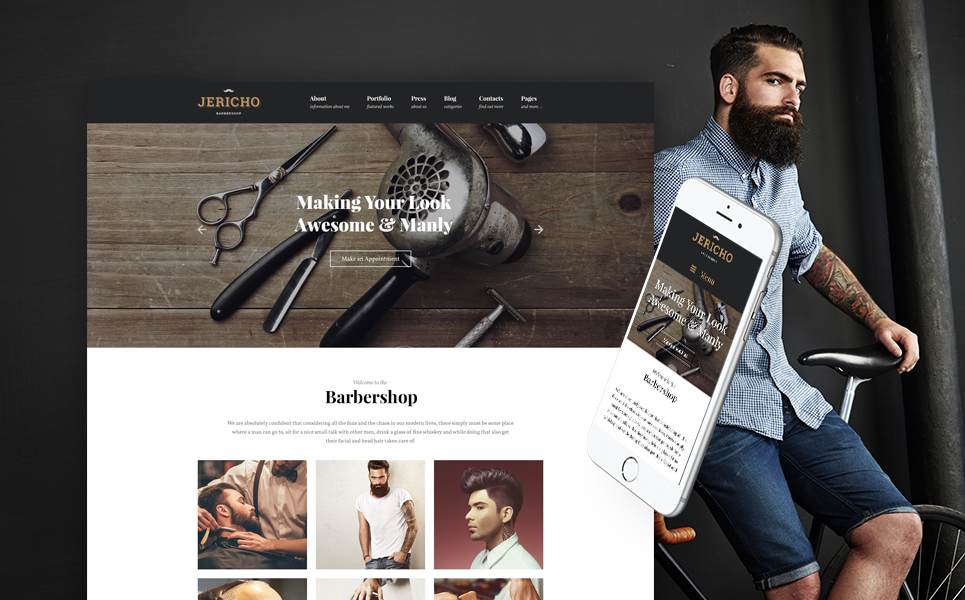 If you think salon WordPress themes are only for beauty salons and spas, think again. The Jericho Barber Shop Modern WordPress theme is stylish and masculine with a black, white, and tan color scheme. This would be a great option for men's style and fashion blogs as well. Within just a short amount of time, you'll have a beautiful, hip, functional website.
The modern and trendy template includes a blog, contact form, and drop-down menus that display your team members and services. The built-in gallery has some flexibility in terms of layout so you can creatively display your best work.
You don't have to keep the default setting; there is a lot for you to customize. You can easily change the color schemes—there are six blog layout options and three sidebar positions, in addition to the header and footer settings. Jericho is flexible and versatile.
Durand – Beauty & Hair Salon WordPress Theme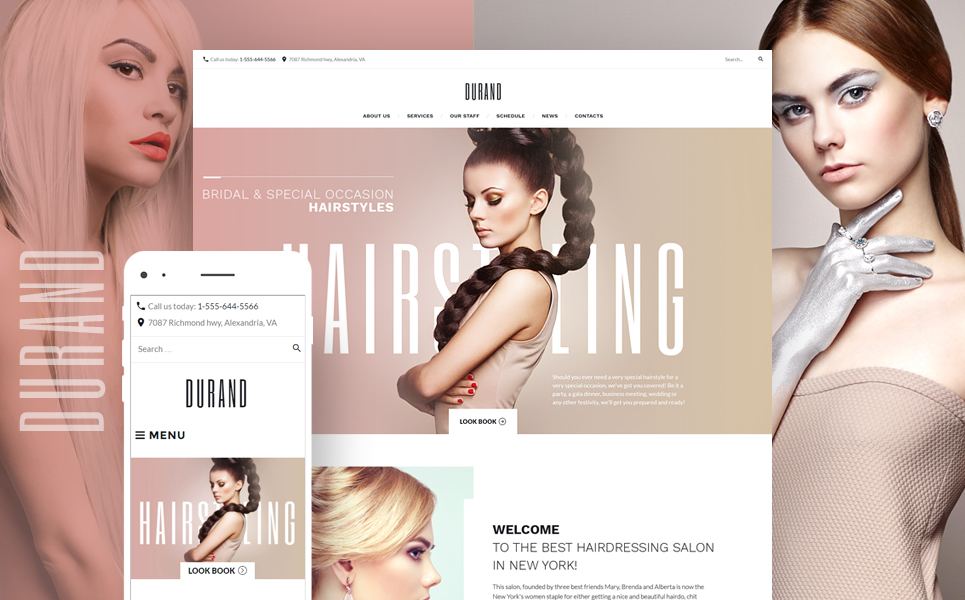 Keep things trendy with this pastel-hued template for beauty salons. The Durand Beauty & Hair Salon WordPress theme is stylish and modern and will allow you to share your portfolio and salon images easily. The feminine look makes it perfect for a salon for women.
There is a built-in contact form so clients can reach out to you to schedule appointments, and you get the appointment manager plugin that helps you keep your appointments organized. In a similar plugin, the Timetable plugin, you can set your daily schedules and even color code your appointments by service.
As is the case with most of TemplateMonster's offerings, this theme is fully responsive and comes with a clean, well-documented code. If you get stuck, 24/7 technical support is available. The theme is SEO-friendly and optimized to coordinate with Google metrics so you'll move up in the search engine rankings.
Beauty Spa & Massage Salon Responsive WordPress Theme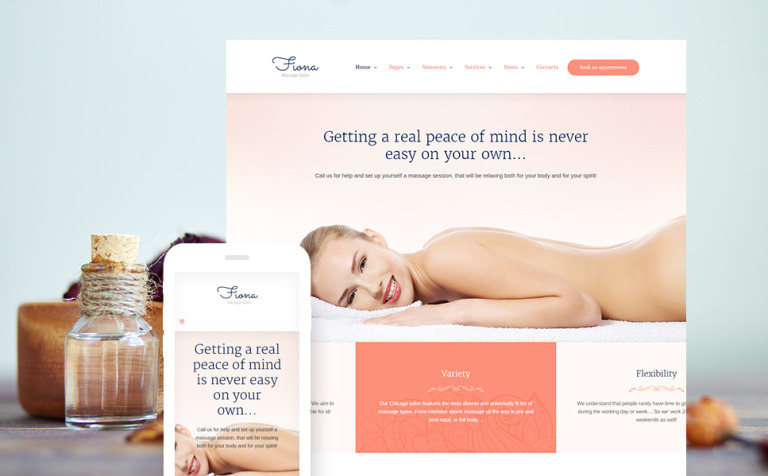 We think the Beauty Spa & Massage Salon Responsive WordPress theme is one of the best all-around and is designed specifically for businesses that specialize in spa services and bodywork. The theme features a lot of white space, which really gives your content room to shine, and the circular icons add a unique touch.
The drop-down menu gives you the opportunity to seamlessly link to other pages, such as your team members or services. The color scheme conveys a feeling of peace and wellness, but using thorough documentation, you can make adjustments to fit your branding with ease.
In addition to being responsive and well-documented, the theme is SEO-friendly and has Google Fonts integration. If you want to make changes to this aesthetically pleasing design, you can use the Live Customizer to see changes in real time without having to reload the page.
Bloomie – Skin Care & Beauty Services Salon Responsive WordPress Theme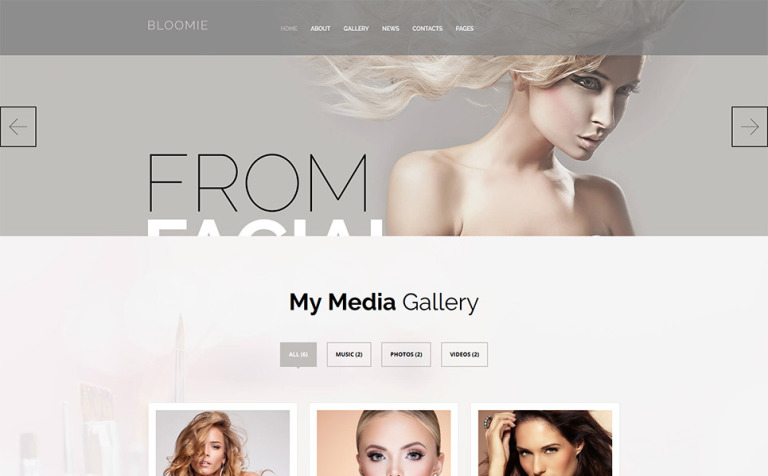 If you have a beauty salon, the Bloomie Skin Care & Beauty Services Salon Responsive WordPress theme is the perfect choice. The theme is designed with the needs of the beauty salon in mind, and if you go with Bloomie, you'll have a great online presence in no time.
You'll be impressed by the gallery functions that allow you to incorporate music and video, and with the gallery, you have the ability to change the layout to suit your needs. As the name suggests, the template is completely responsive, meaning it will adjust to fit smaller screens so all of your clients can have the same experience, whether on a phone, tablet, or desktop.
The theme has a contact form, and a form that lets your visitors sign up for your newsletter. In addition, there is a blog page where you can share beauty and skin care tips and tricks.
Therapino – Physical Therapy WordPress Theme
Clean, sleek, and modern, the Therapino Physical Therapy WordPress theme has a great design that perfectly conveys the services and needs of a physical therapist or physical therapy group. You're guaranteed a design that meets the needs of the modern online business. The theme features a testimonials section, as well as a services page that advertises what you have to offer.
One of Therapino's unique features is the appointment manager plugin. Not only can clients schedule appointments, but it helps you organize your schedule. Other web forms that come with the theme include a contact form and user registration. The responsive design guarantees that anyone can easily view your site, even on small screens. In addition, the theme comes well documented, making the installation process go smoothly. If you need help, there is always 24-hour technical support.
Use TemplateMonster's Power drag-and-drop page builder to build pages easily in a variety of page layouts. In case you get stuck in the installation process, remember that the theme is well documented, making installation a breeze.
Stephania – Beauty Salon & Skin Care WordPress Theme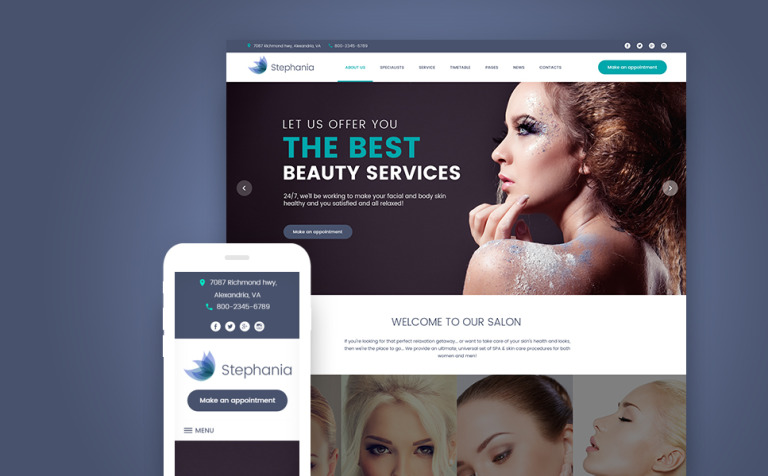 The Stephania Beauty Salon & Skin Care WordPress theme has a beautiful one-page design with a stunning Parallax scrolling effect that's perfect for salons and aestheticians. The template is supported by the Cherry framework, which includes plugins such as Cherry Search, Team Members, and Cherry Services. Cherry Search makes searching seamless, is compatible with WooCommerce and is based on AJAX technology. Cherry Services is a plugin that allows you to create customizable services with only a few clicks.
The theme includes a responsive gallery that's perfect for showing off your salon, your services, and your team members. Among the many features are a testimonials section and a blog for sharing skin care techniques, a Google maps plugin so customers know your location, and a booking form for clients to schedule their next appointment.
As with many TemplateMonster themes, there are multiple page layout options, a drag-and-drop Power Page Builder, and content modules that allow you add different content types to your page.
Aphrodite – Beauty & Spa Salon Responsive WordPress Theme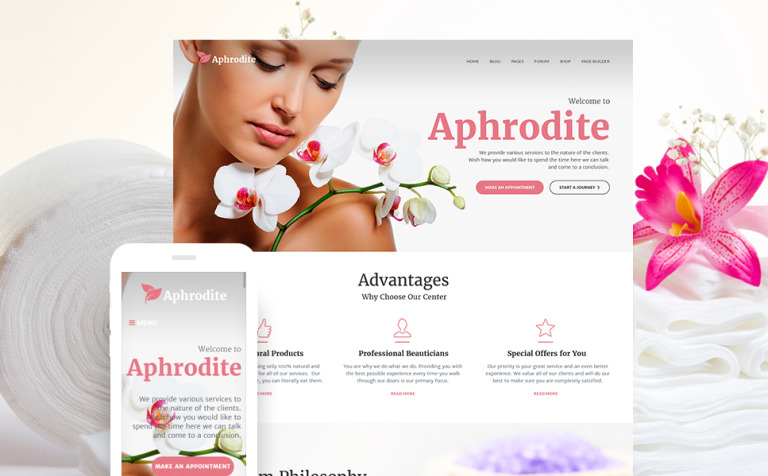 Sleek and feminine, the Aphrodite Beauty & Spa Salon Responsive WordPress theme is, as you might expect from the name, designed specifically for beauty salons and day spas. The theme is 100% responsive, meaning your clients will have the same viewing experience on any screen size, from desktops to smartphones.
You'll find the drag-and-drop page builder intuitive and easy to use, and there are built-in features made just for the beauty and spa industry, such as testimonials and a team member page. You can add a booking form that lets clients easily schedule their next appointment and a website slider helps you show off services and promotions. The blog feature makes it easy to share beauty secrets and salon specials, and for customization, you have over 500+ Google web fonts, as well as multiple header and footer options and multiple page layouts.
The template is well-documented in case you need help navigating the theme, and if you need additional support, TemplateMonster is always available.
RedInk – Tattoo Salon WordPress Theme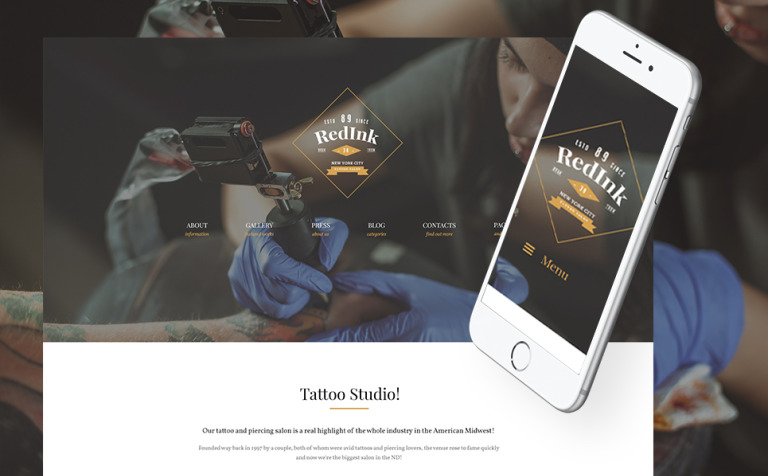 Ready for a fully customizable, fully responsive template for your tattoo parlor? Look no further than the RedInk Tattoo Salon WordPress theme. The theme has pre-designed sections for Services, Gallery, Blog, and more. There's even a booking form built in so clients can easily set up an appointment.
One of the strengths of the RedInk theme is the ability to show off large images of previous work, all of which allow others to comment on your artwork. For customization options, there are multiple page layout options to create a diverse look and custom widgets that allow you to have different ways to display your content, such as Simple Slider and a post carousel. The Live Customizer lets you make design changes that can be previewed without reloading the page.
As always, with TemplateMonster, you get the best technical support 24/7, and the drag-and-drop Power Page Builder makes it easy to design your page layouts without knowing a single line of code.
Creative Tattoo WordPress Theme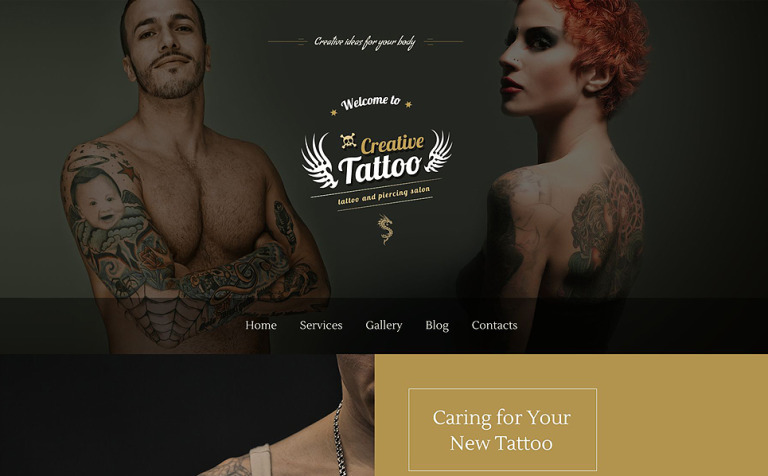 Showing off your tattoo salon's beautiful artwork has never been easier than with the Creative Tattoo WordPress theme. First of all, the theme is 100% responsive, meaning your site reconfigures itself for smaller screens like smartphones and tablets so it looks great on any screen size.
You'll be impressed by the layout, which includes circular thumbnails, a full-width header, and split content blocks. Thanks to the Cherry Framework, customization is an easy task, and you don't have to dig through piles of code to do it. In addition, you'll love the trendy Parallax scrolling and the Lazy Load effect, which makes loading the site content more efficient.
With the Creative Tattoo theme, a gallery is built in so you can easily show off your artists' work, and there is also a ready-made blog section so you can keep clients abreast of what's new in your shop and in the tattoo world.
Conclusion
So those are our top 10 favorite salon WordPress themes. If you offer beauty or aesthetic services, you'll find one that will be perfect to build your online presence, from spas to tattoo parlors.
TemplateMonster offers some of the best perks for salon WordPress templates, including 100% responsive design, which ensures that all of your visitors can see your website clearly, even on small screens. All of our templates are under the GPL, which is a free software license that allows you to make alterations. If you need assistance, the code is clear and well-documented, which makes it easy to follow the installation process. And as always, you get free 24-hour technical support if you get stuck.
All of our templates are carefully designed to match modern trends, making your site look up-to-date. There are multiple layout options and a variety of content modules that make it simple to create a customized look. The WordPress Live Customizer allows you to make changes and see them live without having to reload the page, which makes the editing process painless.
In addition, all of our templates are SEO-friendly, which will put you higher up in search results, and the drag-and-drop page builder will have you putting together dynamic pages in just a few clicks.
Do you have experience using any of these themes? Do you know of a theme we should have included? Leave us a comment in the comment section below.