Black Friday is once again upon us. Every year the product offerings bring greater value to web designers, and 2019 is no different. We've been checking out Black Friday deals for the past decade and beyond and we've been able to provide designers with some pretty powerful and sophisticated web design tools and great savings each of those years.
And once again, we're happy to be able to share our expertise and insights with you. Many of these Black Friday offerings extend through Cyber Monday. Several are already in effect. We've passed this information along to you, but as you visit the various product websites you might want to double-check.
Let's see some of the top offerings this year has in store.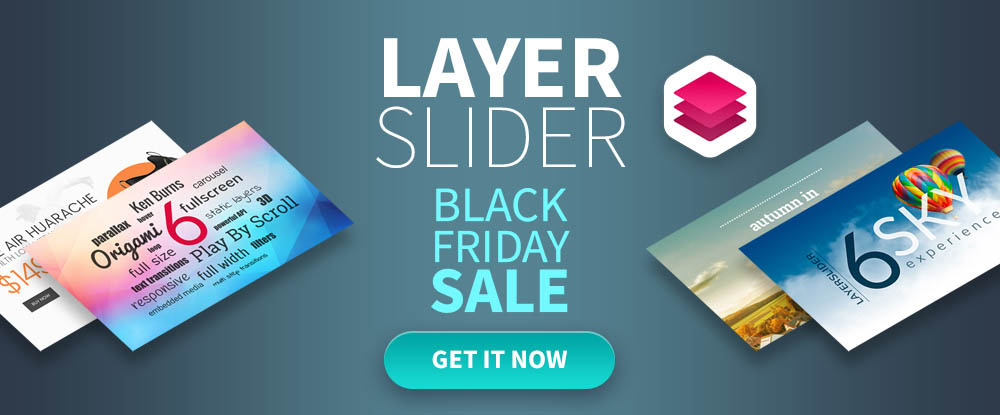 LayerSlider is more than a premium slider plugin – much more. You can use this premium multipurpose animation platform to create stunning sliders, mind-boggling slideshows, animated content blocks, and more; including a ready-to-go portfolio website complete with image galleries, or virtually any other website type.
LayerSlider's drag and drop visual editor is not only easy to use; it eliminates any need for coding or special technical or design skills. The editor features live preview, ruler guides, undo-redo, and keyboard shortcuts. It even features a Photoshop-like image editor.
While LayerSlider is easy to use, there's plenty of detailed documentation to help you along, plus you can expect quality support from a dedicated help team.
LayerSlider is developer-friendly as well.
You also have a variety of versatile layout options to work from and you can expect your ultimate creations to be SEO friendly and retina and localization ready.
Black Friday Discount: You'll receive 40% OFF with reduced pricing from 25th November through 2nd December (Cyber Monday).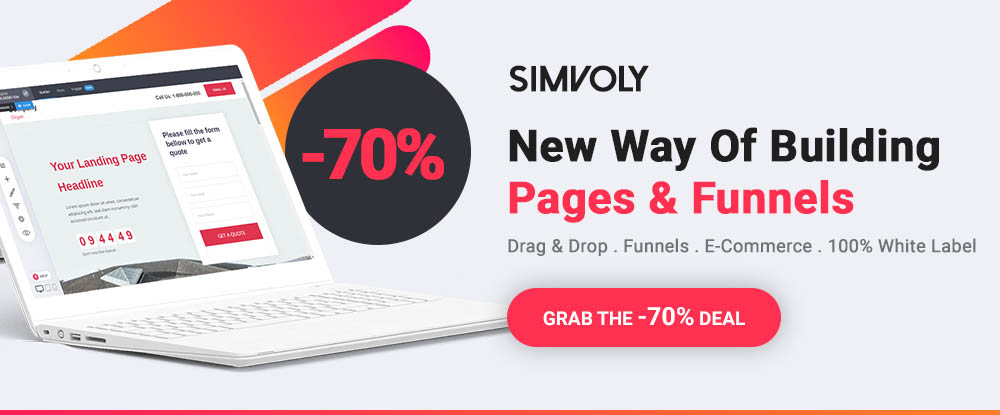 A website alone isn't necessarily enough to guarantee the amount of sales you need to make a go of it. It usually takes a well-designed sales funnel to get the job done; although building an effective one can take lots of time and energy.
Simvoly offers a better, much faster way. If the thought of creating a highly effective lead generation and sales funnel in minutes for yourself or for a client appeals to you, consider the following.
You can pick from a variety of stunning designs to create your funnel. The selection of customizable templates addresses every stage in the process from lead generation and lead magnet to an online store.
If you're relatively new to the conversion and sales funnel concept, the package includes 18 videos to bring you up to date and lead you through the design process; and the Simvoly team is always ready to provide support if needed.
The Black Friday Discount is 70% off on all plans for the first 3 or 6 months and is available until Tuesday, December 3rd.
Building a successful website boils down to two key things: 1) a vision of what you want, and 2), a tool that will get the job done – in this case, the Brizy Website Cloud Builder. You don't have to worry about coding, or even about brushing up on any technical skills.
Brizy is FREE. But please note that you'll need to open an account if you plan to save what you create. The package includes 150 customizable page layouts, 700 design blocks, and 45 popups, and everything is optimized for mobile use. In addition to the free plan, Brizy offers a pair of paid plans, either of which can be yours at a Black Friday 40% discount. Go to the site, pick your plan, and use code BF40OFF. The discount is good from 29 Nov through 2 December.
Note: You'll gain access to the Brizy PRO WordPress plugin with your Brizy Cloud purchase.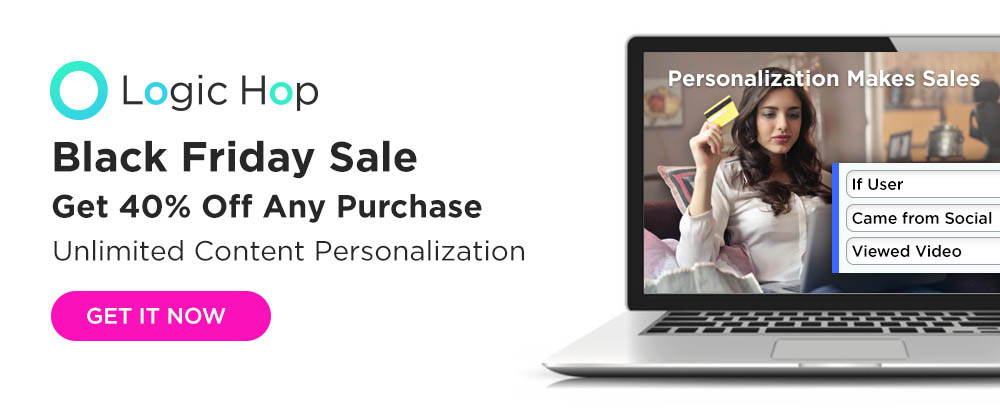 With this powerful tool you can personalize your WordPress website to display the correct content at the right time to the right person and geolocation. You could refer to it as "online marketing made easy".
While Logic Hop is quite affordable to begin with, you can get this tool at a 40% Black Friday discount when using the CYBER2019 coupon code.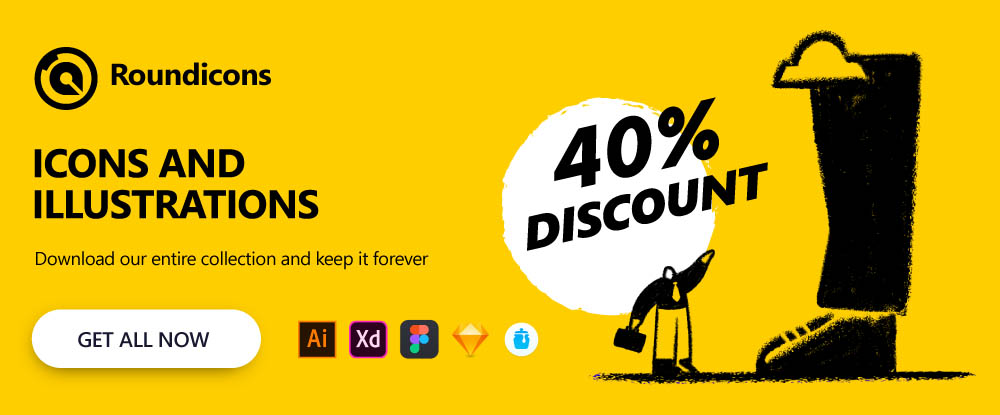 The Round Icons bundle normally sells for $99 and the price is scheduled to increase to $149 in January. Take advantage of the Black Friday sale and download all 40,000 icons and images for $59, a 40% discount. Visit the site to see the huge variety of icons and images, use coupon code BLACKFRIDAY, and your set for life. The discount is in effect from 24 November through 5 December.
Here's a Black Friday offer that's definitely worth a close look. TheGem is one of the most complete web design toolboxes on the market, if not the most complete. Its collection of trendy creative templates and 90+ prebuilt websites in combination with the powerful WPBakery page builder provides all the flexibility you'll ever need.
The complete TheGem 4.0 package can be yours at a 50% Black Friday discount.
If you don't want to be tied to a specific design platform, you want to be able to host your site anywhere while having total control over the design/build of your site from start to finish you might consider investing in an offline builder like Mobirise.
Everything is drag and drop, you can get an online store up and running in no time at all, and your site will be crazy-fast and 100% mobile-friendly. Mobirise is free. The Mobirise Website Builder Kit is not, but you can get it at a 94% discount.
8. Stockfresh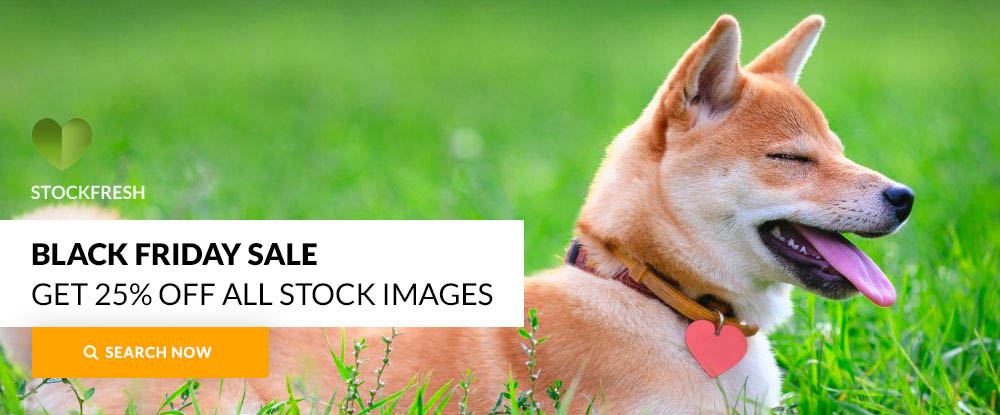 There's no need to waste time searching the web for just the right stock photo, vector, or high-quality graphic image when you can easily find what you're looking for in the Stockfresh inventory of millions of images.
Everything is high quality and affordably priced, whether you want animals, business, nature, or anything beyond or in between. You can purchase your own Stockfresh plan at a 25% discount on Black Friday.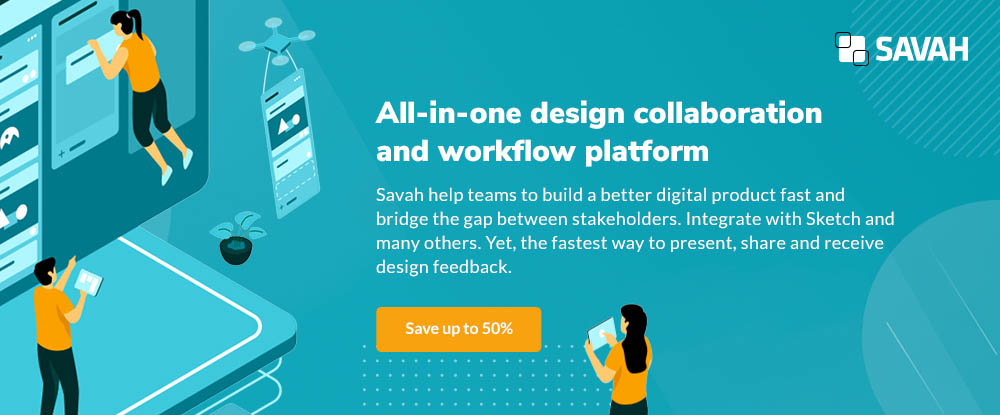 Savah is an all-in-one design, collaboration, and workflow platform you can use to build better products faster and more efficiently by bridging the gap between your team and your stakeholders, and improving collaboration, reviews, and feedback among the team itself. Savah also helps you to better manage your project workflows, plus enabling you to sync with Box, Dropbox, and Google Drive. You can sign up for an annual plan at a 50% discount through 15 December.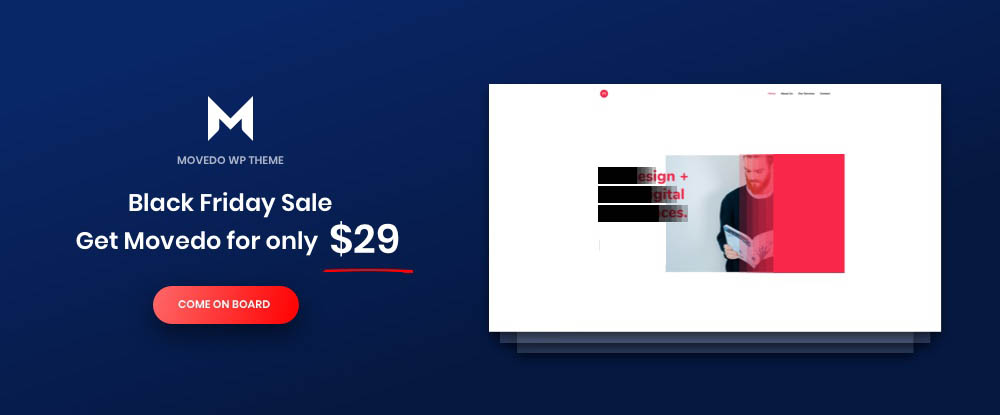 The sky is not the limit as to what you can build with Movedo. This top-rated author created premium theme offers a host of exciting features that you won't find elsewhere. This clean, modern theme is extremely flexible, and it can be yours for $29; 50% off the regular price and a genuine bargain.
Conclusion
Black Friday 2019 is just around the corner. If previous Black Friday's are any indication, we expect it will easily be the biggest online shopping weekend of the year. Some retailers, in fact, are launching their Black Friday deals earlier than normal.
Black Friday offers many opportunities to buy and save on all your holiday gifts, including gifts to yourself of course. You can get your shopping done without having to put up with the last-minute rush and the bad weather that often seems to accompany it.