There's a lot of hype around cryptocurrencies these days. Popular cryptosystems, such as Bitcoin, Litecoin and Ethereum, have gathered momentum and preoccupy the minds across the globe. No matter, whether you're into populating your own cryptocurrency, providing conversion services, mining, or just simply blogging on it, starting your own cryptocurrency website is an indispensable part of making it to the top. We're here to help you jumpstart your insider web presence with 10+ best cryptocurrency WordPress themes 2018.
What's A Firesure Way To Launch A Cryptocurrency Website?
Starting a cryptocurrency website in 2018 doesn't take a rocket scientist or cyber-genius. However, you've got to take the right way to your second-to-none web presence. This way is the shortest possible. It yields a high-converting, SEO-optimized website within a couple of weeks or even days. At the same time, it doesn't cost you a fortune and saves you from breaking the bank. Intrigued?
The most time- and cost-effective way to start a cryptocurrency site takes the following steps:
Downloading and installing WordPress engine. Being the world's leading CMS, WordPress is comprehensive, usable and flexible.
Purchasing and installing one of the modern premium cryptocurrency WordPress themes. To get a firm grasp on modern audience, go for one of the cryptocurrency templates in particular.
Installing cryptocurrency-related plugins available on WordPress plugin market. As cryptocurrency niche tops the bill these years, you'll find a plethora of extensions that provide you with the functionality you need.
As you can see, there's nothing that makes starting a cutting-edge cryptocurrency blog too complicated. You just have to choose the right template. No doubt, there's a couple of factors to consider in this regard as well.
Cryptocurrency Theme Must-haves Checklist
When choosing your cryptocurrency template, there's a number of factors to consider. The most important of them are listed below:
UI and UX. First of all, the theme of your choice should have a clean and appealing interface. At the same time, you should be able to navigate it and find all you need with flying colors. The number of pre-built extensions also counts toward UX, so watch out for the theme that brings you a value pack of nice-to-have extras.
Responsiveness. Secondly, the template should fit any form factor and adapt to any screen resolution seamlessly.
Customization ease. Your theme should have an advanced customization kit. For example, having a WYSIWYG builder on board is what lets you step up your game and finalize the project in record time.
Clean code and SEO optimization. Getting a high-quality template is a great way to ensure that its coding and core are invincible. What's more, if your template is additionally tweaked for SEO, you'll enjoy higher discoverability and better position on SERPs.
All in all, choosing the top cryptocurrency template for your website is not as hard as you may think. With our list of best matches, it's even simpler. Check out the templates provided below. You just can't get it wrong if you go for one of them!
cCurrency: Terrific Cryptocurrency WordPress Theme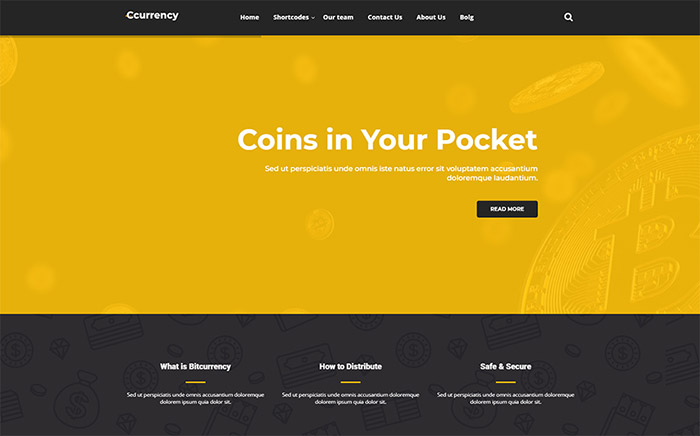 Are you looking for a statement-making WordPress theme for cryptocurrency web presence? You'll be more than impressed by cCurrency that premiered in the market this spring. This template is built to convert new site guests into your clients with its fresh and energizing color palette and with enticing, data-driven layouts. It's easy to adjust cCurrency to your needs thanks to such extensions as WPBaker Page Editor, Slider Revolution and 30 custom-made page blocks to diversify the UI of your website. Live Demo is also there, just go check it out!
Cryplix: WordPress Template for Bitcoin Blog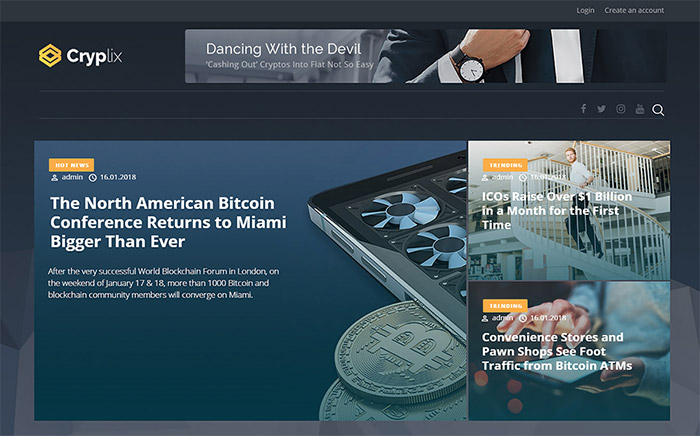 Cryplix is the template that has a lot on top of commonplace functionality. It features a number of pre-built niche-related extensions, e.g. Bitcoin Calculator, Market Price Tracking tables and graphs, etc. What's more, it features a number of UX-oriented plugins, as well as rich social media integration potential with Instagram feed widget, 'Subscribe' and social share buttons. In addition to this, Cryplix is not just a blog theme. You're welcome to turn it into an e-store with the simple and straightforward Ecwid.
CryptoHub: Trendsetting Cryptocurrency WordPress Website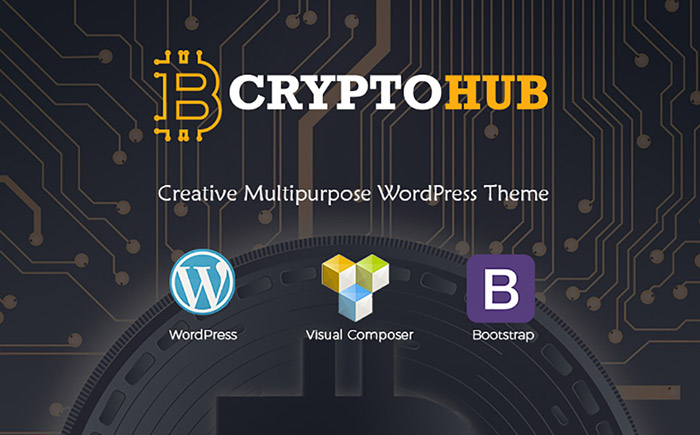 No doubt, CryptoHub theme is all the rage with its animated, microinteractions-enhanced homepage. By default, the theme brings you powerful niche features that let you handily display price fluctuations and exemplify dynamics in the market. Editing this theme on the fly is the dream-come-true thanks to the unparalleled Visual Composer, which lets you drag-n-drop blocks around the page and resize them up to your liking. What's more, the Composer encourages creative experimentation with your site's design due to seamless integration of time-tested Bootstrap 4 framework.
Rebyte: Cryptocurrency Multihome WordPress Site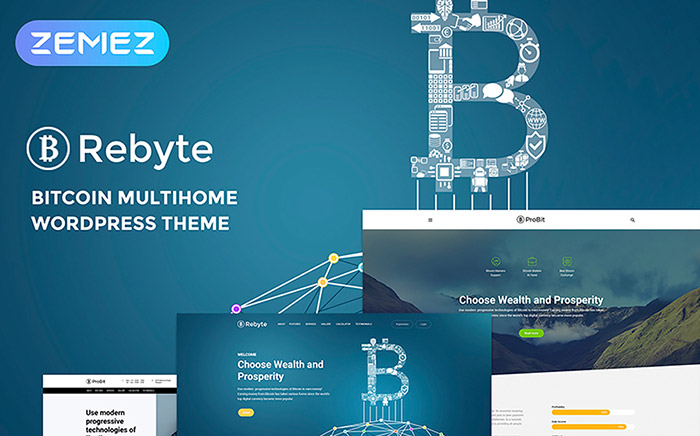 Rebyte is a classy cryptocurrency template in a number of ways. It's craftily designed based on the complementary color scheme of white blue and light orange. The theme's homepage is devised in easy-to-follow manner, gradually driving your site guests to conversion. Customization simplicity is an undeniable advantage of this theme, with as many as 2 handy editors coming with the template. One of them, Elementor, lets you customize pages with simple drag-n-drop, while the second, Live Customizer, is designed for adjusting theme display options on the go. Take advantage of both of the editors to devise a site that matches your professional vision in next to no time.
Bitcrypt: Crypto & Bitcoin WordPress Design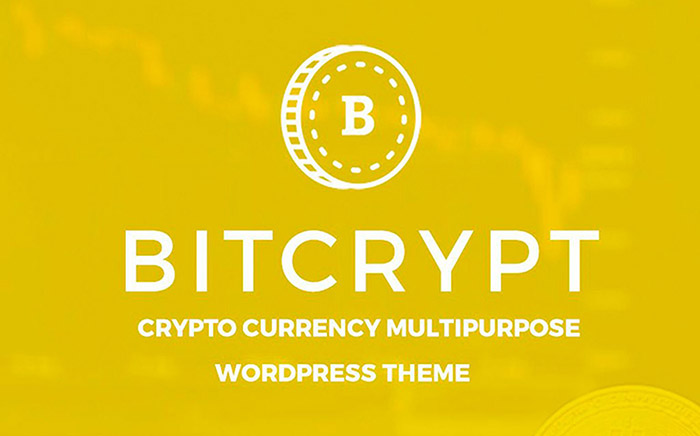 Do you want your cryptocurrency web presence to be legendary? Let your ambitions incarnate with Bitcrypt, a new-age template with inimitable UI and well-optimized UX. Built by top-of-the-line experts, this theme brings you a set of highly appealing well-paced webpages, enhanced with LazyLoad fun animations and a number of ways to present data. So, take advantage of different content display types that Bitcrypt brings you, including post grids and masonries, hover boxes, media grids, pie charts, animated headers, price listings and way more.
BitUnit: Feature-rich Bitcoin WordPress Template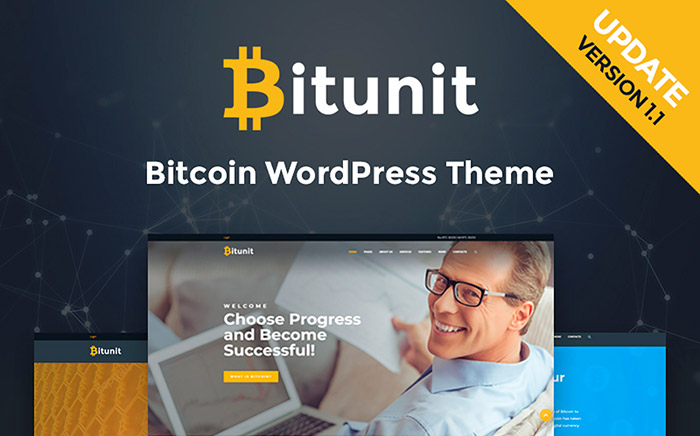 BitUnit template has literally all you need to establish a thriving web presence for a buy-and-sell cryptocurrency website. The theme's UI is devised with the help of Elementor builder that brings you a prolific collection of modules to display content, as well as diverse to-the-point widgets. It comes without saying that BitUnit template is fully responsive and optimized to boost conversion on mobile devices. In addition to this, the template is supported with lifetime updates, already enjoying its 1.1 version.
TradeBit: Bitcoin Trade WordPress Theme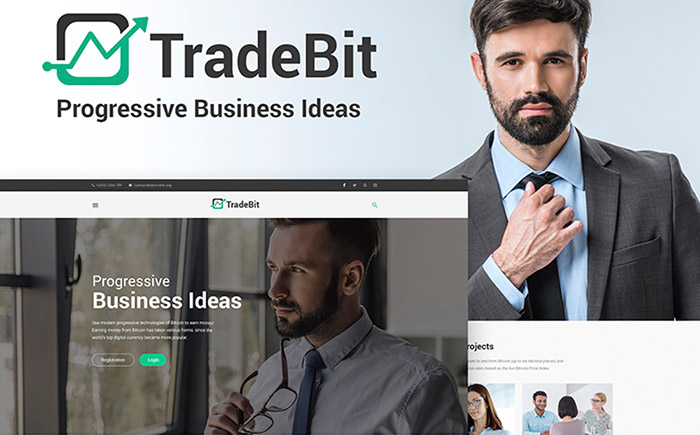 Take the best of classic finance WordPress themes and marry it into the forward-looking crypto-trade functionality and you get TradeBit theme that's built to nudge completion aside. Immersive backgrounds, well-balanced negative space, clear-cut and well-structured layouts and visual grandeur achieved with presenting data visually, all this makes TradeBit superior in many ways to the majority of its contemporary alternatives. Even Elementor doesn't come in this theme all on its own. It's enhanced with JetElements pack and Booked Appointment plugin.
TopMiner: Outstanding Cryptocurrency WordPress Template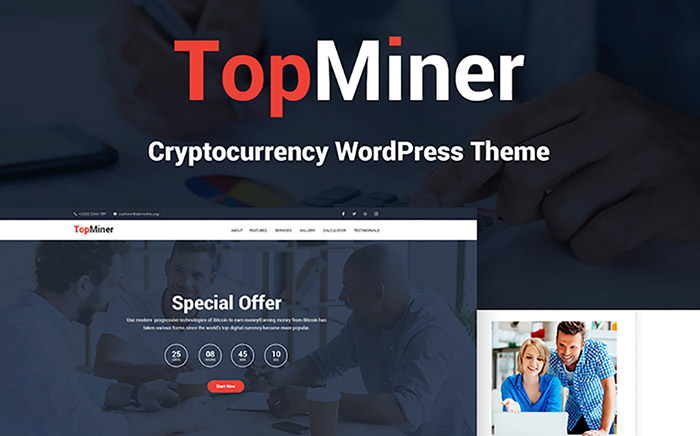 TopMiner's modern and business-like design becomes a true visual treat that drives conversions with red, orange and yellow highlights. This experts-made template boasts of its quality, being armored with invincible valid HTML5 and CSS2 coding. TopMiner takes your site to new height with its ample package of premium plugins and features. In this way, the template gives you a shortcut to building an out-of-the-ordinary website that matches any personal and commercial goals.
ChainBit: Cryptocurrency News WordPress Website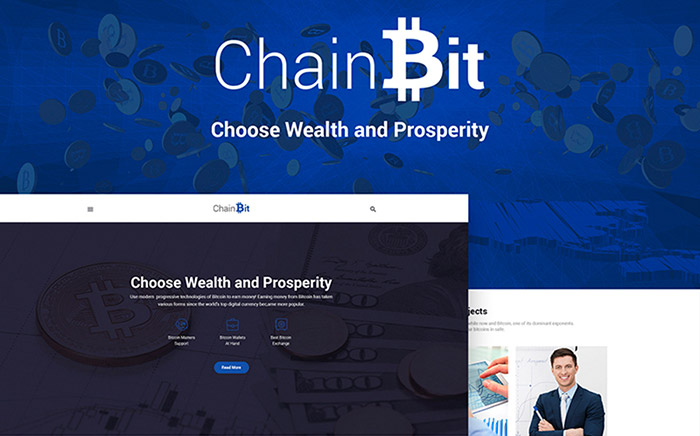 Opt for success and prosperity with ChainBit theme, designed by web design aces for streamlined creation of your website. Different headers and footers, MegaMenu, multiple pre-made interface blocks and a pack of bonus images, are all meant to jumpstart unrestrained customization of the site. In addition to this, installing this theme is a walk in the park that takes one click and a couple of minutes. Undoubtedly, never-failing 24/7 support and easy-to-follow step-by-step documentation also come with the theme.
MineBit: Bitcoin/Cryptocurrency WordPress Site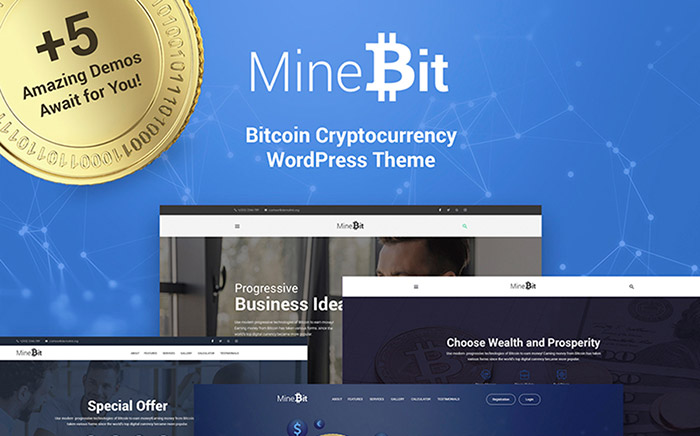 Are you after having choice and want to see what's the design that works better in your particular case? Then, MineBit is designed for you, as it brings you 5 ready-made homepage skins, each styled to impress in a different way. Not only the desktop, but also the smartphone users are bound to fancy your site from now on, as this responsive and crossbrowser compatible theme is built with mobile experience perfection in mind. What's more, it skillfully presents the content of different types with pie charts, tables, graphs, timelines, accordions, etc.
BitRate: Bitcoin Business WordPress Theme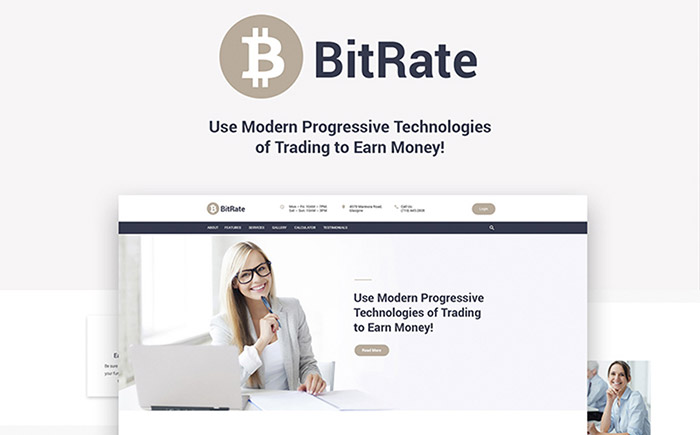 Want to differentiate yourself from other cryptocurrency businesses and claim for superiority? BitRate theme's minimalism and pixel-perfect UI let you do this without painstaking efforts on your part. From functionality standpoint, BitRate has it all smooth and shining. A pre-built visual editor, diverse content modules, sidebar manager and dozens of widgets, niche functionality that impresses - all this makes BitRate perfect inside-out. In case you have any concerns working on your site, an ardent support team will readily give a helping hand.
BitUnit Lite: Free Bitcoin WordPress Template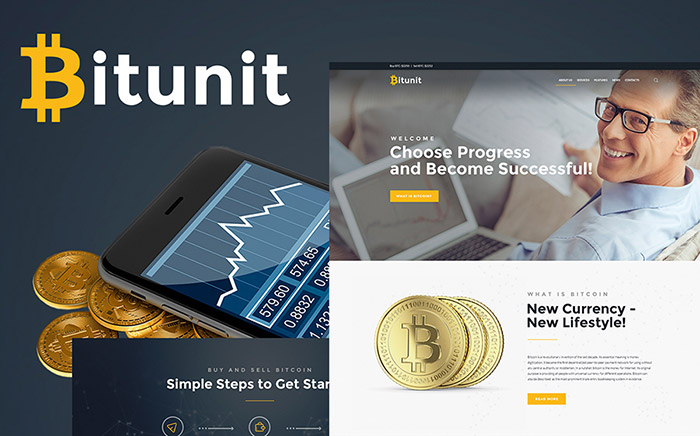 Still worried you won't make it? Still in doubt that cryptocurrency WordPress themes are just what you need? Get hands-on experience with Lite version of BitUnit theme absolutely free! This template is a fireproof gateway to make a sound entry to the world of website management and master it with flying colors. In fact, it's one of the richest free themes on the market in terms of functionality. It even lets you try how things work with Elementor editor, one the of the leading premium WYSIWYG editors for WordPress.
UpFinance: Cryptocurrency/Business WordPress Website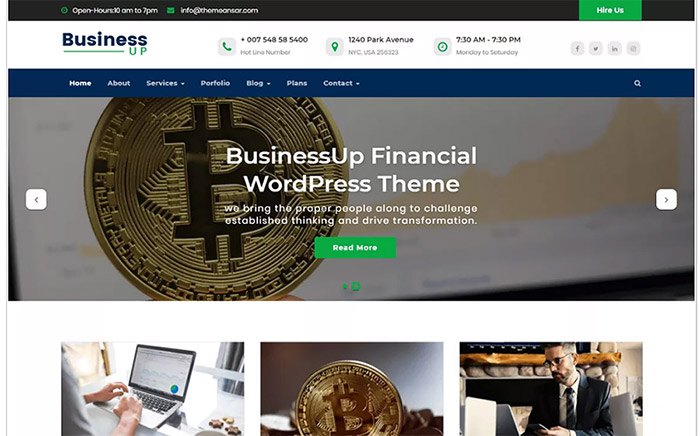 UpFinance is a top-rate WordPress template for all who have to deal with cryptocurrencies. Razor-sharp fonts, flat icons and animated slider are among the main attractions of this free business template. UpFinance offers you multiple color options, so that you can change the color palette of your website, whenever you feel like doing this. Moreover, this theme is updated on the regular basis and features a straightforward, yet highly convenient UI.
We did our best picking only those themes that are best of both worlds, bringing you both most liked UIs and unbeatable functionality. Hopefully, you fancied some of them as any theme listed here has the ultimate potential to drive your business to the top. All in all, we wish you to power your website within minimal time and ride the wave of digital success with it!
Have any questions occurred in your mind while you read this article? We'll be glad to answer them in the Comments section below. So, do not hesitate to speak up.
Stay tuned for more!