A blog is one of the most popular and efficient ways to share news, thoughts and posts with the world. It can be a personal blog with author's ideas, or a specialized blog about fashion, sports, music etc. A really cool thing about blogging is that almost anybody can do it and write articles about something of interest.
But even the most interesting book needs an eye-catching cover. The same thing is about the blog. If you have a really engaging content on your blog, but a theme you have used as a basis of your website layout is awful and doesn't work properly, you are making one step forward, two steps back. That's the reason we have selected one of the best premium WordPress templates for blogs. You are welcome to look through and choose the most suitable theme for your project.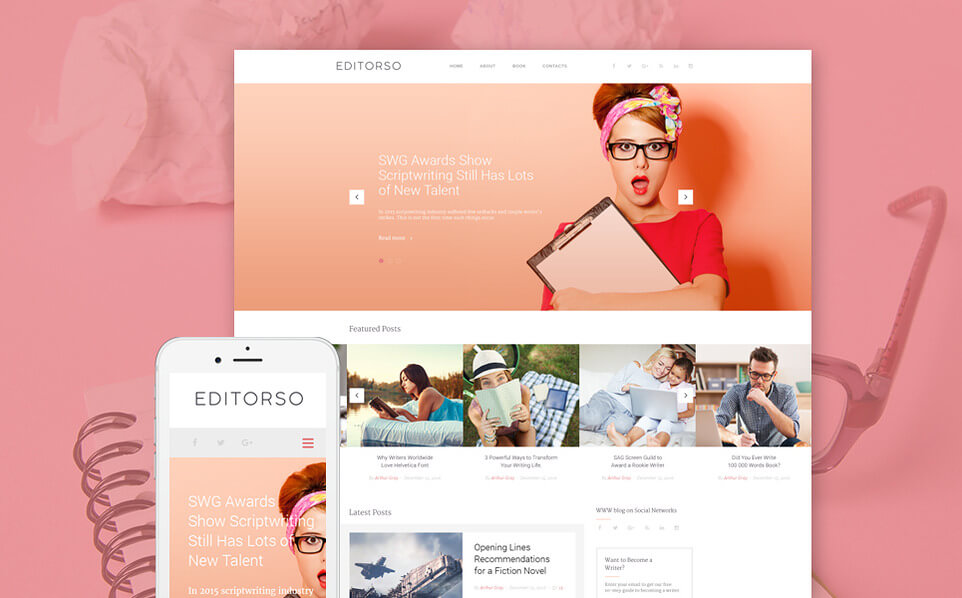 Editorso is a 100% GPL WordPress template that will be a perfect match for writers and journalists who are going to start blogging. With the help of live customizer, this blog theme will be easily modified according to any needs and requirements. No doubt that this template will be a great frame for any blog and will help your content shine brighter on the web.

DailySports is one of the most well-executed WordPress blog themes. Dark color palette makes it a perfect fit for entertainment websites of any kind. The homepage has two content blocks at the top and features news and a full-width slider. The social buttons are present on all of the blog posts making the integration deeper.

If you are a real gadget geek and can't imagine your life without testing and making reviews on the latest products, then we have something to show you. This fully responsive WordPress template designed for tech blogs will enable you to frame your reviews in the best manner. It contains a set of cool widgets, social links, recent posts and more to make your blog one of the most readable.

Let your blog readers stay fit with this sporty WordPress template! Its intuitive navigation makes  browsing process a real pleasure. The fixed-to-the-top menu will help your guests keep track of their location on the website. The design is not overloaded by elements and has lots of white space to draw more attention to your posts.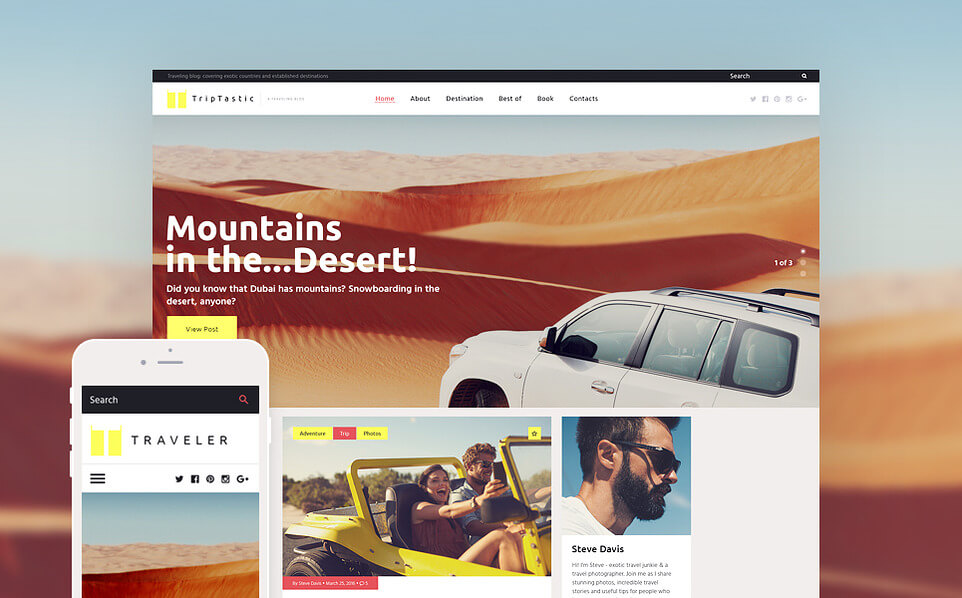 If you can't imagine your life without traveling and want to share your experience and feelings with more people, then this WordPress blog theme is right for you. You can choose a header, slider or layout you like most since this template comes with several designs. The social media integration and SEO friendliness will help you gain more readers in the Net.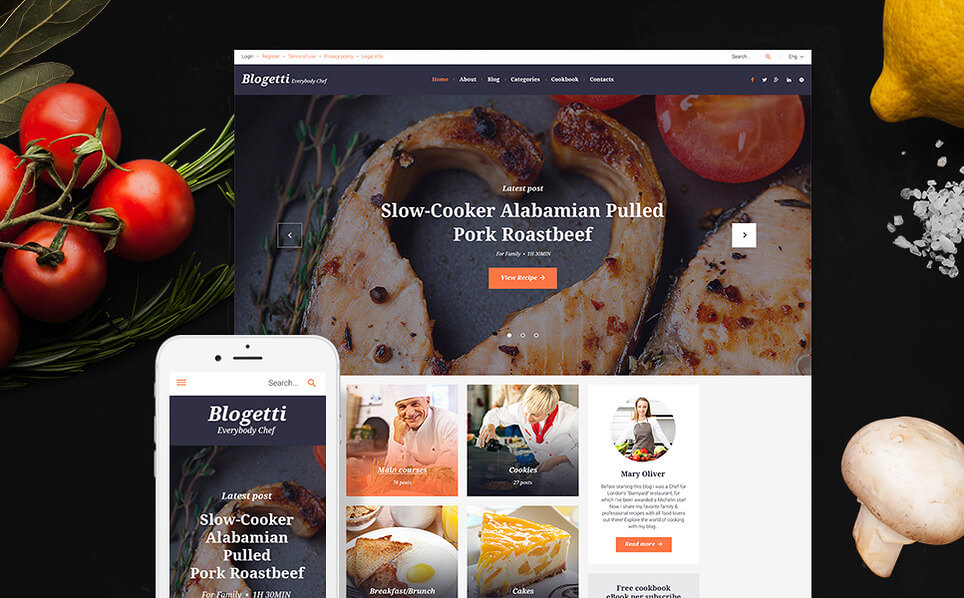 If you make the most delicious pies in the city or your desserts win everybody's hearts, you should share your recipes with other foodies. This WordPress blog theme will be the best solution for you! Easy-to-customize design full of widgets and other top-notch features will make the web presence a real pleasure for you.
Try this professional WordPress template for sports blogs. Due to its diagonal design combined with a neat layout, your blog will look modern but still has an official mood. You won't have any issues with adapting it to your project needs since it is built on Cherry Framework, one of the most efficient frameworks for now.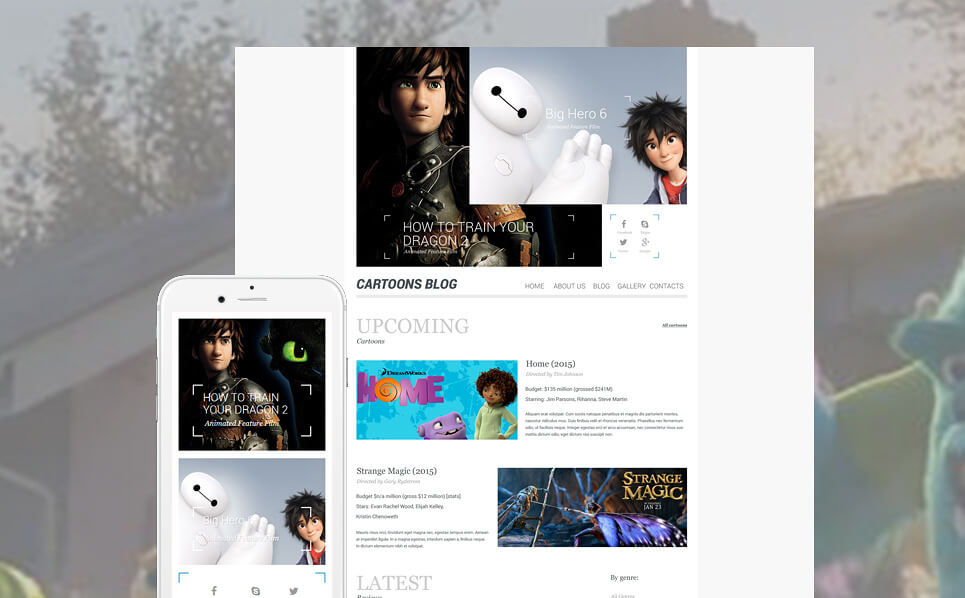 Yep, you do see this - one of the coolest WordPress themes for cartoon-related blogs! It has a set of advanced functions and is powered by Cherry Framework 4.0. Thanks to MotoPress drag-and-drop editor you will be able to customize it easily and make all the modifications without any extra help.

Travelop was developed for travel-related blogs, but can be used for other topics due to its multipurpose design. This fully responsive WordPress theme can be easily customized thanks to the number of sidebars, headers, and footers. It is featured with a set of cool widgets for better visual effect and social integration.

In case you are looking for an exciting video blog theme, we have something great for you. This 100% responsive WordPress blog template allows managing your content without hiring web professionals. Since it is based on Cherry Framework you will adapt it to your needs on the fly and can add some new styles.

A really stylish WordPress theme for fashion blogs. Ghost buttons in the header make a website look more trendy and tidy. A huge slider on the top of the page will let you show off the latest fashion pics and modern accessories. Responsive design will make your blog look perfect on any device, whether is it a tablet or a desktop.

This Art Blog WordPress Theme will be an amazing frame for your artwork and articles. Its grid structure helps to arrange your content blocks in the most efficient way. Discover its high-end functionality and try a hand in web development. The easy-to-manage admin panel will help you make all the necessary modifications alone and see the result in the same browser window instantly.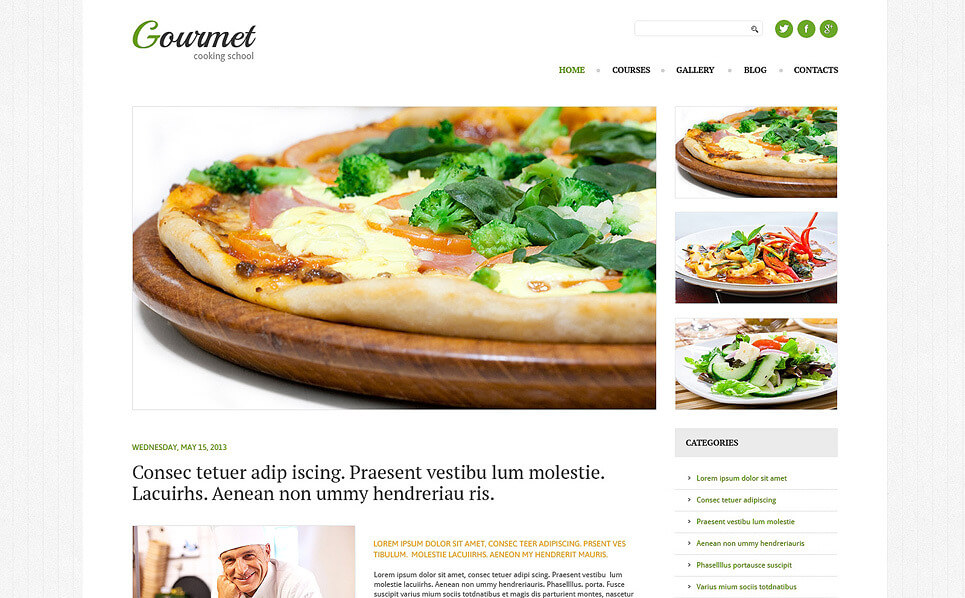 If you are ready to show your dishes to the world and tell how they should be cooked, then you have found the right template to start with. This fully responsive WordPress theme for cooking blogs will help you promote your business easily and you will not overpay to web developers. Everything you need is to install files to your computer and start to fill in the template with your posts and pics.
In case you can't choose this special WordPress theme for your blog, take a look at the bundle of Blogging GPL high-quality WP themes and try hand at the number of templates mentioned above.