St. Valentine's Day is just around the corner! If Cupid has hit you with his arrow, it is one of the most popular days of the year to propose. Just imagine, each year in the USA one in ten couples get engaged on Valentine's Day. It really makes sense because this is the most romantic holiday and has been always associated with true feelings, love, affection, sympathy, etc. What about you? Have you prepared anything special for your soul mate for the most romantic day?
Role of Wedding Websites in Modern Social Life
Proposing on Valentine's Day is always a good idea. However, the way you're going to perform this important thing plays a great role as well. For these purposes, people search online for professional wedding planners or other services that are ready to help them make this day unforgettable. That's why if you're engaged in this business, but your service isn't online presented, it's a pity because you lose your potential clients. So, don't hesitate and choose one of top-notch, lovely wordpress theme for matrimonial website from TemplateMonster to build a solid, feature-rich website to present your professional skills and knowledge to the full.
It's a lucky chance to find your soul mate, but unfortunately, most people have to look for their perfect match. Thanks to multiple global services, they have a great opportunity to seek out their life partner and hope for a happy future. To launch such a service on the web is easy as pie with ready-made, gorgeously looking templates. Using premium themes, you don't need to scratch your head over implementing all the necessary tools and features for your suite because they have been built in your template. Having bought such a product, you achieve a clean coded, SEO-friendly, modern looking framework for crafting a powerful site with tons of premium options and lifetime support.
As the web plays an ever greater part in our social lives, it's obvious that people use it to better their love lives. Online wedding sites and apps are the popular way to meet a partner, friend or just a company to talk about interesting things and share your ideas. If you're ready to run your own wedding service on the web, take a look at the best templates based on different CMS (WordPress, Joomla, Moto CMS 3, etc.) and equipped with a diverse set of plugins, extensions, and additional features.
Here is the pick of the top-rated lovely wedding templates that can be easily turned into gorgeous, truly remarkable and well-organized websites with intuitive UI and smooth UX.
Kate & Alex - Wedding MotoCMS 3 Landing Builder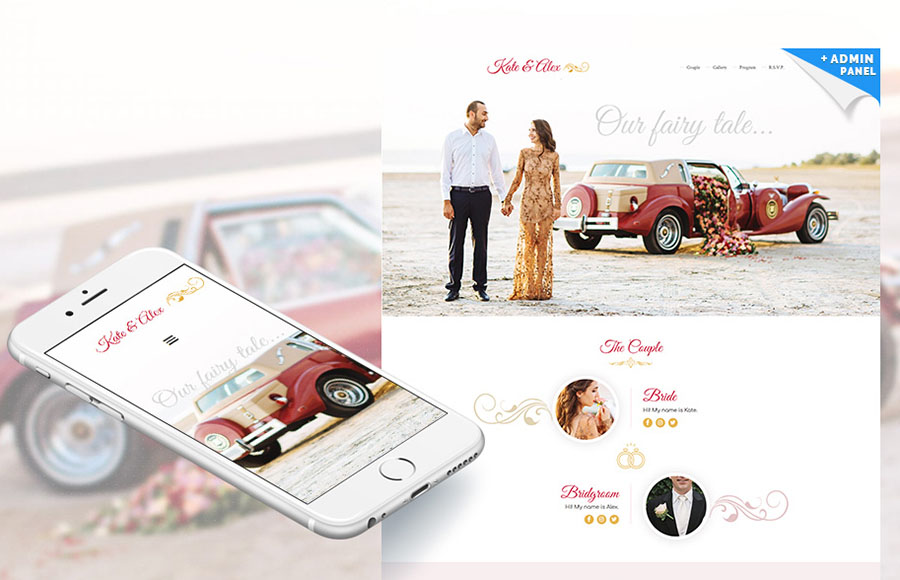 Tell your love story to the world, describe the most memorable events and showcase stunning pictures with this amazing landing builder Kate & Alex. This fully responsive and easily adaptive template has a set of all the necessary tools to create a powerful one-page website or so-called wed-site. The theme comes with handy, smooth Admin panel that gives you absolute control over the structure and design of your site.
Cavyalia - Wedding Premium Moto CMS 3 Template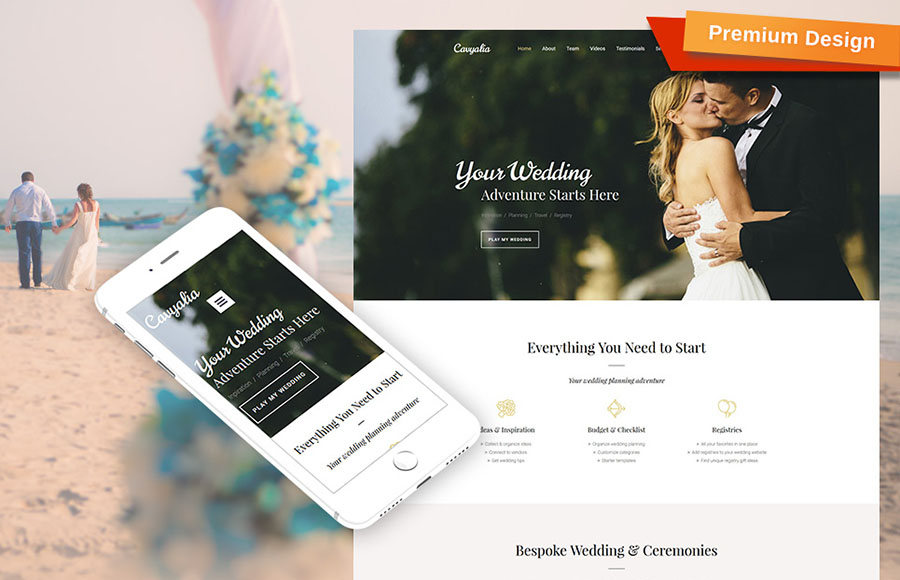 Cavyalia is a sweet and lovely wedding template, packed with multilingual support and numerous visual effects to display most memorable events in the best light. Thanks to rich media implementations, it is possible to download various contents and make the site more impressive. Moreover, you can change the web font of the site in an instant by choosing one of the tons Google fonts available in Admin panel.
Only Love Joomla Template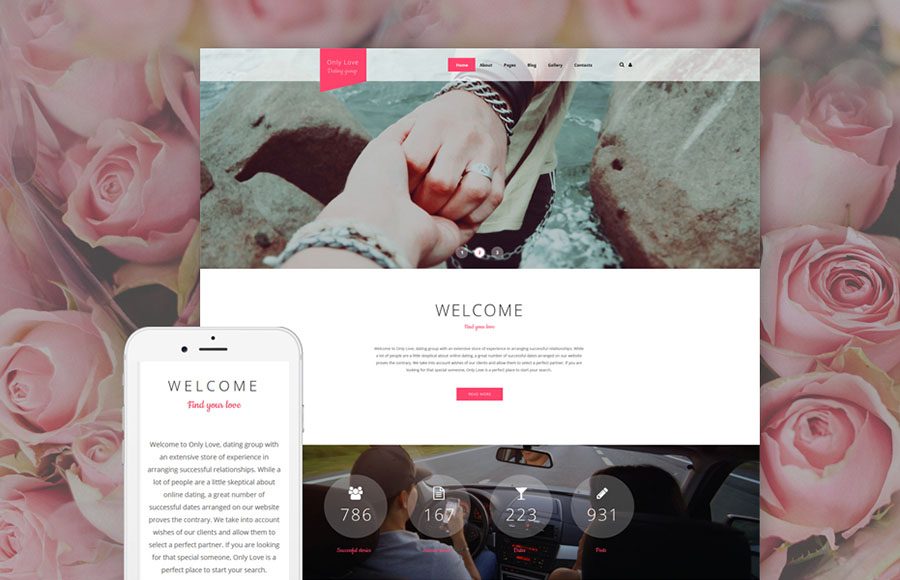 This Joomla template perfectly fit any wedding agency and corresponds to the latest web design trends. It comes with romantic, top-quality graphics, catching handwritten typography and extensive functionality. With a bunch of handy web forms like Contact, Login and User Registration, your website will provide customers with smooth experience.
Falero Wedding Photographer WordPress Theme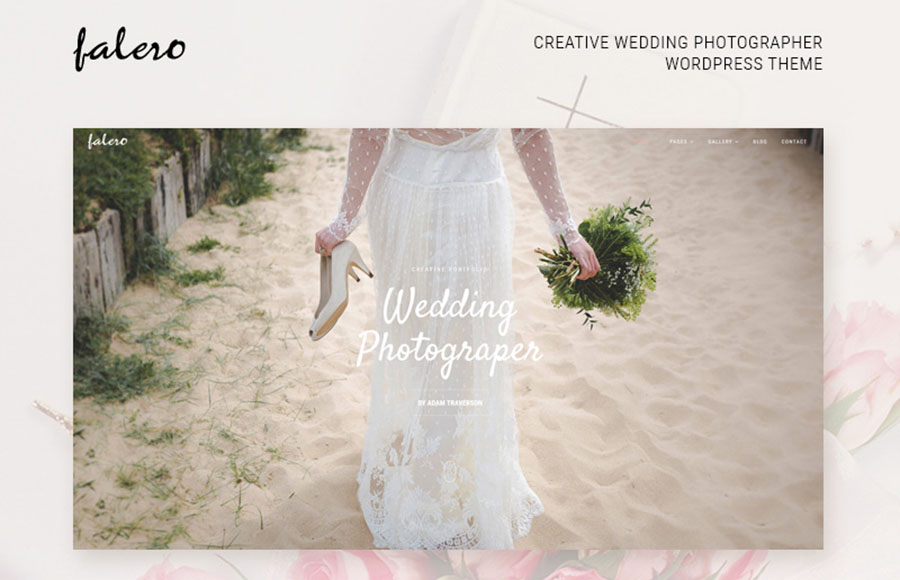 Falero looks elegant yet functions smooth. This fully responsive WordPress theme has an animated width-screen slider that spices up the overall appearance of the site and adds the festive atmosphere of the special day. With Parallax-enhanced design and eye-catching background, your website will attract more customers day after day.
Jennifer & Robin - Wedding MotoCMS 3 Landing Builder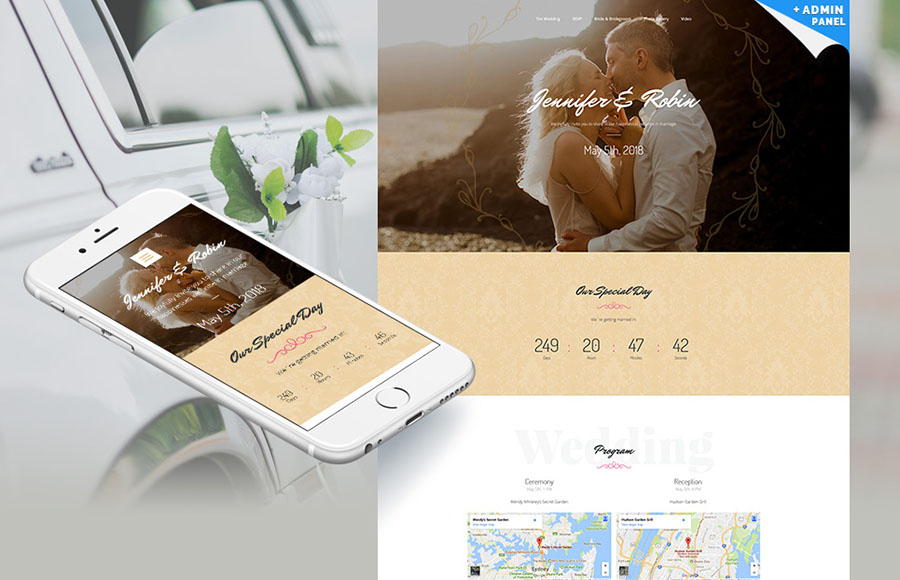 Jennifer & Robin is carefully built with ultimate ease-of-customization in mind. The landing builder will serve an ideal solution for crafting a powerful wed-site. With photo gallery tool, you can create an attractive album with the most stunning pictures. Thanks to media integration, it is possible to upload a truly remarkable wedding invitation video.
Jen+Ben - One Page Wedding WordPress Theme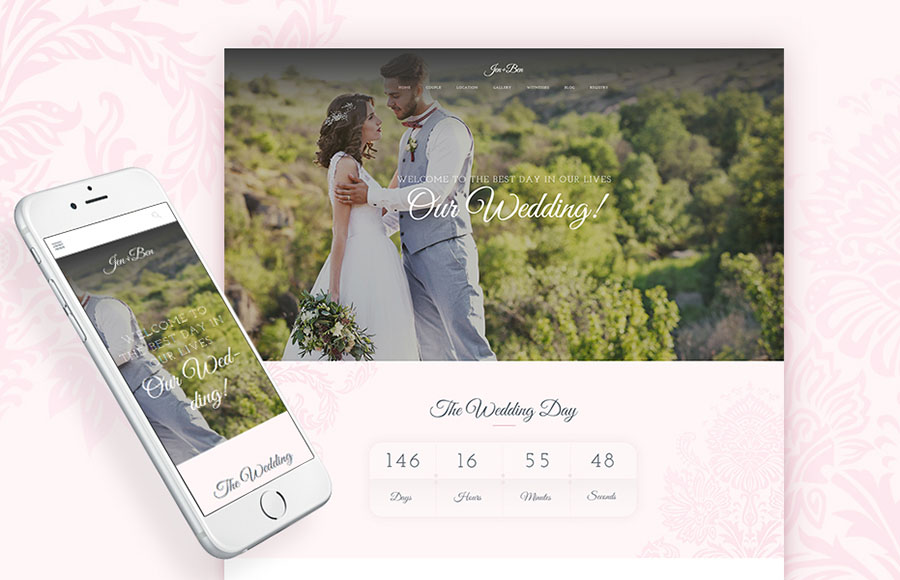 Jen+Ben is a perfect one-page theme for making your wedding unforgettable. With this template powered with Ajax, you can invite your guests in the most creative way. Thanks to Live Customizer, you won't have any trouble while customization, otherwise the process will definitely engage you.
Wedding Album Maker WordPress Theme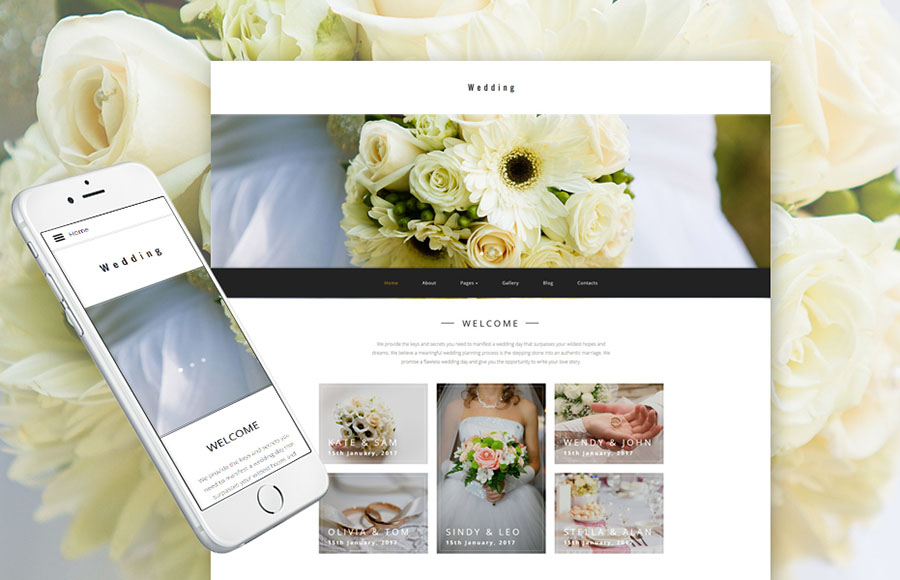 This extremely responsive Joomla template allows creating an outstanding wedding planner website within a short period of time. Enrich your website with social media widgets, Sortable gallery, lazy load effect, Google maps, Parallax technology, contact form and a bunch of additional pages for all occasions. Moreover, you can change the color of your site interface with only one click.
Iridescent - Marriage & Wedding WordPress Theme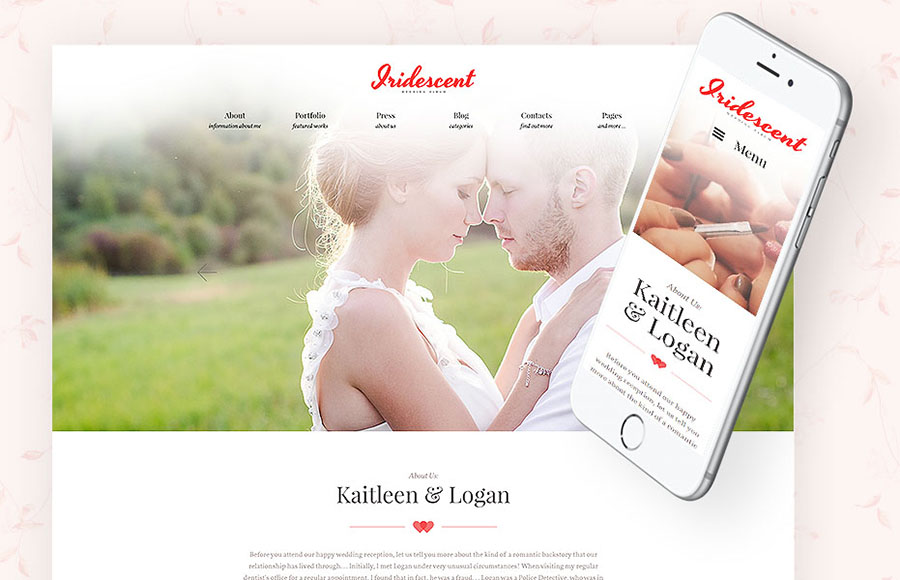 Iridescent is filled with romance and happiness featuring creative design and advanced functionality. With flexible drag-n-drop Page Builder and Live Customizer, it is easily to customize the appearance and performance of your theme. Multiple layout options and tons of content modules provide unlimited possibilities to build a dream site.
Wedding Cake Responsive Moto CMS 3 Template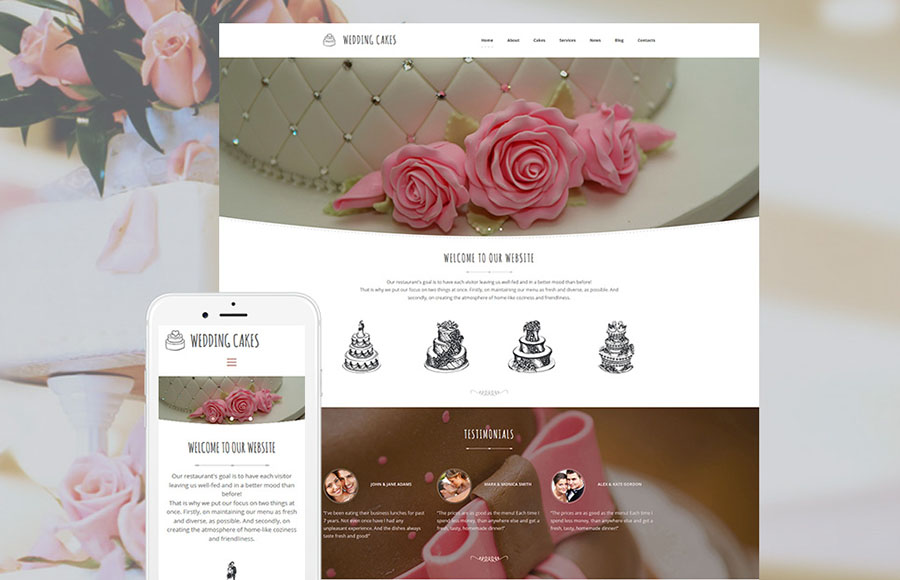 Wedding is impossible without a huge, beautiful cake! So, if you want to make somebody's wedding more impressive, memorable and truly remarkable, you need a professional, solid website to showcase your amazing wedding products. Wedding Cake template supports multilingual option and comes with all the needed elements of an online store.
Digital Wedding Invitation, Wedding Invitation, wedding gift PowerPoint Template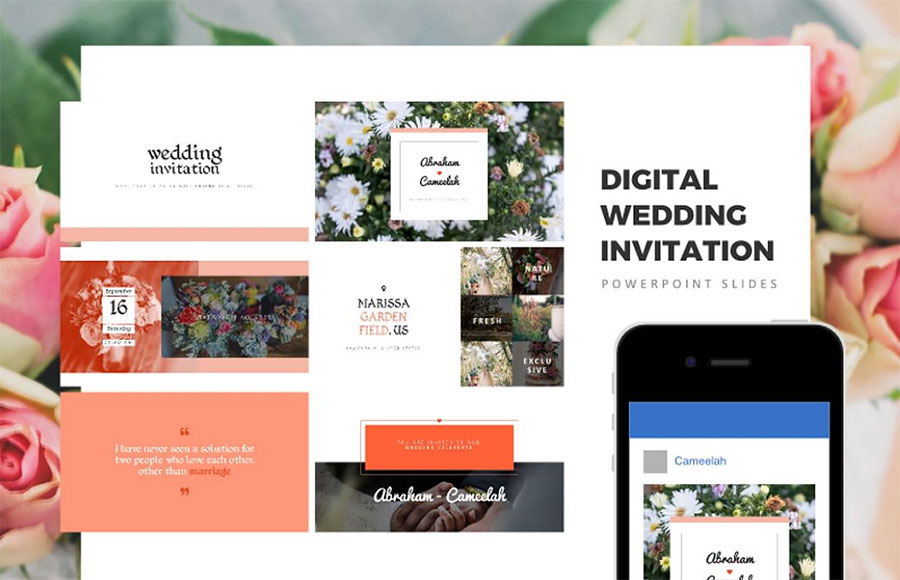 How to invite guests to the most important event of your life? Make an ideal, colorful, eye-catching, wedding-dedicated invitation with this feature-rich PowerPoint template. It is equipped with 6 stunning slides and a set of free icons and web fonts so that you can edit each and every element to your needs.
Wedding Shop Responsive Moto CMS 3 Template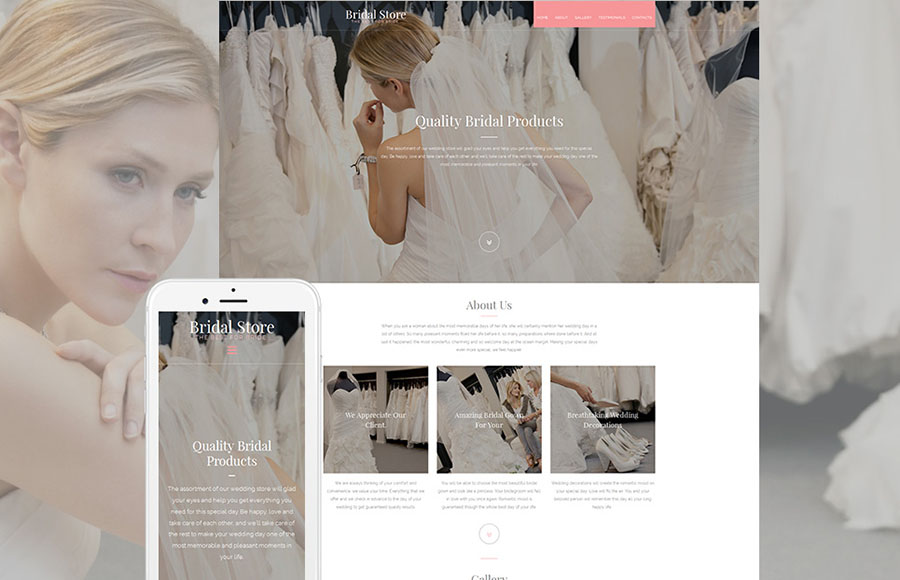 What does any happy bride need first and foremost after proposal? Of course, the most stunning wedding of all time! This absolutely gorgeous, fully responsive and highly adaptive Moto CMS 3 template has been developed to turn into an efficient, powerful wedding shop with advanced functionality to provide engaging and satisfying brides' experience on the site.
Callum - Wedding Photo Gallery WordPress Theme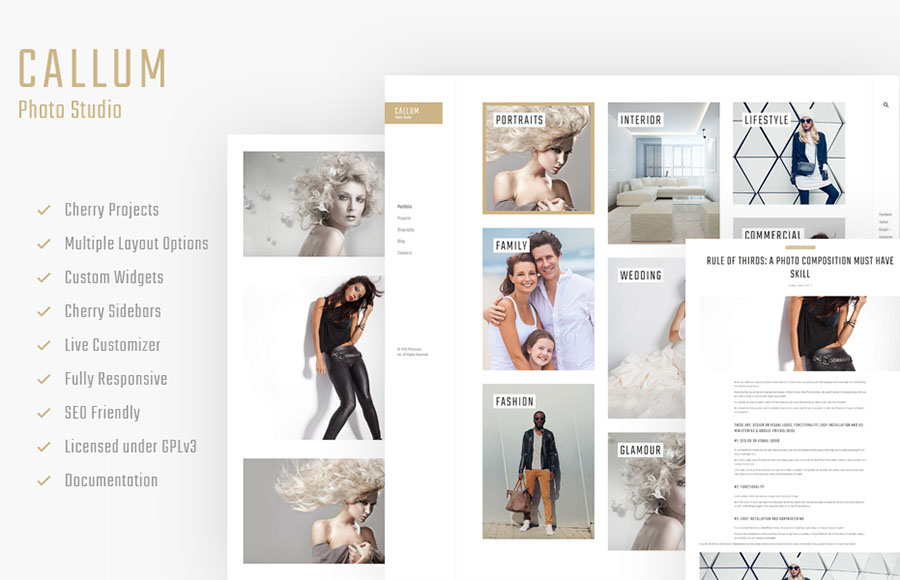 With Callum theme any photographer can accomplish his professional dream to have a stunning portfolio with a well-organized, impressive gallery. To customize this template doesn't require specific skills and web knowledge, it can be done on the fly thanks to Live Customizer that shows all the changes live. The theme is based on clean, SEO-friendly code and comes with comprehensive documentation.
Wedplancia Website Template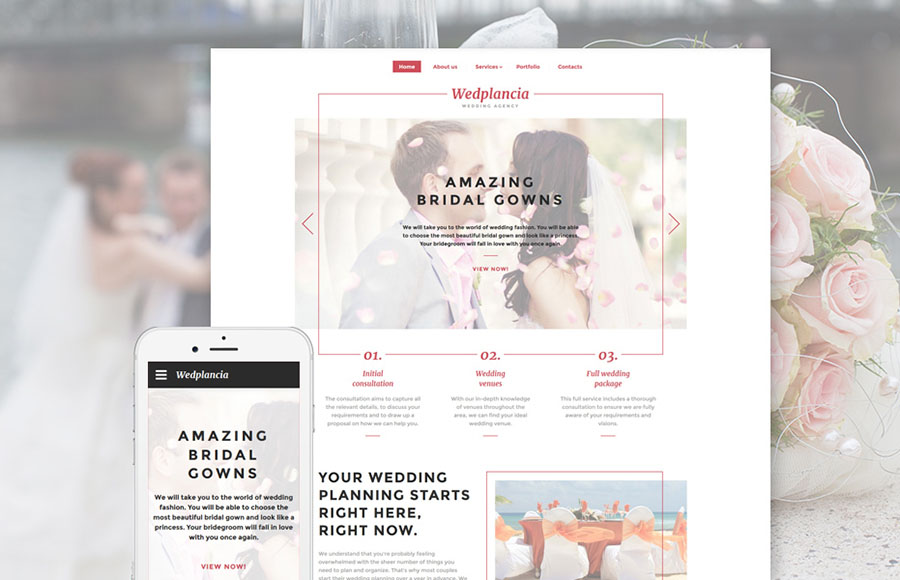 This cross-browser compatible and fully responsive template features a bright, truly remarkable look, rich Google fonts collection, handy Contact form and stick-to-top menu option that makes your site visitors' experience more convenient. In addition to tons of editable options and elements, the template has an inbuilt Live Chat feature that will help you interact with customers immediately.
Wedding Planner WordPress Theme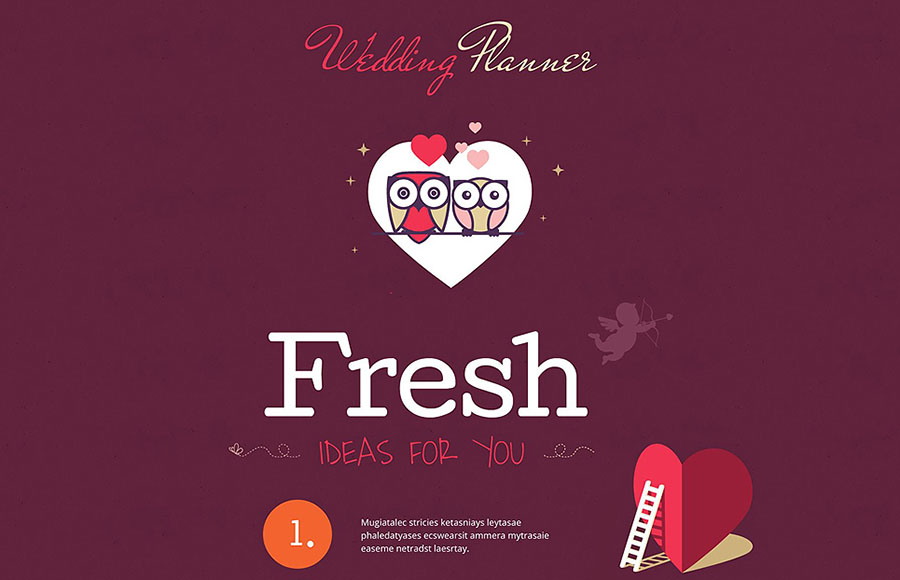 This modern solution for your wedding planning business will spice up your online project and bring it to the higher level. The template welcomes with bright background, catchy font and romantic graphics. With amazing photo gallery, additional sections for content and social media block, your business site will earn credibility as soon as possible.
Wedding Agency WordPress Theme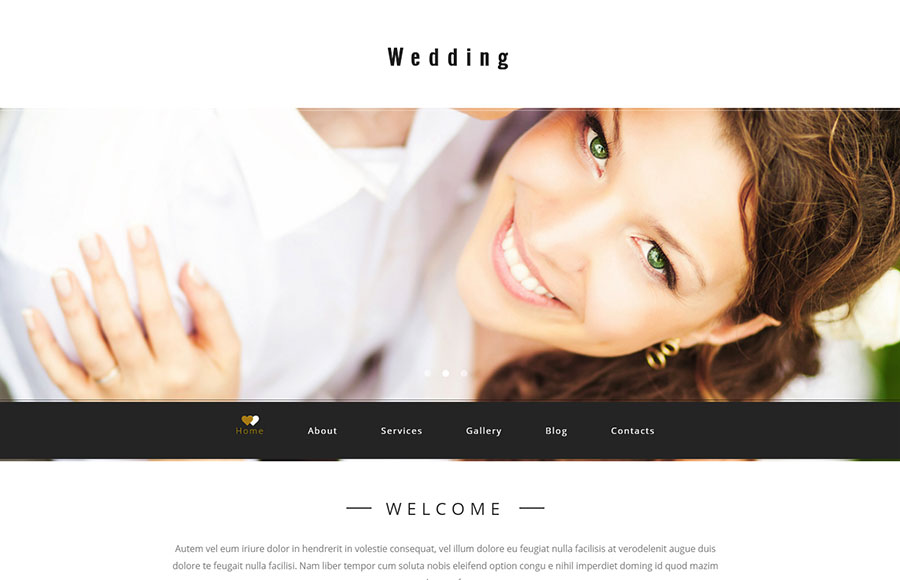 This pretty incredible WordPress theme will spice up your wedding agency. The theme designed using the Bootstrap framework offers multiple features and options necessary for creating a solid website. Except for clean, easy customizable layouts, your achieve a bunch of web forms, social media integration and stunning blog.
Valentine's Day is special, and your online service can help to make it worth remembering. If you are engaged in wedding planning business, agency or photography/videography service, online presence is a must-have for you. One of these solid premium templates will suit your needs and serve an excellent business presentation on the web. All of them feature professional, carefully crafted design, extensive functionality for specific occasions, rich UI kit and loads of other options that provide smooth and fast customization of the theme.