PSD templates are perfect for experimenting with website graphics without any limits, within which CMSs often keep us restricted. Using raw source files, you can edit literally any facet of your website design in Photoshop, particularly its color scheme, typography, backgrounds and all those minor elements that support the content. Just learn the basics of this easy-to-use tool – and you're in total control over each pixel of your website layout.
Today, we are going to show you a set of 20 PSD templates of premium quality. Trying to meet the demands of everyone, we compiled our set with designs tailored for various business fields. Do you need an austere template for an insurance company or a vivid one for a design studio? No matter the niche with which you're involved, you will definitely find an optimal solution for your specific requirements below. If you want to check more high-quality PSD templates, feel free to browse this rich collection of PSD templates.
Each of the PSD templates listed in this post costs only $11. Most of them are also available as WordPress themes, Joomla templates, and HTML5 templates. You can also learn about more CMS variations on the page of each template. To enter, click "More Info" under screenshots. So, go check our handpicked selection and choose a cool design for your website interface.
Dental PSD Template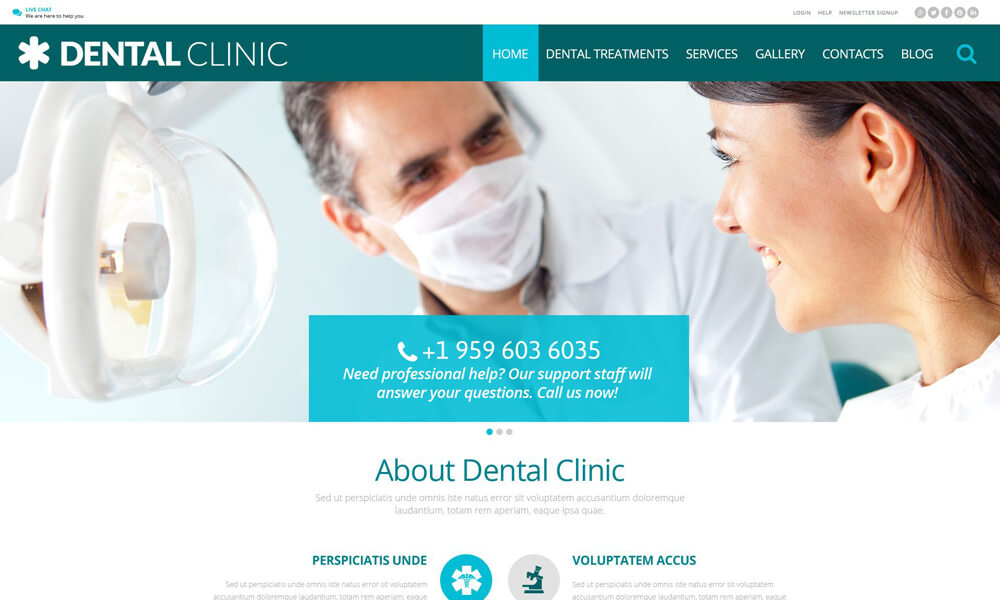 Demo | More Info
Using this PSD template, you can design medical sites for virtually any branch, e.g. dentistry, counseling, pharmacy, etc. Its color scheme combines blue, green and white, which is a perfect mix for most medical topics and also makes the design easy on the eye. The template's layout is composed of pre-made blocks to present multiple facets of your business in one place. They include team members, services, testimonials, partners, location, and much more. The transparent fields of the contact form blend well with the overall aesthetics.
* * *
PRO Industry PSD Template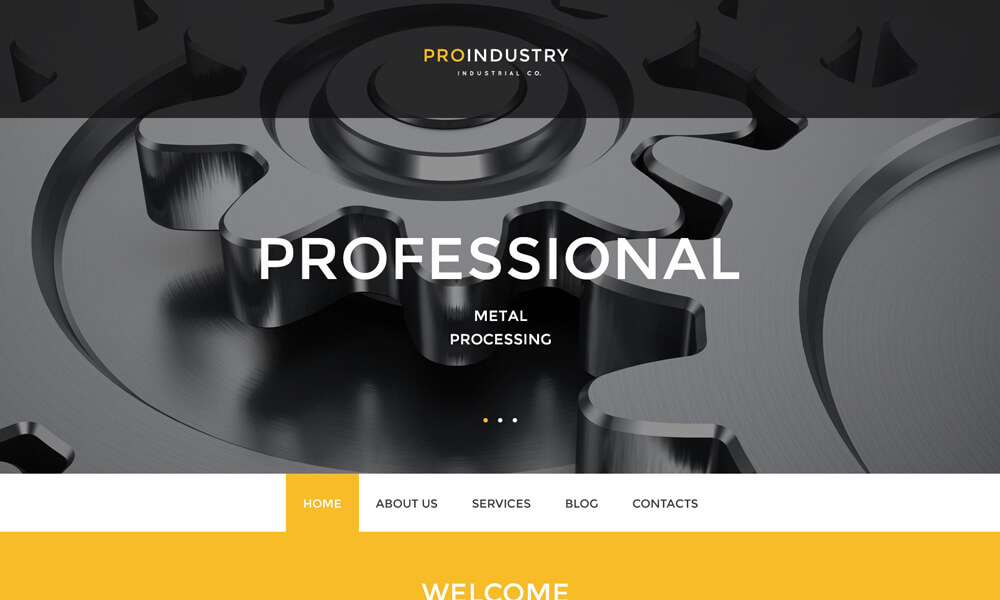 Demo | More Info
This PSD template is tailor-made for industrial companies, be they involved in civil engineering, mining, welding, or any other field. With its help, you can start your website layout with a full-width slider and place menu items under it. Hexagon shapes are used to introduce your services and outline dates of upcoming events. Semi-transparent bars are laid over the header and footer with contacts and social media icons. The dark tone of the Google map blends well with the overall style.
* * *
Design PSD Template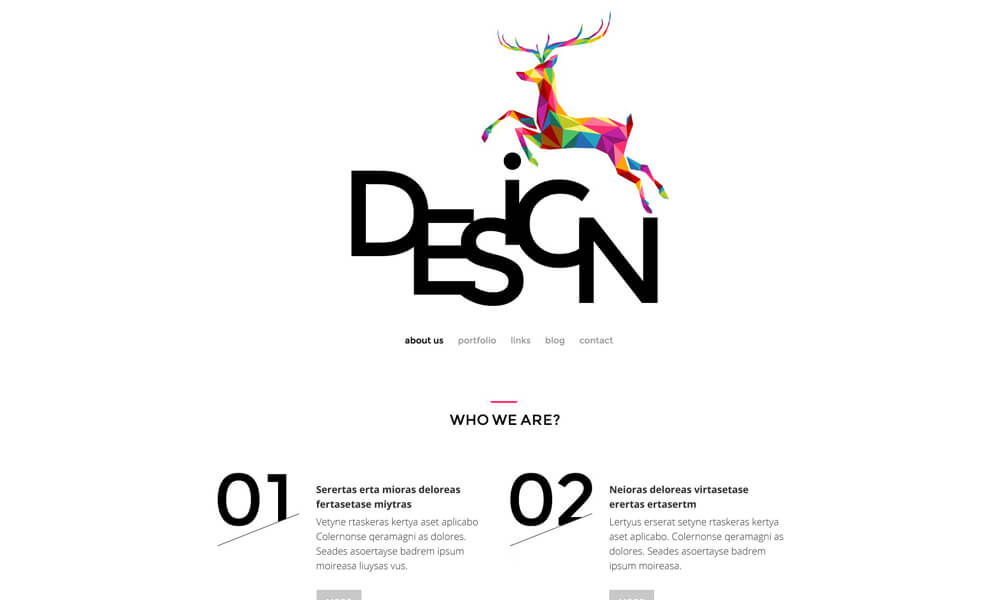 Demo | More Info
Are you looking for a creative solution for your design studio? Then opt for this visually rich template. It boasts multicolored polygons to support the content and icons to list your company's advantages. In terms of a project showcase, you can arrange images in a square-tiled gallery. Surrounded by ample white space, the content is always in the spotlight. Circles and elements with rounded edges fit into the layout organically.
* * *
IT Company PSD Template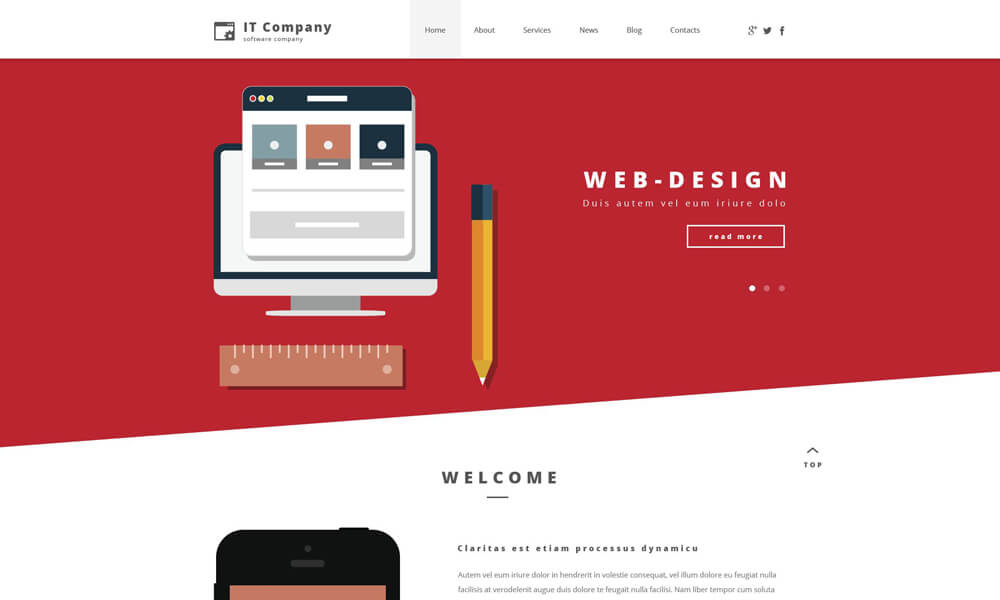 Demo | More Info
Check out a cool PSD design to build an online presence for IT companies. Oblique borders are used to separate a slider from a welcome section and a block with progress bars from the Google map. White backgrounds alternate with colorful ones, thus providing a visual distinction for different content types. Some elements have shadows that add a sense of depth to the page. Although the template has a minimal amount of text, it is still informative.
* * *
Obrus PSD Template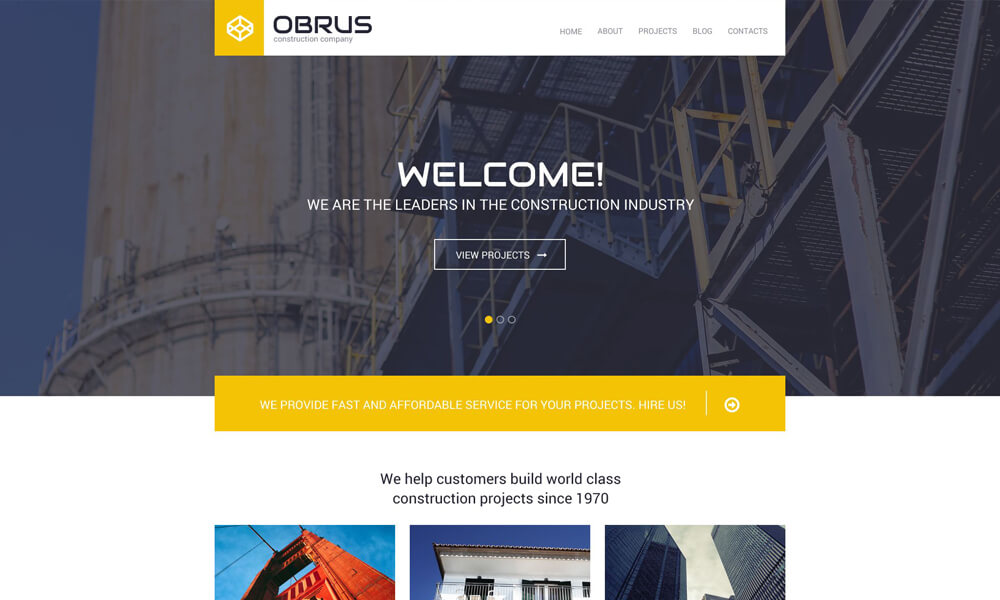 Demo | More Info
Obrus belongs to construction PSD templates designed with modern trends in mind. Its layout is dotted with trendy ghost elements in a full-width slider and above a grid-based gallery. The slider is also overlaid with a menu bar at the top and a call-to-action message at the bottom. To boast of your achievements, there are circular counters, while testimonials with links to authors' official sites will make your copy sound more persuasive. Navy sets a perfect contrast against white backgrounds, where yellow accents draw attention to the major details.
* * *
Travel PSD Template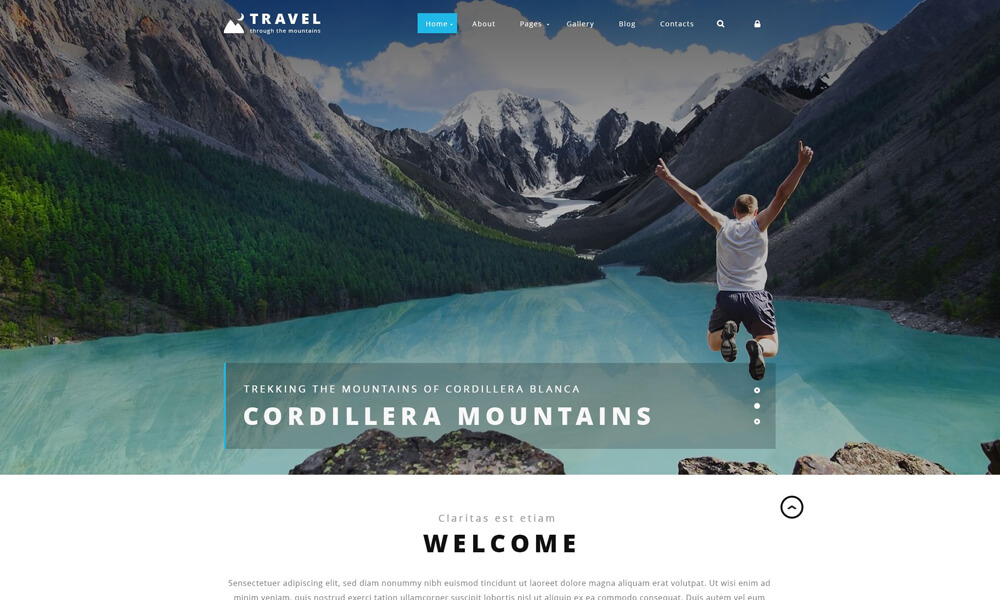 Demo | More Info
Here is a PSD design for sites related to active leisure, e.g. climbing, hiking, fishing, hunting, camping, etc. Its large intro area sets a tone for the entire layout and gives access to menu categories, search and login. Full-width backgrounds serve as content dividers making each block stand out from among others. To conclude the presentation of your club, there are contact and subscription forms followed by social media icons in the semi-transparent background.
* * *
Gitex PSD Template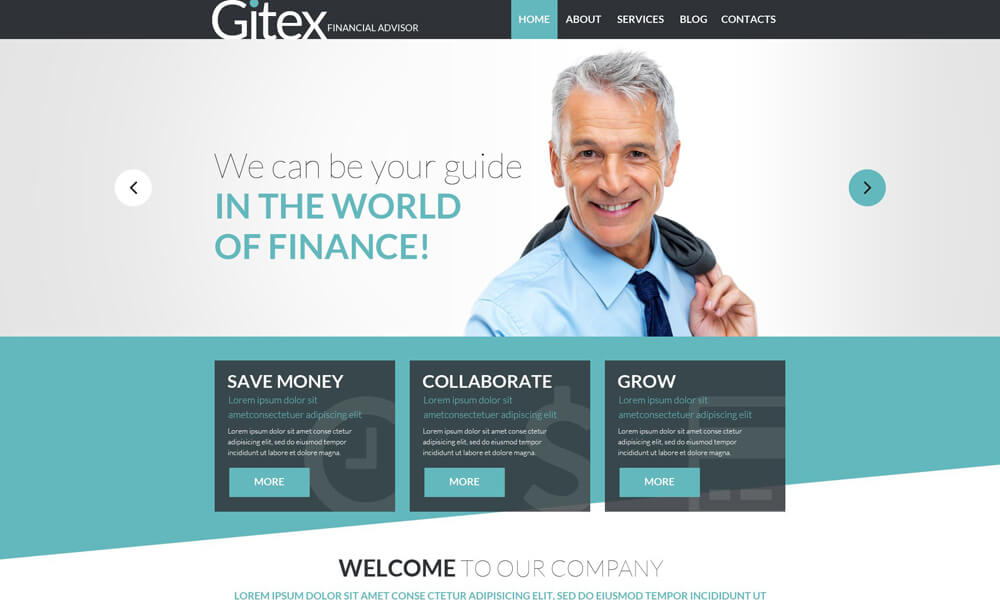 Demo | More Info
Gitex is intended for finance, insurance, management, marketing, IT, consulting, and outsourcing companies. It feels both formal and friendly due to a variety of visual tricks. From a balanced mix of green and dark gray accents to oblique borders of content sections, this template will let you create an eye-catching, memorable design. A full-screen map can help prospects find your company with ease. To convince them of your good work, you can also reveal success stories of other clients in a carousel. Large titles improve the content hierarchy, guiding visitors across the layout intuitively.
* * *
Wedding PSD Template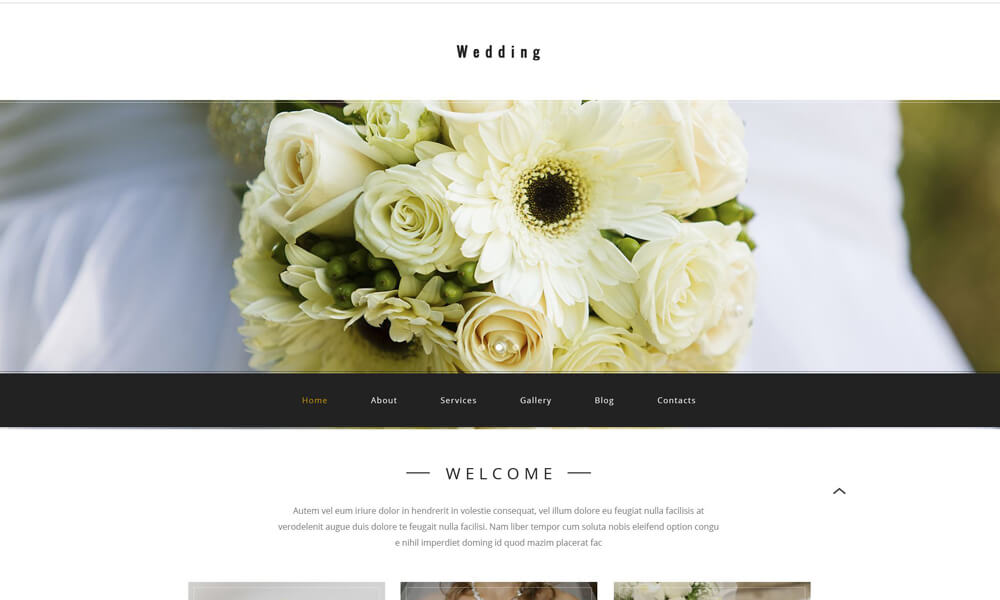 Demo | More Info
If you need a design for a wedding agency, consider one of the best PSD templates for this niche. It makes skilful use of transparency throughout the layout, from testimonials to social media block. Such a technique imparts lightness to the aesthetics of the page, and so do banners with an elegant framing. The menu bar has a non-standard, lowered position, i.e. at the bottom of a full-width intro image.
* * *
Apartments PSD Template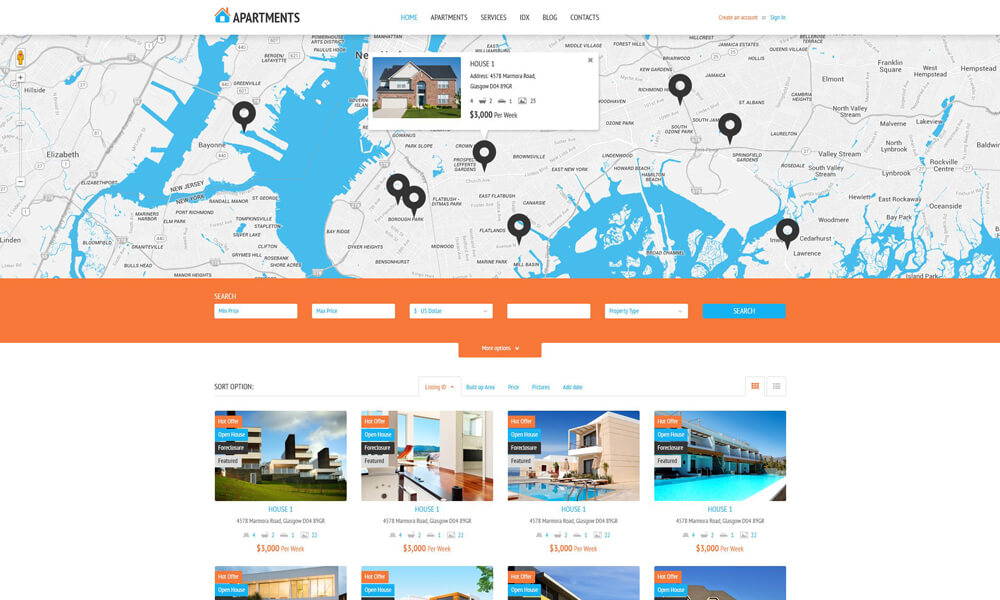 Demo | More Info
Real estate agencies can take advantage of this carefully thought-out PSD template. It features a full-screen map right at the top of the page, where home seekers can check available lodgings. Under the map, you can place filters to narrow down their search. Each rental is shown with an address, price, number of rooms, and many other details. You can also overlay images with labels to indicate its status, e.g. a hot offer, open house, foreclosure, etc. The template features a content-packed footer with a paragraph of text, list of areas, contact details, social icons and a Facebook "Like" box.
* * *
Electronics Fixing Services PSD Template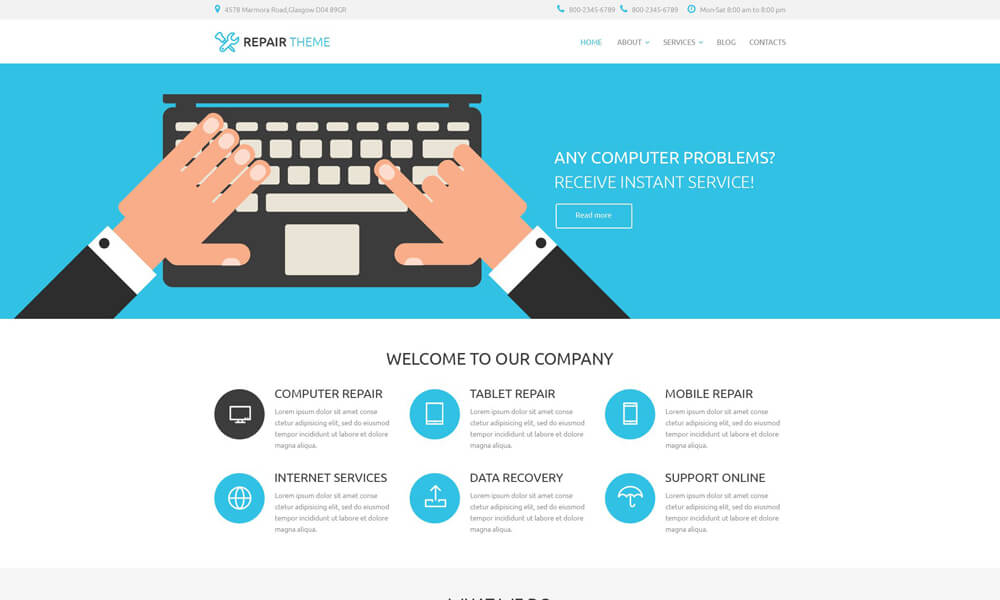 Demo | More Info
Consider using this PSD template to promote repair services. Designed in the flat style, it provides a sharp contrast between streamlined typography and a bold color scheme. Its header is equipped with all the key details such as an address, phone numbers, and working hours. The template highlights all the necessary information, from descriptions of services complemented with icons, to clients' testimonials shown in blockquotes.
* * *
European Cuisine PSD Template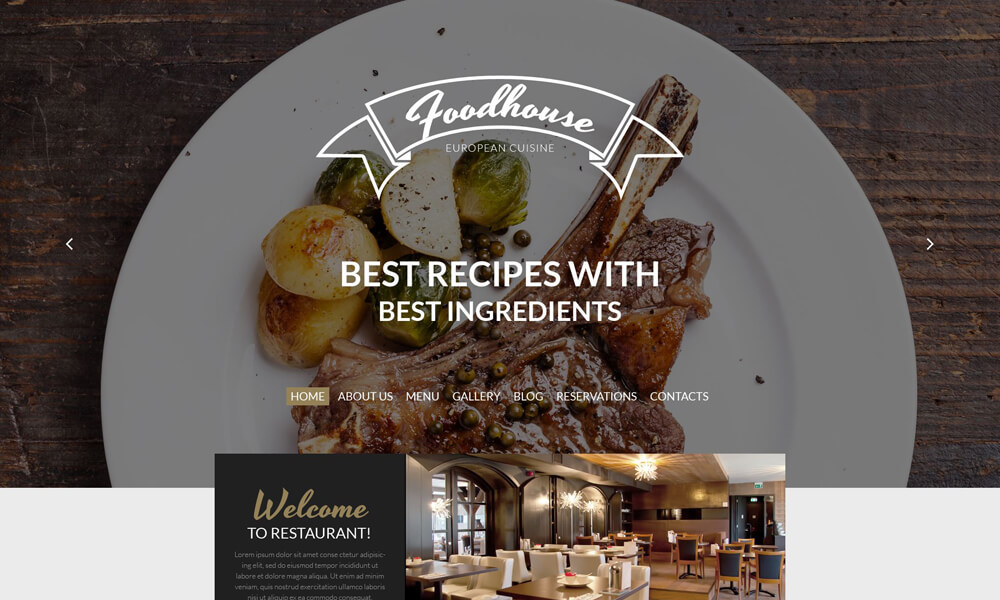 Demo | More Info
Among these professional PSD templates, you can find a visually rich design for food sites. Its page-wide slideshow at the top is slightly dimmed out, which brings the content laid over it to the forefront. A three-column menu block is divided into categories and comes with mouth-watering images on both sides. Extra images are arranged in square tiles adding a spicy touch to the layout. A reservation form is notable for a brownish effect applied to its full-width background.
* * *
Wegy PSD Template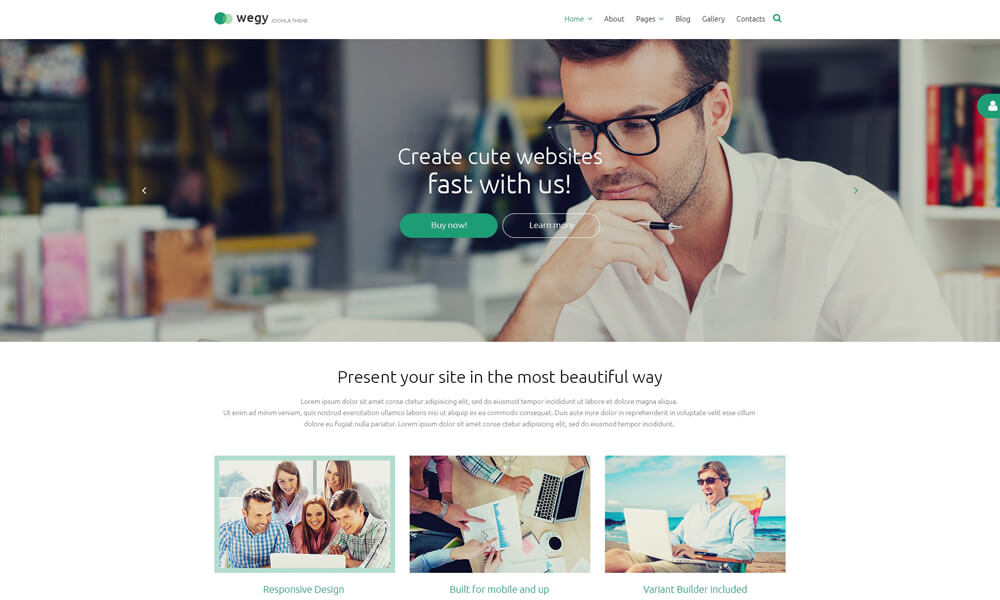 Demo | More Info
Wegy is a modern PSD template crafted for business sites. It makes use of iconography to present your info in a scannable manner. Well-defined tables show what each pricing plan offers and make them easier for comparison. Counters are perfect for unveiling some impressive figures to prospects. The template reveals testimonials one by one with an author's photo, name and occupation. Green accents guide a reader across the layout, focusing one's eye on the major details.
* * *
Steel Service Center PSD Template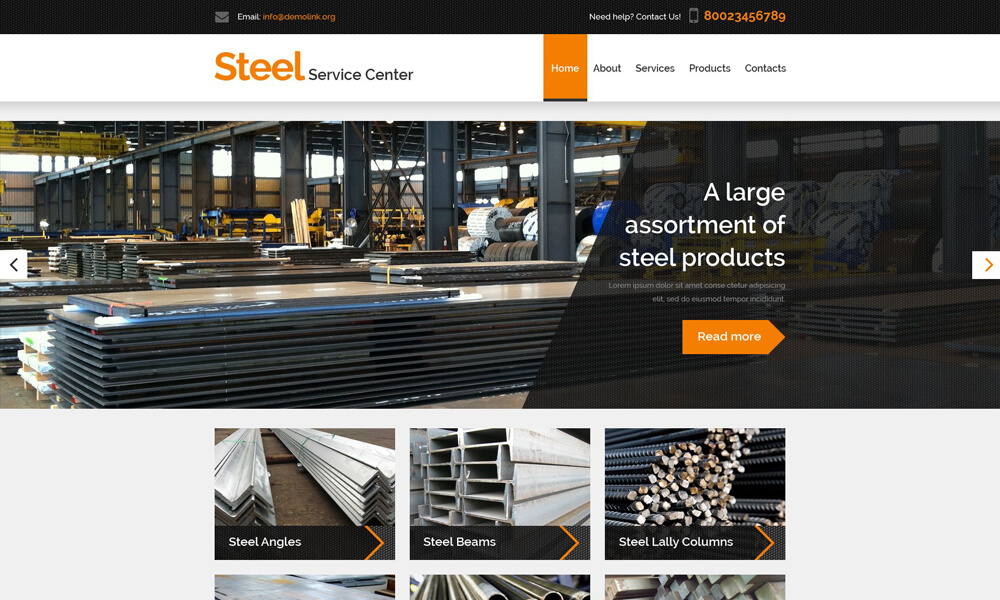 To design a site for factories and plants, this PSD template will come in handy. Its grid-based structure adds a sense of order to the layout along with boxes and lists. Full-width images have semi-transparent layers that can be supplied with some content and a call-to-action button. Patterned elements and backgrounds enrich visual aesthetics of the template dotted with orange accents. You can mark the location of your plant on a page-wide map at the bottom.
* * *
Fashion PSD Template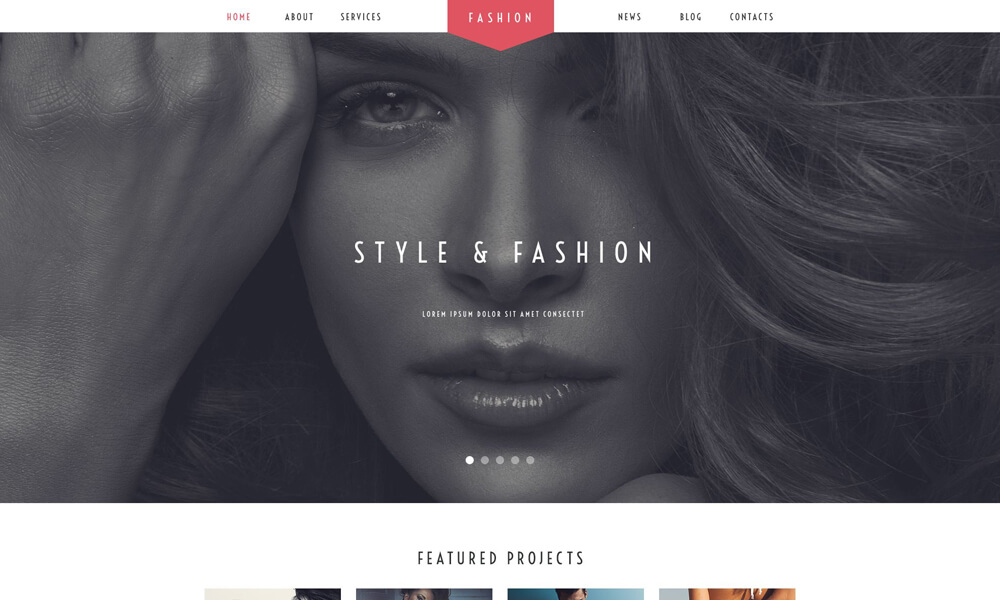 Demo | More Info
This set of PSD templates has a design for model agencies, boutiques, and other fashion-related sites. Page-wide imagery is meant to present your business at its best and enhance the user engagement. Featured projects come with short descriptions to inform customers of what they are going to look at. Coral accents are used minimally to preserve the elegance of the design. At the bottom, you can display brands with which you collaborate.
* * *
Djuci PSD Template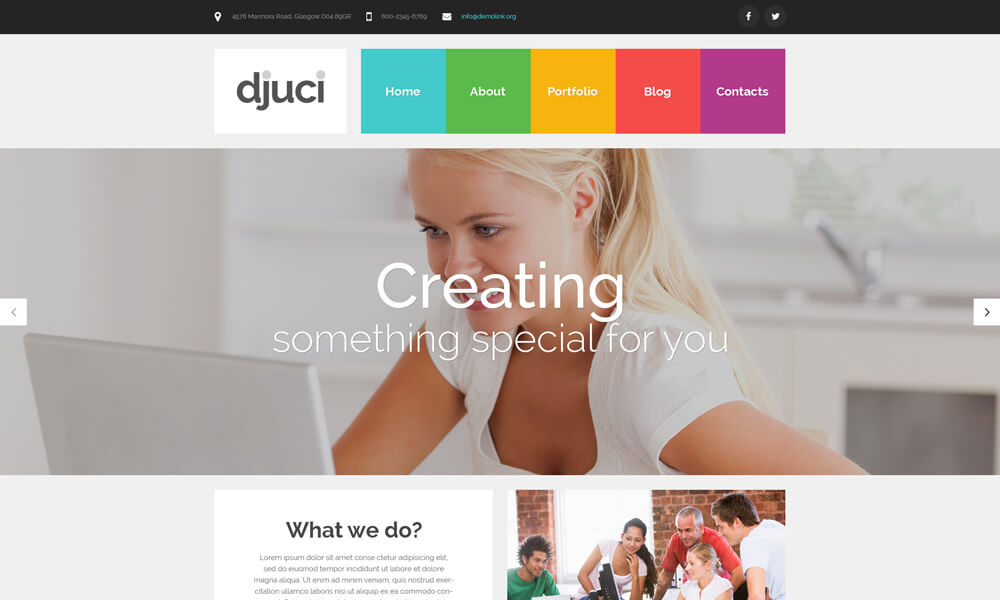 Demo | More Info
Djuci is a vibrant PSD template resembling the metro style of design. Boxes enhance the content hierarchy, thus facilitating a user's experience. Multicolored menu items and banners allow you to diversify the palette of your site so that each element is able to stand out in its own way. Previews of events are shown with images on one side and a small portion of text on the other. The footer gives access to extra links and there is a Google map crafted in a dark tone.
* * *
Writer PSD Template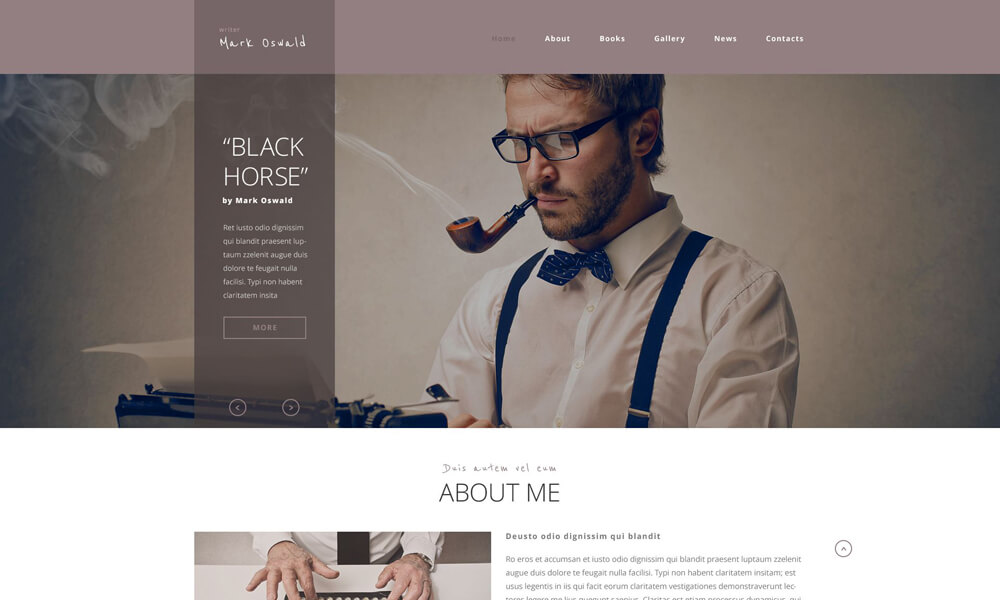 Demo | More Info
With the help of this PSD template, you can design elaborate portfolios for writers. Brownish backgrounds separate different blocks, while a lot of white space brings the content into focus. You can display news, customer feedback, and books in carousels, which will let you save more page space without compromising on its information value. Elegant fonts, minimalist icons, and ghost buttons will make your portfolio look modern and stylish on the web.
* * *
Car Repair PSD Template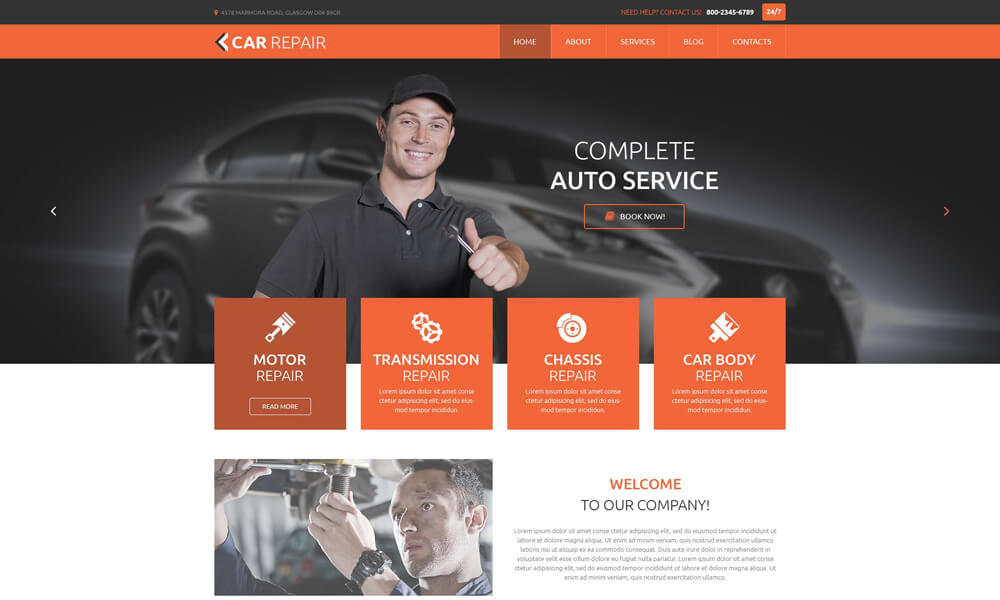 Demo | More Info
This set of premium PSD templates has a design for auto maintenance services. Its header and footer are designed in a dark tone contrasting with light content blocks. Orange accentuates the main UI elements such as a menu bar, banners, buttons, and a lot of minutiae. What's also notable about this template is its smart content structure. It displays services in lists, customers' feedback in blockquotes, partners with their official logos, etc.
* * *
Hypnosis PSD Template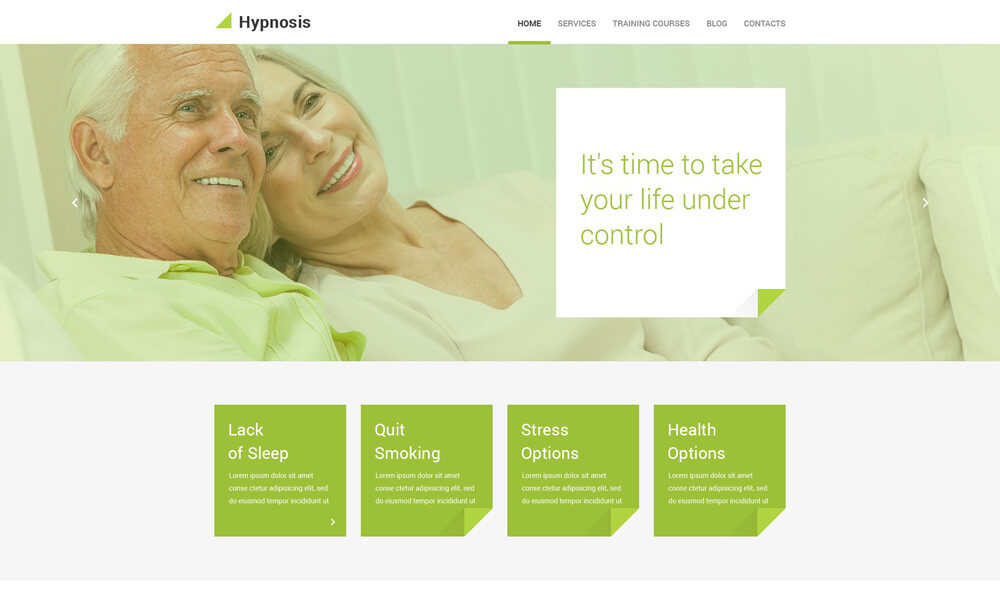 Demo | More Info
This clean and classy PSD template is an ideal option for anyone involved in the healthcare industry. A full-width slideshow is intended to meet and greet your customers, while banners divide your services into categories. Boxes are used to frame your content and make it easy to explore. The template has a monochromatic palette with different shades of green. Not only can such a color choice improve a visual experience, but also have a soothing effect on viewers.
* * *
Web Development PSD Template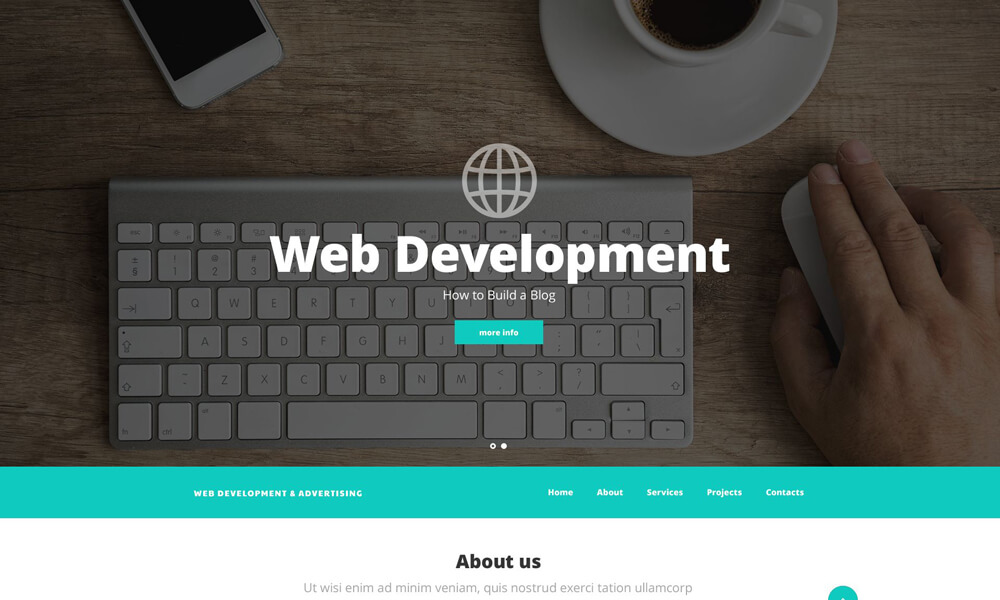 Demo | More Info
Web development and design companies can promote their services online with this PSD template. Hero images have a subdued effect making the overlaid content a focal point. The layout is dotted with multiple aqua accents, from a CTA button and menu bar to post publication dates and names of testimonials' authors. There is also a contact form block with an aqua background. Multicolored progress bars stand out sharply in the rest of the interface.
* * *
John Smith PSD Template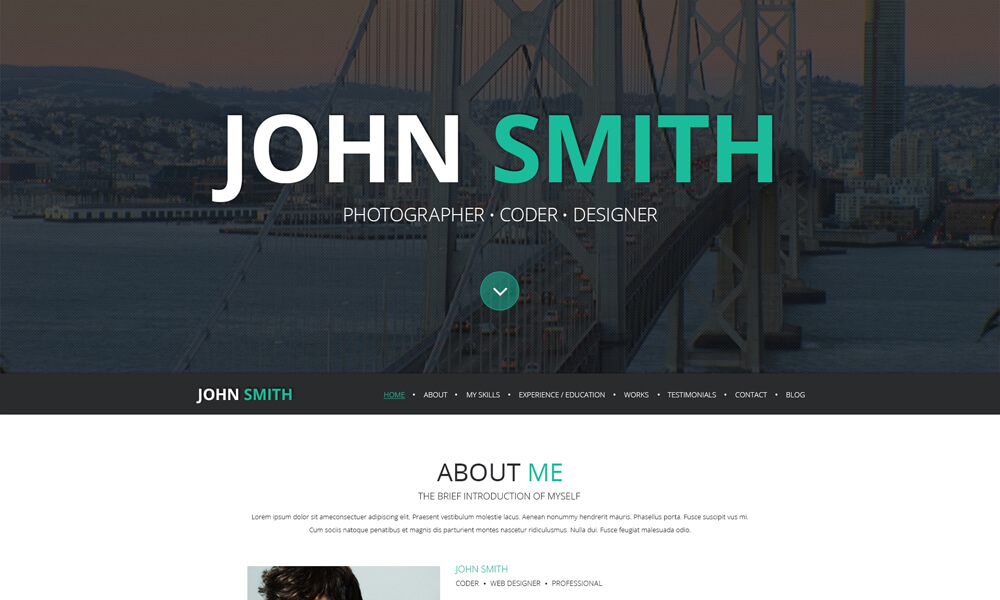 Demo | More Info
The last on our list of PSD templates is a universal solution for portfolios of coders, photographers, or anyone else. It has pre-designed blocks to display your work experience, education, strong points, recent projects, and client testimonials. A full-screen header serves as an effective intro area, which can also communicate your main message. What's notable about this template is that the contact form and details are laid over a page-wide map.
* * *
Hopefully, we have been able to help you find a ready-to-use design from among our hand-picked selection. As you can see, these PSD templates allow you to create both a visually appealing and user-friendly interface for your site. Don't hesitate to share your thoughts on these elaborate designs in the comments to this post. Good luck with your projects!
AUTHOR'S BIO: Nick Campbell, the author of this article, is fond of writing posts on various subjects, particularly web design, e-commerce, social media, marketing, business, and education. He has been involved in the content creation sphere for more than three years. Nick is primarily focused on covering modern trends in a specific industry to help his readers keep abreast of the latest news. If you don't want to miss any brand new developments in the aforementioned topics, follow Nick Campbell on Twitter and Google+!