This is your opportunity to download free food vector patterns. We made a great list of different patterns with fruits, vegetables, and popular dishes in good resolution. Just scroll the page down to choose a perfect template!
Vegetables in Monochrome Style Pattern
Stylish monochrome pattern with vegetables. In the illustration, you can see pumpkins, tomatoes, peppers. Look closely and there will be potatoes and beetroots. Great harvest pattern, don't you think?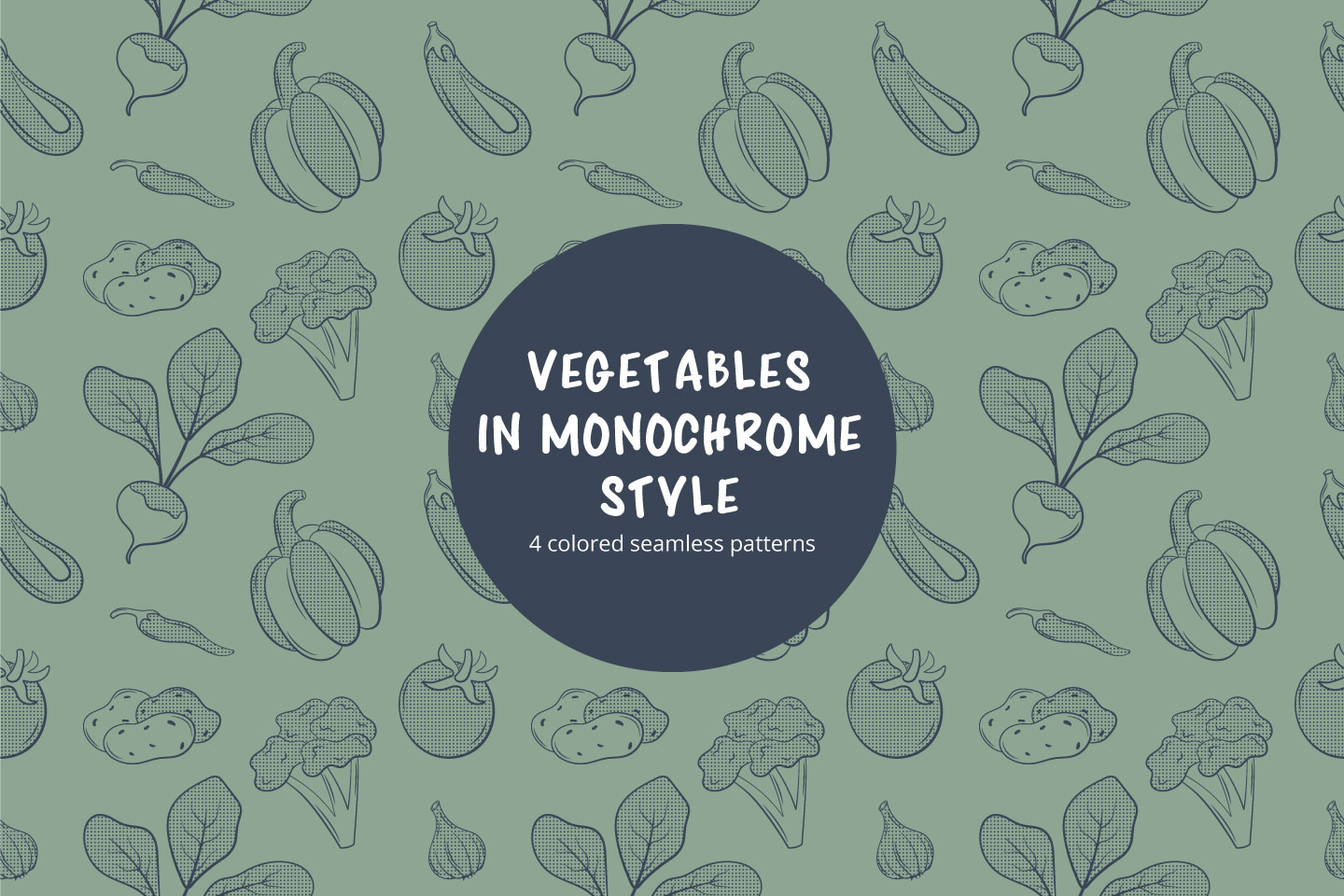 Real gourmets have probably already managed to see all types of cheese in this picture. What is it? Mozzarella, Dutch cheese, Dorblu? Can you tell? However, this is a very appetizing cheese pattern with herbs.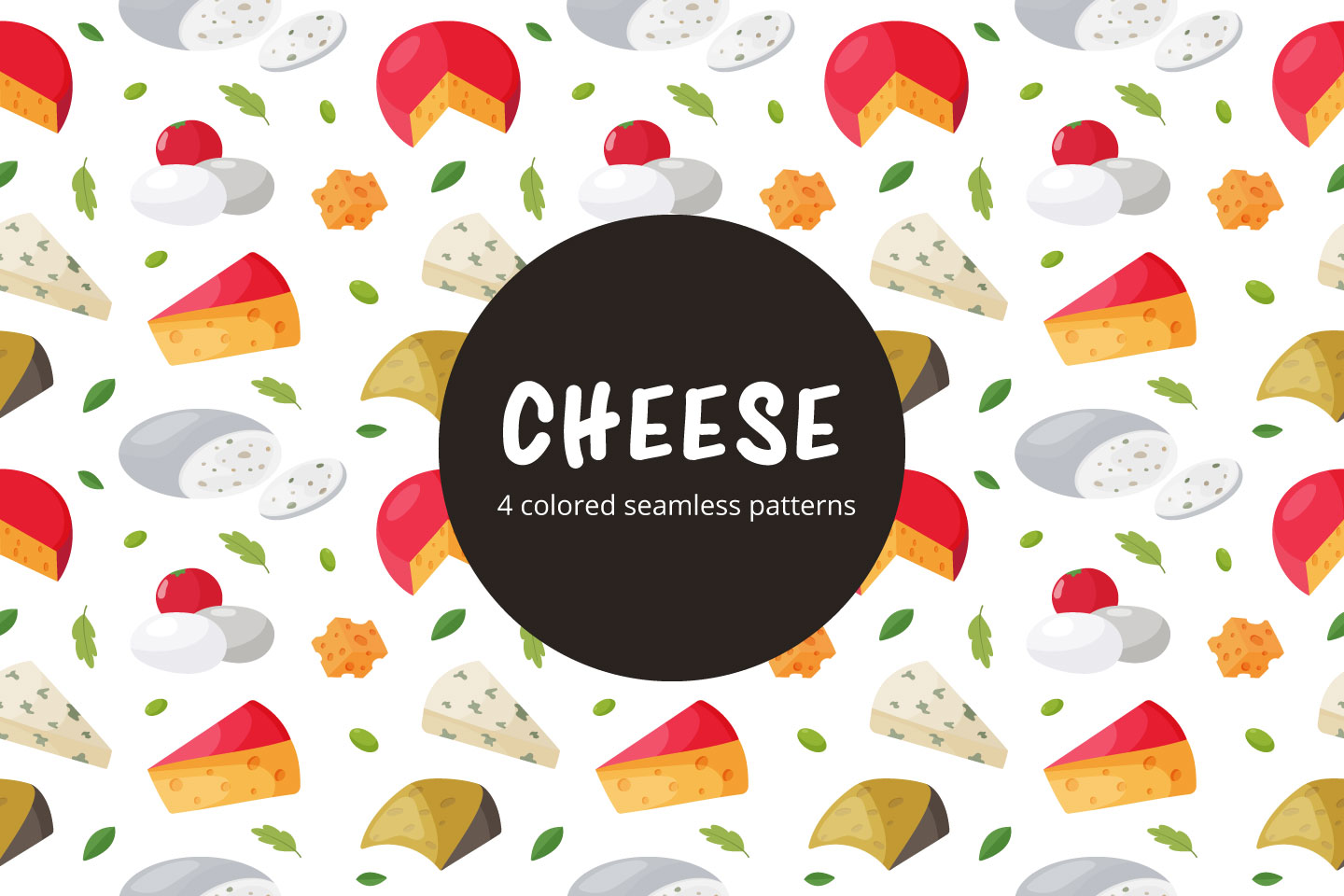 Sushi and Rolls Seamless Pattern
Asian food lovers will appreciate this free sushi pattern. The composition consists of sushi, rolls, wasabi, and soy sauce. Great atmosphere of national Japanese cuisine.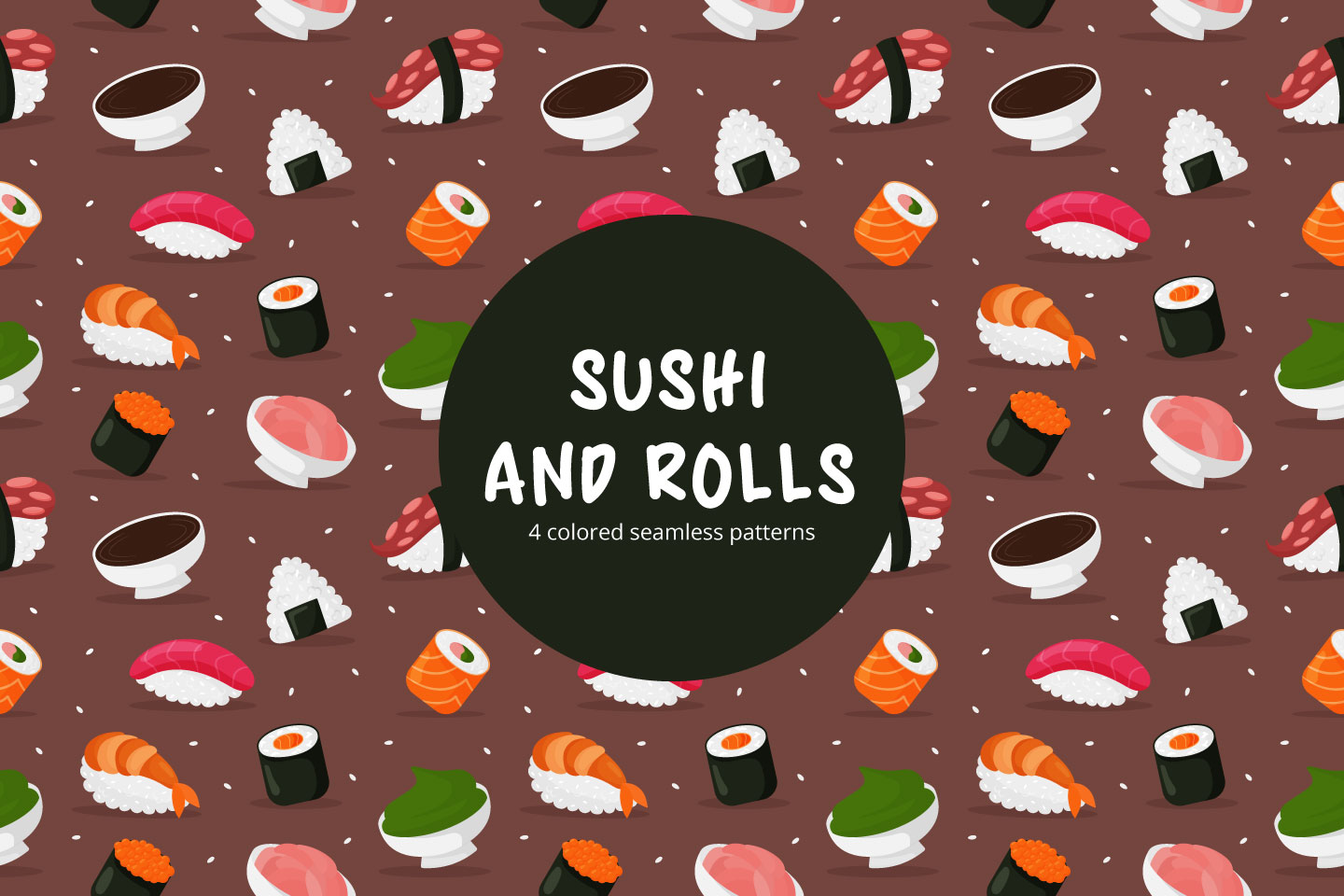 Romantic pattern with wedding cakes. Here is a multi-tiered cake with figurines of the newlyweds on the heart background. Cute plants are additional elements of the illustration.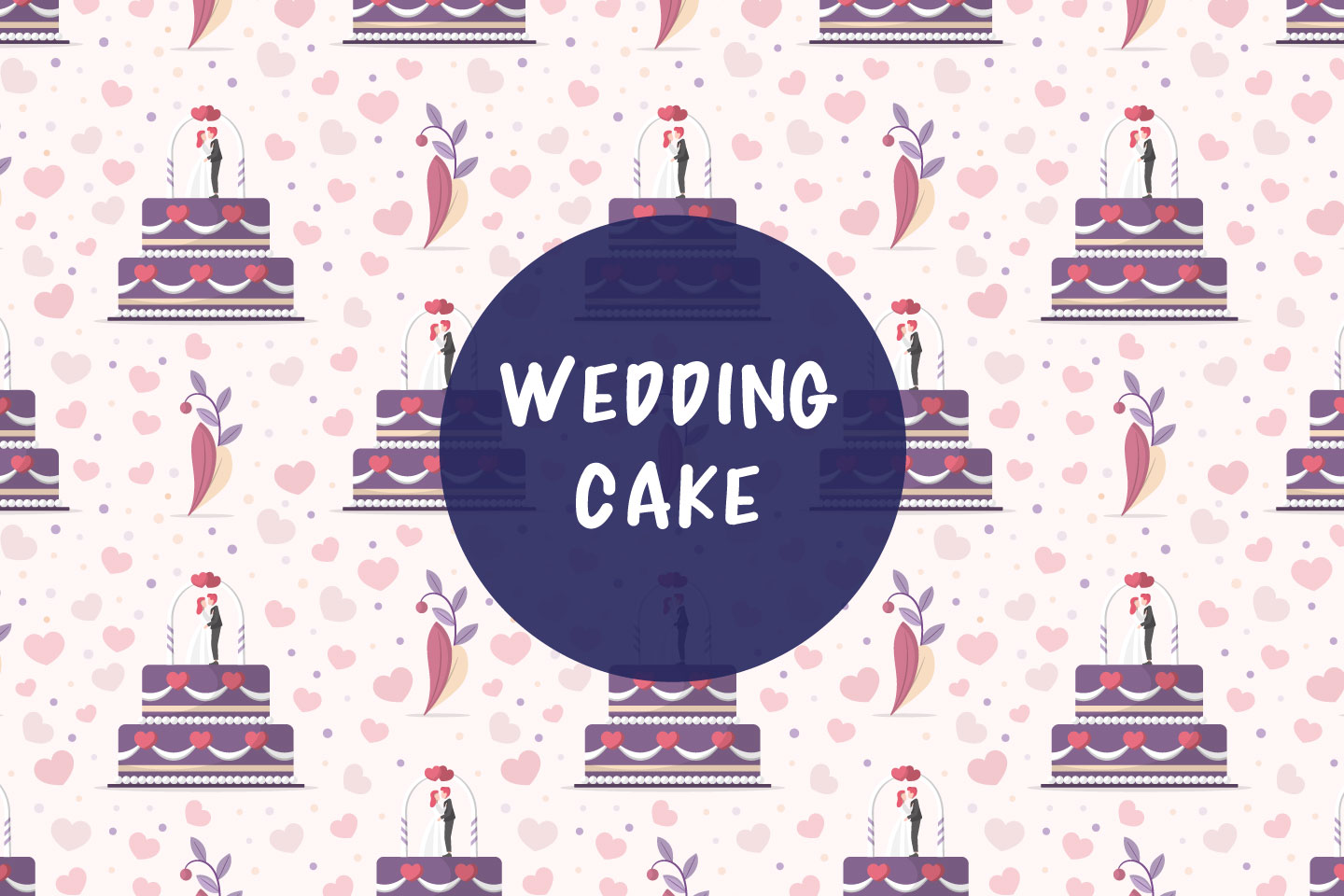 Halloween Treats Seamless Pattern
Spooky but cute Halloween pattern. It features popular All Saints' Day sweets. These are cupcakes with skulls, candies in scary wrappers, lollipops in the form of a human eye. Just look at how many interesting details there are!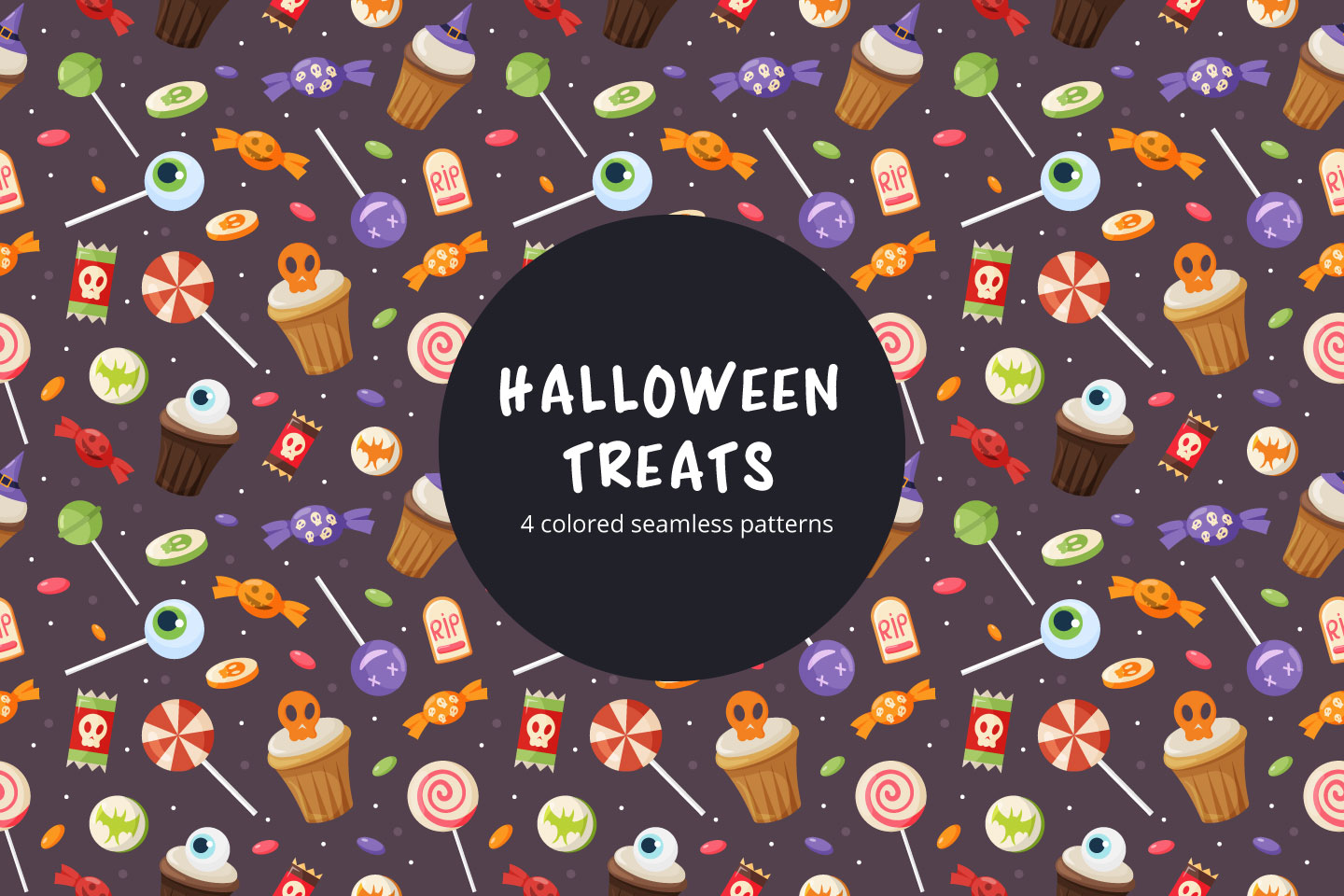 We've prepared a healthy, vegan food pattern. Fresh vegetables, fruits, berries, and smoothies on a bright background. The perfect diet for vegans and vegetarians!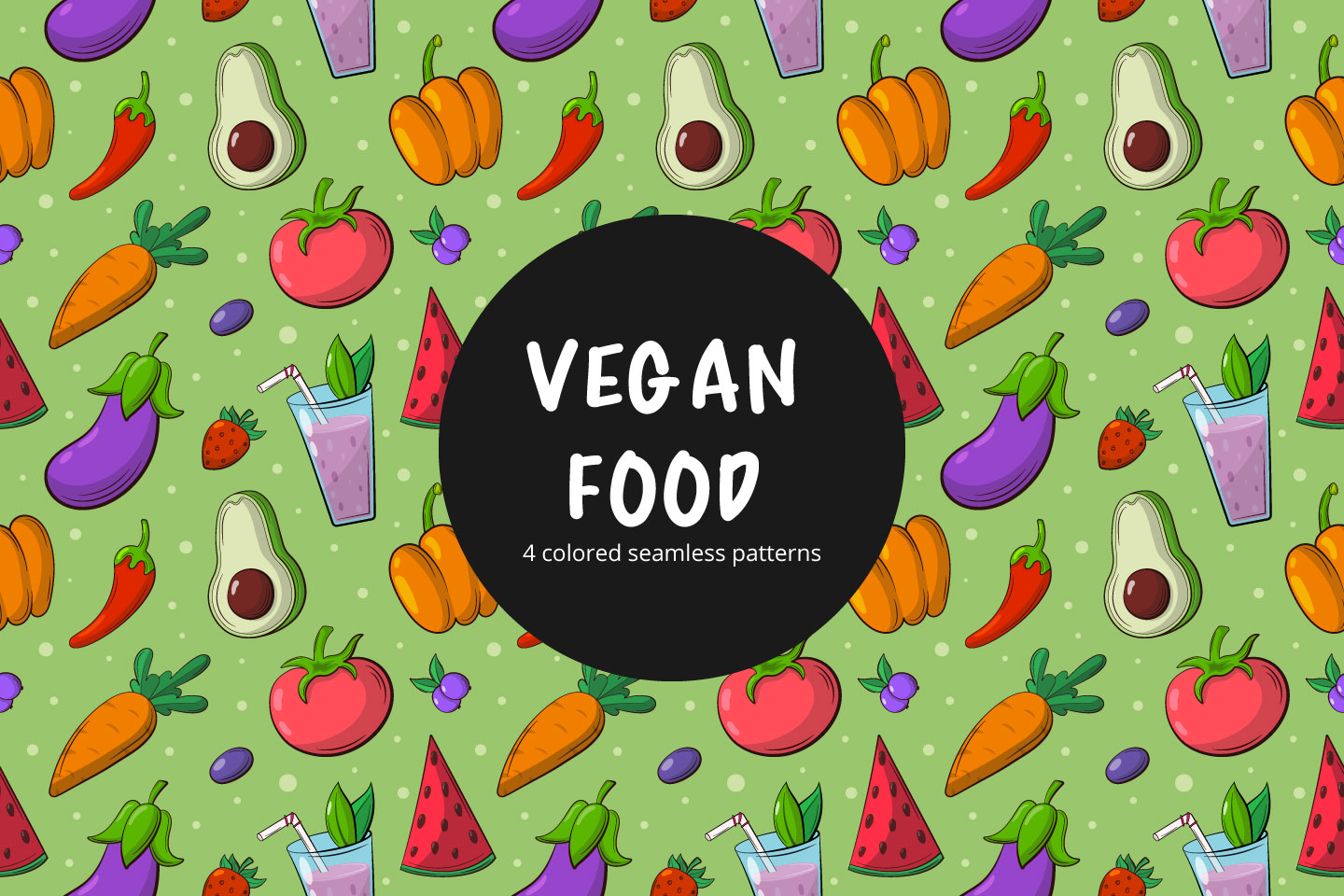 This pattern depicts everything that should be on the dinner table for Thanksgiving. Fresh vegetables, some fruit, and a traditional dish – the baked turkey. Colored leaves and candles complete this composition.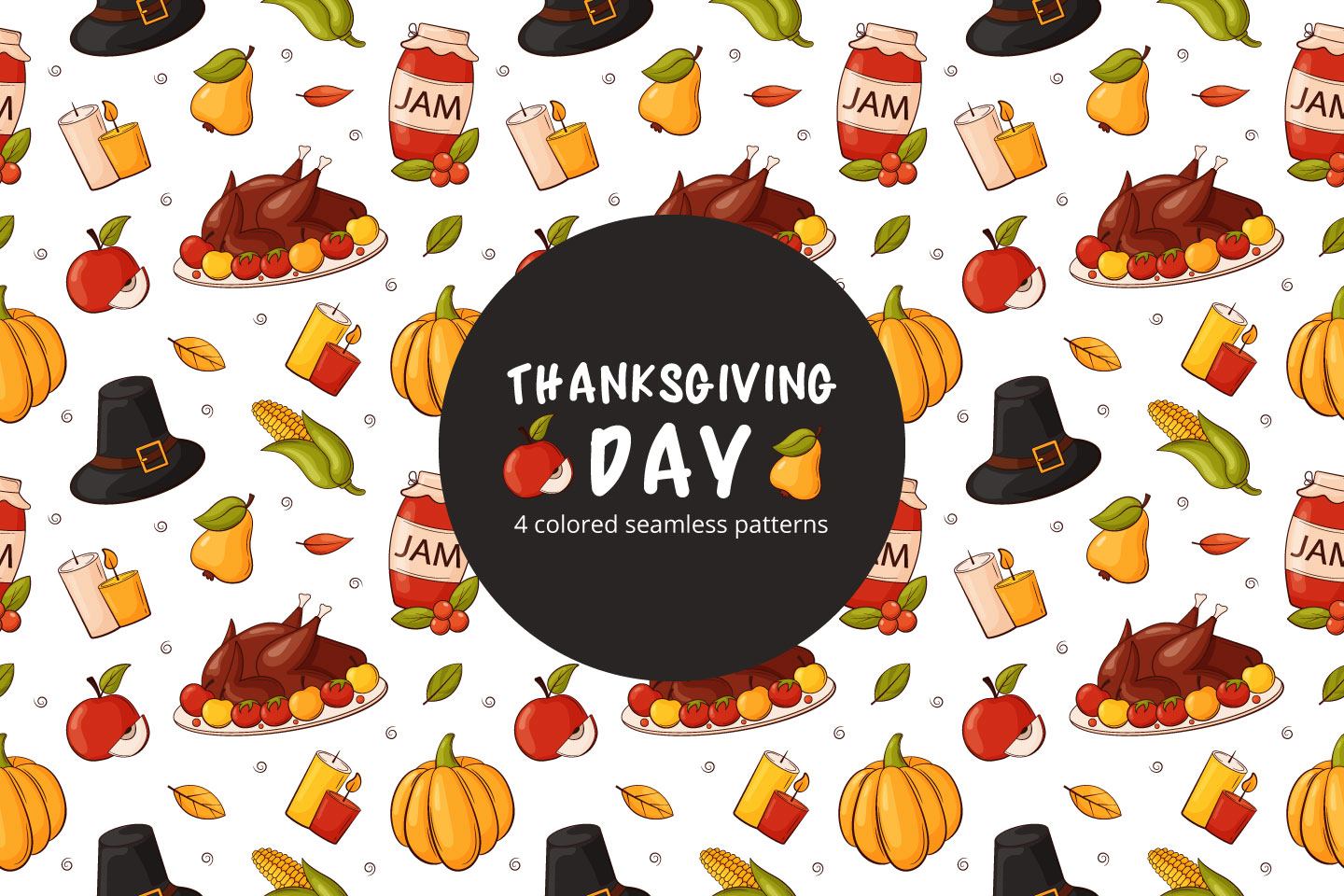 The eye-pleasing lemon pattern. Juicy lemons and green leaves look bright and appetizing. This pattern is suitable for everything. It will look awesome on a fabric, interior design, accessories, etc.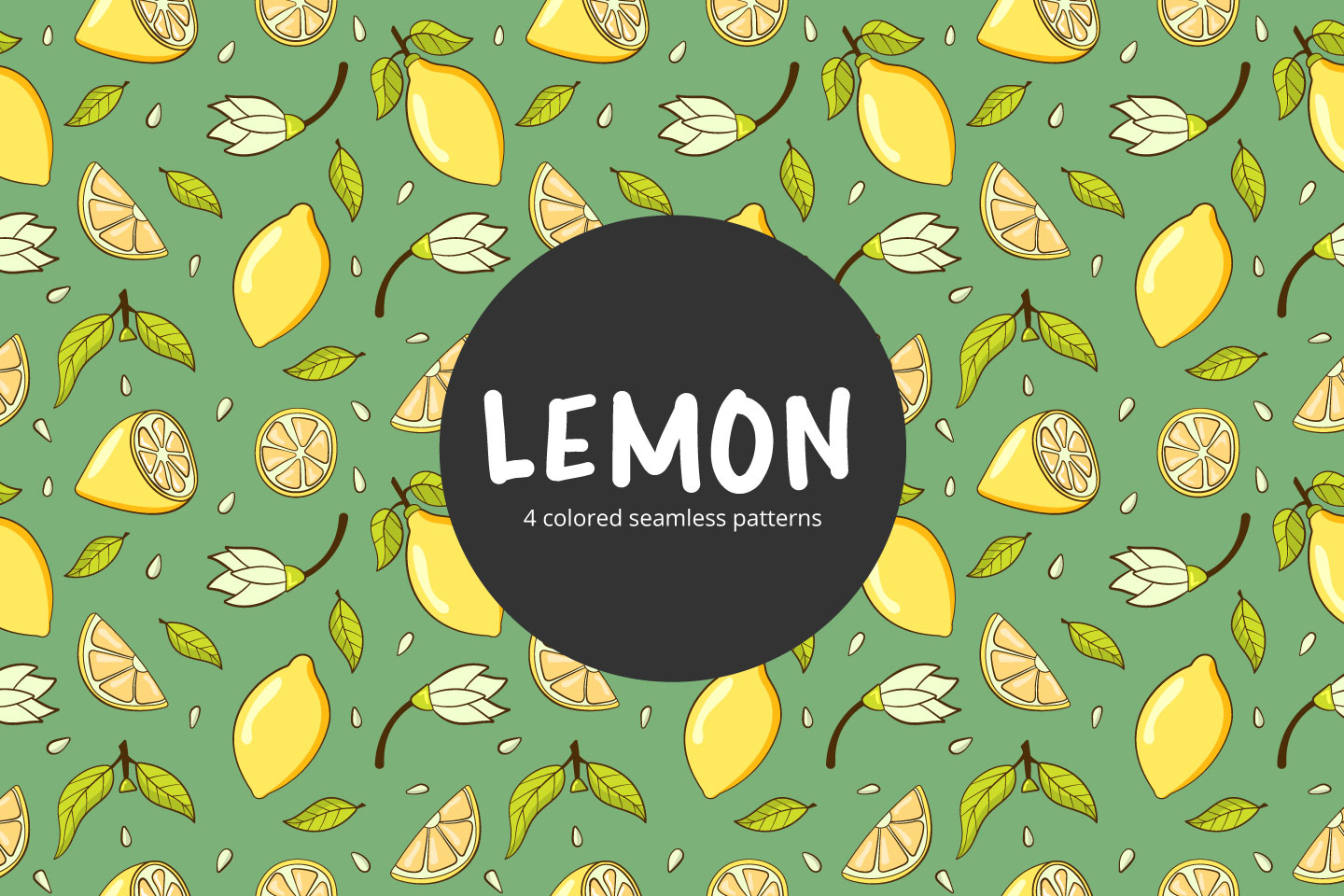 We all love junk food from time to time. Just look at this delicious French fries pattern!  Tasty potatoes are shown along with classic sauces. Do you feel a burst of appetite?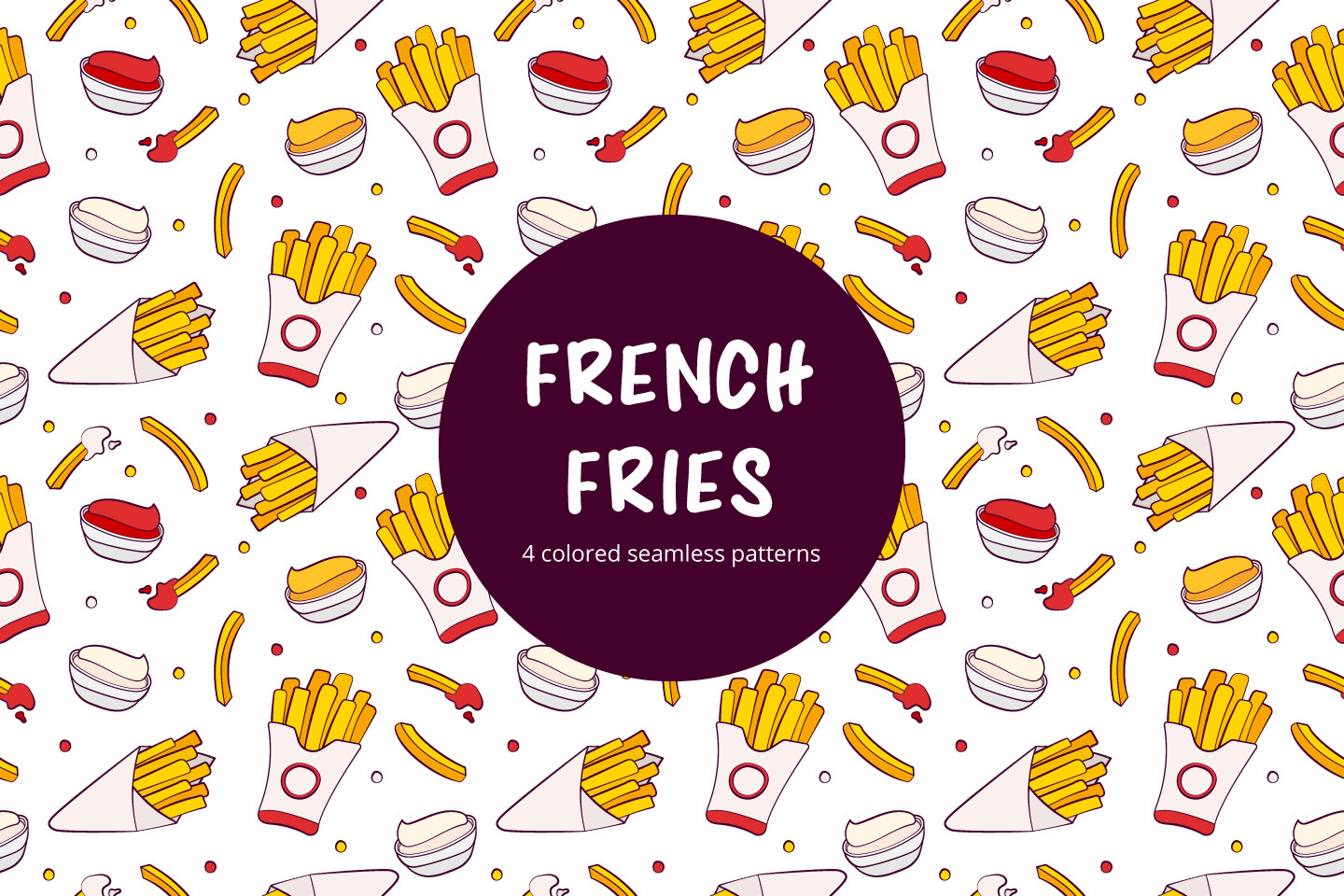 This pattern is associated with forest harvest. In the picture, you can see a lot of different mushrooms. Honey Agaric, Porcini, Amanita. Do you know which ones are edible?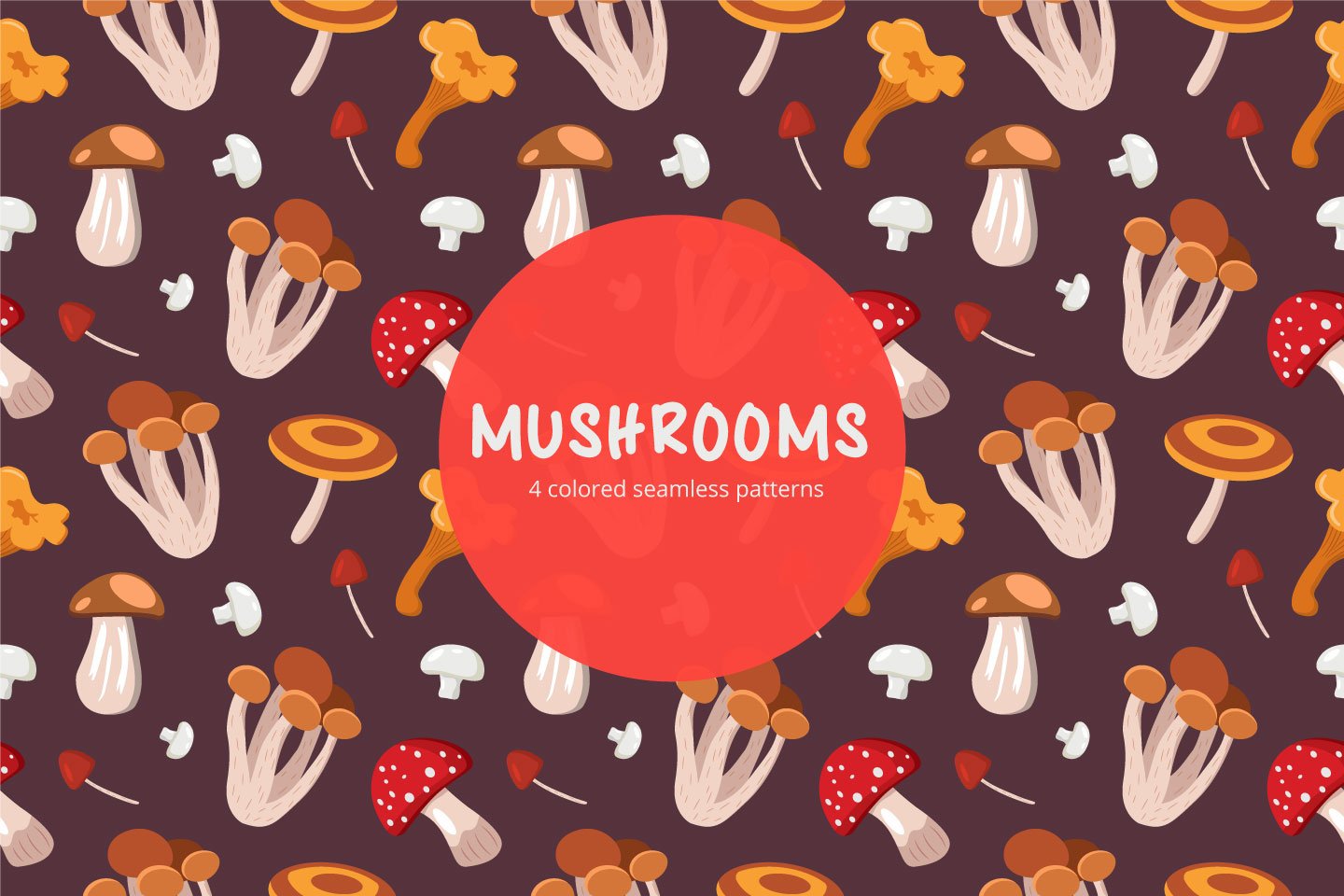 For bakery advertising, this pattern with baked goods is the best fit. Just look how much yummy there is! Fragrant buns and cakes, bagels, and freshly baked bread.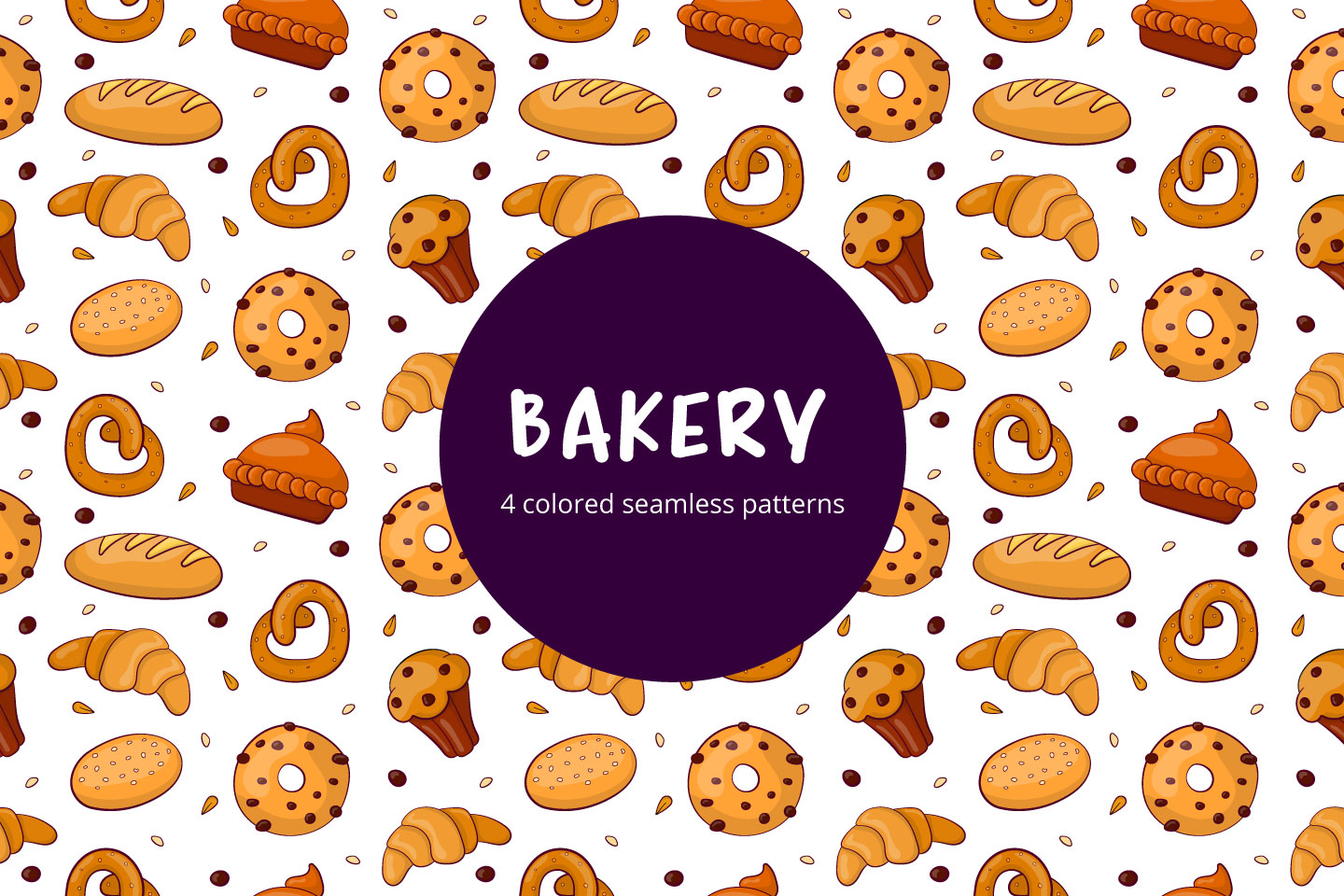 A colorful pattern in a watercolor style will always remind you of summer. Here you can see ripe fruits, juicy berries, and fresh mint sprigs. Watermelon, pineapple, apricots. There is so much to list!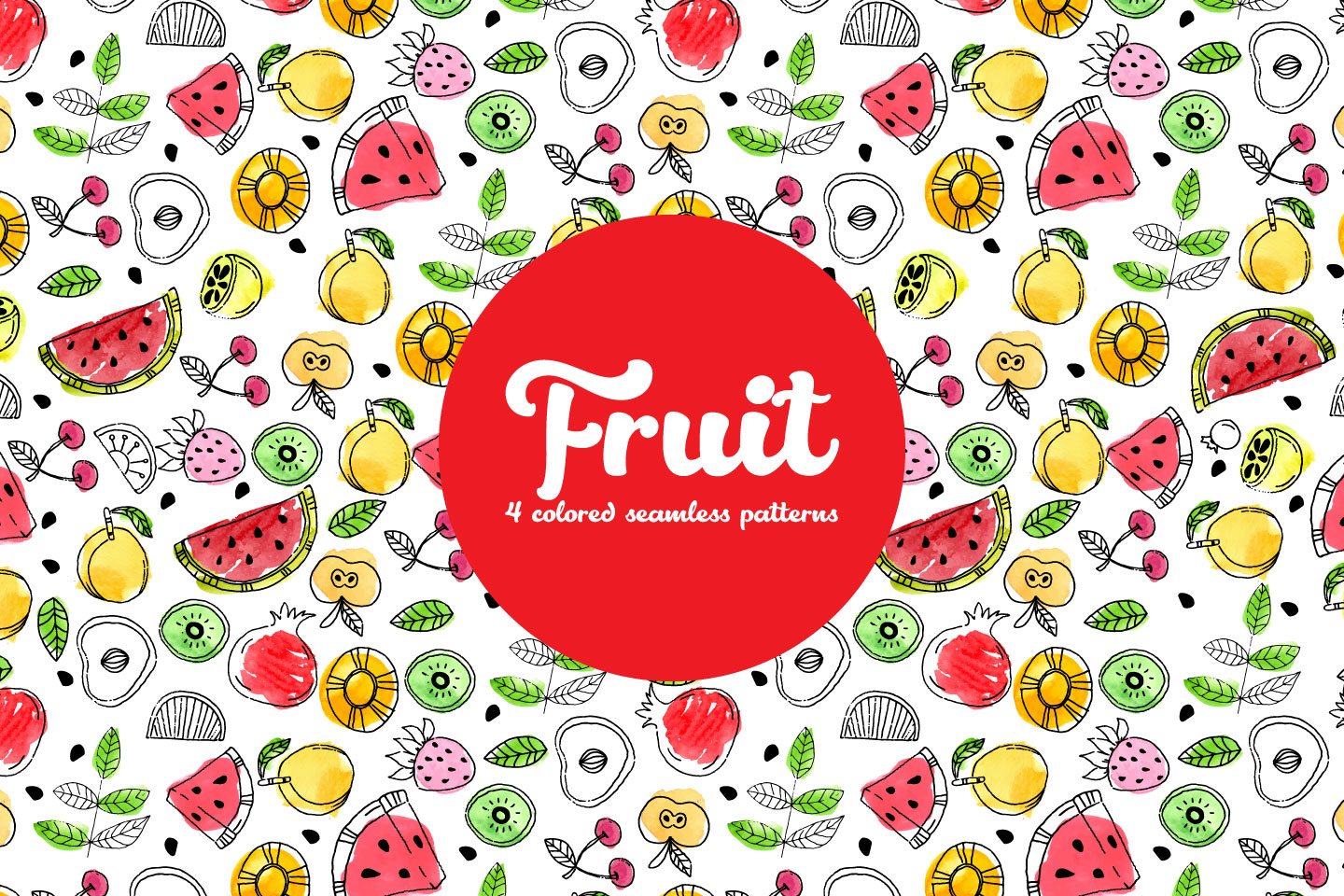 Do you like pizza? We love it, which is why we created this wonderful doodle style pattern. Here you can see a delicious pizza with salami and mushrooms. In the background are olives, peppers, and spinach.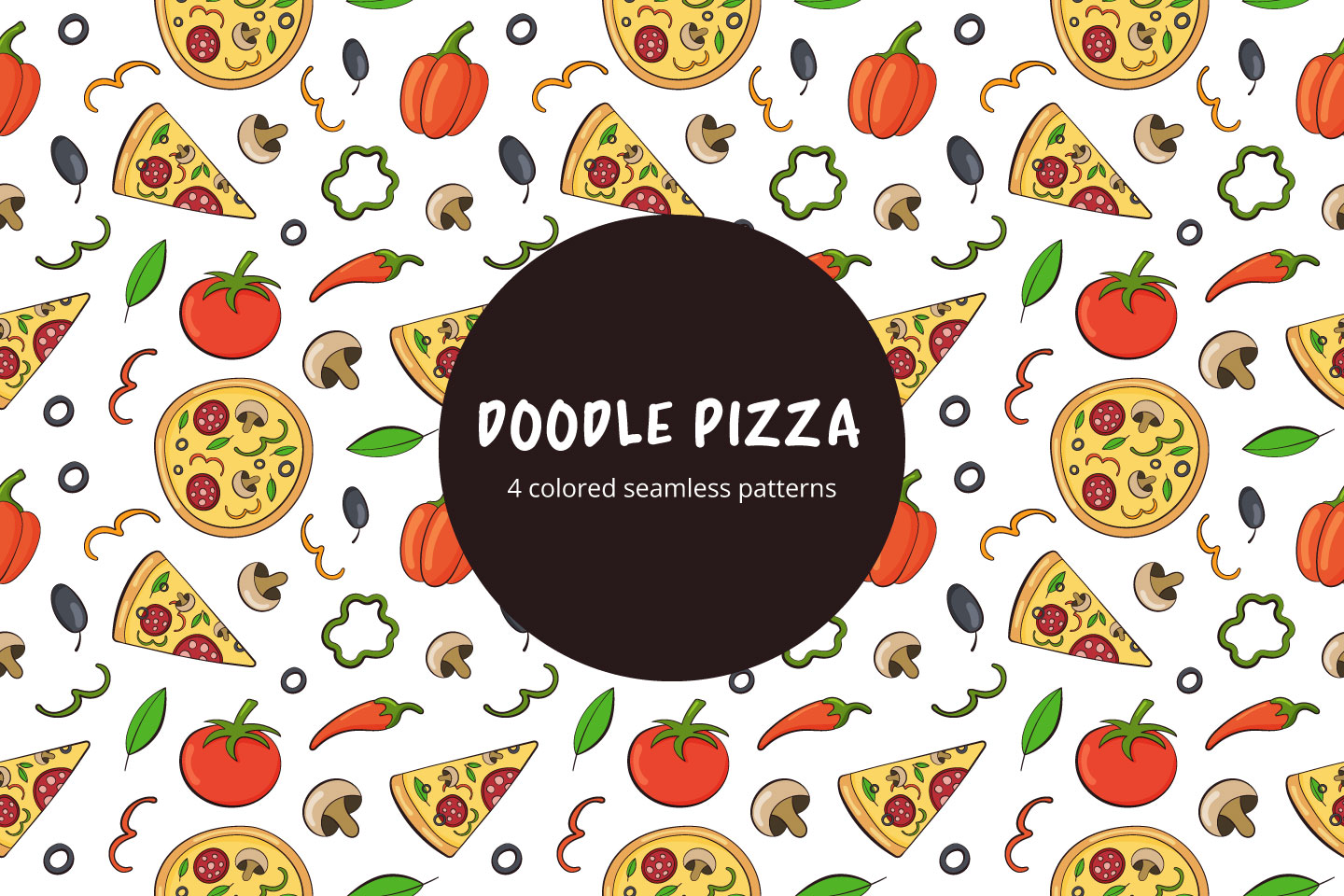 A cute vegetable pattern with a wide variety of foods. Here are fresh broccoli, eggplants, tomatoes, carrots. Also, you probably noticed the slices of pepper and avocado. Such a nice harvest, huh?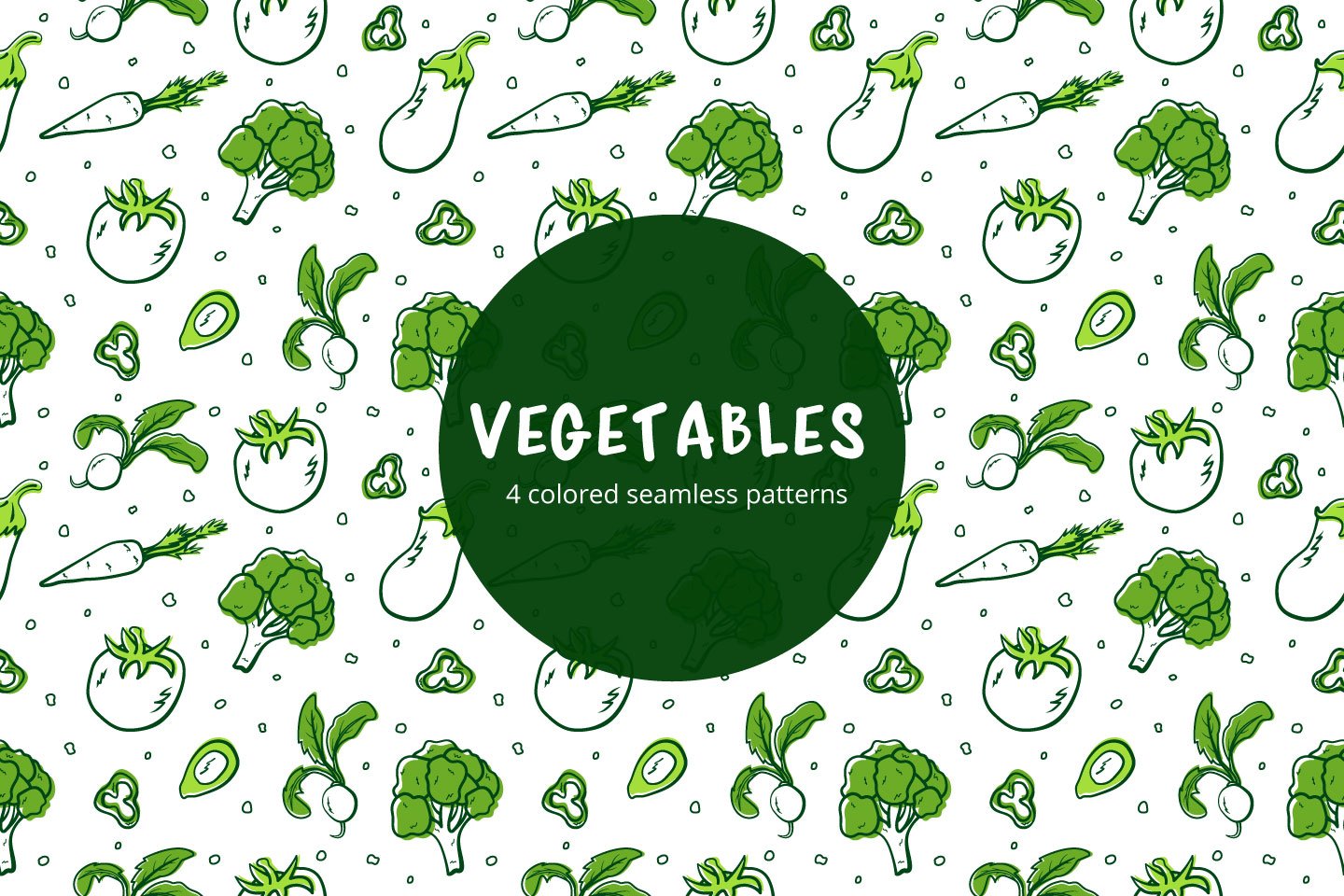 Sweet tooths will love this colorful sweets pattern. Multicolored lollipops, candy canes, and candies are randomly scattered on a dark background.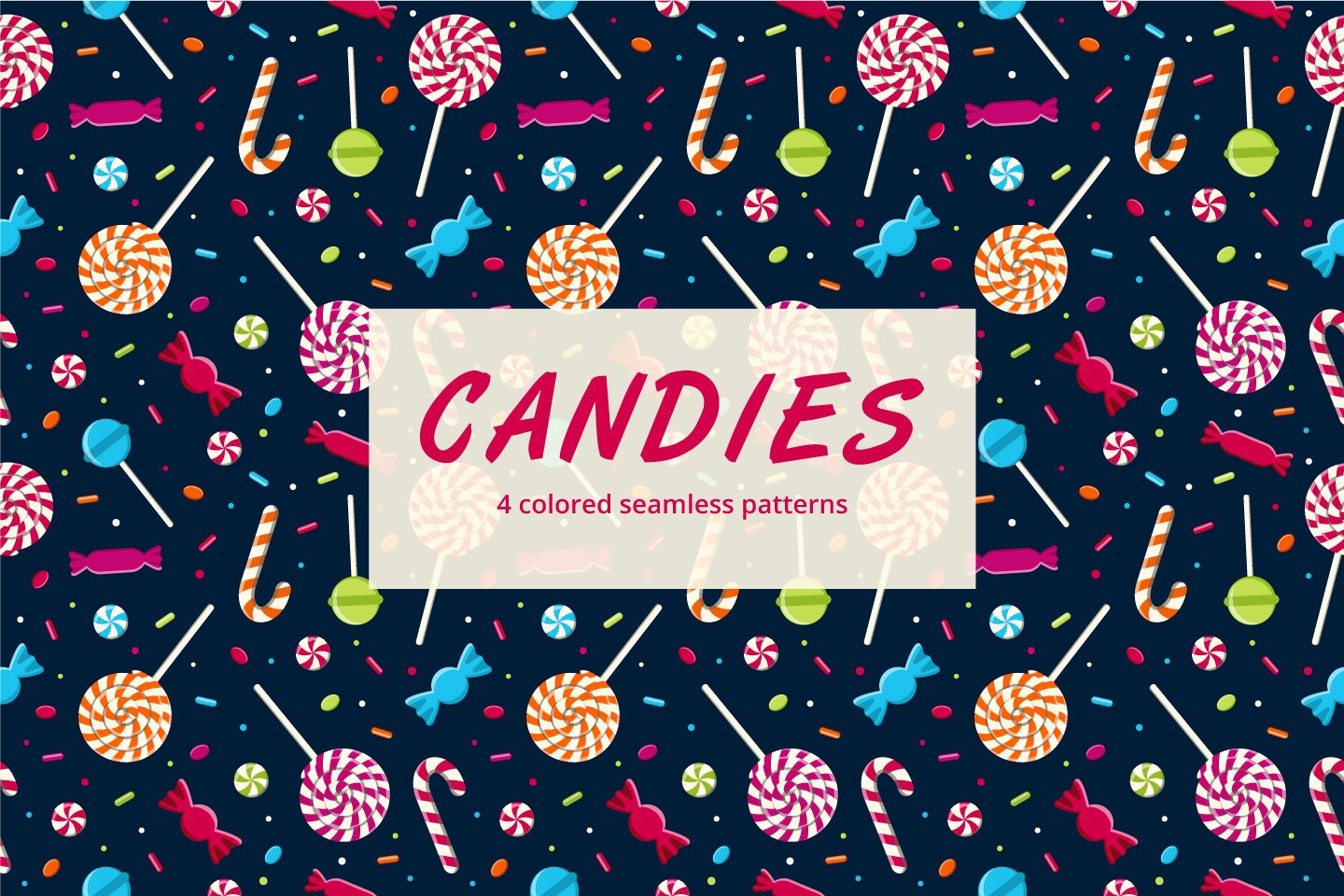 This funny pattern is interesting because vegetables, fruits, and berries are personalized. Just look – all characters express different emotions. The beetroot is shocked, the carrot is laughing, while the lemon is clearly outraged by something.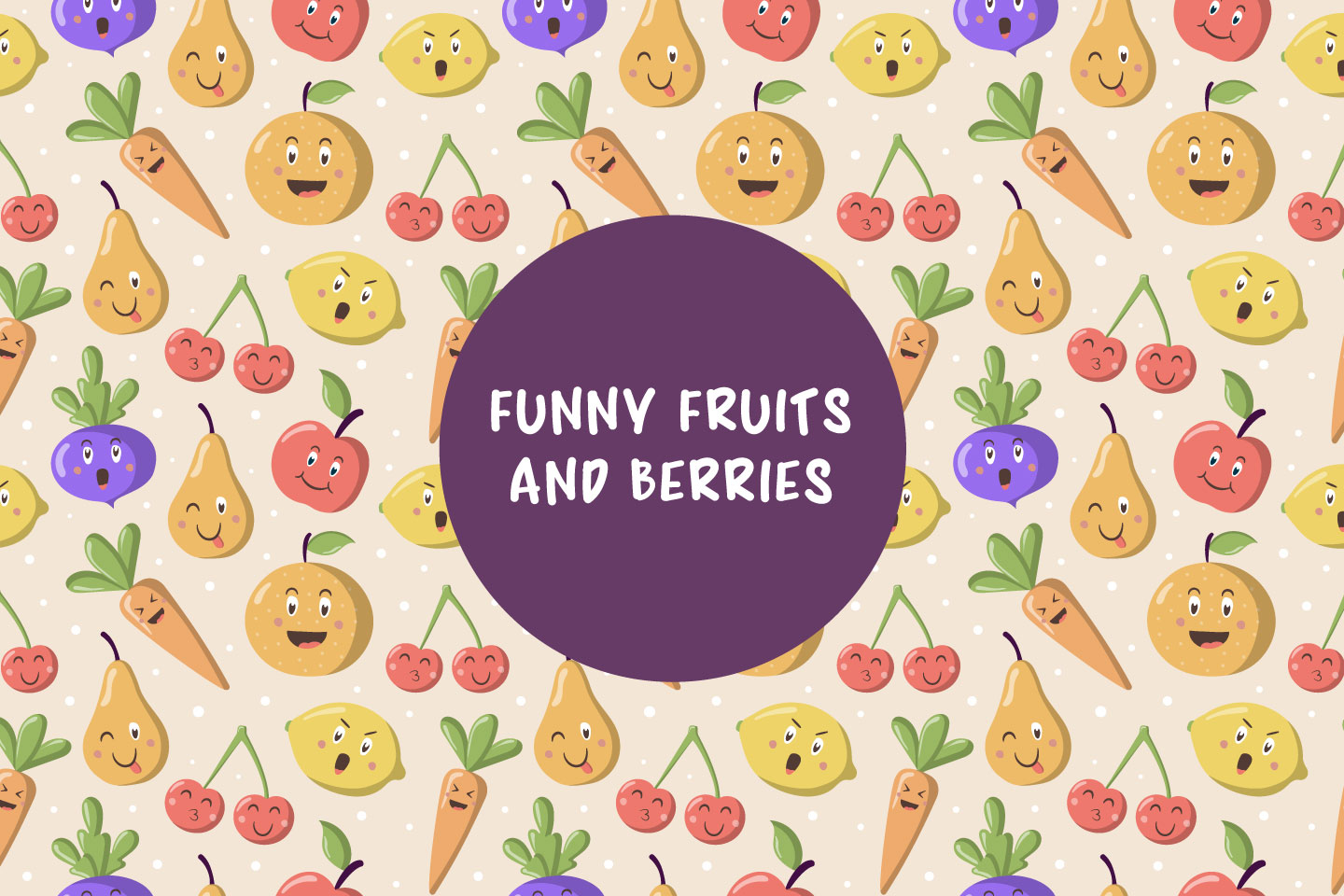 On this pattern, the designer depicted sweet donuts with multicolored icing and dusting. Some donuts have already been bitten. And it's understandable, it is difficult to resist such a tasty treat.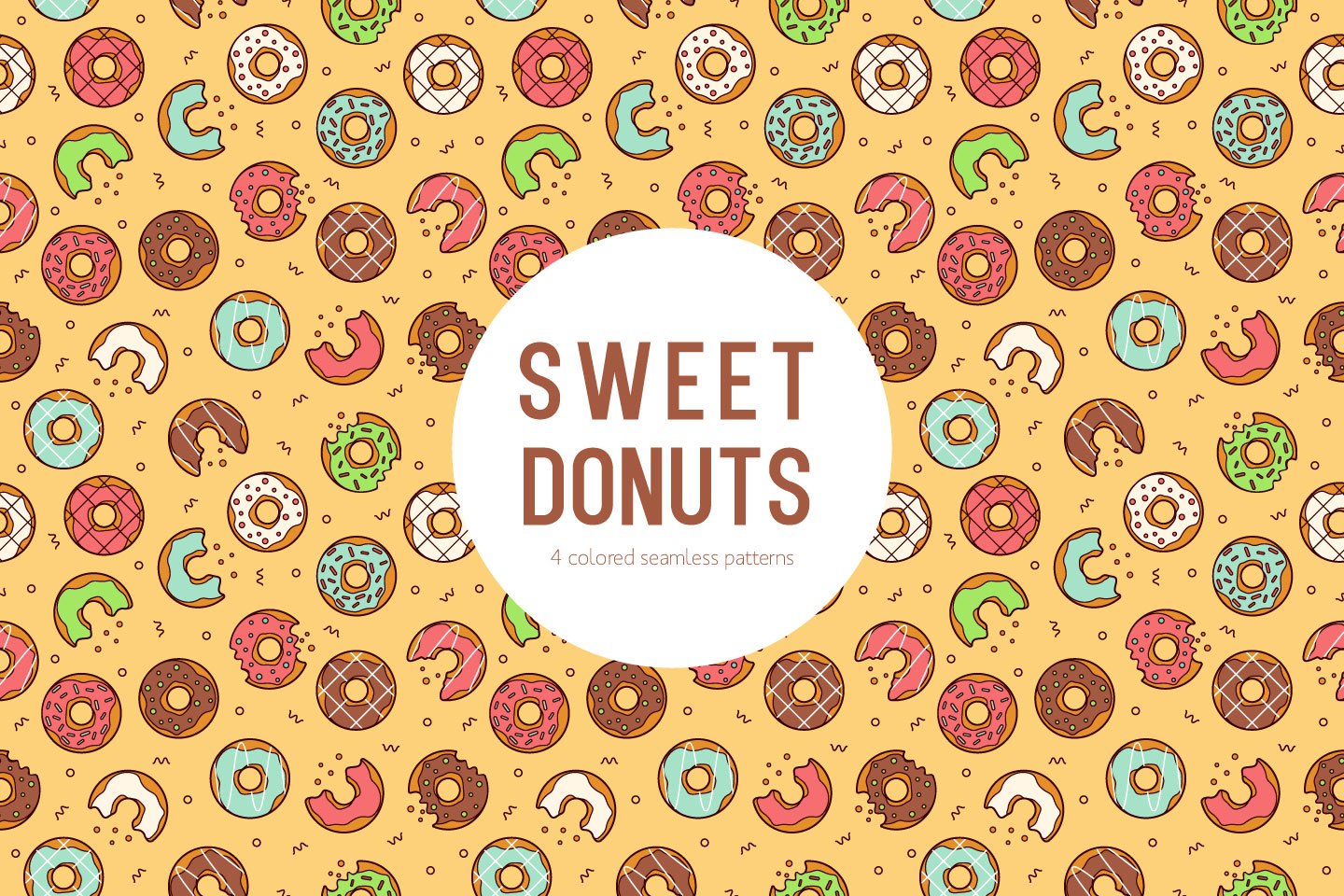 Another pattern for fast food lovers. It contains all the popular dishes. Hamburger, fries, soda, baked chicken. Basically, we haven't forgotten about the sauces.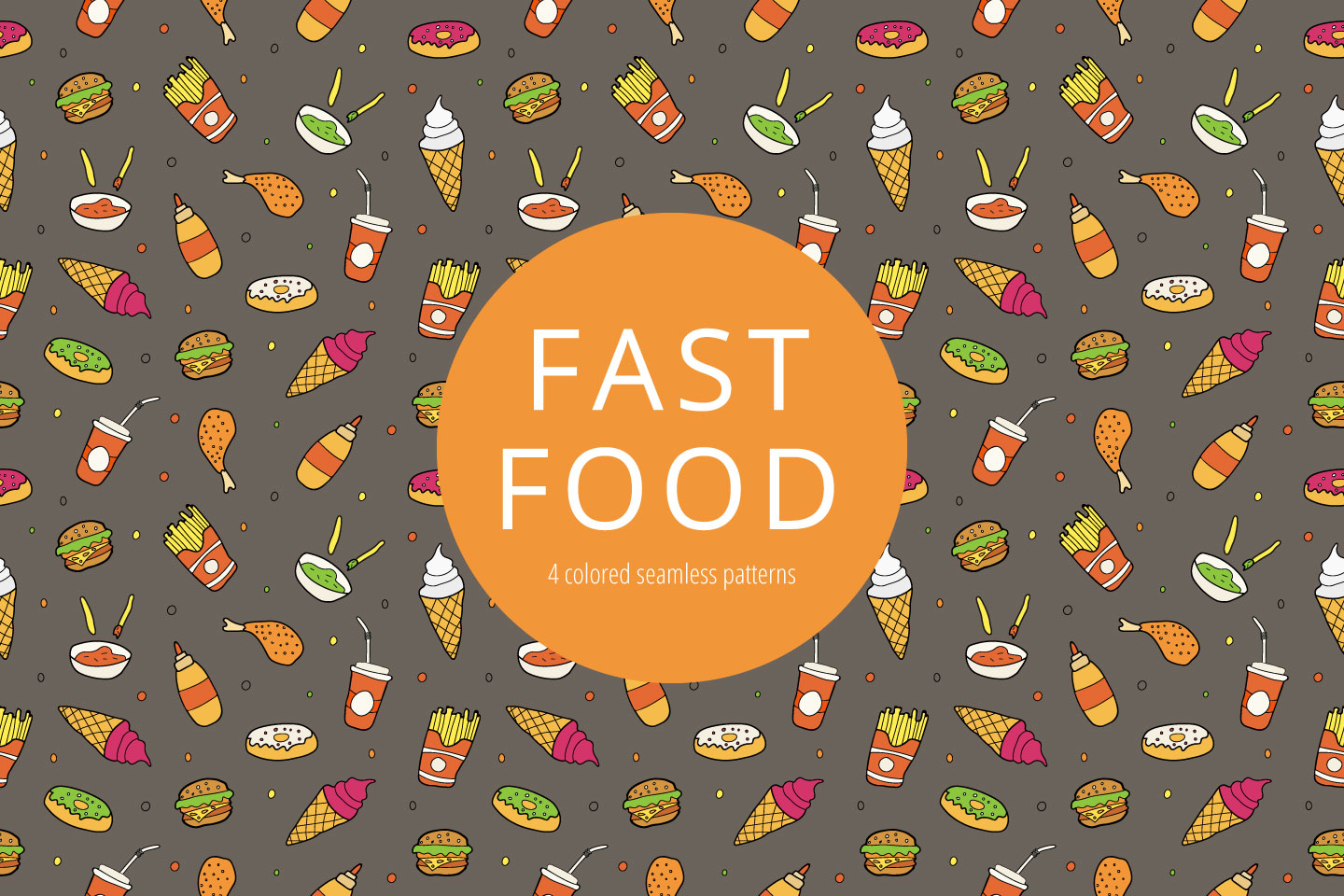 Beautiful pattern with linear style cakes. Glazed desserts are decorated with icing and candles. The wonderful illustration creates a festive atmosphere.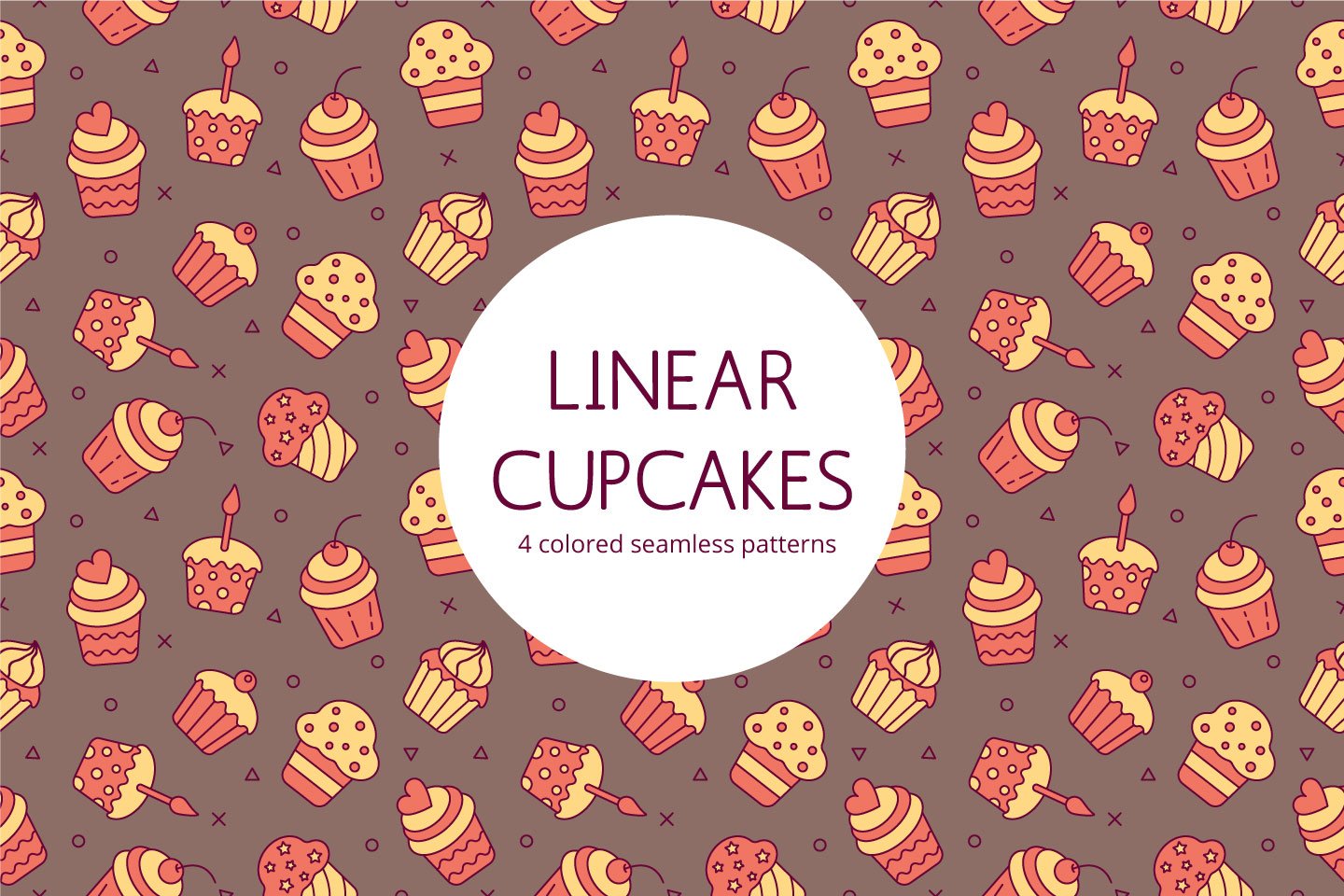 The ripe avocado pattern is suitable for healthy eating, organic food, diet. Whole and cut avocados form a seamless pattern. Avocado bones and leaves are additional elements in this yummy illustration.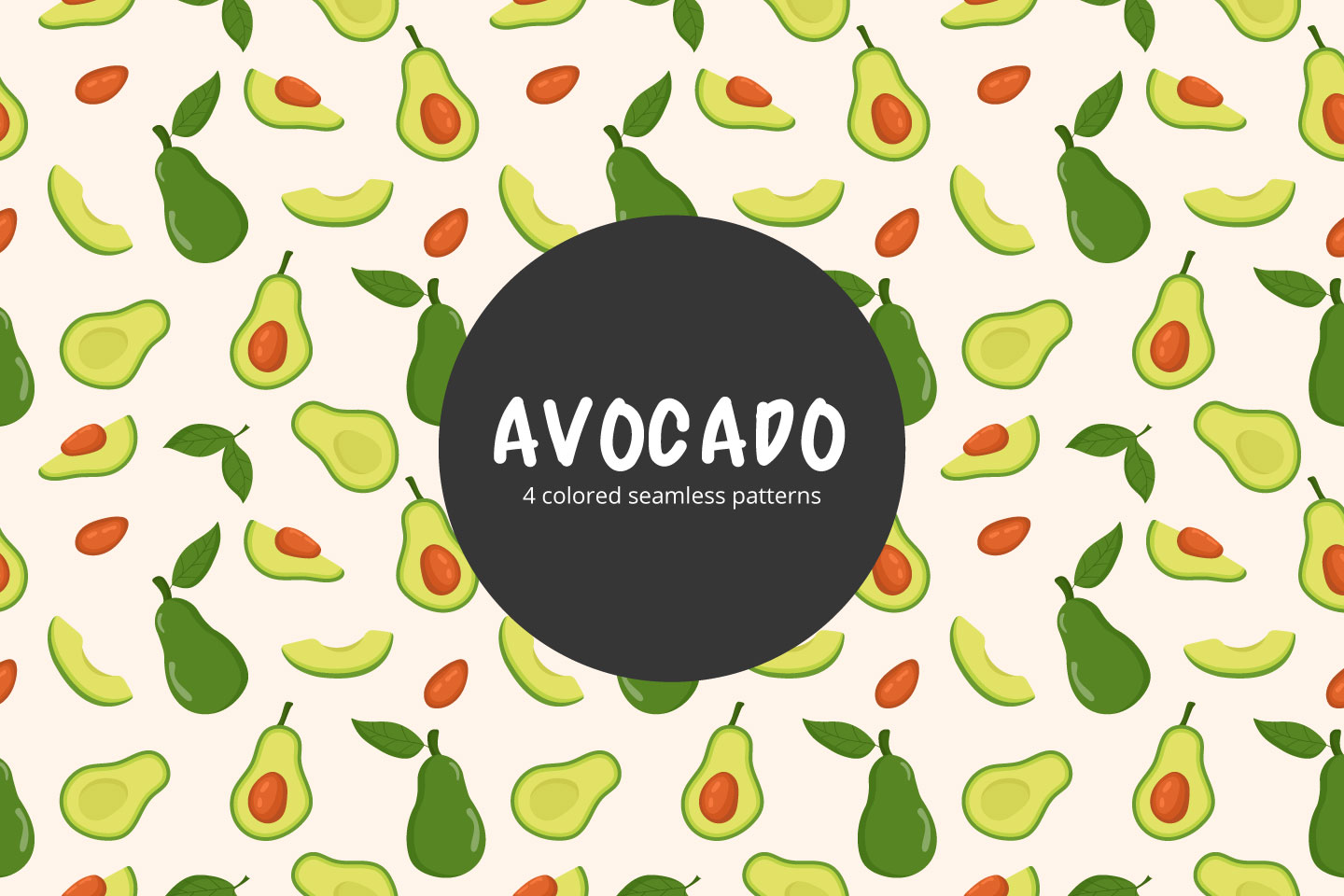 The sweet ice cream pattern with different types of this popular dessert. Here you can see popsicles, chocolate bars, scoops of different flavors. We all love it, right?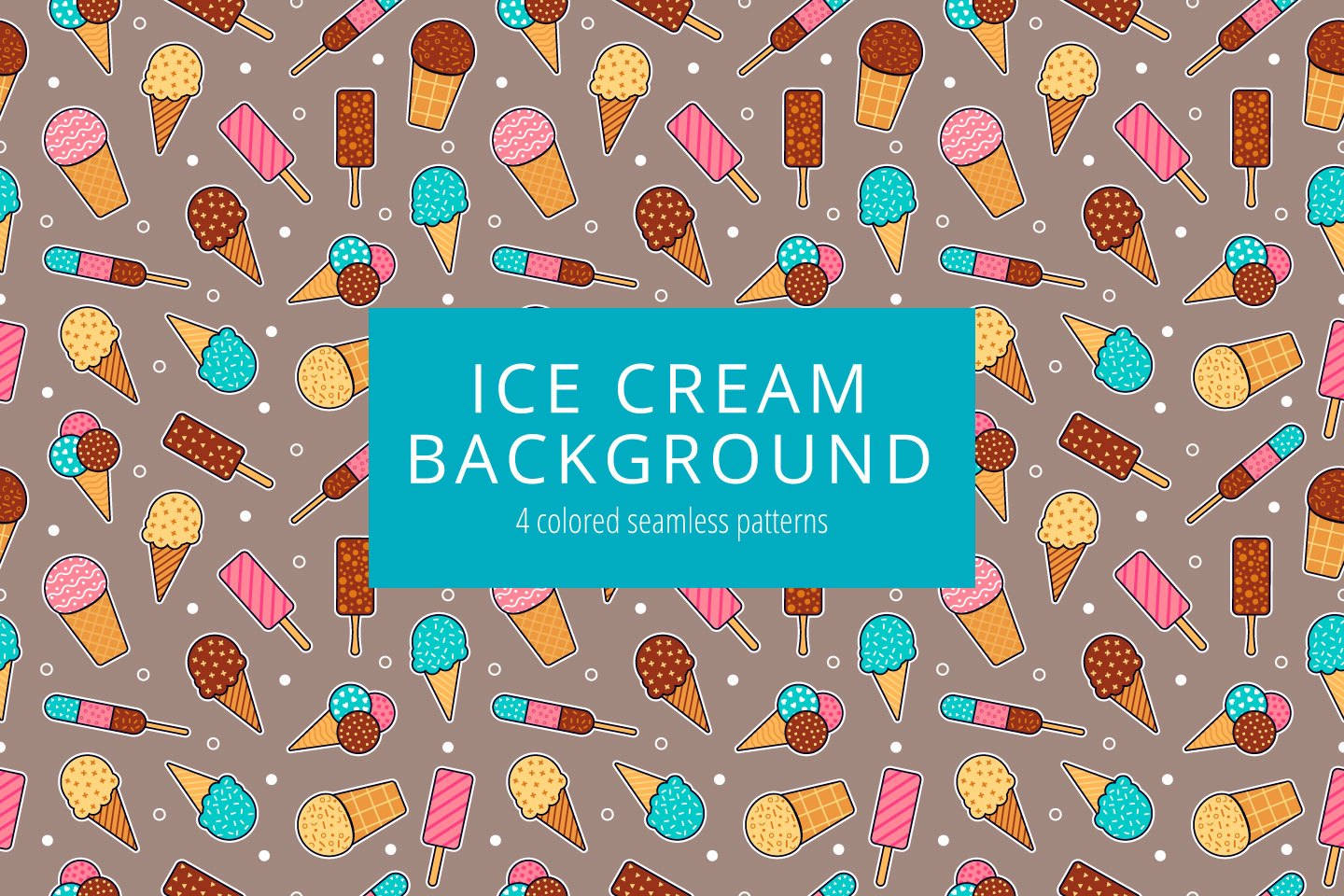 Awesome banana pattern for your needs. Ripe fruits are placed on a striped background. The designer depicted bunches of bananas and fruit slices.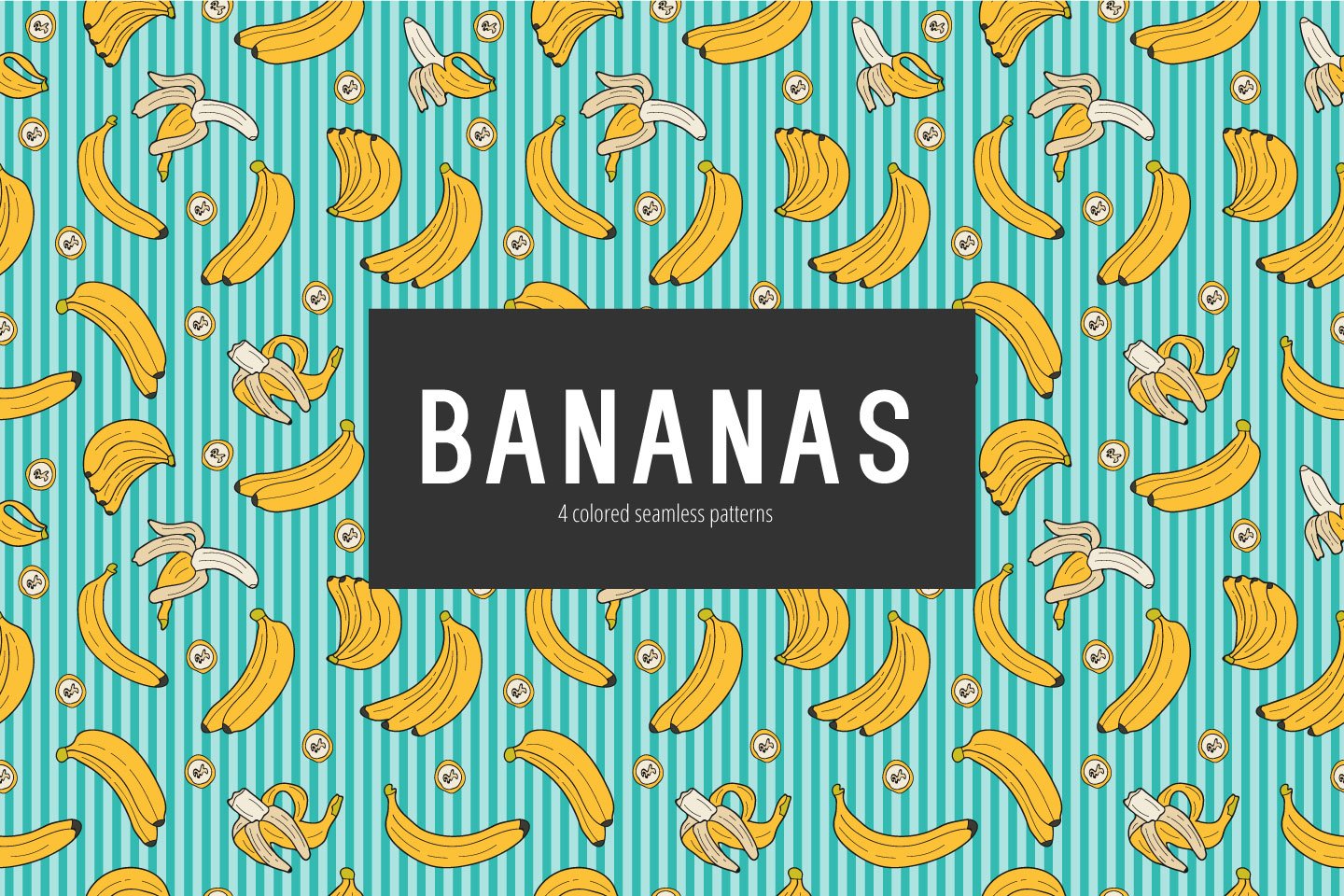 Elegant autumn pattern with vegetables made in a watercolor style. The designer depicted corn, eggplants, cucumbers. Also, you can see carrots, tomatoes, radishes, and peppers. Additional design elements are fresh herbs and peas.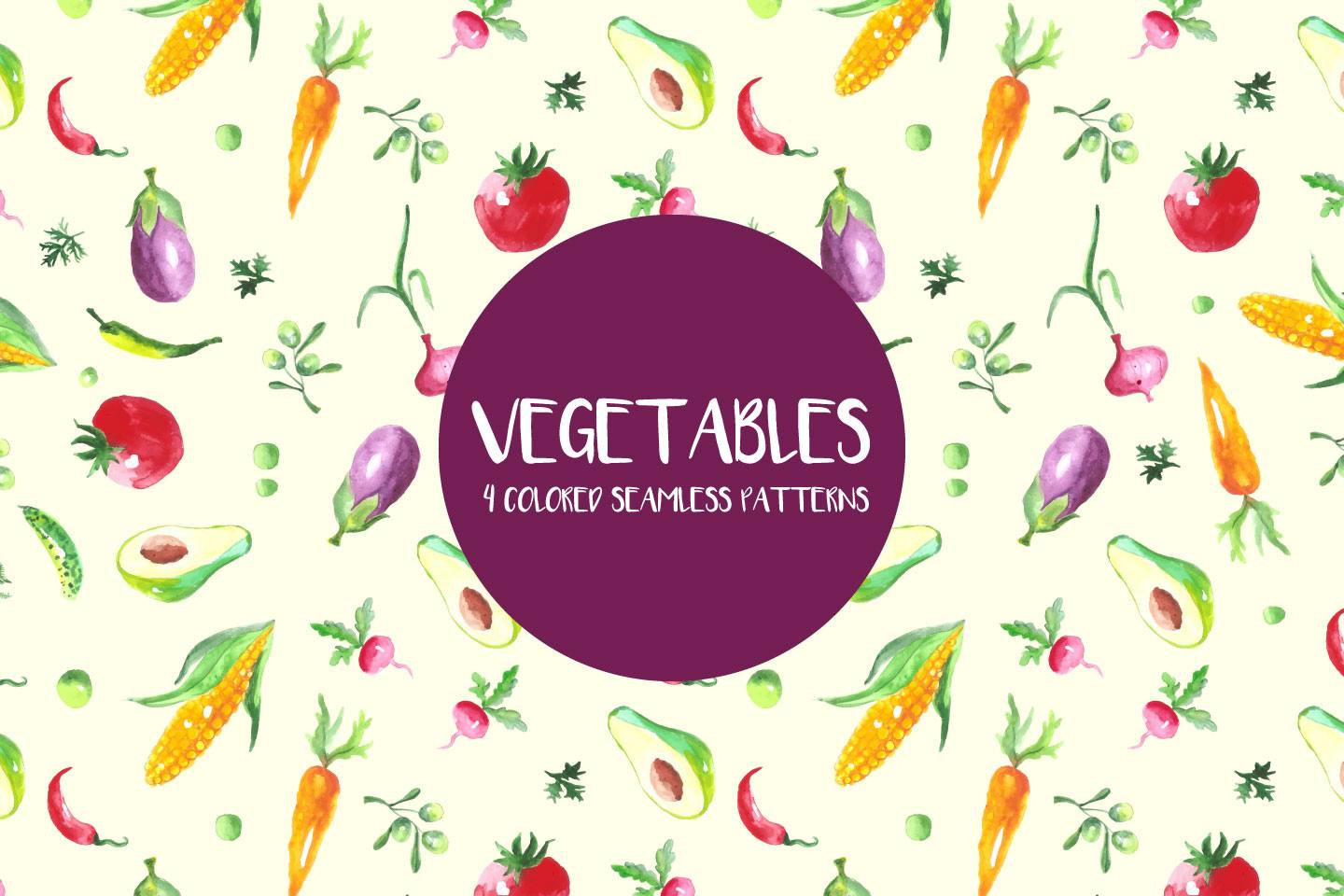 This pattern is made in a cartoon style. Smiling fruits and berries are looking at you from the dotted background. Bananas, cherries, plums, lemons, pears, and oranges with funny faces express delight.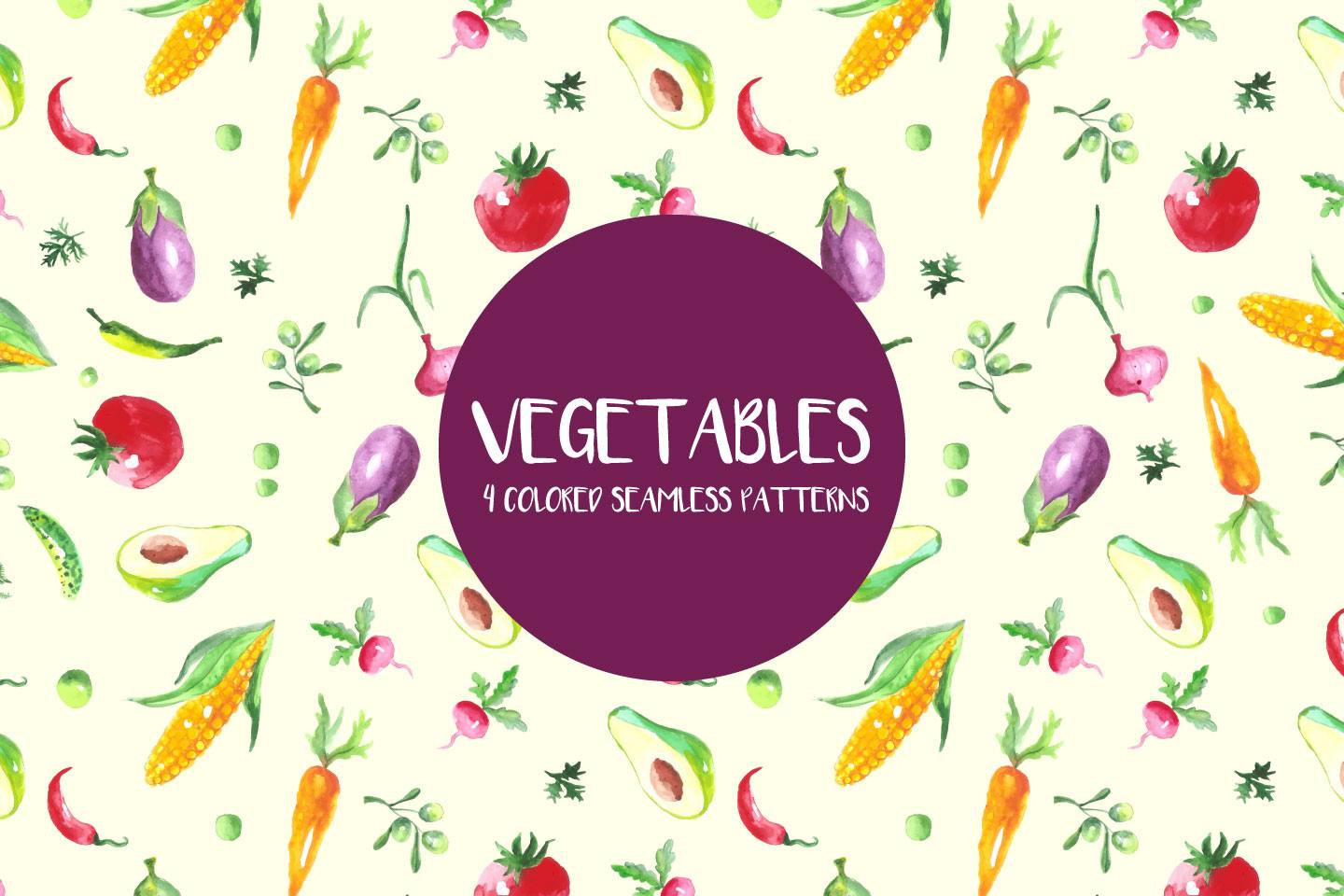 This pattern is made in a cartoon style. Smiling fruits and berries are looking at you from the dotted background. Bananas, cherries, plums, lemons, pears, and oranges with funny faces express delight.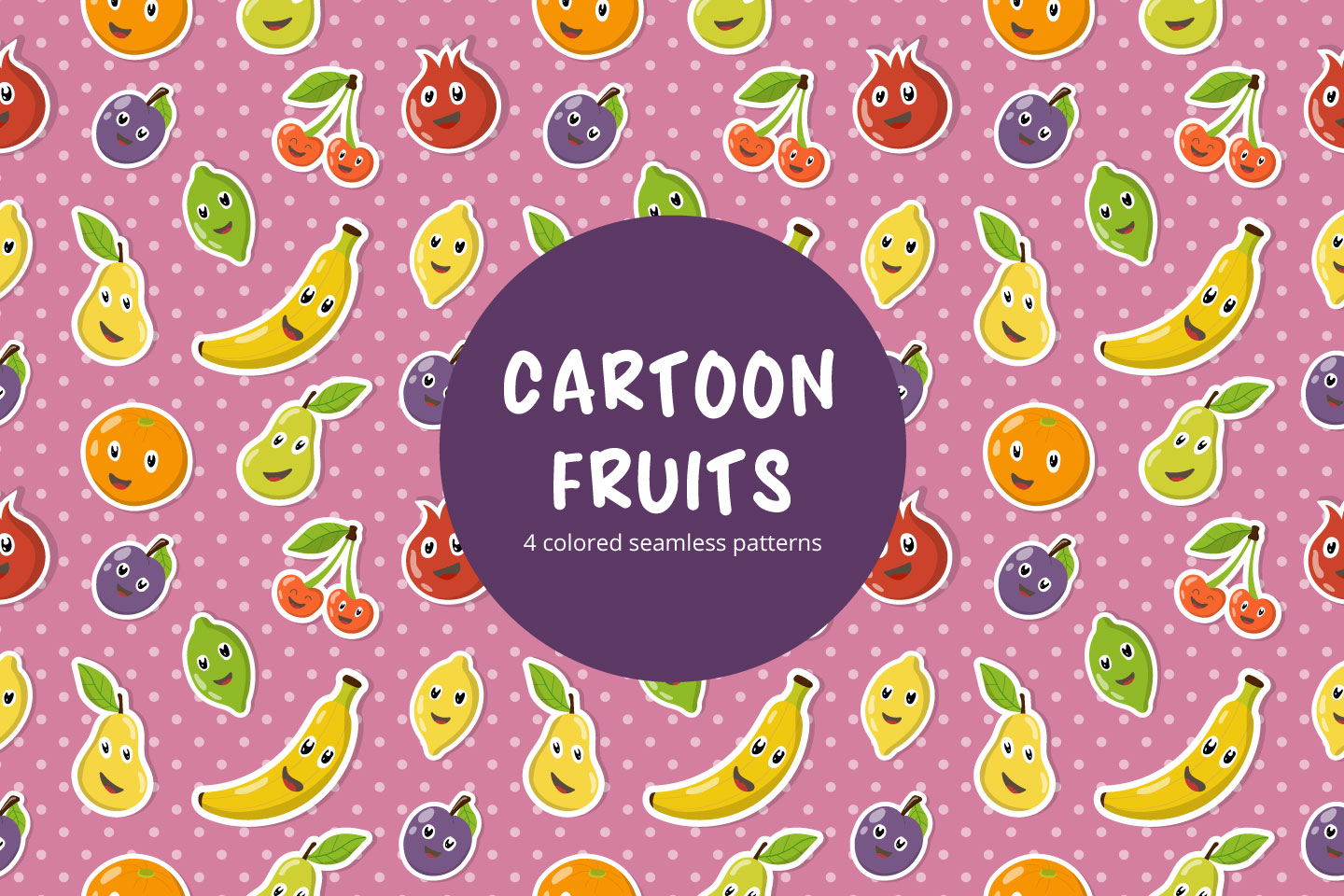 Magnificent jam pattern in a watercolor style. It features bottles and jars of homemade jam. If you look closely, you will see the various ingredients used in the recipe. These are plums, apricots, lemons, cherries.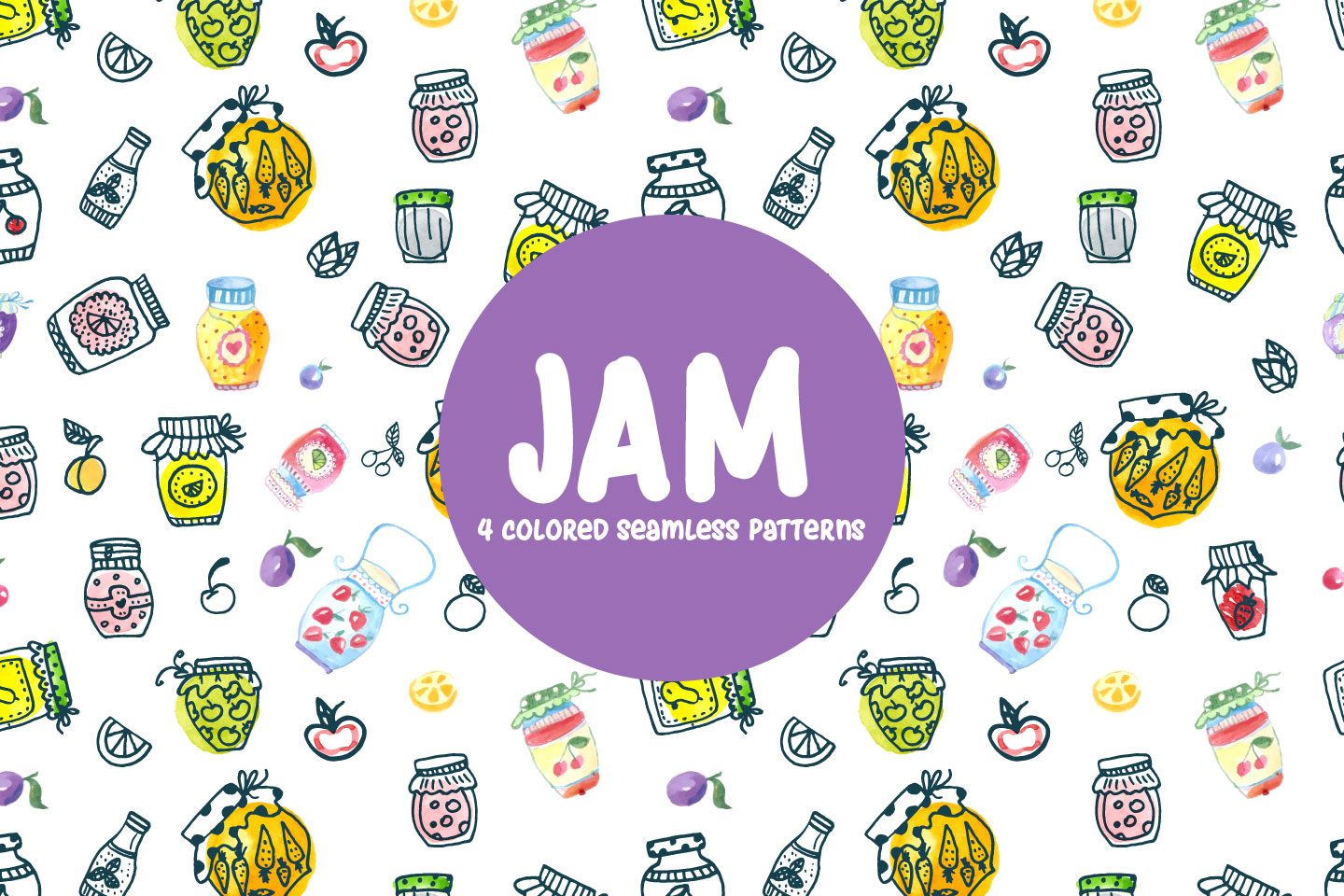 We hope you found what you were looking for. All our patterns are made in different formats. Just click to download and you will get good quality products!