Black Friday is a great time to find bargains if you don't mind crowds or standing in line. Web designers have it better. There are no crowds or lines here. And the bargains are every bit as good as in the brick and mortar stores, or in other online stores for that matter.
These selections of design aids, stock photos, WordPress themes, etc., have something for just about everyone. If you haven't been a customer of one of these businesses before, Black Friday is as good a time as any to get acquainted. You might find something you've been looking for, or you might find something you haven't been looking for, but could find useful!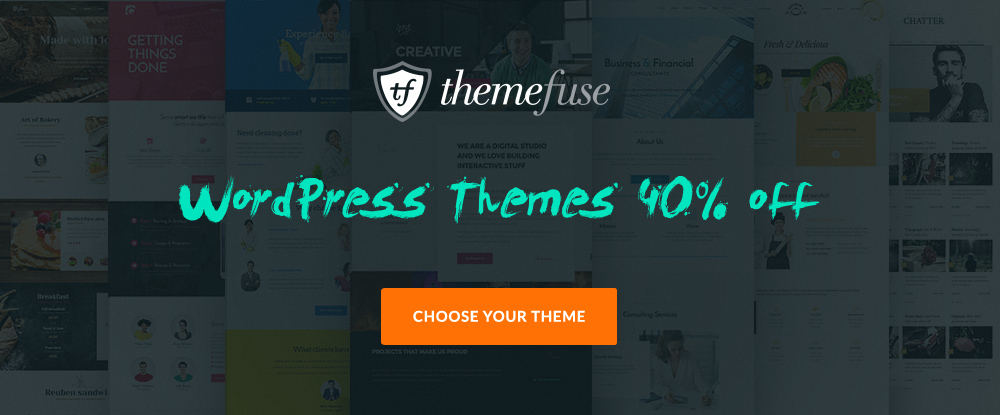 Themefuse is offering their 30+ high-quality WordPress themes at a 40% discount , on Black Friday only. If you've been looking for a special theme topic or style, you'll find it here, and it can be yours for a real bargain.
Check out The Core, a massive multi-purpose theme, consisting of 20+ themes, with everything you need to build a website.
Finding a professionally-designed theme like one of these can be a life saver if you are working with a client who expects you to deliver an original website; and on short notice. Themefuse has themes for presentation websites, e-commerce websites, portfolios, and blogs, plus an excellent selection of topical themes.
Although you're purchasing your theme at a Black Friday discount, Themefuse will allow you to test drive it for free before you buy. It would be advisable to check to see if you need to complete the trial run before Black Friday comes to an end. You'll like what you see in these original and highly creative themes, and you'll also like their ease of use.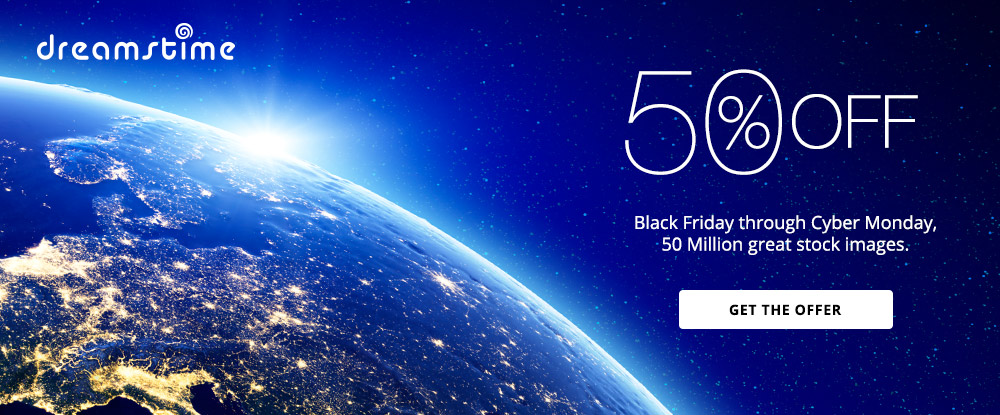 Dreamstime is offering a 50% discount on its millions of stock photos and videos starting on Black Friday, and ending on Cyber Monday.
Millions of items could be a lot to have to sift through, but Dreamstime's Smart Advanced Search system makes it easy to drill down through categories, subcategories, and topics, and pick out one or more choice items at a bargain price. Dreamstime's stock photo and video inventory is highly organized, so don't hesitate to dive right in.
Dreamstime's professional contributors add thousands of fresh files every day. Once you've seen the offerings, you'll be tempted to become a regular customer if you haven't visited this resource for stock photos before.
Dreamstime is one of the largest stock photo providers, it has been in business for many years, and during that time it has provided media services to 95% of the Fortune 500 companies.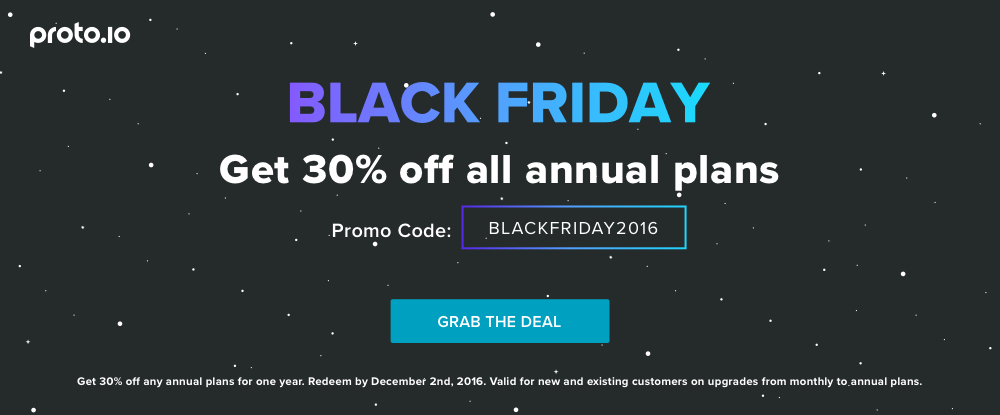 Proto.io is an industry-leading prototyping platform with a stellar reputation for product quality and ease of use. From Black Friday through December 2, you can purchase an annual subscription to Proto.io at a 30% discount .
The promo code is BLACKFRIDAY2016. This offer is also open to any current subscribers who would like to purchase an upgrade. If you take advantage of a free trial, you can upgrade anytime through December 2, and still receive your discount.
Proto.io is an excellent tool for design teams or freelancers who would like to make their design workflows function more smoothly and productively.
It's an extremely easy tool to use. You can take a static design file, and have a high-fidelity, interactive prototype that has the look and feel of the real thing, up and running in a few minutes. There's no need for coding skills or any special technical skills.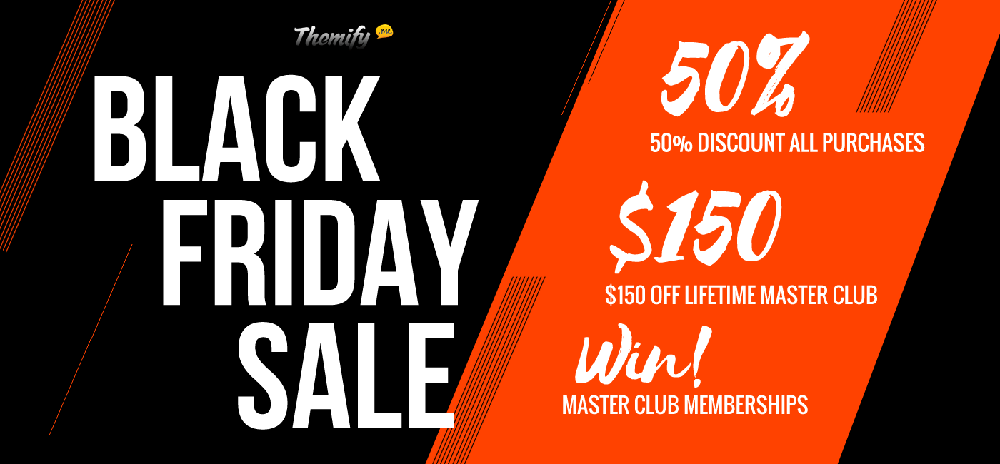 Themify themes and plugins are designed to help you make beautiful responsive websites quickly and easily.
Use promo code BLACKFRIDAY for a 50% discount on all Club memberships, WordPress themes, and plugins from Black Friday through Cyber Monday. During this promotional period, you will also have a chance to win one of 10 Master Club memberships that will be given away for free.
If you elect to join the Lifetime Master Club, use promo code BLACKFRIDAYLIFE, and membership is yours for just $249; a Black Friday savings of $150!
Visual Hierarchy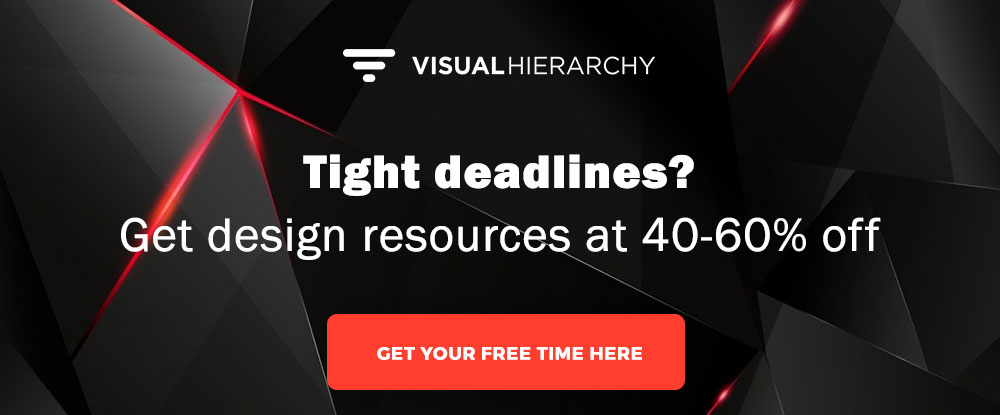 Visual Hierarchy is a popular source for high-quality and innovative design tools and design elements. You're invited to join VH's regular customers, who will most certainly be paying a Black
Friday visit for savings at up to 60% off the regular prices.
Since designers and developers use VH as a marketplace to sell their own products, you'll more than likely come across one or more items you can use that you won't find for sale anywhere else. This is your chance to purchase anything from fonts, to mockups, to UI kits, and more at bargain prices.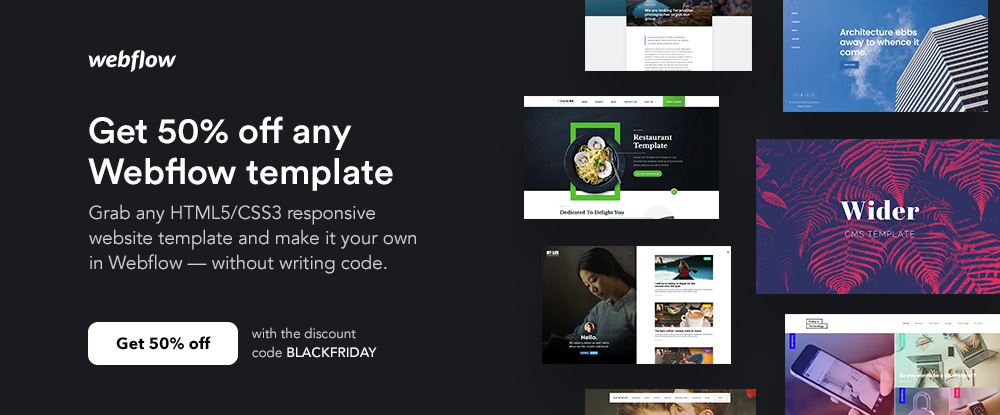 Webflow is offering all its HTML5/CSS3 responsive website templates at a 50% discount from Black Friday to December 2. Just enter the coupon code BLACKFRIDAY at checkout. This is an excellent opportunity to choose from a selection of more than 100 of these templates, which includes templates for blogs and portfolios.
If you're not a Webflow user, this is also a great opportunity to find out more about Webflow, a website design tool used by over 400,000 designers, developers, and other creative professionals. With Webflow, you can design and develop at the same time, and build websites in half the time.
Wrapping it up
These Black Friday bargains are for customers new and old. If you are a new customer to one of these businesses, this is a great opportunity to look over the product or product line, and see if you might consider becoming a regular customer.
Dreamstime and Visual Hierarchy are two great examples of marketplaces that have achieved sterling reputations.
You might also want to check out Proto.io, and all in one prototyping platform, or see what Themefuse, Themify, or Webflow offer. These are all quality businesses, so you have nothing to lose by taking the time to explore one or more of them in detail. Be sure to note whether the discounts offered extend through Cyber Monday or later, or are good on Black Friday only. You don't want to miss out! Happy hunting.