As a WordPress user, you definitely follow some favorite WordPress resources, but have you ever had a feeling that you still miss some essential tips? Of course, with only 24 hours in a day, it seems that there is so much to read and so little time. So it would be right to spend your time on something really useful.
With this in mind, we've made a list of the best resources to learn WordPress, from the general to the specific. We believe this list will be interesting for bloggers and webmasters who are looking for WordPress tools, how-to guides, inspiration, or technical advice.
So here are 8 of the most readable, informative, and revealing WP resources around. Take a look at each one and bookmark the ones you find helpful.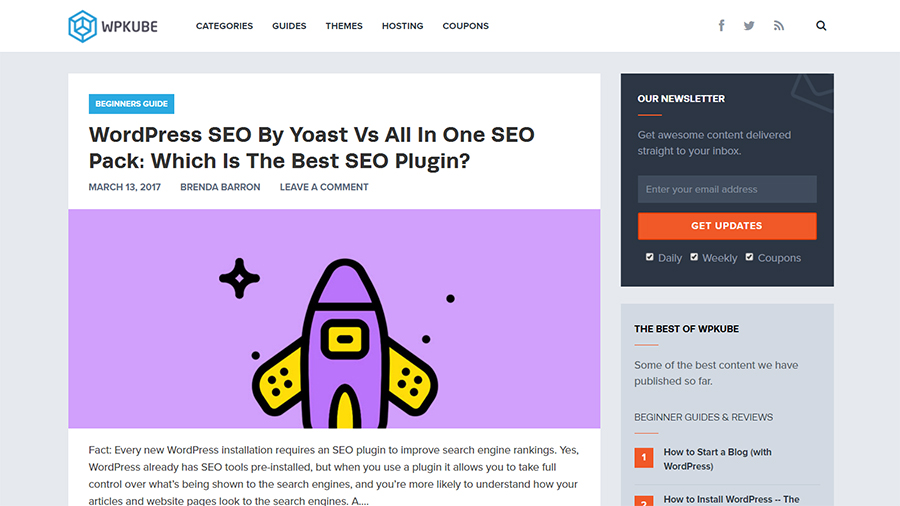 WPKube will be interesting for both beginners and experienced WordPress users. It covers a diverse set of topics, ranging from quick tips and WordPress news to in-depth tutorials and product reviews.
Also, the blog offers a collection of how-to articles that explain everything you need to know about building and managing a WordPress website, including which WordPress hosting is worth checking out, how to choose the right WordPress theme, how to improve the speed of your WordPress website, how to secure your website, how to start a WordPress blog, and so on.
By the way, WPKube is not only an educational resource, but also a great place to find exclusive WordPress coupons and deals. Here you'll find discounts on WordPress hosting, WordPress themes, WordPress plugins and other WordPress products and services.

WordPress Codex is one of the best places around to learn about WordPress. Whether you have a question about installation, customization, or maintenance, the online manual for WordPress will definitely give you an answer. No doubt, WordPress is easy to use, but if you want to do more with this powerful CMS, you will not miss such a valuable resource with tons of articles on how to use WordPress more effectively. And the best thing is that the manual is being frequently updated with new articles and information.

Lynda.com is an online education resource offering thousands of video courses to help you learn new business, creative, and tech skills. The site offers advice for anyone from beginners to experts. Simply choose what you want to learn, specify your skill level (Beginner, Intermediate, Advanced) and go ahead. There are such courses as: Photography, Photoshop, Web, Developer, Video, Business, etc. The courses are taught by expert instructors who have been approved by Lynda. You can access the course you want to take after paying a monthly fee, however you can start with a 10 day free trial. Lynda seems to be a great place to improve your knowledge of web design and web development. As for the WordPress courses featured at Lynda, they are taught by top WordPress experts like Morten Rand-Hendriksen, Patrick Rauland, Carrie Dils, and others. Here are some of them: WordPress Essential Training, WordPress: Building Themes from Scratch Using Underscores, WordPress: Building Child Themes, WordPress DIY: Small Business Website, Create an Online Portfolio with WordPress, WordPress: Creating Custom Plugins with PHP, WordPress: Developing Secure Sites. As of now, there are 90 courses and 2,254 video tutorials that can help you learn WordPress better, and the new courses keep coming.

DesignBombs is a web design blog that features great tips, in-depth tutorials, exclusive deals, and other useful information. For your convenience the content is broken into the following categories: coding, design, resources, deals, freebies, inspiration, news, etc.
In its WordPress archives, you can find a lot of articles dedicated exclusively to souping up your WP site. For example, beginners will definitely appreciate an article on how to make a website. Also, DesignBombs is big on lists and detailed reviews, especially when it comes to WordPress plugins and tools:
● Grammarly vs Ginger vs JetPack vs Hemingway
● 5 Top Landing Page Plugins for WordPress
● Top 15 Blogging Platforms – A Detailed Comparison
Focusing on theme and plugin reviews, informative guides, and blogging related content, this blog has a lot to say that any WP enthusiast can't afford miss listening to.

Torque is a frequently updated news site for all things WordPress. Here you'll find lots of useful tutorials, expert interviews, theme collections, and more. Topics range from the highly technical to easily approachable. So both beginners and developers will enjoy reading the articles offered at Torque. Some of the most popular posts explain how to secure your WordPress site, how to enable Gzip compression for WordPress, how to turn WordPress into a multilingual site, and how to use WordPress to build mobile apps.
Check this blog regularly for community news, comparisons, and informative guides on all sorts of WP related topics.

Onextrapixel is a web design blog that shares essential tutorials, special offers, freebies and lots of other stuff that is popular with web designers and developers. The site has a special category for WordPress related content. And this category makes Onextrapixel a great resource for anyone looking for helpful WordPress advice. Here you'll find tips and tricks on how to build a WordPress site. Also you'll learn about WordPress themes and plugins that are worth your attention.

WpRecipes is a great destination for WordPress hacks, code snippets, and helpful guides. The blog is maintained by Jean-Baptiste Jung, a blogger, web developer and web designer. He has built it as a platform to publically answer all of the private emails with questions about WordPress. Now he uses it as a place to post all of his quick tips concerning everybody's favorite CMS. For example, he explains how to downsize your WordPress database by removing transients, how to move all JavaScript files to the footer automatically, or how to bulk delete comments with a specific url. Read through his quick guides to put your knowledge on the next level.

Treehouse is a premium online educational resource for people that want to learn more about web design and coding. Most of the WordPress courses which are now available at Treehouse were created by Zac Gordon. He is an expert developer and a noted speaker at multiple WordCamps. Zac was an on staff educator for Treehouse. His articles are a treasure trove of technicality and depth, however, he also provides advice for beginners as well. Here are just a few of many WordPress courses that you can find at Treehouse: WordPress Basics, How to Install WordPress on Your Computer, WordPress Admin Settings, How to Make a Website with WordPress, SEO for WordPress, WordPress Theme Development, Ecommerce with WordPress and WooCommerce, and WordPress for Website Owners.
That's all for our list. What did you think of the WordPress resources we listed? Let us know in the comments.
And of course, tell us about your favorites! Maybe it's a blog or an educational site for designers, developers and WordPress users — whatever your suggestion is, tell us about it and why you love it.