This selection of highly recommended selection eCommerce themes includes multipurpose themes having all the features needed to build an online store or a website for a business or agency, and themes that are oriented more toward eCommerce website uses. Either way, you really cannot make a wrong or choice; or a poor one.
If your website is to be a success however, you can't rely on the theme you've selected to do all the work; no matter which one you choose. It will do the bulk of it, but the rest is up to you.
"Don't make your users think." That's Krug's first law of usability. Help them find what they want. Don't make them have to figure things out.
Simplicity is best for a homepage banner. An awesome hero image is fine, as is the use a parallax effect; but its best to avoid clutter, flashy animation, or anything users might find distracting, or even irritating.
Be a copycat as far as your product displays are concerned. Shoppers prefer stores that have a familiar look.
Make sure the theme you choose is 100% responsive, as is the case with the eCommerce themes described here. You don't want those who shop using mobile devices to slip through the crack.
To successfully sell products, you need to choose a fast, lightweight theme. It will be reflected in your website's performance.
XStore-Responsive WooCommerce Theme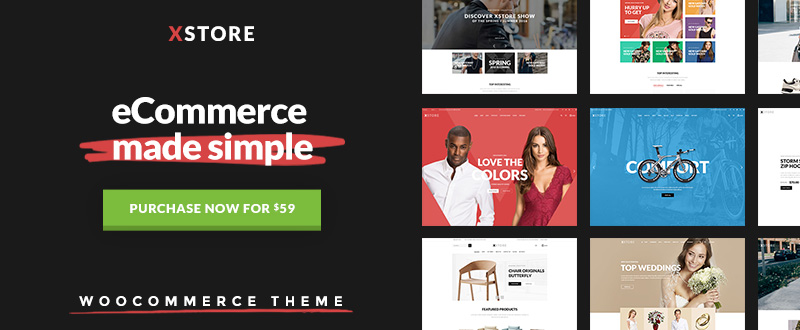 The first law of usability applies to eCommerce themes every bit as much as it applies to eCommerce websites. With XStore, you don't have to try to figure out how to take the next step in building your site, or constantly have to refer to user documentation. This WooCommerce theme, created by the Power Elite ThemeForest author 8Theme, takes you by the hand, and guides you every step of the way.
Check out one or more of the 27 demos. Simplicity and familiarity are common to all of them. Some display a hero image and a UVP, others display products or additional information. None are cluttered, and all of them have a modern, minimalist look.
Demos are included free, with more to come; and this eCommerce theme provides free lifetime updates and outstanding support. Video tutorials come with the package, including one to assist you with installs and settings. XStore is responsive, retina, WPML, and RTL ready, and 100%WooCommerce compatible.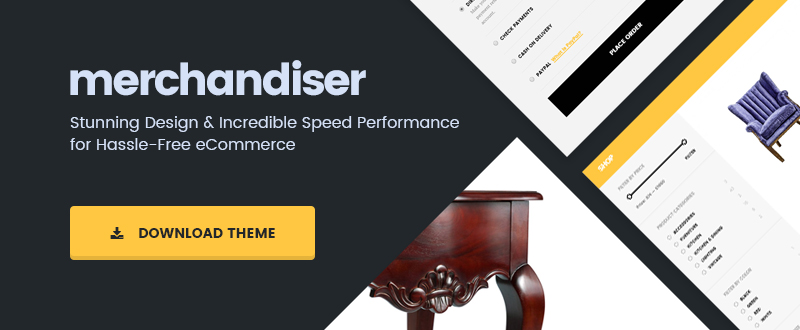 Simplicity is the ultimate sophistication is the philosophy behind Merchandiser's offerings. This eCommerce theme is packed with everything you need, but it's in no way over-bloated. You'll find nothing you don't need, and nothing that would slow down performance, or your productivity.
Flexibility in a WordPress theme is all important, and thanks to the Theme Customizer, Merchandiser has it in spades. The package includes the Visual Composer drag and drop builder, several cool advanced customer options, features that enable you to brilliantly showcase your items, and it even allows you to let your customers choose how they want to view your shop's products.
Have you been considering opening up an affiliate shop? Merchandiser is loaded with affiliate-related features. With this eCommerce theme, you can sell anything you want online, whether your products are shippable or downloadable.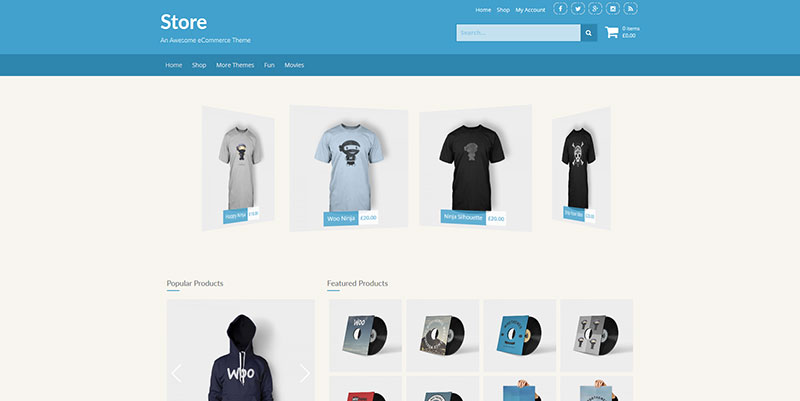 Store may be the last eCommerce WordPress theme you will ever need, since it is loaded with everything you need to build a beautiful store. Store was built using Bootstrap 3 and Font Awesome, it's 100% responsive, and it's now available in multiple skins and color combinations.
If you're not sure that this is really the last eCommerce WordPress theme you'll ever need, it's easy to find out. Store is free. All you need to do is download it and start site building.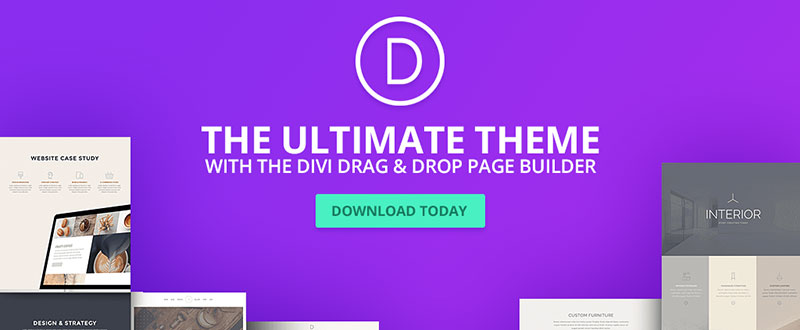 Elegant themes, the author of Divi, calls this the smartest, most flexible theme in its collection, and Divi did indeed become its flagship theme shortly after it was first released. Two of its features account for much of Divi's success; its powerful Divi Builder, and its 46 customizable content blocks, which give you a ton of flexibility, and several of which are dedicated to eCommerce usage.
This multipurpose WP theme has a solid reputation, a large and growing using community, and is an ideal choice for building eCommerce websites.
This multipurpose WP theme has a solid reputation, a large and growing using community, and is an ideal choice for building eCommerce websites.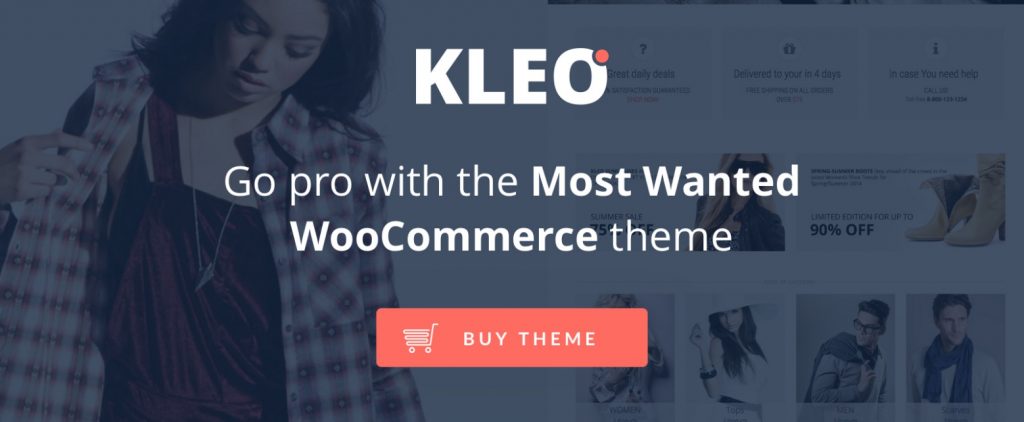 KLEO, the #1 selling BuddyPress theme for 2016, features some awesome predefined home pages you can pick from, or you can load them all. KLEO's endless possibilities are made possible in part by its collection of 24 plugins, ranging from the more commonly used, to several that are ideal for creating eCommerce sites, including of course, WooCommerce. Special store pages are also available to get you off to a quick start.
Responsive? KLEO was built to adapt, and to having you look good on mobile phones, tablets, and desktops.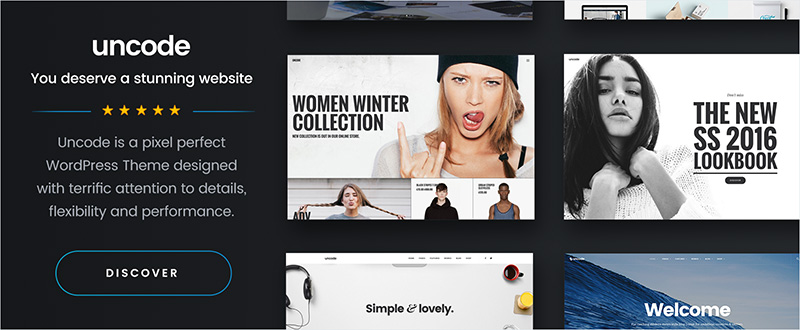 Massive options, Visual Composer, special pages, an Advance Grid System, and a special Adaptive Images feature, combine to give you Uncode, a premier WP theme that has become one of the most exciting eCommerce themes on the market. The Adaptive Images feature makes this theme super-responsive, while the Advance Grid System makes it fully capable of building any website that's buildable – which means limitless options and flexibility for you.
Uncode would be a solid choice and a good investment for any and all of your eCommerce ventures.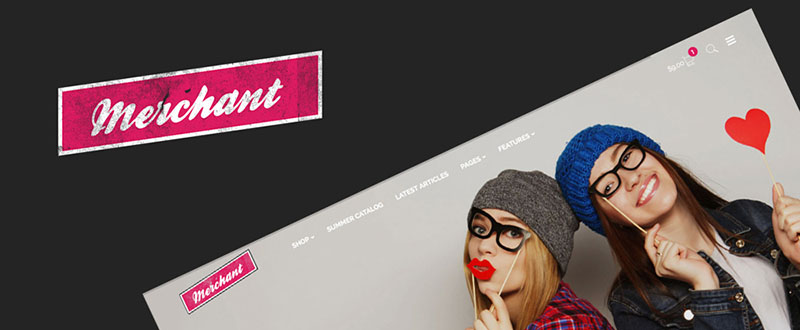 Combine three custom templates, a page builder, and a slew of in-page options, and you have Merchant, a super-responsive, modern, and hip eCommerce theme. It's Easy Layout Creator lives up to its name. Merchant is remarkably easy to use, so you can concentrate on what you do best, website design. Key features include WPML ready, 100% WooCommerce compatibility, Flatfolio and Revolution Slider plugins, Google Maps, and plenty of color options to add emphasis to your brand, Merchant is plugin friendly, and it provides great theme support through its comprehensive documentation and support forum.
Conclusion
Whether you've picked a multipurpose theme, one more oriented toward eCommerce, or decided to give the free download a try, you won't be disappointed. Every one of these eCommerce themes has what you need, so your picking which one to select will probably boil down to one or two unique features that you find especially appealing.
You really can't make a wrong choice, but keep in mind that these premium themes can do only so much for you. You need to pay heed to the eCommerce website building tips that introduced this article to be guaranteed a winning website. Usability, familiarity, and responsiveness are key your site's UX must feature, if it is to be a success.