In this article, I would like to introduce one of the most powerful WordPress themes that have been produced recently. Of course, there are dozens of quality WP templates on the web that are worth your attention, but I am 100% sure you will never pass by the theme we are going to talk about here.
So, meet the IronMass. That's how the TemplateMonster called it and this name definitely renders the power of its exterior and interior. But let's overview all its benefits in details.
The first thing I must admit about this WP theme is that it is licensed under GPL v3.0. What does it mean? Oh, that's one of the most handy features, especially for those who are going to launch more than one website. It means that you can run this template on different online projects at the same time without problems.
IronMass is intended for sport-related sites. It will fit bodybuilding websites, fitness centers, and any body-oriented project. Built in dark colors, the theme fully corresponds to the spirits of the sports competition. The design is powered with high-resolution photos in galleries, footer, header and posts. Content blocks are structured in such a way that users will enjoy reading and will focus their attention on the main things. Social media widgets will help you stay closer to your followers and let them share your latest news in nothing flat. Thanks to the search engine friendliness your audience will find the website on Google, Bing etc. in a few clicks.
The video above shows the complete set of its advantages. You can also check out a live demo and click all the buttons and pages yourself.
But let's go deeper and consider what features this sport WordPress theme has that will make thousands of users fall in love with it.
Content Modules
Content modules make it possible to add any type of content. The blog functionality, calls-to-action, various media files etc. will be very easy to embed in one click. Moreover, each module can be modified according to your needs because of the set of features included.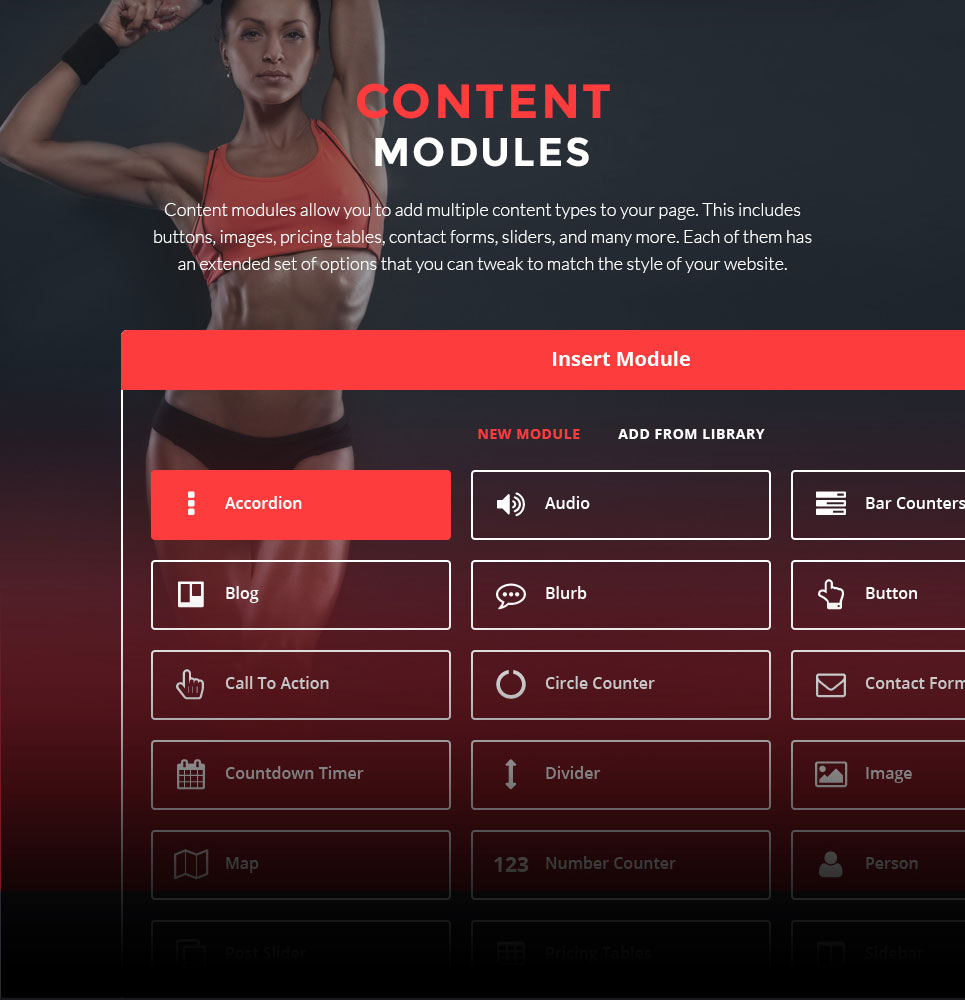 Appointment Manager & Timetable Plugins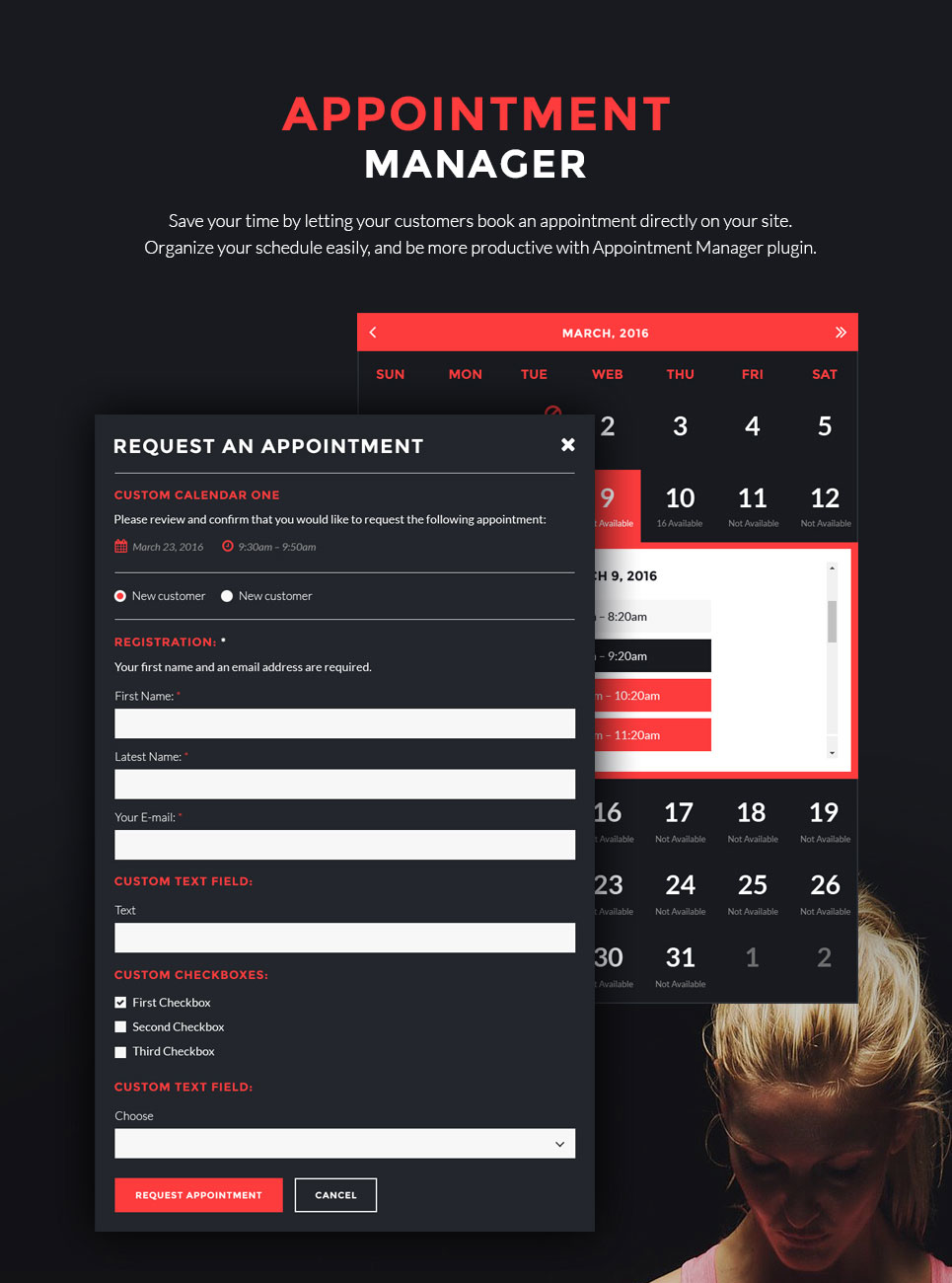 These two options will let your website stand out for sure. The Appointment Manager will help guests reach your workshops more easily. The coolest advantage for you, as a website owner, is that you will be able to schedule your agenda efficiently. You will adjust these plugins without any extra help since they are user-friendly and intuitive.
As for the Timetable plugin, its main function is to arrange a schedule and showcase it in the best manner online. You can change time and shift cards by yourself within a timetable
Multiple Layout Options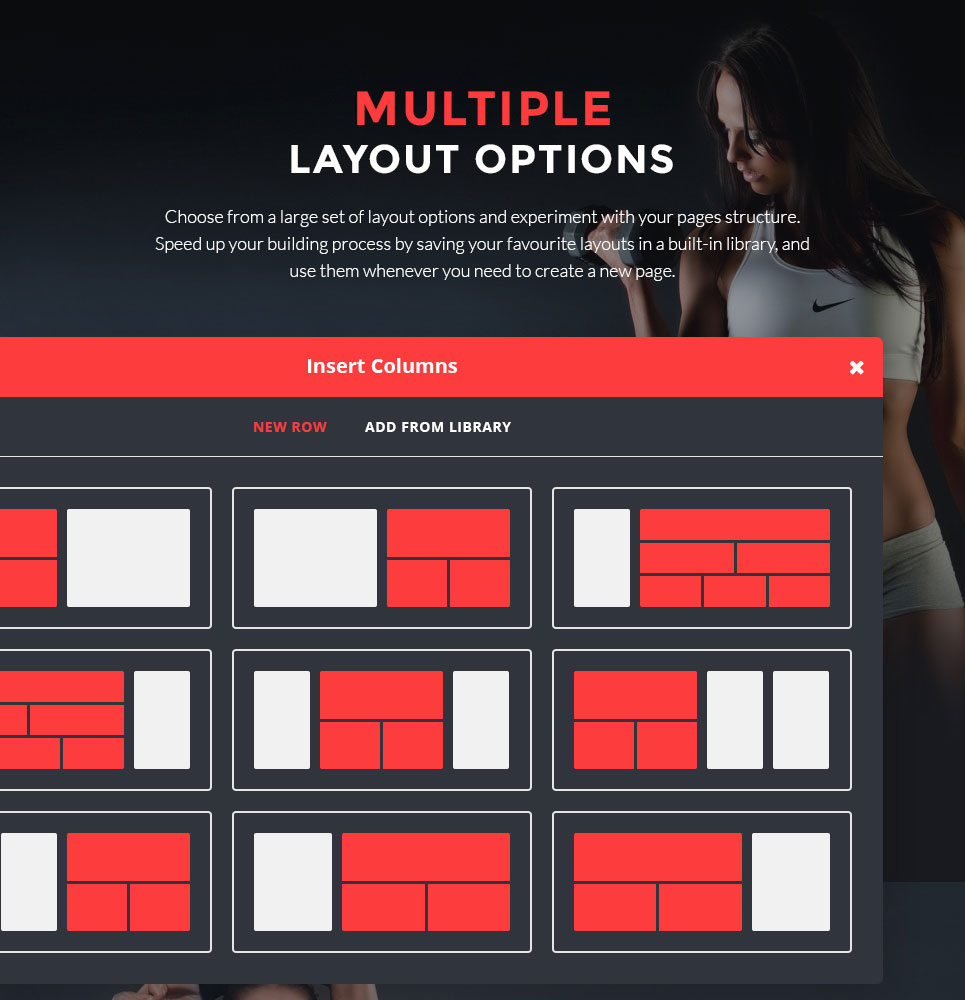 One more useful feature developed to speed up the page building process. There are libraries full of pre-designed layouts that will allow organizing the content block just in the way you want them to be.
Custom Widgets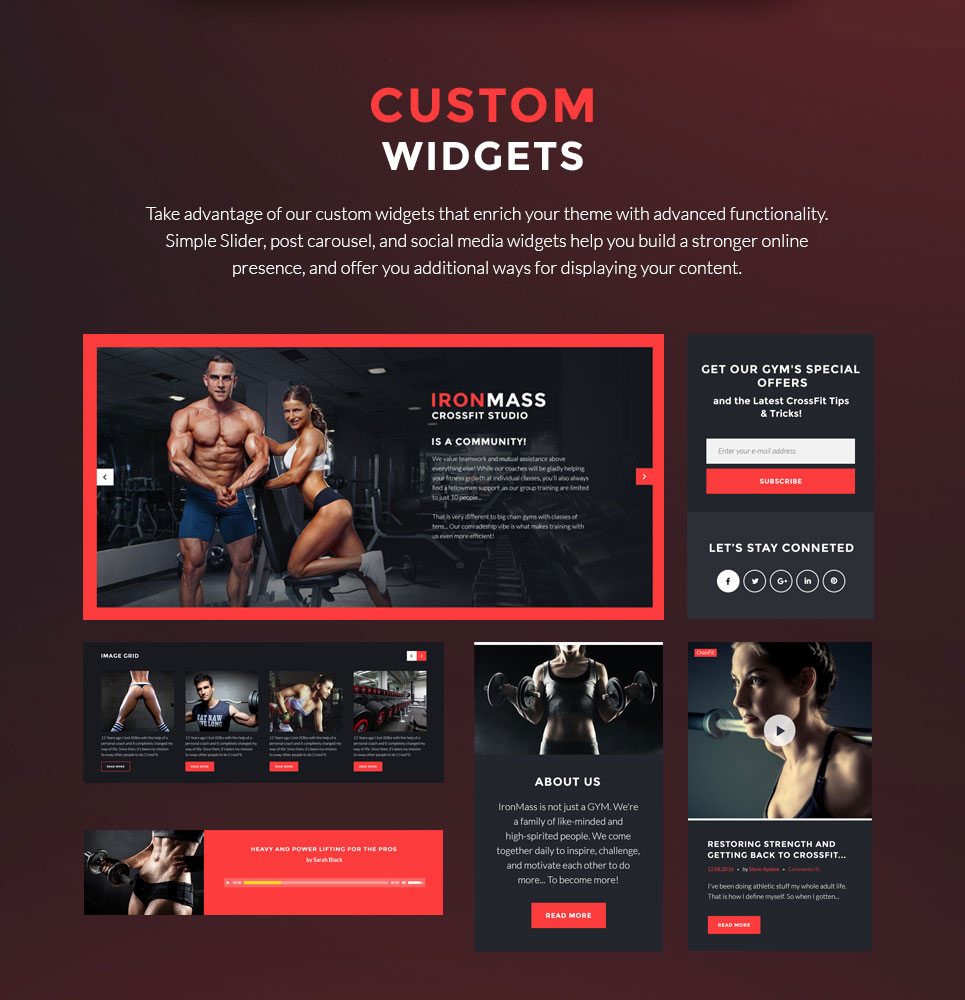 You will find lots of advanced custom widgets inside this sporty WordPress theme. By means of them, you will be able to set a post carousel and a slider, integrate the website with your social media profiles, switch on the newsletter subscription and more. Even if you don't find the widget you would like to have, you will upload it without problems.
Built with Power
You will be surprised on how easy and fast you will adjust this theme to your business needs. And this is only for one reason. Power is a well-designed drag-and-drop page builder. Everything in this tool is made to facilitate the overall customization process. It contains 25+ modules and a presets library to save your time for something more important.
WordPress Live Customizer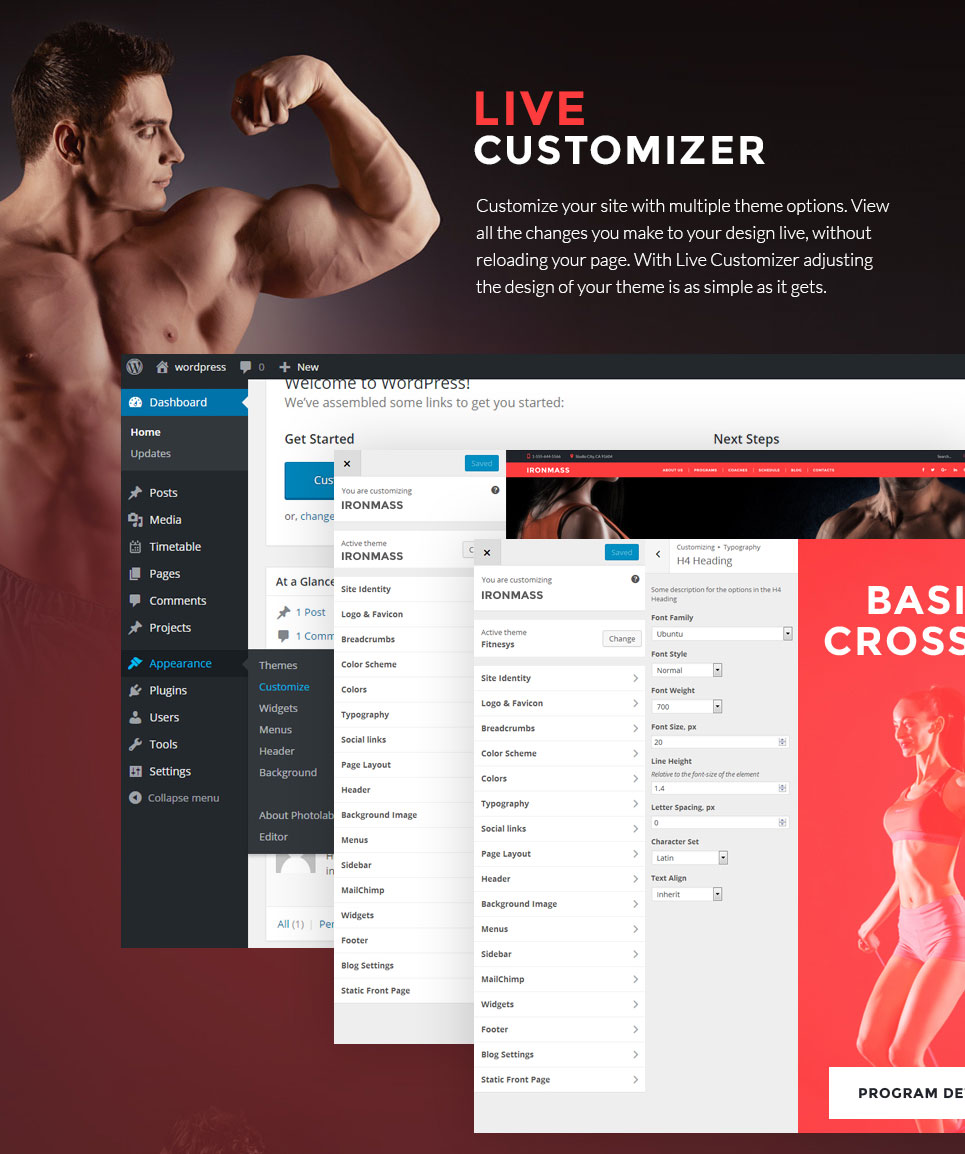 WordPress Live Customizer is developed to let you see all the changes in real time. It means that every time you modify something in the IronMass, you can track it without reloading the page and waiting for changes to upload.
What's more?
As for other advantages, let's go through them fast:
500+ Google web fonts enable you to create a unique style fitting your corporate identity.
This wp theme is integrated with a commenting system. So every guest will be able to take part in discussions on your website.
Such navigation element as a back-to-top button will bring users back to the header in one click.
And, of course, this ultimate sports WP theme is 100% responsive. You get only one template that will let the site fit any monitor and modern device. Built on the basis of Bootstrap, the IronMass is fully mobile-friendly.
You can embed all the known media files and entertain your clients with a variety of videos. It will help you showcase your services on every side.
The template is retina ready, so all the images you use to fill it in won't lose on its quality when the website is browsed on different devices.
The WPML feature provides the multilingual support of your future website.
Please note that images present in the demo version are not included in the download package. You can preview it only.
This sports WordPress theme has already become a great basis for different websites. You can check out the positive feedback from people who already use it for their online projects.
[mk_blockquote style="quote-style" font_family="none" text_size="12" align="left"]Dorron -  "Love it! Love this theme. It is very cool and vibrant. Love sing it for my business Athlete Growth and Fitness. Excited to show it off and help people grow the athlete within!"[/mk_blockquote]
You will install the IronMass with no trouble thanks to the detailed instructions attached. In case you have any issues, the experienced customer support team is ready to help you anytime night and day.
This fitness WordPress theme is a part of the selection of the best WordPress Templates designed in 2016.