There are a number of fantastic cloud-based solutions that provide a wide variety of pros and cons for your design studio. The great thing is that as far as we can tell, the positives far outweigh the negatives when it comes to using cloud-based solutions.
Are you thinking about running your freelancing design studio in the cloud? As someone who has done this for a number of years, it's safe to say that this is the easiest way to take advantage of all of the latest and greatest technology and all it has to offer.
Some of the reasons why it's so great to take advantage of cloud-based services include:
Immediate data recovery – by implementing a cloud-based strategy for your design studio, you immediately have access to any data that you could potentially lose since it is all being saved in the cloud. This system is especially important for companies performing high-volume design work that could easily get lost if your computer system were ever to crash.
Streamlining your workflow – many cloud-based applications provide solutions and services that make it much easier to streamline your overall workflow. There are mind mapping tools, productivity enhancement tools, time tracking tools, and much more.
Lowering company overhead – cloud-based solutions often provide the ability to lower your overall company overhead. The reason being that many amazing cloud-based solutions are completely free. And some of the better paid solutions only charge a nominal fee at best. So you'll never have to worry about spending a small fortune to take advantage of some of the best services offered in the cloud.
Instant access to all of your data – we really love the cloud because it allows companies to instantly access their data no matter where they happen to be. If you are giving a presentation to a client, and you accidentally forget one of your files, you can log onto your cloud-based account through their computers and immediately get access to every file that you have stored in the cloud. This makes life easy and convenient when operating a design studio that you often take with you while you're on the go.
Top 5 Cloud-Based Apps for Your Design Business
Morpholio – this app is particularly useful for those running their own design studio. It makes it easy to present your portfolio to potential clients. The best part is that this application is beautiful to look at and it's really dynamic, so you'll have no problem impressing your most important clients when using Morpholio to show off your company portfolio. We almost forgot to mention the price. It doesn't get any better than this because it's completely free.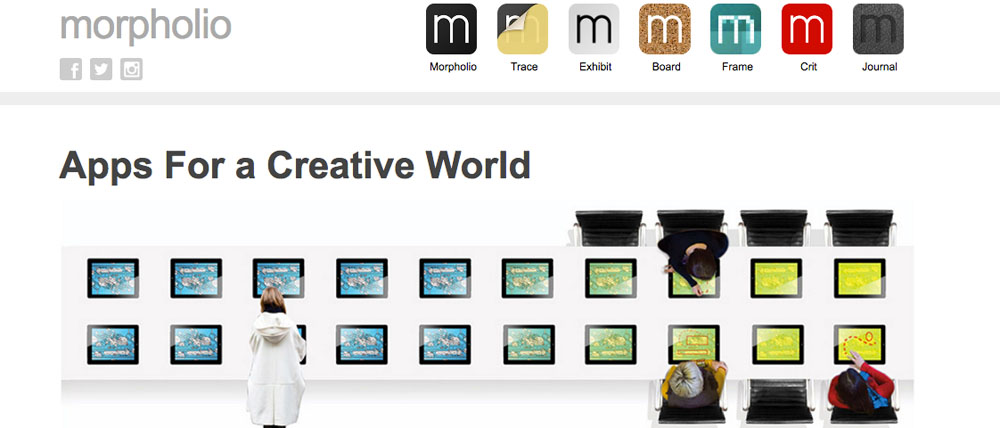 Colorzilla – this app is another one of our favorites that is 100% free. This Firefox add-on can be used on any one of your devices as long as the Firefox browser is loaded on it. It's interesting because you might be browsing the web and discover a color that you really like. And this might become a color that you want to use over and over again. With Colorzilla, you can capture the RGB value of the color by using their easy and convenient eyedropper tool.

Slideshare – this is another one of our favorite free services, although there is an option to upgrade depending on your needs. And if you do need more resources than the free version makes available, you'll have to pay about $19 per month. When clients want your design studio to present them with concepts, you can create Slideshare projects that you share with your clients so that they can view the potential concepts that you're considering. This app makes it stress-free to share specific concepts with all of your clients very easily.

Clockspot – time tracking has never been easier. This app offers a number of different features and it's really easy to use. You can track your employees at the assignment level to find out how much time they spent on a particular assignment. You can also use the app to have your employees clock in and clock out for payroll purposes. It also makes it easier to do payroll and you can even monitor remote employees with the greatest of ease.

Dropbox – as far as cloud-based file sharing is concerned, nobody does it better than Dropbox. They provide 2 GB worth of free space to all of their customers. If you need additional space, it will cost $9.99 per month for an additional 100 GB. It's so easy to share large files with clients when you have Dropbox. And if you're working on major projects with other remote teammates, having a Dropbox account is going to be the best thing that you've ever done for your company since everyone can get access to information that they need in one centrally convenient location.

Conclusion
Cloud-based applications and solutions make it easier than ever to run your design studio. Try some of these solutions today and watch your productivity and bottom-line increase tremendously.
[mk_custom_box bg_color="#f6f6f6" bg_position="left top" bg_repeat="repeat" bg_stretch="false" padding_vertical="30" padding_horizental="20" margin_bottom="10" min_height="100"]
Author Bio:
Wendy Dessler, Super-Connector at OutreachMama
Wendy is a super-connector with OutreachMama and Youth Noise NJ who helps businesses find their audience online through outreach, partnerships, and networking. She frequently writes about the latest advancements in digital marketing and focuses her efforts on developing customized blogger outreach plans depending on the industry and competition. You can contact her on Twitter.
Twitter Handle: @outreachmama[/mk_custom_box]