Whether you are only to test the waters or you are tight with your budget, this collection of free WordPress themes by PremiumCoding will have your online presence sorted. The majority are for creating amazing blogs, however, you will also find one which is dedicated to building a digital marketplace and one for a creative portfolio. You do want to showcase your masterpieces and share them with the world, don't you?
Moreover, all the themes you will find listed below are lite versions of the premium themes that you can later upgrade to. That said, if you are unsure if the premium version is the right pick for you or not, feel free to try out its free version and play around with it first before you jump in with both feet.
Still, each and every theme can be used for as long as you want if it suits your needs. There is no time limit when it comes to the usage of the theme. If you fancy, download them all and jump from theme to theme before you fully decide which truly meets your needs. This calls for a ton of fun!
With a neat collection of 6 free themes by PremimCoding, you will get to choose between bold blog themes and minimal blog themes, as well as portfolio and marketplace WordPress themes.
Each theme comes with a bunch of extra features that you can benefit from. These will allow you to sprinkle a pinch of personal touch on them but only premium versions unlock complete customization options. Bare in mind, every free WordPress theme you find below will help you create a beautiful website that will help you amaze your current readers and attract new ones. Go ahead and see it for yourself.
Ragnar Lite: Free Bold WordPress Blog Theme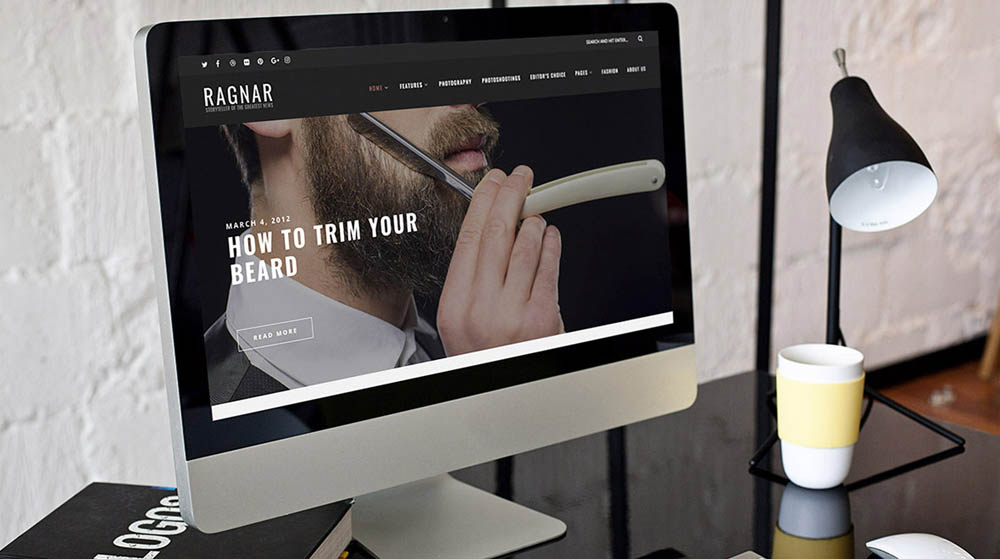 Ragnar Lite is the free version of a premium WordPress theme that was built for everyone who is after creating an amazing blog, news/magazine website or other creative pages. It was designed with minimalism in mind what ends up being perfect for content-oriented websites. Browsing and consuming articles and pictures will become an unforgettable experience. It will make your readers craving for more.
Moreover, it has as little design features as possible what truly makes it a beautiful and smooth free theme that will attract your visitors, old and new. Look no further when you are ready to create a stunning website that will hook your audience with the amazing online adventure.
Everly Lite: Free WordPress Blog Theme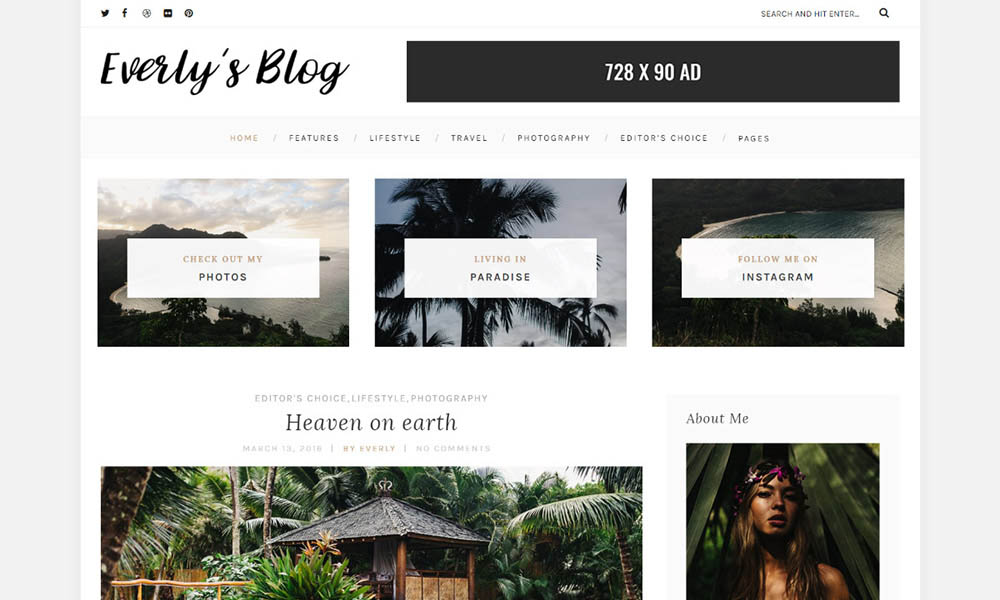 You might think that every blog theme is the same. Well, it is not always the case and Everly Lite is a free WordPress theme that will prove you wrong. Not only does it feature a clean, modern and super minimal design, it is also focused towards putting the shine on your content first. That is exactly what you want when you are to create a blog which you would like to fully dedicate to publishing masterpieces of articles. Pictures and text will stand out and take every single one of your readers on an amazing expedition through the astonishing world you are writing about.
Either with the default or the grid layout, both of them will help you highlight the one single thing that all of your readers are after the most: staggering content.
Freyja Lite: Free WordPress Blog Theme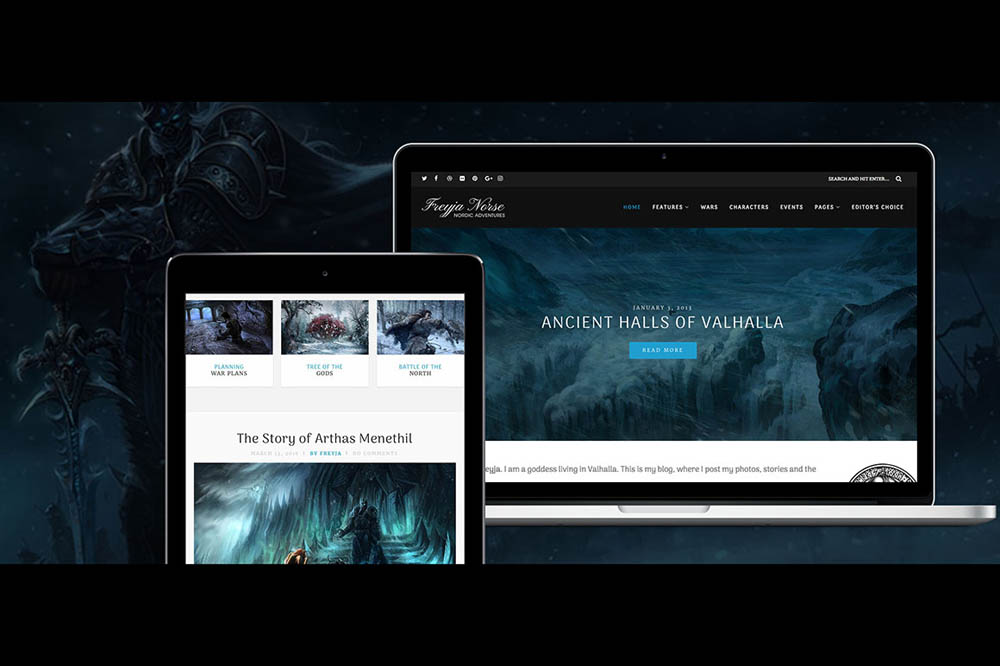 Freyja, is both a goddess in Norse mythology, as well as a WordPress theme for all the bloggers out there. Whoever is interested in trying out something completely different or simply a huge fantasy enthusiast, this is the theme that will go against the grain and make your website stand out from the crowd. With its one-of-a-kind design, you will still be able to bring a great reading experience to your visitors. The font has a slight gothic touch to it, however, it allows fluent readability without causing any distractions.
Bring your wicked imagination to life and benefit from all the features free WordPpress blog theme, Freyja, has in store for you.
Mynd – Creative Portfolio Theme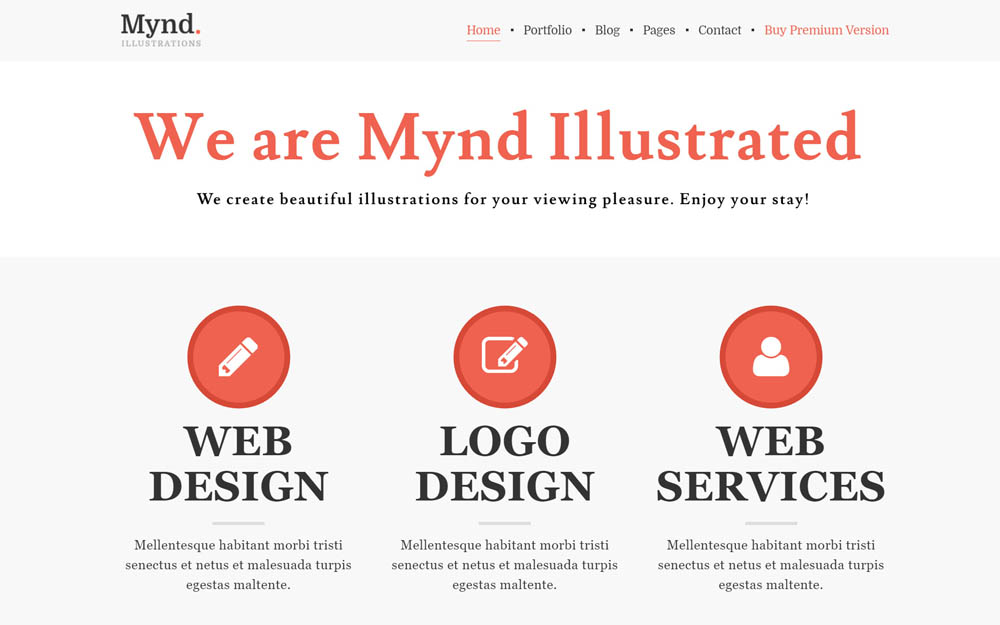 A powerful and very versatile free WordPress theme, Mynd is perfectly suited for such needs as blog or portfolio, but it can be customized to meet other needs, too. For the latter, you need to put a little extra effort into it and you will have a website with pretty much the exact style you are after.
With just one click, you can install the predefined demo that is advised to be installed on a fresh WordPress installation. With the demo, you can save a lot of time and rather invest it in building and creating the mind-blowing content your page will be all about. Look no further and give Mynd a go.
Marketeer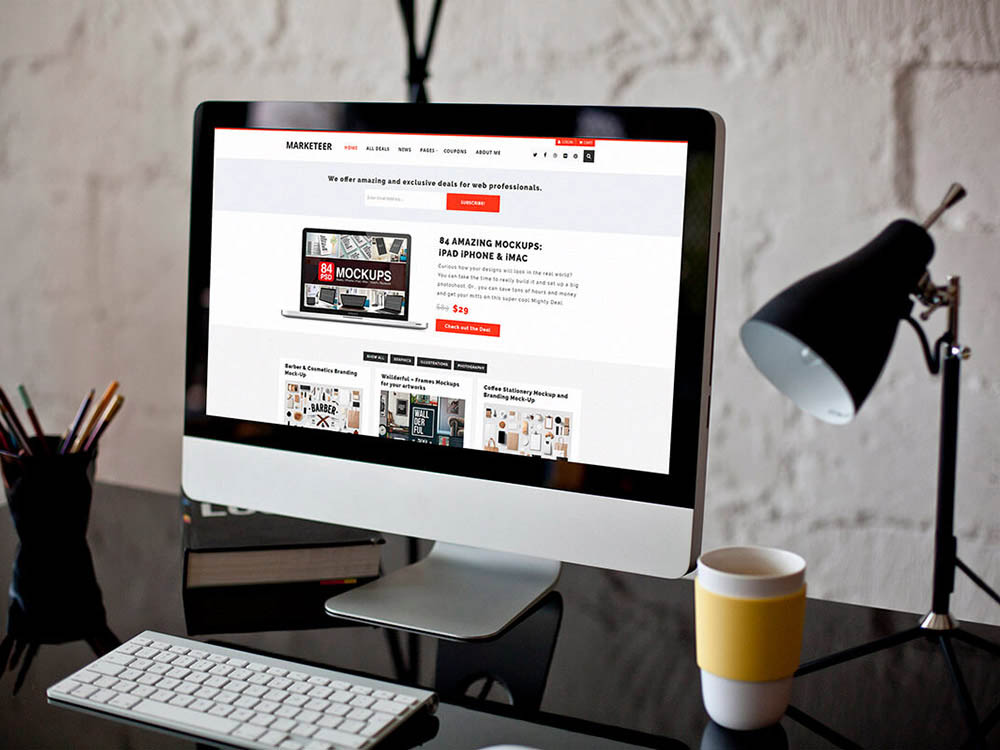 Are you interested in selling or promoting e-books, online courses, digital subscriptions, fonts and graphics? With Marketeer free WordPress theme, you can create an online markeplace where you can feature a variety of digital products with the help from Easy Digital Downloads plugin.
This is a theme, or better said, a complete solution for an online selling platform where you can offer any kind of digital goods. The theme has a clean and smooth design which focal point is putting the product and its information in front of your customers. No unnecessary distractions will give your buyers a great UX what calls for returning consumers.
Bundler – Minimal Blog Theme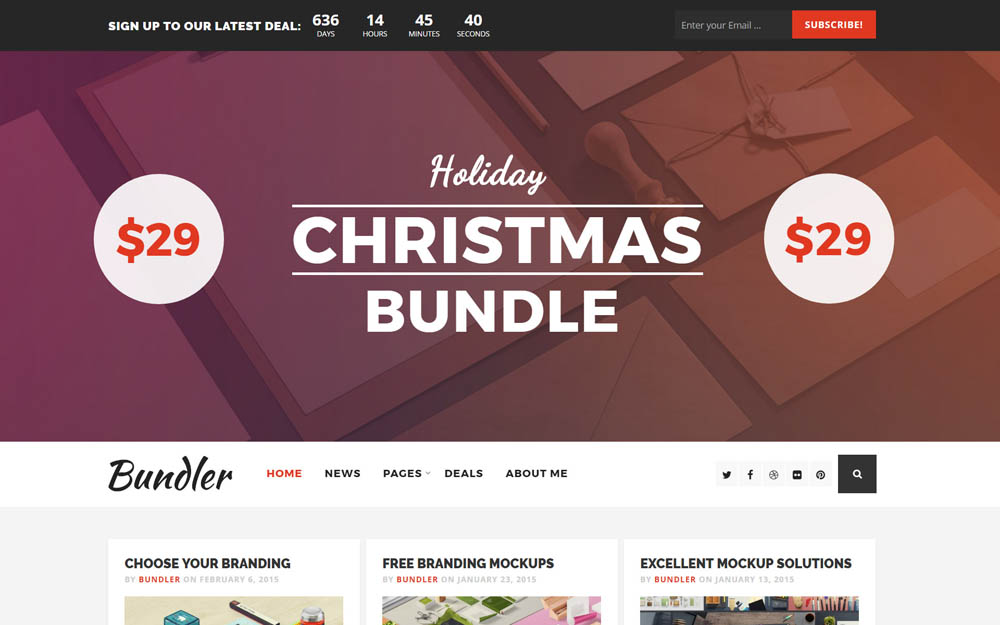 Though its customization options give you the power to create any kind of blog, Bundler theme was built with web design related niches in mind. That said, your fantastic graphics, mockups, freebies and other goodies will have an advantage with the free theme, Bundler.
Overall, it is a bold WP theme with an eye-catching and very neat and fresh design. It gives you the opportunity to present your content in a way that will really make it stand out and grab your visitors' full attention. Needless to say, it features a one-click demo install and will assist you with creating a professional looking website without any coding knowledge.