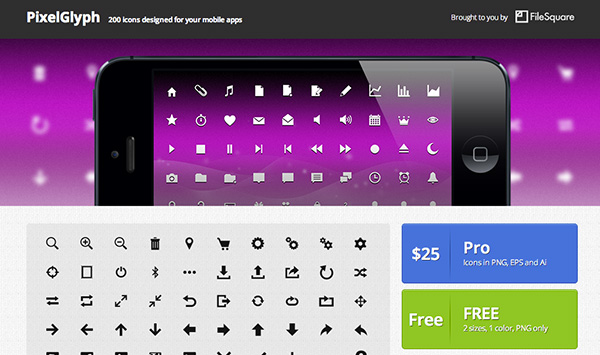 Friends, today we are happy to announce a very useful giveaway of 200 UI design icons from PixelGlyph. Five of our lucky readers will be picked up randomly using random.org and each winner will get a copy of the $25 pack for free! You can use the icons for iOS toolbars, tab bars, Android apps, websites, etc.
About the Sponsor
FileSquare knows better than others that how helpful a handy design depot is, because FileSquare itself is a prototyping service provider, and the designers of FileSquare also have other mobile/web projects such as PandaForm, Labelbox, Snapshot, Spentable and so on.
They just launched a new set of 200 well-designed icons, which are perfect for iOS toolbars and tab bars, Android app, websites, t-shirts, tattoos... anything you want to use then for.
They decide to host a contest with GraphicsFuel, so you have the chance to win 200 icons in all formats you need (PNG, EPS, AI) for FREE!
About PixelGlyph
PixelGlyph is a set of icons, and it comes with two versions.
The free version has 2 sizes (16 and 48 pixels squared), 1 color and in PNG format. You can directly download this 4.2MB zip from its website. Just leave your email, and download link will be sent to your inbox. No other information required.
For $25 version, besides PNG files, FileSquare provides you with the vector source files in AI and EPS formats. It's better for you to have vector icons because you'll be able to change them into the color and size that you want.
How to win
All you have to do is to leave your comment below as to how you'd like to use this giveaway if you win.
Share this post on Twitter or Facebook. You'll find the share icons on the left.
Important Notes
The giveaway ends on February 14th, 2013 Thursday. All comments submitted after that date are not accepted.
Please make sure to submit your correct email address.
Winners are determined randomly using random.org
Comment once. Multiple comments with the same email address are rejected.
Preview of the Icons