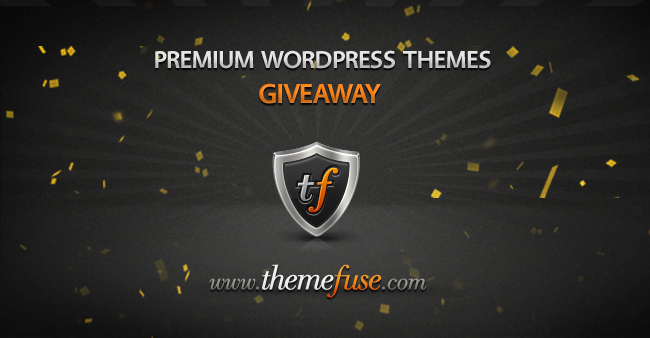 Our readers are in for a lucky surprise from our friends over at ThemeFuse. They want to share 3 WordPress themes licenses.
Those who are already using WordPress for their blog will love this opportunity. Anyone who wins the giveaway today will receive the chance to download one full WordPress theme from ThemeFuse. This is completely free.
We are giving out three free vouchers to lucky winners. Want to get one? Here is what to do.
How to Enter
Make sure to comment on this post. Tell us why you should win a WordPress theme and what you would like to do with it if you win.
The next thing to do is help to get the word out through Twitter. Win a free copy of @ThemeFuse #WordPress Theme from @[graphicsfuel]
Finally, check us out on Facebook and click the like button: ThemeFuse Facebook page
We will be announcing winners in a week, so stay tuned.
Why You Should Participate
When it comes to choosing WordPress theme stores, ThemeFuse is the premier option. You will find a wide variety of suitable themes, no matter the type of site you have and its purpose. You don't just get a stylish design and an attractive website. You also gain a well-built theme with proper source code. Your life will be easier with the simple and straightforward, feature rich interface.
Here are some great samples of WordPress templates produced and offered by ThemeFuse.
PixelWhiz - Designer WordPress Theme
Perfect for anyone creative and in the graphics design field. You wil find a modern and original style. .
Lifestyle - Magazine WordPress Theme
Perfect for a celebrity, gossip, or even news blog, this magazine theme is flashy and feature rich.
PhotoArtist - Photography WordPress Theme
Photographers will be able to easily show off their skills and work with this attractive portfolio style site.
Voyage - Travel WordPress Theme
This is a fantastic, modern personal blog. It even allows you to upload videos, links, and photos from your iPhone.
MobilityApp - Mobile WordPress Theme
Smartphone developers will enjoy this theme, which makes it easy to promote mobile applications for iPad, iPhone, and even Android device.

Make sure to take part in this giveaway and you may win a free premium ThemeFuse WordPress theme. You can use it how you would like.