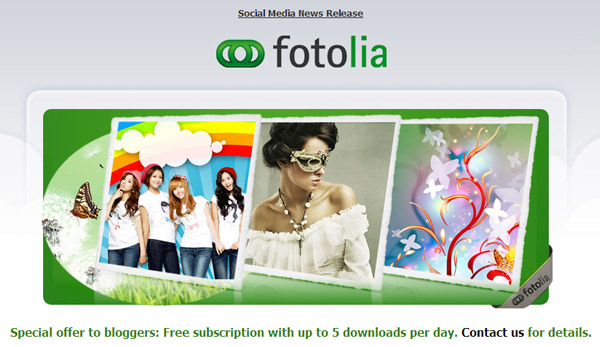 Friends, today we have a fantastic giveaway of one subscription of stock photos for bloggers. Fotolia is kind enough to giveaway one XXL account for images for one month (under XXL subscription option, not credits).
About Fotolia
Fotolia offers the largest image bank of free and most affordable royalty free photos and illustrations perfect for any medium, web or print. Fotolia provides a compromise between photographers and buyers, by protecting a photographer's intellectual property rights and offering high commissions, while legally lowering the price barrier so that everyone may enjoy/afford these beautiful images.
In addition, Fotolia challenges the traditional closed agency model by offering the opportunity to monetize their talents to everyone, hobbyist or professional, whatever their fame, status, or size of portfolio may be.  Fotolia is able to offer individuals and professionals (advertising agencies, press, small business, graphic artists, designers) the greatest image collection in the world for free or as little as $0.75.
How to win the subscription
To win this fantastic subscription, all you have to is leave a comment telling us a little about yourself like your name, your company, your current blog where you'd possibly like to use the photos. The competition will run for 7 days and ends on 20th April 2011.  The winner will be chosen completely at random using random.org.
Winner will be notified within two days from the date of ending of the completion. Please be sure to use your correct email address, so if you win we'll email you the coupon code.
Good luck to everyone!