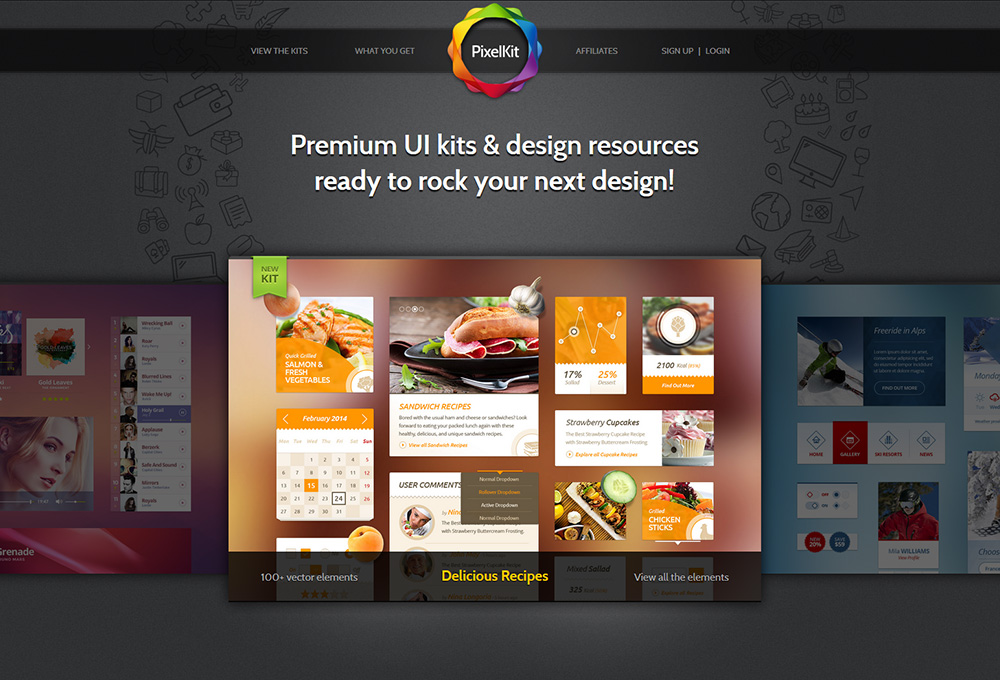 We have news to brighten your day: The innovative team behind PixelKit is offering 3 of their Annual Membership Subscriptions, which can be won by you – our readers!
If you are one of the three fortunate winners of the contest, you will be given access to an Annual Membership Account with PixelKit at absolutely no charge to you! This is a dream come true for any website designer, as PixelKit.com is home to thousands of great graphics. If you take a look at their selection, you will find icons, sliders, buttons, and all of the other elements you could possibly want for your navigation controls and applications – 100% customizable for UI kits.
Entering to win an annual subscription is incredibly easy. Here's how:
Add a comment to this post. Explain to us why you should be chosen as a winner, and let us know how you will use your subscription.
Share the news with your Twitter followers by posting the message: Win a free @PixelKitcom Membership Account from @[your Twitter] (RT to Enter).
Tell your Facebook friends about PixelKit by clicking "Like" on the PixelKit Facebook page.
The giveaway runs for 10 days from 23rd Feb to 4th March 2015. Winners will be selected randomly.
You are already likely excited about the idea of winning your own subscription. If you are still on the fence, consider the main benefit of winning – you get to save money, energy, and time, while reducing hassle. You will immediately receive access to numerous great UI kits. This will give you the ability to quickly finish one project and move on to another.
Below are just a few examples of the many UI kits and icon sets you will be able to receive:
Swanky Outlines - Outlines Icon Set
Creating a flat or modern website or application? This vector outline icon set will suit your needs perfectly.
Modern Touch - Flat UI Kit
This flat UI kit combines form and function flawlessly. You will be able to create the ideal balance, including margins, colors, and formatting that really do provide a modern touch, showcasing the content on the site.
Charming Boutique - Shopping Icons
One of the keys to a successful eCommerce platform is the addition of compelling shopping icons and calls to action. This kit contains 30 modern and flat icons that will encourage plenty of transactions.
Fashion Ave UI Kit - eCommerce UI Kit
This eCommerce UI kit is specialized to provide high-quality solutions for the fashion industry niche. If you are developing a shopping website that requires an exquisite and polished look, this kit is the one for you.
Gentle Edges - Minimalist Icon Set
Minimalist icon sets are highly sought after for their sleek and modern appearance. This set is extraordinary, as it provides over 1,000 vectorized icons, organized within 46 categories that will make completing your commercial projects a breeze.
Metro Vibes - Metro UI Kit
Want to infuse your next project with a modern metro feel? This UI kit provides all of the tools you'll need to efficiently deliver the high quality results you seek.
Snow Flakes - Winter UI Kit
This winter UI kit fits perfectly with the cold season and if you are looking to built a ski resort website you are in good hands. This kit offers a wide variety of elements starting with posts, filters, forms, pricing tables and ending with typography examples, sliders and footers.
We have something else awesome to introduce you to– check out the Free PixelKit Bootstrap UI Kits. These ultra modern HTML templates are available for you to download and use to create extremely cool and highly functional web designs.