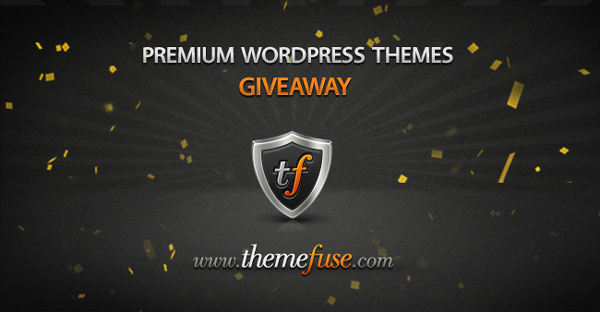 Are you in need of some great news to spice up your day? ThemeFuse has generally provided just the opportunity our readers will love. They have been kind enough to provide 3 WordPress themes licenses that will be awarded through an exciting giveaway!
If you use WordPress for your site, as so many do, you can benefit greatly from one of these special prizes. The select winners of this giveaway will not only have the opportunity to download an exquisite ThemeFuse WordPress theme of their choice, but the download will be completely free.
If you have not yet heard about ThemeFuse, you soon will. Through innovative and professional designs that provide excellent variety, they are quickly growing a strong reputation in the world of WordPress themes.
We will be awarding three free access codes. Here are the ways you can increase your chances:
Entering to Win
Simply comment on this post. In your comment, tell us why you want to win, and how you would use your new ThemeFuse WordPress theme.
Share the giveaway with your followers on Twitter: Win a free copy of @ThemeFuse #WordPress Theme from @[your Twitter] (RT to Enter).
"Like" the Themefuse Facebook page ThemeFuse Facebook page
Save the date: The winners will be announced one week (March 4, 2013) from now, so remember to check back.
Below, you will find a few examples of the themes you could win, WordPress templates created and produced by ThemeFuse.
Good luck everybody!
My Journey - Blog WordPress Theme
Not only that it is perfect for your personal blog or portfolio, but you can even post videos, photos, links from your iPhone.
PhotoArtist - Photography WordPress Theme
Photographers will love this beautifully designed WordPress theme to showcase their work, with an easy interface to display their entire portfolio.
Coffee Lounge - Bar WordPress Theme
If you own a coffee house or small café, then this template is just the thing to get the word out about your establishment in style.
VideoGrid - Video WordPress Theme
Take your blog to a whole new level with this incredible WordPress theme for video sites.
MobilityApp - Mobile WordPress Theme
This theme is created just for app designers who want to offer their applications designed for iPads, iPhones, or Android Phones!