To answer this question, we need to discuss a bit about web apps.
Nowadays, we use web apps for everything we do, right?
We build websites and landing pages with web apps, we invoice with web apps, we chat with our friends, and we do tons of other things.
Basically, web apps are making our life simple and save us lots of time.
That is why we created low-code and no-code platforms and they are constantly evolving.
So, what is a low-code or no-code platform?
Let's start with the first term – low-code.
A low-code platform is the environment to create application software in which we use graphical user interface instead of the old fashion hand-coded computer programming.
With low-code platforms, you will create web apps much quicker and easier, and without the need of the deep coding expertise (low-code).
With such platforms (low-code), even non-developers and non-tech persons will have the opportunity to create their very own web apps, customizing them as they want in terms of functionalities.
So low-code platforms are basically opening a huge world to all of us.
Now going to other term – no-code platform.
No-code platforms are exactly the same with low-code platforms, but here marketing plays a major role in the term.
It sounds better to say no-code than low-code, but the 2 terms are the same.
Normally, no-code platforms would be better than low-code platforms as there is actually no-coding involved, but for the moment, the industry is still working on that.
If you want to find out more about this, check this article.
TeamDesk is a highly popular low-code/no-code online database software builder
With TeamDesk, everybody can build a Low Code / No Code application from scratch or start from a preconfigured template.
Is really that simple?
Yes, it is.
You can easily:
Organize your routine workflow
Simplify data sharing with Users
Create a centralized environment for Data Storage
Analyze your business results
All of these can be done, and even more.
It doesn't matter in which industry your company is, or how large it is.
The database creation is straightforward and simple, and keep in mind that you can quickly integrate the database with your website.
Regarding templates, at this moment there are 70+ templates to start with.
Here are some of them:
This online database provides Church Sunday Schools with centralized searchable environment for collecting, tracking and sharing information about Children, Parents, Teachers, Sunday School Classes, Churches, Children's Attendances and Awarded Prizes.
Marketing Campaigns Management (Many-to-Many)
This online database template demonstrates how to relate many customers to many marketing campaigns and organize marketing campaign management.
This online database provides companies and agencies with centralized searchable environment for collecting, tracking, organizing and sharing information about Clients and Appointments.
Travel Recommendation Database
This is a great tool to use for the frequent traveler or team of travelers. Keep tack of all the great places you visit, bars, hotels, restaurants and transportation services. Next time you or a colleague are traveling to a city you can check this web database to see what is good.
This preconfigured web-based database provides your team with a centralized searchable environment to track customer calls, assign them to sales, or customer support representatives and organize follow-up responses.
And these are only a small part of the included templates.
As you will see, each template comes with a detailed explanation of what can do for you.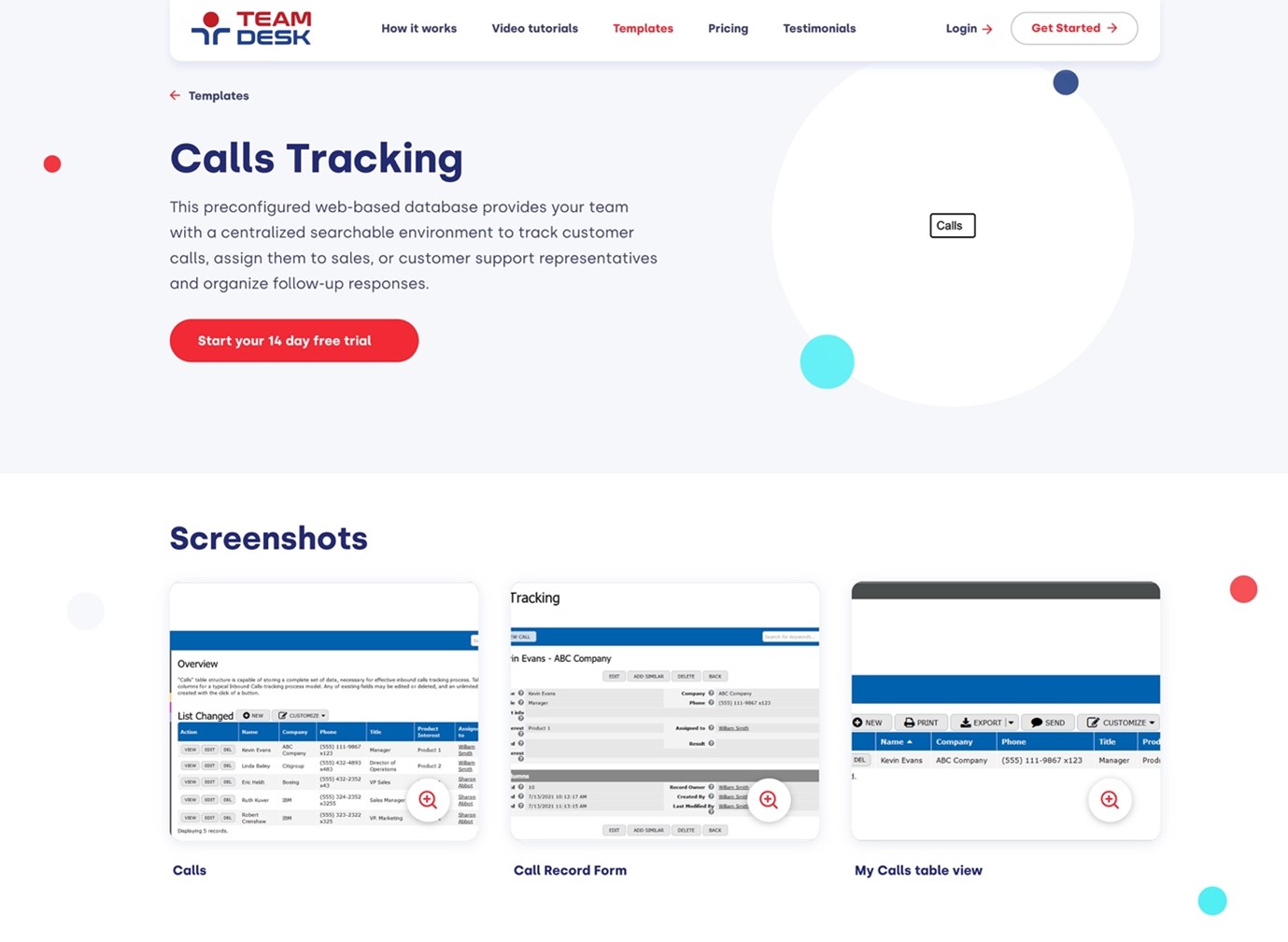 TeamDesk is such a popular low-code / no-code database creator because it works brilliant, it is easy to use, and the pricing is competitive (plans start from just $49 per month for up to 5 users).
If you never used TeamDesk, you should try it right now.
With this solution, the whole world opens and you can easily boost your company performance and sales, for very small costs.