How to build your own font collection is a question that is often asked.
Yes, we all know that fonts are very important for our websites. But how can we build a once and forever font collection so we can stop searching the web over and over? Is this possible? Is it worth it? You will find out everything in this article.
Is it possible to create our own font collection?
The short answer is yes.
The long answer is yes and there are many ways to do it.
Some take less time while some are time-demanding but offer you better and more personalized fonts for your projects.
The classic way
The classic way to build your very own font collection is to make a document (in the cloud is best) with this structure:
And then search the internet for all types of fonts, and save them in this document.
This method is time-demanding and it is not very efficient. Most of the articles about fonts are including the same fonts.
In plus, some of the fonts that are included in most of the popular articles, are not so great.
So probably most of the fonts you find in articles and directly on Google, are not the best. These fonts are not the ones that you are looking to use in your best project.
Get a font bundle
Sometimes you can get nice font bundles for crazy prices. But always remember that for a crazy price everybody is buying and you will use the very same fonts that the whole planet it is using.
Don't get me wrong, as I said, some font bundles are excellent.
It depends on what you want to achieve. To create your own font collection means much more than buying a font bundle.
A different approach that is much more efficient
This approach is used by professional designers with huge success. You will create your own font collection and even more.
How? It is a simple and effective strategy.
Whenever you browse the internet and see a font that you like, you take a picture and upload to WhatFontIs – the best font finder - so you can identify it. This powerful AI software is free to use (when I say free, I really mean it; it is not as many things that are free these days but you have to pay for them – bank credits, books, and others).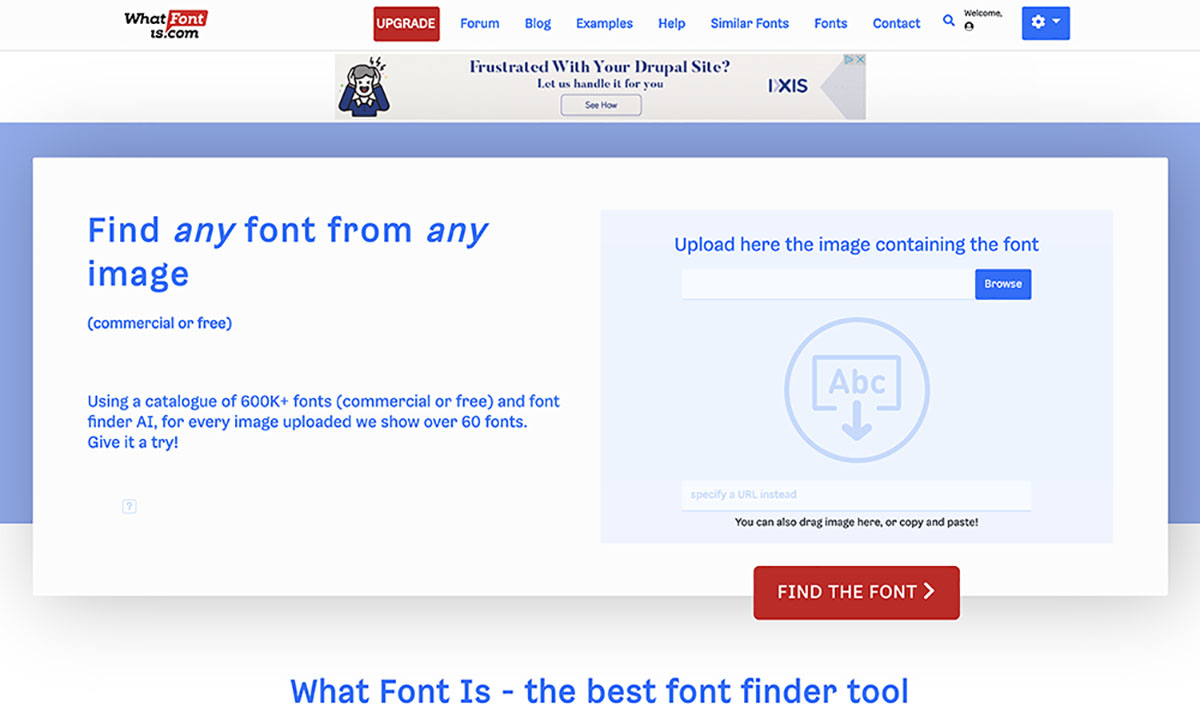 You can use it even without registering.
So, you upload the picture, you insert the characters of the font (you will not do this step if you register), and you are good to go. WhatFontIs will quickly identify the font you are looking for (it takes less than 60 seconds) and offer you the following details:
The name of the font.
The price – FREE or how much does it cost.
The link to get the font.
Over 60 similar fonts – both free and paid.
WhatFontIs has over 600k indexed fonts and it is the only system that identifies both free and paid fonts. And even better, it works with all foundries, including Google fonts.
Use the software each day when you see fonts that you like and save them in the same document that I created for you in the first part of the article.
Using this software will help you have much better fonts for your projects. It is much different to see a font on a website than seeing a small picture of the font. If you really like it, you identify it and save it.
I have seen awesome font collections made with WhatFontIs.
Is it worth it to create your own font collection?
Yes, it is totally worth it. Why?
Working closely with fonts means that you will have much more experience in choosing the right fonts for your projects. This is a huge plus.
And having your own font collection means that you will have better and more rare fonts.
Many designers are winning their customers by using for them "special" fonts. You can do the same.
Take ownership on this and don't let the internet "tell you" what fonts are best in a certain period or which are the trends. Take the extra mile and make your own font collection.
Conclusions
What is made with your own hands is usually much better. You learn much more and you understand more from the process. And this is not only applicable to create your own font collection, I personally think for it as a way of living.
Use the internet, read articles, browse websites and do whatever you want, but always take ownership and make also your very own work.
From the process of creating your own font collection, you learn also how to identify any font from any picture with WhatFontIs, you learn how to match a font with a website design, message, and audience, you learn more about fonts, you find out what new fonts are being launched, and so on.
Create your own font collection, it is a rewarding process.