You want to share your creative talents with the world, and you've decided that building a portfolio website will be the most effective way to do so.
The problem: you don't want to take the time to try to build one from scratch and you don't know which of the website building tools out there would be a good choice and which ones might not.
Fast, easy, and affordable would be ideal, but not at the expense of quality. You obviously want to present your offerings in the best possible light to gain the attention and trust of potential clients or customers.
There are certain portfolio-building features you should make yourself aware of to ensure eventual success. We'll use the Portfoliobox portfolio-builder solution as an example to demonstrate these features and how you can best take advantage of them.
5 Time-saving and Quality-boosting Portfolio-building Features You'll Want to Take Advantage Of
Your portfolio website can ensure your success, be a roadblock, or be something in between, which is why it is so important to find a portfolio builder you can put your trust in.
Here are 5 time-saving and quality-enhancing features to look for to help you make your choice.
1. The Ability to Mix and Match Templates
Using a theme to get your project underway can be a great time saver. The problem with using a theme is it can force you to commit to a specific layout or style. If you're forced to rely on customization to achieve the look you want it can easily eat up the time you hoped to save.
You want to create a website that sets you apart by accurately reflecting your personality and creativity. An excellent approach to achieve this is to select a website builder that allows you to mix and match templates to achieve the look you want.
With a mix and match approach you won't have to:
Let someone else decide want kind of content you can or can't use
Spend hours trying to customize a theme to get the look you want
Design your website portfolio from scratch
With Portfoliobox you can start with a blank slate and build your pages as you want them to appear, a section at a time.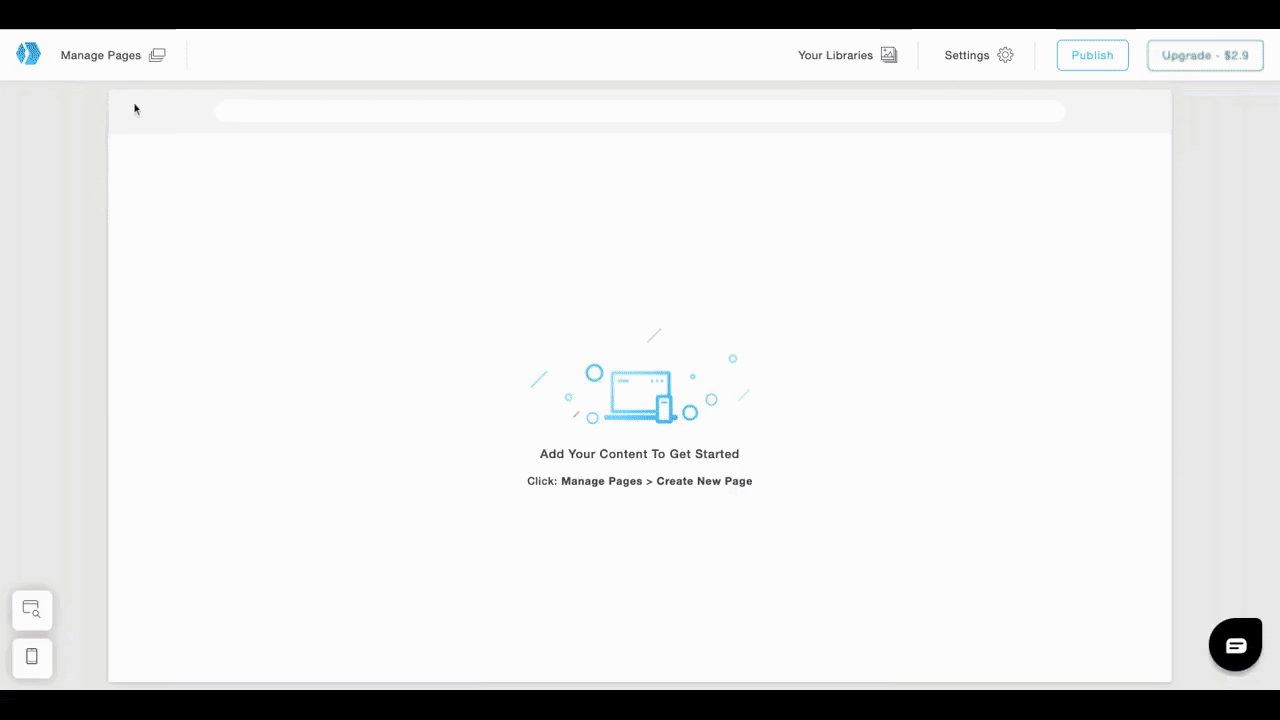 Since Portfoliobox offers a ton of ways you can design the look of any given section you should have no problem creating Home, Testimonial, and Portfolio pages, and Contact forms that will appear exactly as you want them to.
The time you might have dedicated to customizing can instead be used to fill in the details necessary to create a truly awesome website.
2. Look for All-in-one Pricing and Affordable Monthly Plans
Since you want to build your portfolio website quickly and affordably, it might be tempting to jump at the first "free to use" website builder you come across that appears to have what you need.
That's well and good, but supposing your site is 75% complete and you discover that getting the extra 25% requires signing up for a plan or upgrade, which as you would expect will not be free.
The lesson is that it's best to check to see if your proposed selection has a transparent pricing plan that shows you exactly what you can expect.

Let's use the Portfoliobox example. Portfoliobox features three annual pricing plans: Light, Pro, and Pro Plus. You can select a monthly pricing option if you wish, and Pro is free for students.
The features of each Portfoliobox plan are conveniently broken out to show precisely what's included and what's not:
A custom domain name (Pro plans only)
Web hosting and unlimited bandwidth
SSL certificate for security
Mobile responsive website editor
Image storage and protection
eCommerce functionality (for products)
SEO tools
Top-of-the-line support
Everything necessary to build a high-performance website is included in the monthly price.
3. Creative Business Features
Your ability to create an impressive portfolio may be a given, but you don't want to overlook the business side of your venture. You need to create a site that helps you streamline your business dealings.
4 useful business features:
1. Right-click disabling to protect your online work from theft. This is easily accomplished by disabling the Right-click to Save feature which, as shown in the following image, is easy to do.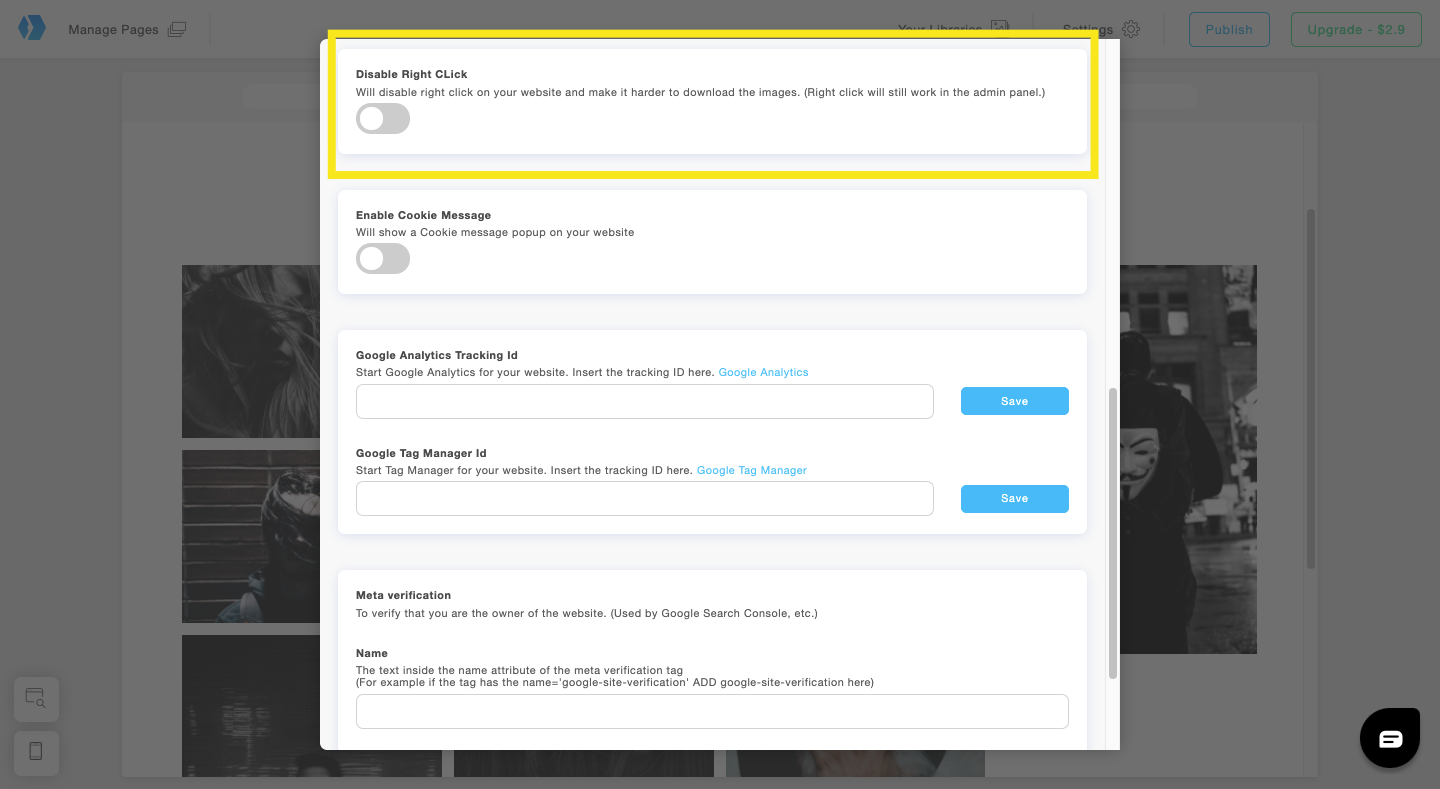 2. Private client galleries – that provide your site with a fast and secure way of sending artwork, web designs, etc. to your clients or customers.
There are platforms that enable you to do this, but why go that route when you can do everything from a single platform. With Portfoliobox you only have to upload and transfer your work one time.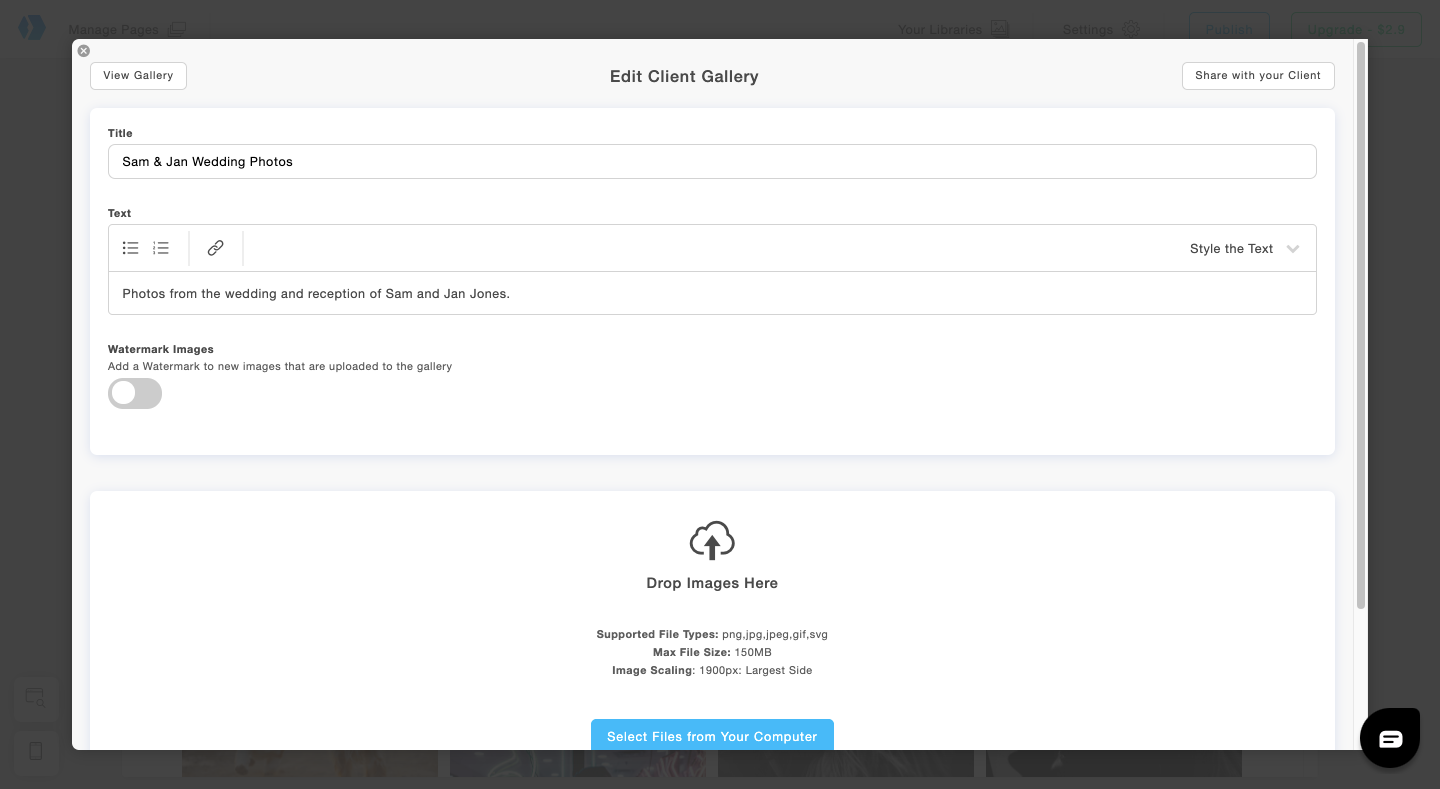 You can also manage your portfolio and client communication and collaboration from a single platform.
3. Image watermarking – not only protects your photos or artwork from thieves but also helps to ensure that your clients have approved of and paid for your work before they can actually put it to use.
Adding a watermark is not difficult at all – as you can see in the following image.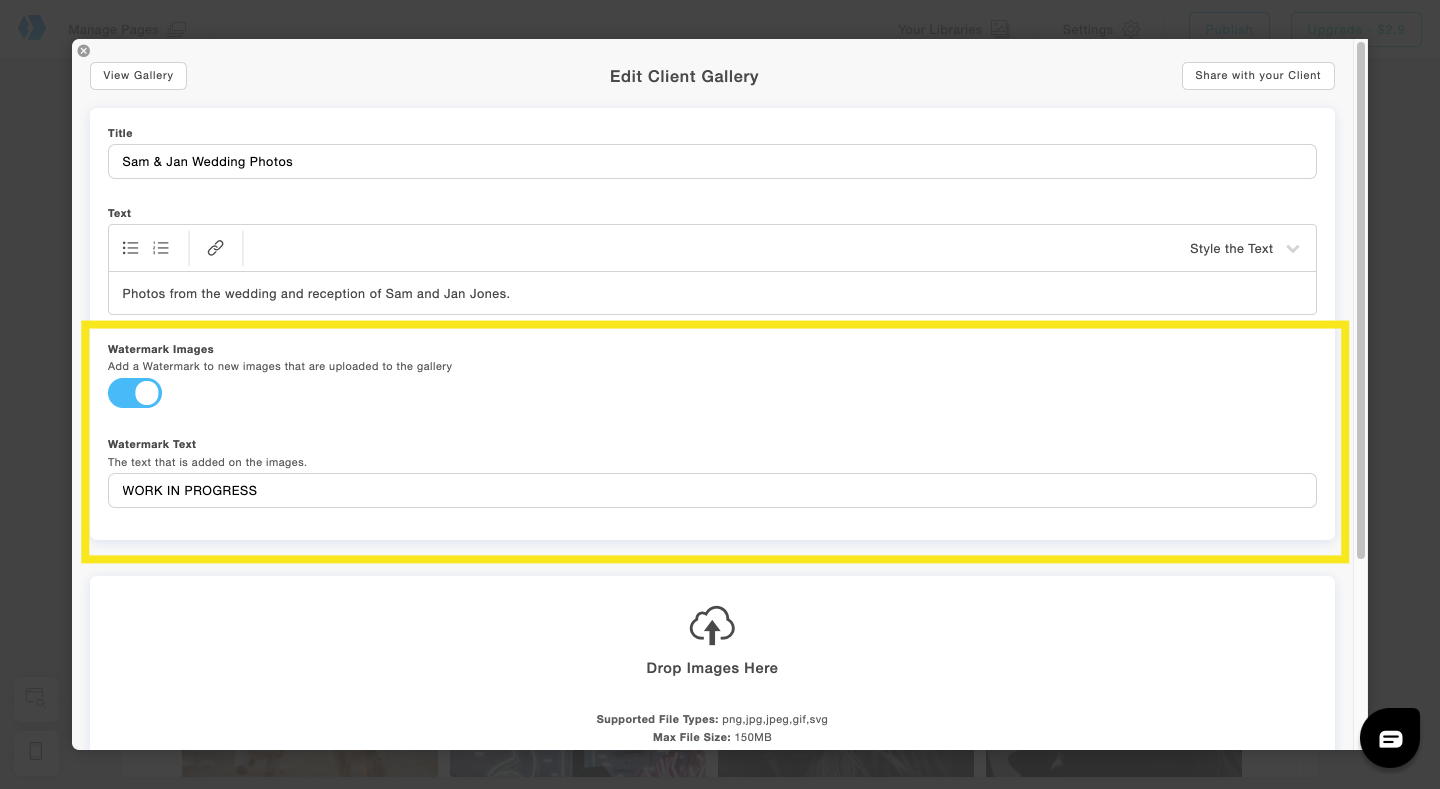 Portfoliobox lets you apply the watermarking feature to any type of client gallery.
4. Third-party integration – is another time-saving tool you want to look for.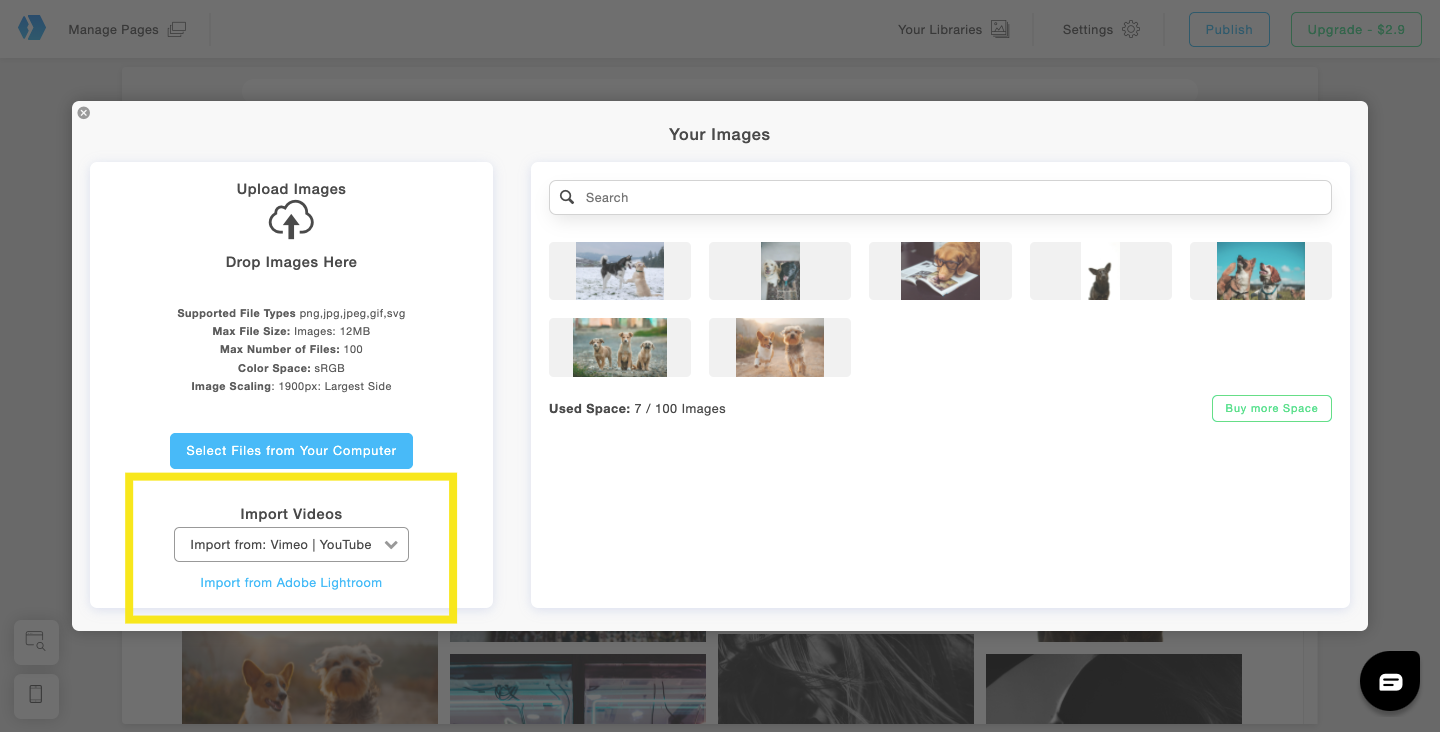 If, for example, you edit your images or videos in Vimeo, YouTube, Lightroom, or some other platform, your portfolio builder can easily pull these edited files into your portfolio site.
If you intend to sell your art, photos, crafts, or creative services there's no need to look for a separate ecommerce platform. You might as well build a second website and won't that be fun trying to integrate the two.
Portfoliobox builds eCommerce right into the platform. By doing so there is no need to learn how to work with a separate platform and applying your site settings to your store will be automatic.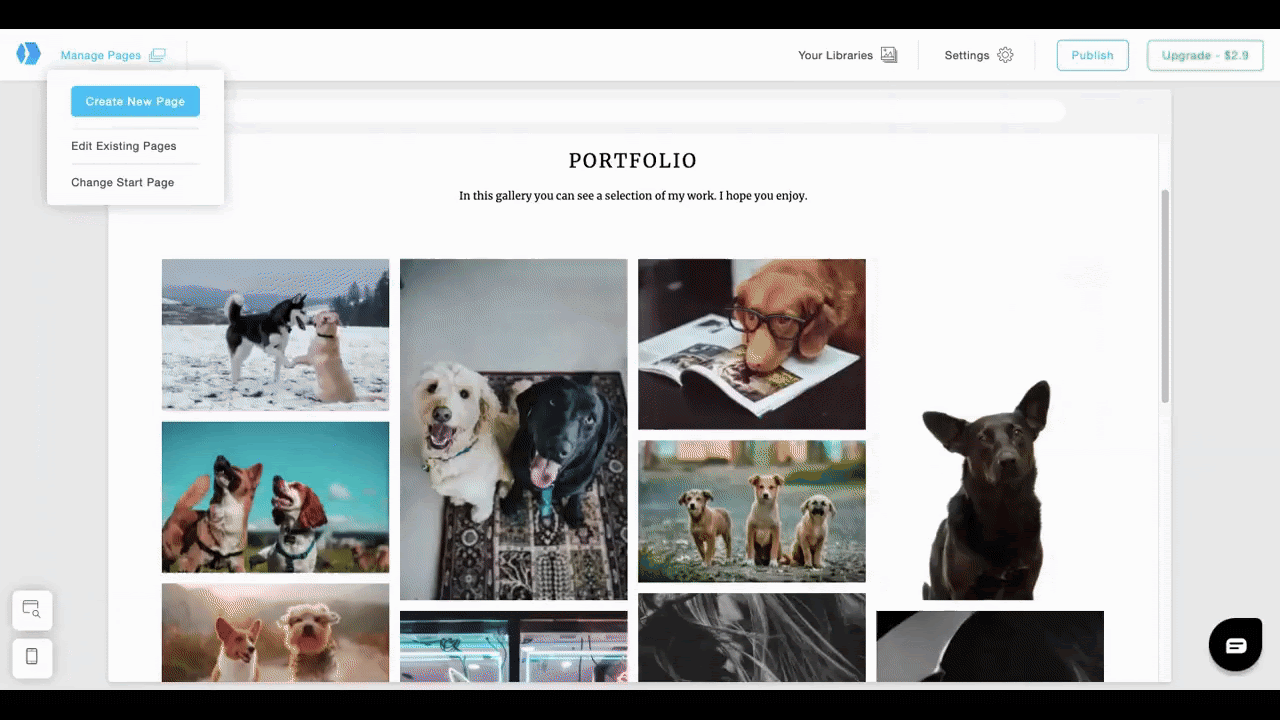 There are no add-ons needed since the Store is just another page (built using templates of course).
5. On-the-spot customer service
Some website builders provide users with little more than do-it-yourself documentation (or even worse, an FAQ section) under the assumption that you have the time and expertise to troubleshoot any website issues that may crop up.
If a page is having a problem loading or your site misbehaves for even a brief period it could discourage a potential customer. To keep such problems to an absolute minimum, it's in your best interest to be working from a platform that comes with 24/7 support, another feature that you can get with Portfoliobox.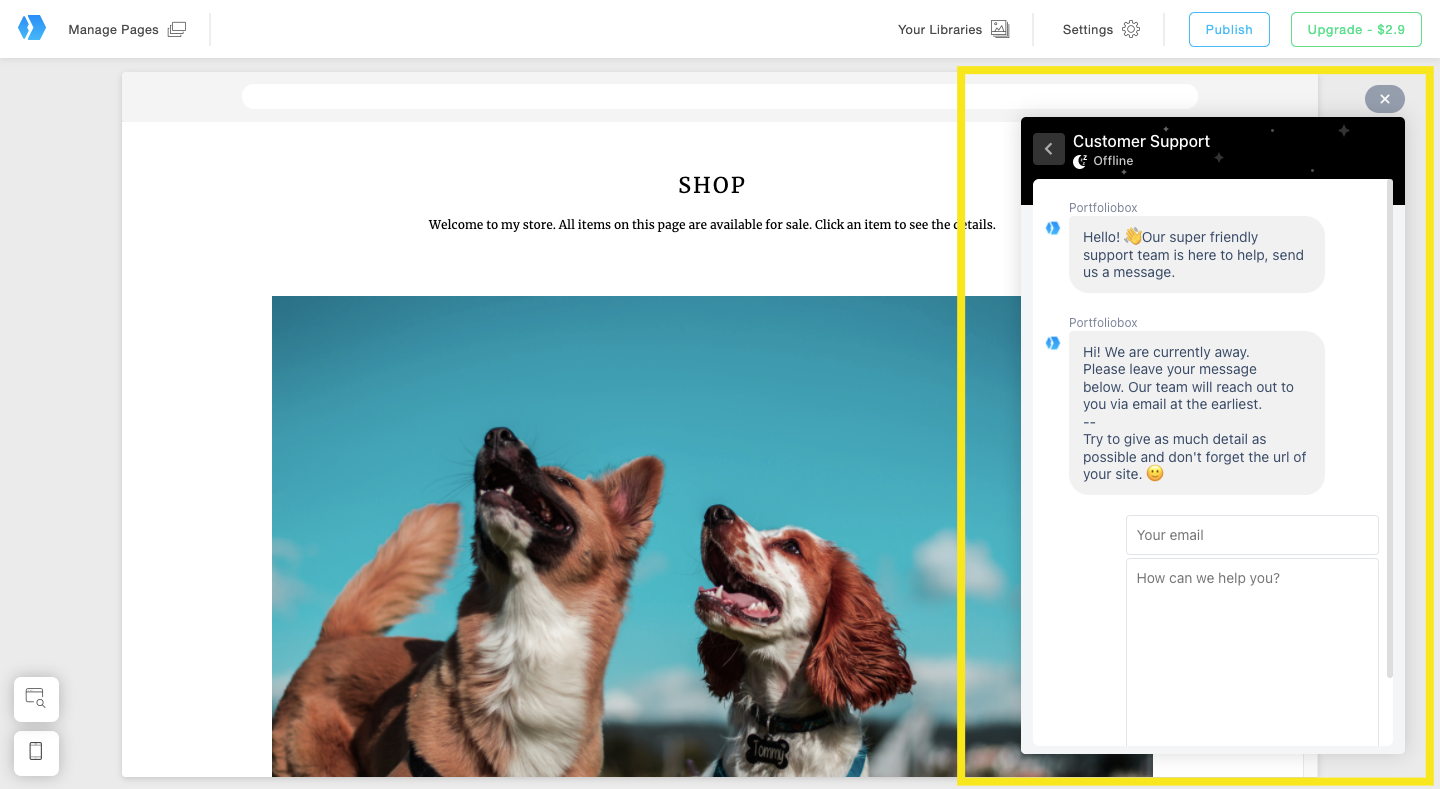 So long as you're on one of the Pro plans, Portfoliobox offers a 24/7 customer support chat service.
A Speedy, Affordable, and Intuitive Way to Create your Portfolio Website
There are plenty of website builders out there that feature portfolio-building tools. Portfoliobox however, was built with creatives in mind, creatives who want their portfolio to be the main attraction and not a secondary website feature.
Portfoliobox gives you complete freedom to do what you want to do with your work, whether it be to show it off or sell it, or to offer your creative services to potential clients.
Portfoliobox is more than just a good example of what you should be looking for. It's one of the best website builders for creatives out there. Portfoliobox is easy to work with, it's fast, it's affordable, and you'll know what you're getting before you start using it.