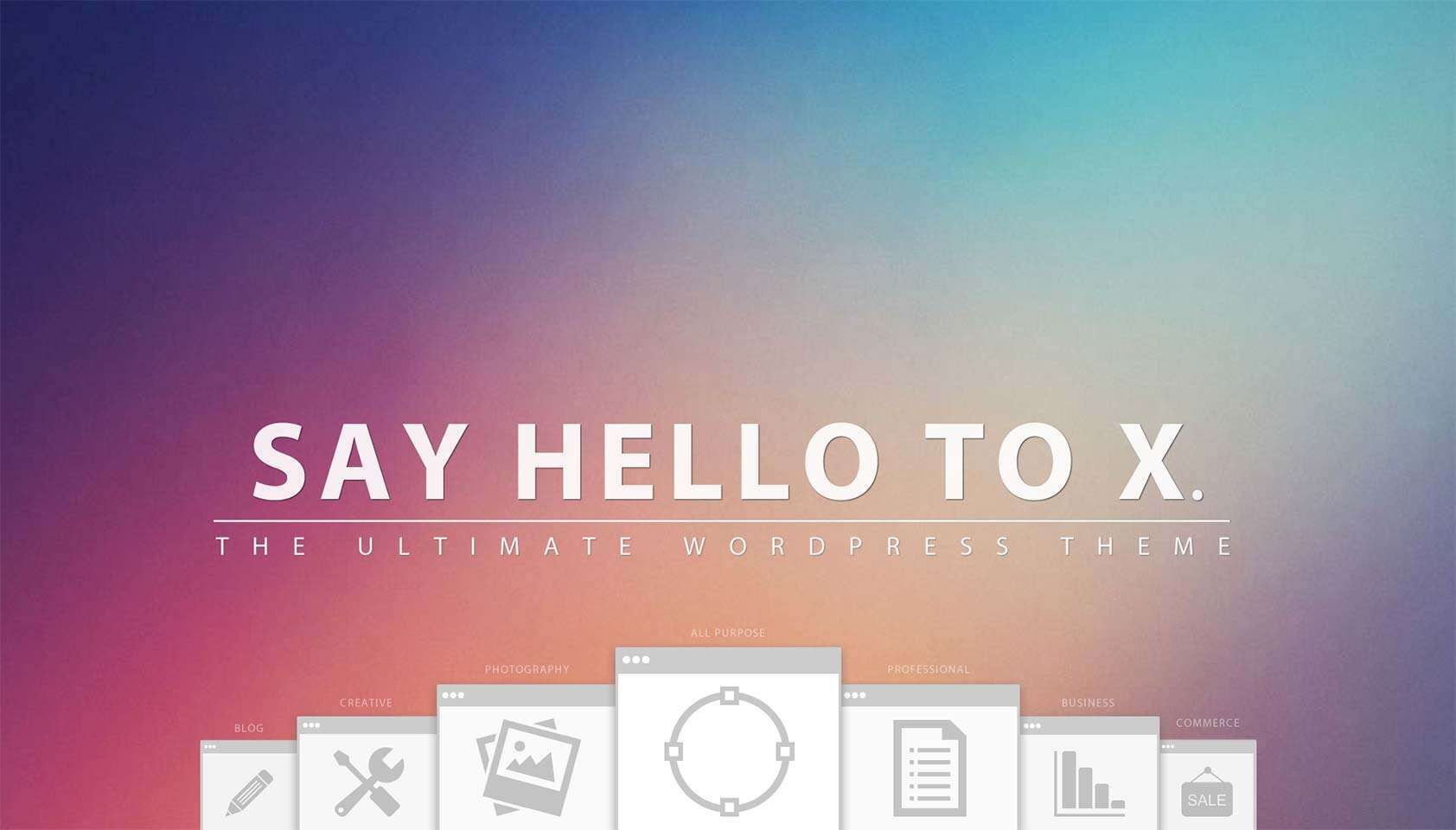 The web is flooded with shops selling anything from beauty products to car parts. Which begs the question, why should online shoppers choose the ones you create? How do you make your web stores more attractive than the rest? There is no key or magical secret, only this: a good theme and proven guidelines will get you there every time.
X is fully integrated with WooCommerce
X Theme has clean code and four Stacks that make it versatile. Many shortcodes and plugins are at your service, and there are planned updates for 2015.
Claim a Stack

As you set about making your e-Commerce website with X Theme, choose a look. Take your pick from the complete designs otherwise known as Stacks. Build your store with Integrity, Renew, Icon, or Ethos.
Your primary concern is to push products forward, and make them look tempting. If you're using large, high quality images, and leave out the clutter, your end-users are as good as sold. Ethos is engineered for image-centered websites, and Icon has a modern and minimal design that allows the content to shine through.
Then again, you literally have to tell users what to do. Sure, consumers may already know what they want. Yet, if they enter your online shop for the first time, everything is unfamiliar, which breeds uncertainty. A lot of web stores are doomed to fail because their design doesn't Guide Shoppers' Actions. Think in terms of high contrast color schemes. Add call-to-action buttons that vie for attention, using the Integrity Stack.
From a usability point of view, it's best if you devise straightforward navigation for the store. The Stack Renew has light, flat design. Now, most shoppers use a mobile device, so quick previews should only be available on demand. Also, mega-menus have no place here. Put up a simple menu at the top of the page, and a product filter nearby. The audience wants to know which products are less expensive, or praised senseless.
Inspirational Websites for e-Commerce
From apparel stores, to gadget shops and sports equipment, there is no limit to what you can accomplish with the X Theme. Below, you will see effective e-Commerce websites based on the Stacks Integrity, Icon, and Ethos.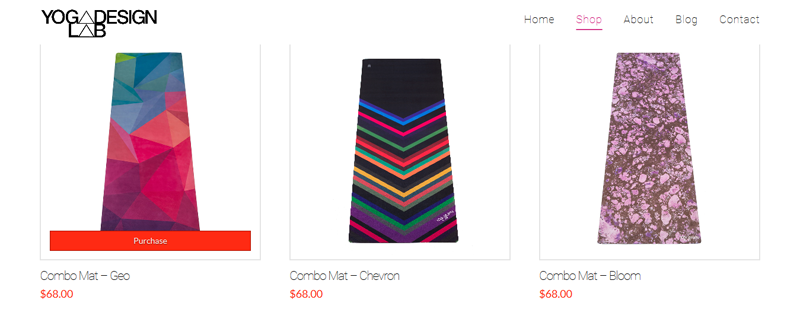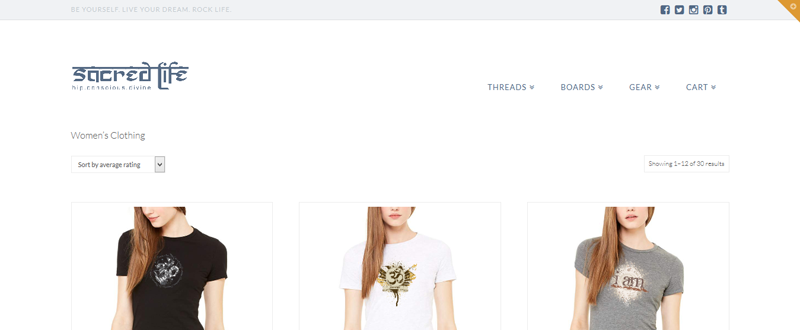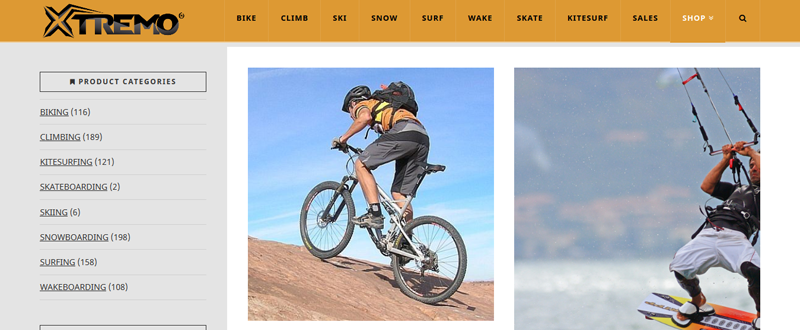 Want more eye candy?
http://ozarksfreshmeats.com/shop/
http://citylifestyle.ca/shop-collectionone/
Move On to Customize
Once you know your Stack, it's time to get working on it. Upon installing X Theme, your WordPress Dashboard has an option in Appearance > Customize. Click it.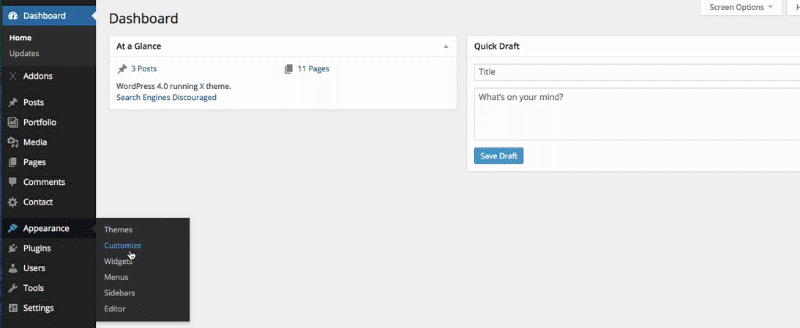 Check out the split screen of your Customizer! You'll enjoy the time spent there. The X Customizer is very intuitive, on the whole. What you get is detailed theme options on the left (together with explanatory notes and suggestions). Also, there is an illustrative window on the right side of the screen. Everything you do reflects back on the live preview window in a split second. So you know exactly what your website design looks like at all times. Save & Publish your website in its final shape.
Of course, there's a big chance you'll grow very fond of X Theme, and use it repeatedly in your e-Commerce projects this year. And some patterns may begin to form. The same settings can be used across many domains, by Importing and Exporting your favorite design options. Find out how to do that, from the instructions laid out for you in the Import and Export sections (go to the sub-menu under the"Customizer" menu).
Take Up Useful Extensions
You chose a Stack, and you know what you want to do with it. Now, let's move on to plugins. Above all else, you want to convert traffic into sales. Also, ensure quality support service for clients, and be ready for unpleasant situations like 404 error pages.
15 useful Extensions are released to you every time you acquire a copy of X Theme. Free, automatic lifetime updates to these Extensions go without saying. They are, in fact, premium WordPress plugins prepped by Theme.co. Part custom-made, part developed by a third party, some really come in handy when you create web stores.
For third-party plugins, you work with their native menu and settings. On the other hand, you activate and manage Theme.co Extensions from Add-ons > Extensions (beneath the sub-menu).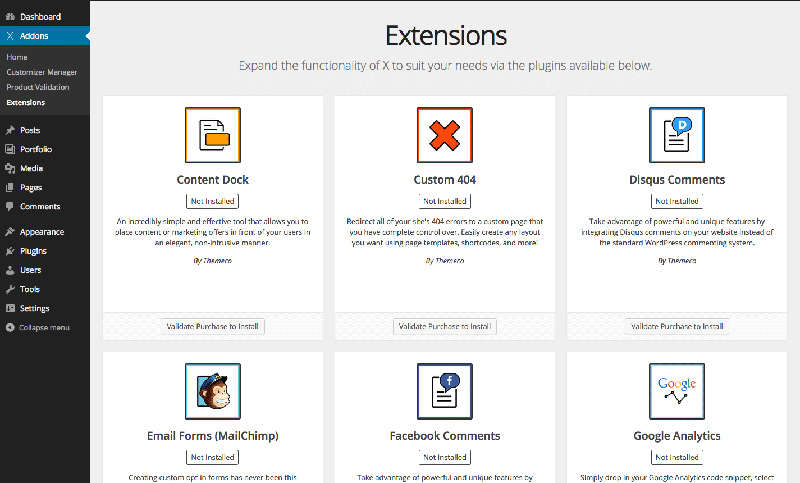 Are you ready to use Extensions for your online shop?
Here they are.
MailChimp Integration is the first one that comes to mind. Make it your #1 priority, because you want to customize a beautiful opt-in form and subscribe users to a MailChimp e-mailing list. Find a good location for your form, and guests are more likely to jot down their e-mail addresses.
Then again, top up the conversion rate anyway you can. Extensions like Video Lock and Content Dock are meant to help you do just that. Introduce hot deals in a video with the former, set a delay for when the video appears, and add a caption (heading and subheading of any color). Suggest marketing offers with the latter, too, but in a subtle manner. Style up a box that slides on screen when the user scrolls down. Feel free to throw in anything from text, to images, shortcodes, and links.
Whenever someone makes a purchase, they must have good support within reach. It's the golden rule when building customer loyalty. So get Olark Integration. See how overall user engagement evolves with Google Analytics.
Also, fix up a nice message and background image in case of 404 errors, with Custom 404. It appeases the annoyed members that would otherwise be left staring at a blank page. Do the same when your web store is temporarily Under Construction.
X Theme has other handy Extensions for your online store, such as Terms of Use, and Slider Revolution.
That's It!
We showed you how you can make awesome web stores with the X Theme. What you don't know until you try it is how inexplicably easy your task is. Theme.co has a way with plugins. See for yourself how simple it is to create websites for your merchant clients with X.