Web designers don't create websites from scratch anymore. Most of them use frameworks like Bootstrap or Foundation; many utilize readymade UI kits, web templates, plugins, components and code snippets. But what should one start with? Should you assemble them yourself, one by one, or is there a simpler solution? These questions often haunt beginner web designers and those who want to design their websites without digging into coding too deeply.
And here is where Intense comes to your aid. This multipurpose HTML5 website template is able to handle websites of any level of complexity. Moreover, by itself it can become the basis of hundreds of websites, and each of them will look and function differently.

Intense comes from TemplateMonster. The company has been offering website templates since 2002, so they know what means knowledge and experience.
Why Opt for "Intense"?
Reason #1: Huge choice of pre-designed pages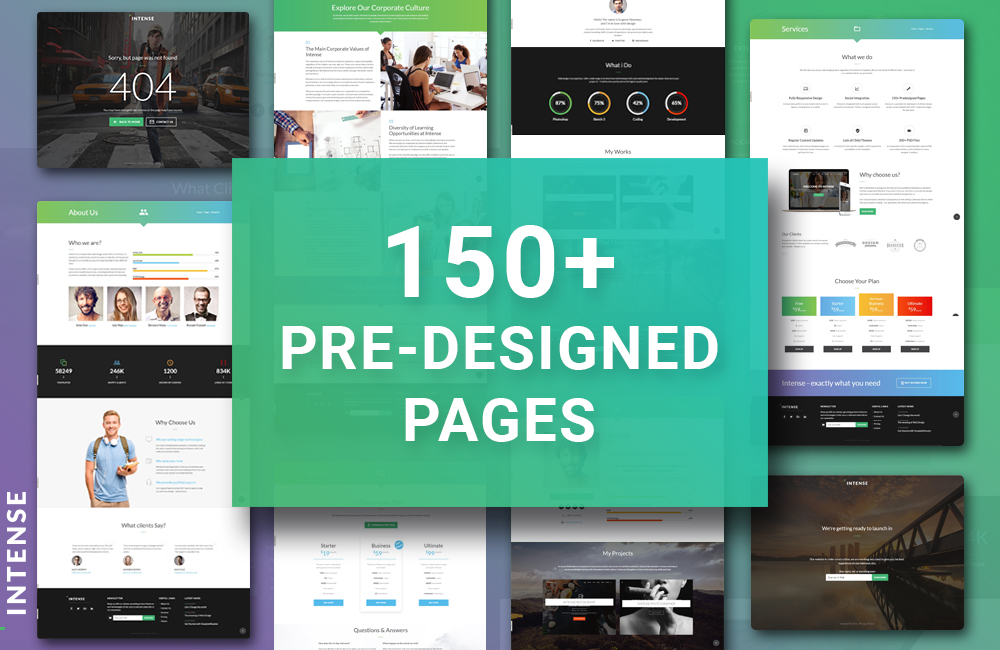 The main reason why Intense is a must-have for any web developer is the huge set of readymade page designs. On the one hand, there are multipurpose layouts suitable for any website (for services, testimonials, contact pages, server errors, 'Coming Soon' etc.) and on the other – pages for individual website types (blogs, online stores, portfolios, business websites).
Their number grows exponentially with each new content update. In the near future the template will receive 14 updates containing additional pages, components, niche templates, etc.
At the moment there are 150+ predesigned pages available. You can combine them however you want and therefore, the number of possible combinations is nearly unlimited.
20+ Blog Pages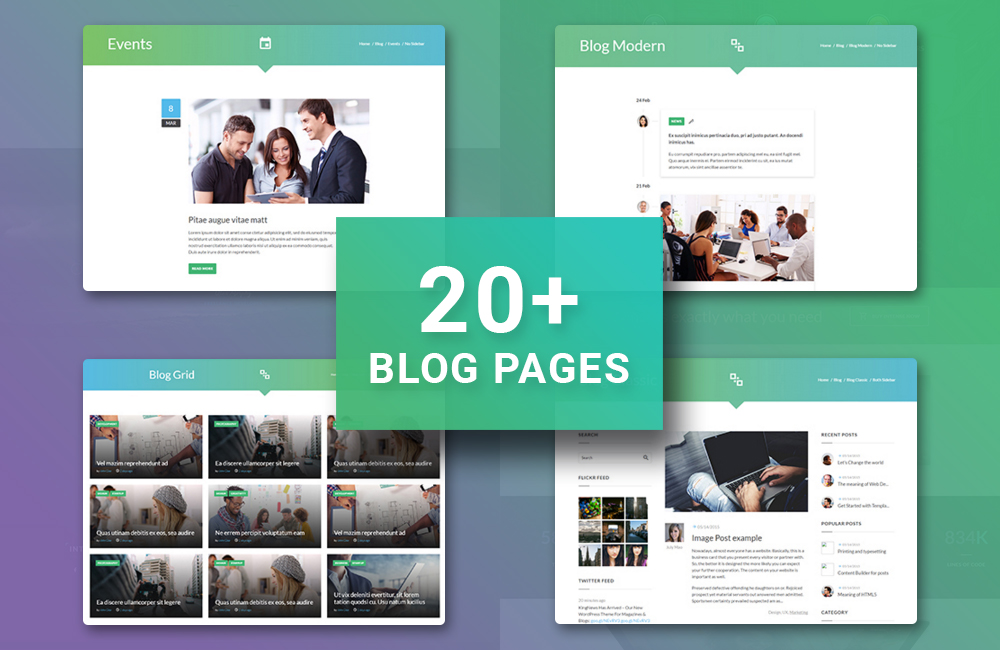 Blogs are so versatile nowadays that a simple "thread" layout is no longer enough for most customers. Many bloggers opt for alternative designs such as masonry grids and Facebook-like timelines. The creators of Intense went even further by collecting all possible blog layout variations in one template. You can choose one of the following sidebar positions: left sidebar, right sidebar, two sidebars, or no sidebar.
15+ Portfolio Pages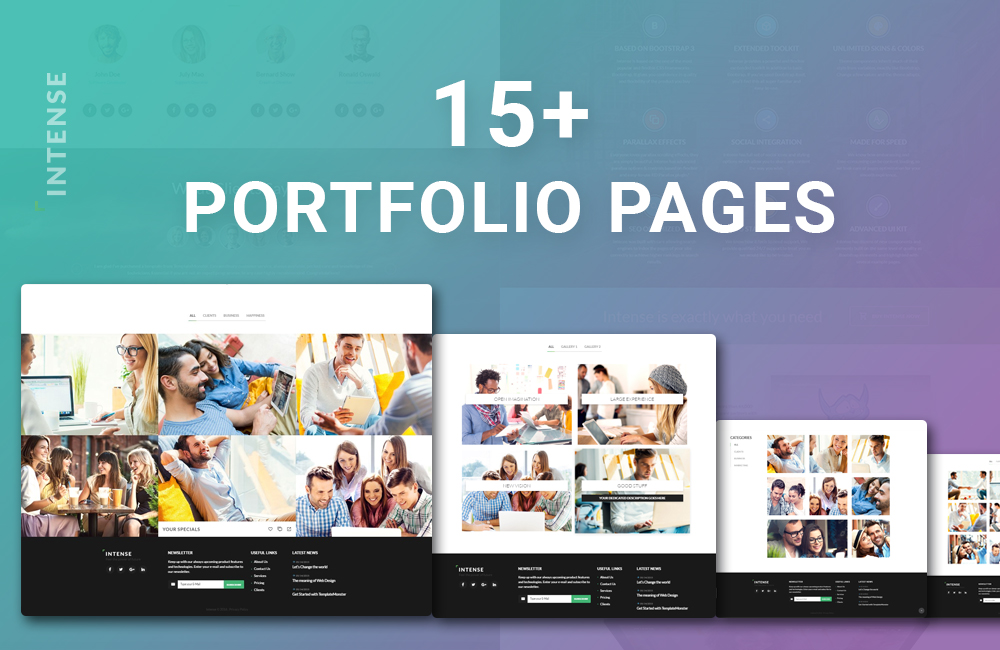 This section is for all kinds of creative people, who want to showcase their works in the best possible way. Currently, Intense includes over 15 professionally designed gallery pages: Masonry, Grid and Wide (all three are available in Horizontal and Vertical variants); 3-, 4- and 5-column Full-Width, and Single Project layouts.
10+ eCommerce Shop Pages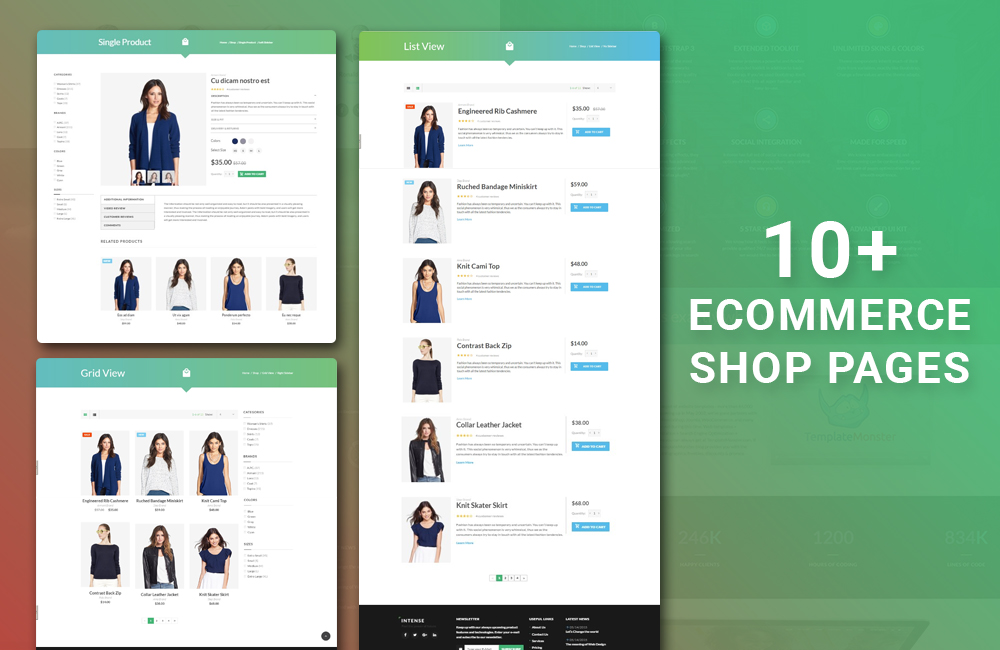 Online sellers can also benefit from Intense. The template comes with 10+ eCommerce-oriented pages including front page, product page and product catalog layouts. You will have to connect the resulting design to one of the eCommerce platforms in order to enable payment functionality, but that is much easier when you have all the necessary pages at hand.
Multiple Header and Footer Variations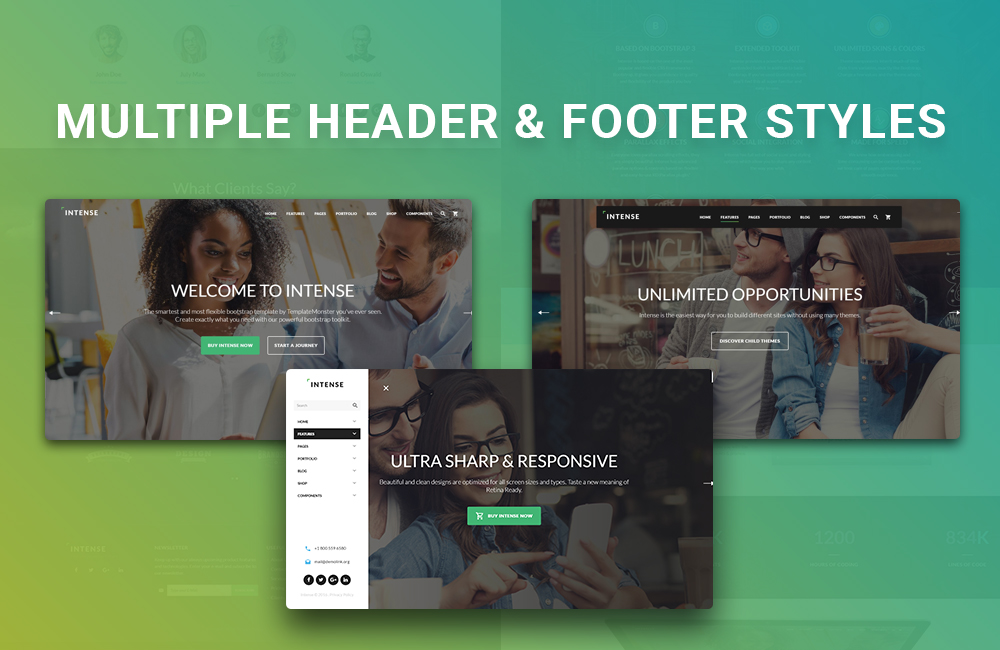 You can choose from several header and footer styles to customize further the layout of your website. Most of these layouts are not just blank bars with copyright info. By including social sharing buttons, and custom HTML blocks they can become a valuable addition to the page design.
Update 1.1:
The first content update brought Intense owners several new pages: Contact Us v2, About Me v2, a custom design for Error 503 page and alternative designs for blog and portfolio. The package also includes additional footer and header layouts with social media widgets and email subscription forms.
Reason #2: Fully Functional Niche Templates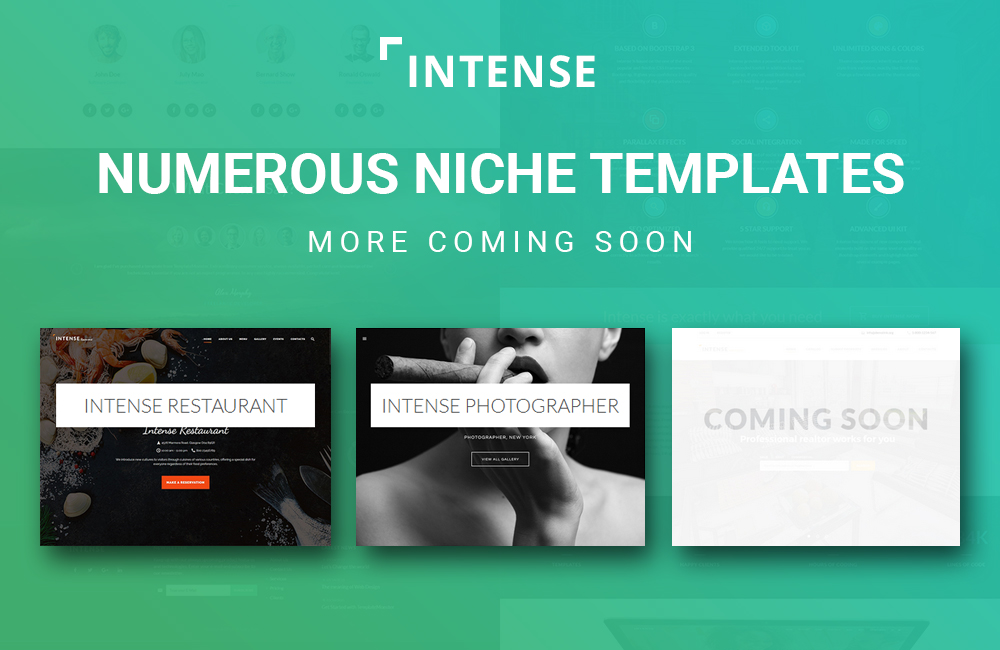 In addition to the primary pack of design components Intense offers a number of standalone templates with their own sets of pages. Unlike Intense itself, which is multipurpose in terms of design, such child templates are topic-specific.
As of now, you can choose from 9 niche templates, each comprising 10+ pages, which is attractive enough for a small or middle-sized business. You can check out the demos to decide whether they are suitable for your website:
Reason #3: Extended Bootstrap Toolkit
Even without its numerous pages Intense would be a great help to web designers, thanks to the integrated Extended Bootstrap Toolkit – a collection of unique UI components similar to those featured in the original framework. Simply put, it's like Bootstrap, but much bigger. The extended toolkit is divided into 33 categories including buttons, alerts, counters, tables, and many more. To offer a comparison, the basic kit includes only 21 categories.
Reason #4: Hi-end functionality boosters
Any website will look and perform better if spiced up with useful plugins. The most significant category of extensions supplied with Intense has been developed to simplify synchronization between websites and social media networks. Such plugins as RD Facebook Feed, RD Instagram Feed, RD Twitter Feed, etc. were incorporated into various layout areas – sidebars, footers and dedicated pages.
To embed rich media content such as videos and audio podcasts, use multimedia-oriented plugins – RD Video Player, RD Audio Player and RD Background Video.
Other Intense plugins include Event Calendar and Newsletter Form. The number of planned plugins is 20+, most of which will appear in future updates.
Update 1.1:
In the first update, performance of the two video-focused plugins (Video Player and Background Video) has been significantly improved. Page loading has also been optimized in order to increase its speed.
Reason #5: Impressive UI kit
Since every page and layout component of Intense comes with the respective PSD source file, their total number exceeds 150. Each PSD is layered, and can be easily edited in Adobe Photoshop. With every new update the collection of PSD sources will be increasing as well.
Reason #6: Free lifetime updates and support
If, by any chance, you experience any difficulties during your work with Intense and its components, you can solve them by contacting the support team – it is available 24/7, and your support license is lifetime, i.e. it will never expire. Even your grandchildren will be able to fix their Intense-based website, provided that they have access to the order ID.
Critical acclaim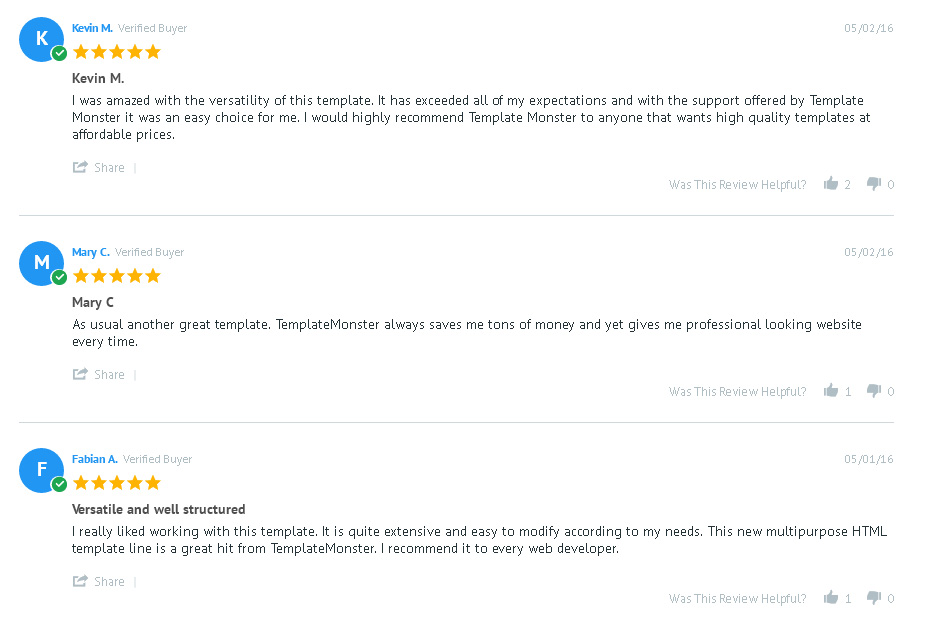 This HTML5 website template has been around for a few months. If you prefer to trust the choice of real flesh-and-blood buyers, then check out some of the latest reviews from those who already use Intense in their web-design projects:
That was the bonus reason #7. People love Intense, and you should have the same opportunity to love it too.
In a Nutshell
Intense is not just an HTML5 website template, but rather a colossal web design bundle at a permanent discount. For $75 you receive a pack of professionally coded and designed pages, which, by themselves, would have been sufficient for a dozen smaller templates, plus a handful of useful tools for designers and developers. It's not only cost-effective, but also well-documented and user-friendly, which makes it a perfect choice for both newbies and professionals.
If you are interested (and it's impossible not to be) go to the live demo to see Intense in action, or to its official page to learn more about its features.