Looking for a WordPress tool or service that could help take your business to the next level this year? There were roughly 55,000 on the market at last count – definitely no shortage to select from.
If you're a new user, plowing through such a large number would be a daunting task indeed. Even if you're an experienced pro and pretty good at finding stuff, the search could still take up a lot of your valuable time.
In any case, you need a game plan to help you select WordPress plugins or services. That way you will create a website that will attract and engage visitors. Your eventual selection(s) will, of course, depend on the type of website you're planning to build.
We'd like to share with you our expert selection of must-have WordPress tools and services. You could use them in your next and future projects to build a better website.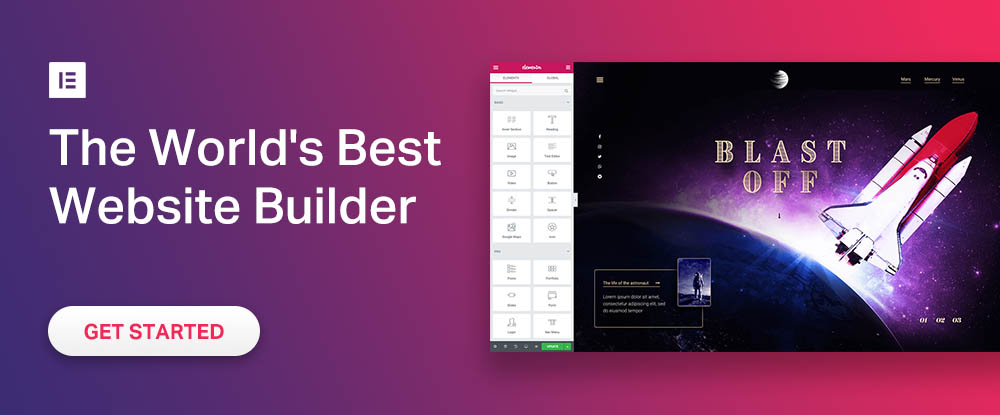 If you are a professional that builds many websites you understand why workflow & productivity are two key factors you'll need in order to scale your business, and thats why Elementor is worth a close look.
2,000,000+ professionals are already using this premium product to build better websites and save time. With this highly advanced WordPress page builder, you can avoid or overcome many of the problems that tend to slow WordPress designers down or prevent them from completing all aspects of their design objectives.
Elementor can be used with any WordPress theme and with any WordPress plugin. You can build a page from scratch by choosing from Elementor's collection of super-useful widgets, or you can start with any of the hundreds of pre-designed templates that are included in the package and can easily be inserted in your pages as you proceed.
With cool features like the Pop Up Builder, Theme Builder, Advanced Forms, Hover & Scroll Animations and much more, you can create a website that will perfectly represent your message and please your clients. Elementor is developer friendly as a result you'll find many popular add-ons around the ecosystem to fill any need you can think of.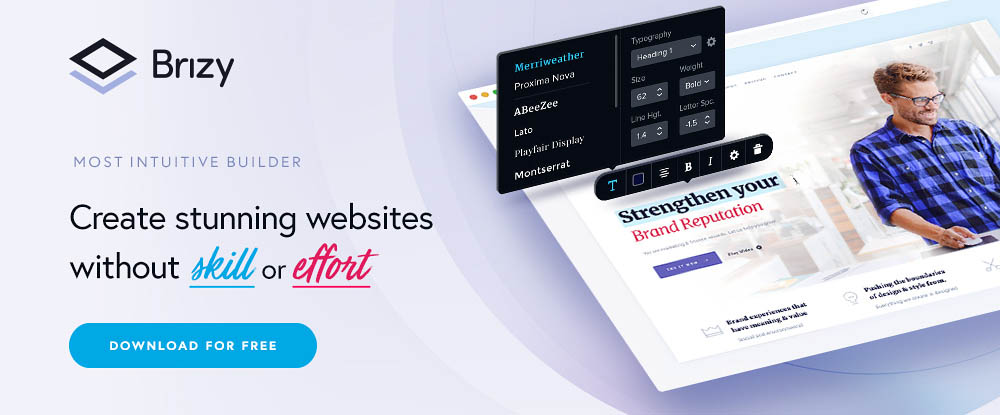 One good way to streamline your design workflow is to work with tools that are easy to use. Brizy is an excellent choice in that it does not require any special skills, no coding is necessary, and it's not one bit intimidating to work with.
Brizy's professional, ready-made designs make it easy to figure out a page's structure and move forward. This collection of 150 layouts, 240 blocks, and 16 popups offers a great alternative to those who find starting a page from scratch intimidating or are simply looking to speed up their workflow.
You can download Brizy drag and drop website builder for free and create a website for free as well. There's plenty of supporting documentation, you can easily control how your site will appear on mobile devices, and you can save blocks you've created for future use.
Brizy can also help you generate leads as it easily integrates with popular marketing apps.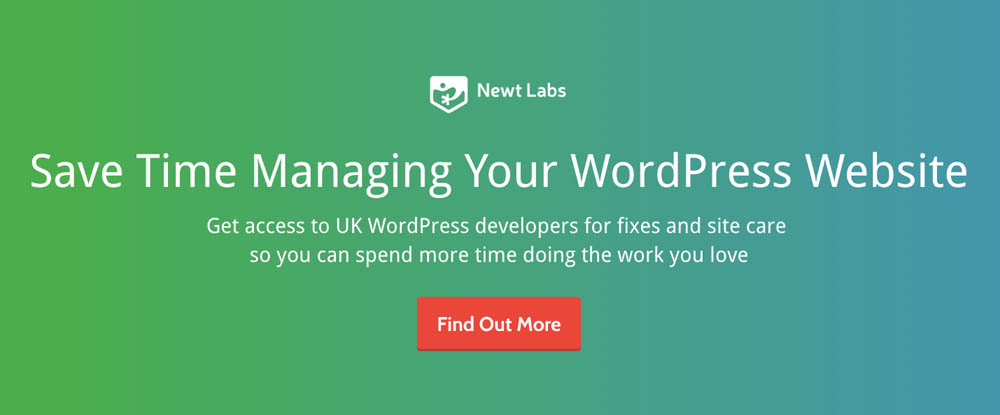 Newt Labs is a team of WordPress developers who stand ready to help you with small fixes, give you help when you need it, and offer advice. The Newt Labs team can also take on all your day to day website management tasks, freeing you up from having to spend an appreciable amount of your time trying to prevent problems from happening or having to fix them if they do.
Newt Labs' services include continuous monitoring, updating, and testing the core, theme, and plugins of your WordPress site. They put best practices in place to eliminate malware, prevent hacking, and make sure periodic backups are done to ensure the safety and security of your site and data. Newt Labs also provides managed hosting on its cloud servers along with site performance optimization to get your site running as smoothly, securely, and efficiently as possible.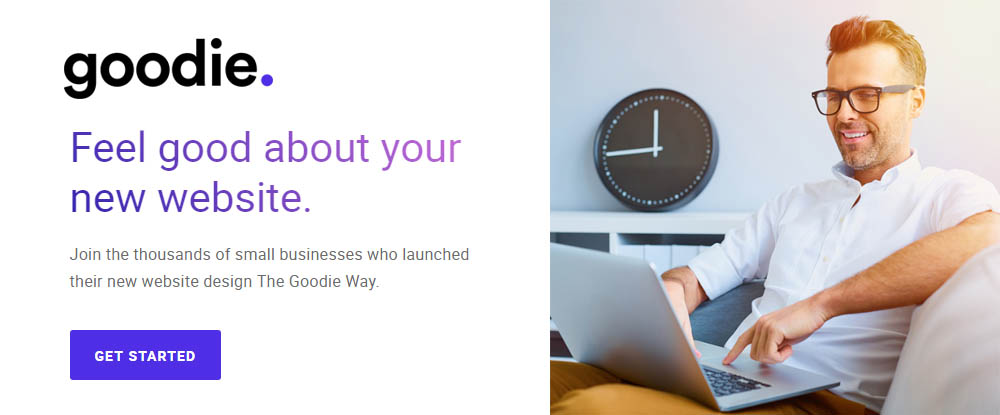 If you're in need of a developer, Goodie will assign one to work directly with you. Goodie only hires experienced developers that have a proven track record of reliability. Goodie is best for simple WordPress websites and 1-10 page modern websites.
All that's required from you is to upload your design files, or simply provide Goodie with your website design concept or idea. Your website will be completely coded for the special price of $999.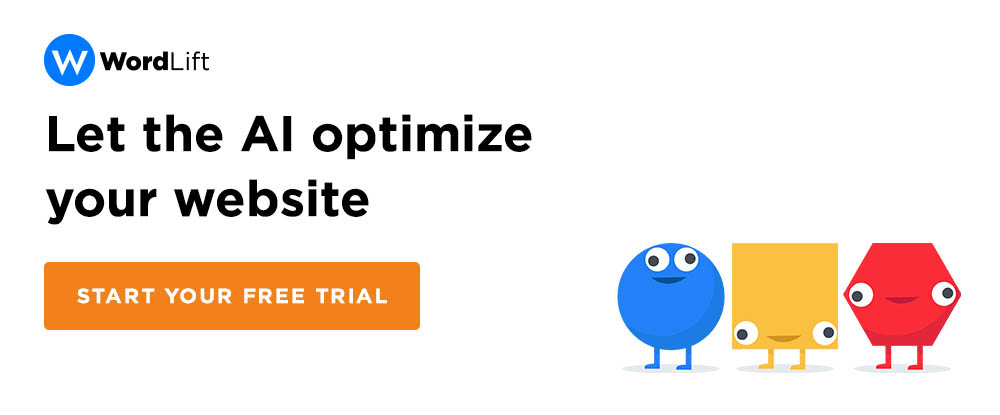 WordLift partners with WooRank to measure your website's content in terms of key factors including search ranking that influence organic traffic. Without needing any special technical skills, you can take WordLift's findings to improve your site's UX to achieve more favorable results in the rankings.
WordLift is a great tool for web designers, content marketers, bloggers and small business owners wanting to create richer and more engaging content.
Tips to Make Your WordPress Site Secure
Choose a Good Hosting Company
The best way to do this is to look for one that provides multiple layers of security. If you choose to go with a cheap company, you could end up with hosting but little else. You want to select a company that will take care of and protect your site and data as well as host it.
Install a WordPress Security Plugin
You could take care of your site's security on your own. But, it's time-consuming and certainly not very practical if you're responsible for several sites. Using a plugin is much simpler and safer. It will take care of your site security, scan it for malware, and monitor it 24/7.
Update WordPress regularly
With each new release, WordPress undergoes incremental improvement. Its security is improved as well. Bugs and other vulnerabilities are fixed whenever a new version comes out. Whenever a particularly malicious bug is discovered, the WordPress core team will attend to it right away. If you're not in the habit of periodically updating, you'll be at risk.
Back up your site regularly
For some, site backups are akin to preparing for earthquakes or volcanic eruptions. They rarely happen, so why worry? It's not all that difficult to create a copy of tour site data and store it in a safe place. Furthermore, your hosting service will probably do it for you.
Conclusion
If you're looking for a modern, super-efficient, and easy to use website/page builder, either Brizy or Elementor would be a great choice. If you find your SEO design activities tend to give you headaches rather than the results you're looking for, give WordLift or Goodie a try.
And, if you've been thinking about letting someone else assume your site maintenance responsibilities, Newt Labs is there for you. This way you can better focus on website design.