Finding a product of any kind that will make your day isn't always easy. In fact, if and when it happens, it often comes as a surprise. In our quest to find the very best themes for 2020 we believe we have come up with some great designs, any one of which is well-positioned to make your day.
If you're about to embark on your first website-building adventure there are some great choices here. The same is true for the professional website designer. In fact, most of these themes are equally suited for both beginners and those designers who are already serving multiple clients.
Our listing runs the gamut from multipurpose themes to themes that focus more on one or more website types, specialized themes, and tools.
Enjoy your search!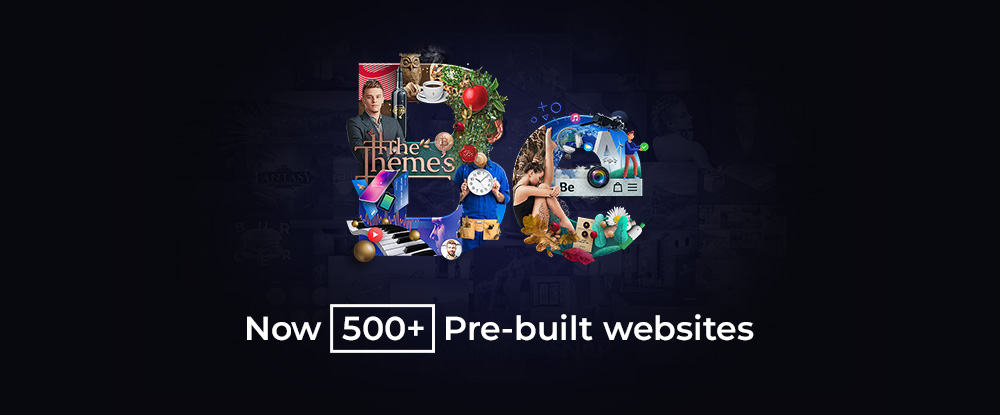 With its huge and varied selection of 500+ pre-built websites, BeTheme is the biggest multipurpose WordPress theme of them all. An ideal choice for a novice or an advanced web designer, this theme has a full complement of tools and design aids.
Users love the flexibility BeTheme provides and the excellent level of support the customer service team offers. More than 180,000 sales are indicative of the popularity of this multipurpose theme. Among its 40 core website building features you'll find ample use for –

Muffin builder: BeTheme's powerful page builder that in concert with other tools completely negates any need for coding.
An Admin Panel that makes customizing a site an easy task
Unlimited Colors, Custom Backgrounds, Advanced Typography, and Special Effects you can put in play to create a site guaranteed to make a client's day.
A new Header Builder, unlimited Header Choices, a Layout Generator, and a Shortcode Generator; all of which combine to provide all the flexibility you'll ever need.
The star of the show is BeTheme's library of 500+ prebuilt websites that cover 30 industry sectors, all the popular website styles, and multiple business niches.

"This Theme has great design quality and is very easy to get around. No technical skills needed in web development." - syllabus1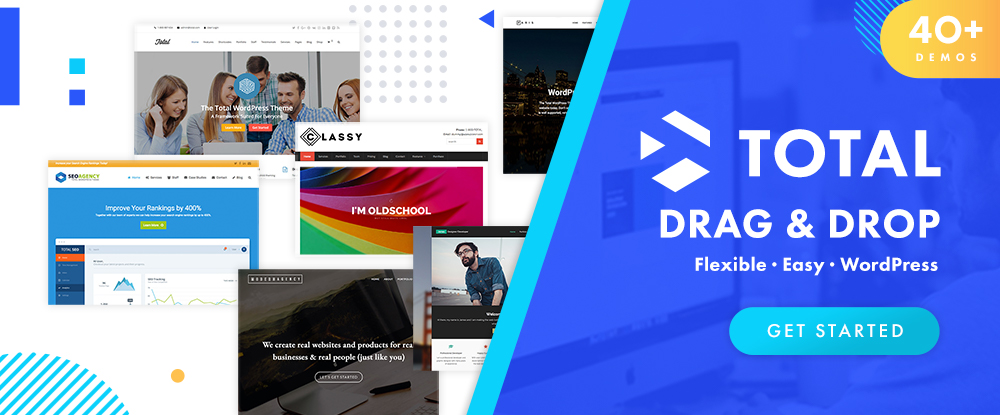 Although Total wasn't designed specifically for use by web designers in a hurry, it is nevertheless fast, flexible, and remarkably easy to use. A WordPress theme that's packed with features, and most top multipurpose themes are, can all to easily slow you down, or at least steepen the learning curve. With Total, any feature you don't need can be disabled.

What is it about this theme that might help to make your day? It could be any one of the following features –

A Theme customizer that makes it a piece of cake to change fonts, colors, or section or column widths
A Dynamic Template Function that allows you to custom layouts to your liking
100 Page-Building Modules along with 40+ Pre-made Demos
Premium Sliders
WooCommerce, Developer, and Plugin friendly
A WPBakery Page Builder that makes everything drag and drop and makes coding unnecessary
"THIS IS AN AWESOME PRODUCT, ESPECIALLY BECAUSE OF THE AMAZING SUPPORT!!!" - LuxViz
Click on the banner to find out more about this amazing theme.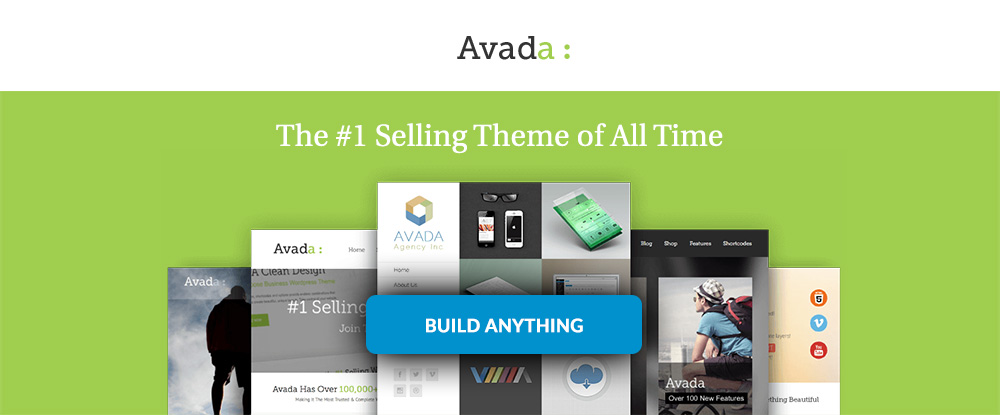 This all-time best-selling theme just keeps getting better, with visual editing and an improved user interface highlighted in the latest release. A few excellent reasons for giving Avada a good, close look include –

A Dynamic Content System that provides all the flexibility you're ever likely to need
WooCommerce Integration and Fusion Builder to drag and drop product designs
60+ design elements, 57 prebuilt websites for quick website launch
No coding required
"In actuality I would give 5* to everything since Avada is a good theme, easy to use, has all the bells and whistles as another highly rated website. But, what I most impressed with is Customer Support I received. I have done two sites and needed help to get over a bump. I started a customer support in the evening (I am in US Eastern Standard Time) and by next morning I had an answer. Highly Recommended! 5* to Everything. Keep up the good work!" - tony6841
Click on the banner to learn more.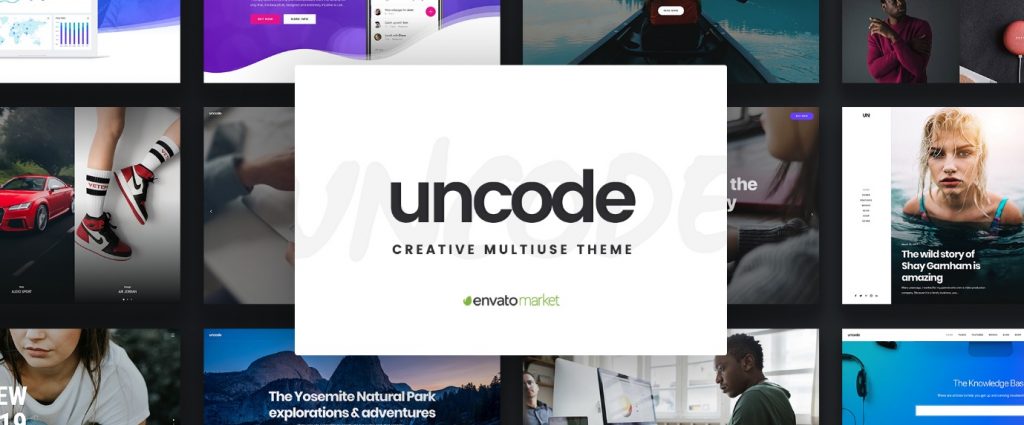 Uncode is a creative, multiuse, pixel perfect theme that allows creatives to utilize their web design talents to the max. This ThemeForest best-seller with its more than 60,000 sales is an ideal web-building tool for businesses, agencies, artists, and other creative types.

You can create in real time with Uncode's supercharged frontend Editor
More than 400 wireframe sections will help you tailor your site
70 Stunning pixel-perfect concepts that will inspire you and help you get a project underway
"I liked working with Uncode. It has many options for customization and an excellent support service that will always come to the Help!" - DiNAgency

Click on the banner and browse Uncode user's showcase. You'll be impressed!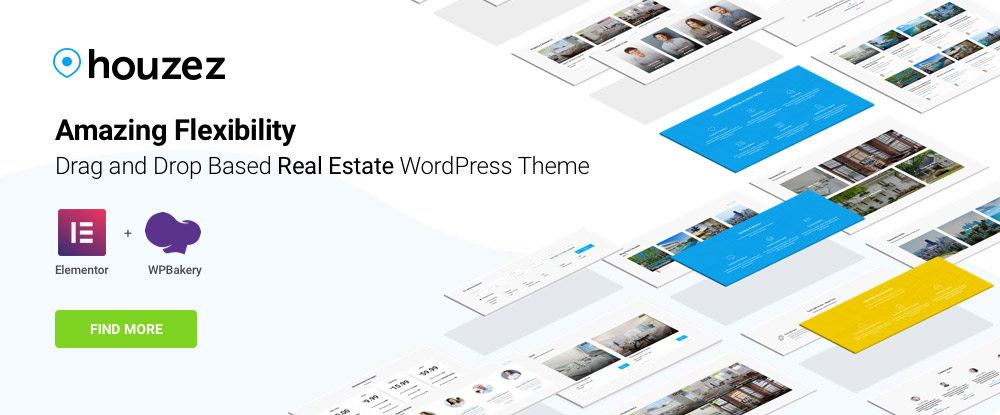 If you spot a realtor with a smile on his or her face, he or she is probably using a website or app based on a Houzez design. This specialty, Elementor-based theme was created specifically for that dynamic industry sector.
Features include
Advanced property search and listings options
The WPBakery page builder
Easy layout customizing
"This is one of the best themes I have ever used - great documentation and excellent support. My first ever real estate site looks amazing and functions well." - Kymmy

Click on the banner to learn more about this exquisitely designed theme.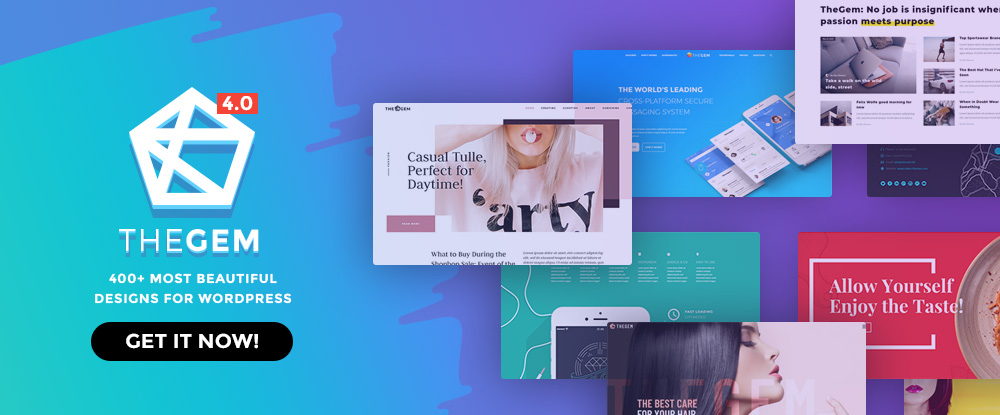 This banner doesn't quite say it all. It should add that TheGem's users believe this multipurpose theme provides the ultimate WordPress website-building toolbox on the market. Its than 40,000 sales have made TheGem a ThemeForest best seller.

With TheGem you get –
The powerful WPBakery page builder
100+ complete websites
400+ creative and customizable design templates
Friendly 5-star support
"Hands-down, the best theme on ThemeForest. Tons of options and the theme settings make it easy to customize pretty much anything. I use this theme for several clients, but you wouldn't know by looking at them." - nuggetweb

Click on the banner to see for yourself how TheGem could make your day.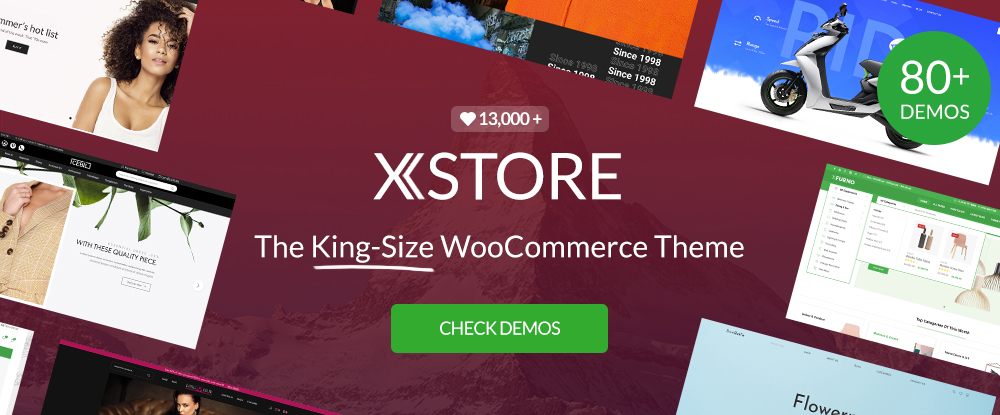 With a name like XStore, it's seems obvious that this theme would be a great choice if you plan to create an online store for yourself or a client. A quick check of XStore's features bears this out. They include –
A single product page builder, a powerful header builder, and an intuitive installer
A host of product-oriented demos
300 worth of premium plugins
80 ready-to-go shops!
"Beautiful theme, a lot of great looking demos. Also, the customer support is very good too." - leventkayikci
Visit the website to learn more about this WooCommerce oriented theme.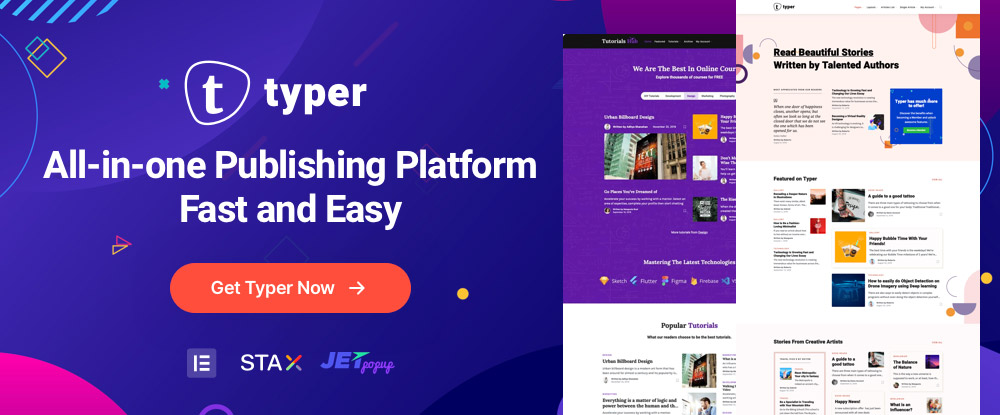 If finding a good publishing WordPress theme is proving difficult, your search can end right here. Typer is modern, it's super-fast, and its well suited for authors, bloggers, and businesses alike. Featuring the popular Elementor page builder, Typer –
Is 100% Guttenberg optimized and supported
Makes it possible for others to publish on your site right from the frontend
Provides a unique set of page and post options
Is optimized for speed and requires no coding
"Theme is awesome! Exactly what I needed for my site! Support has been great too. Definitely recommend this purchase." - chriscurran

Learn more about Typer by clicking on the banner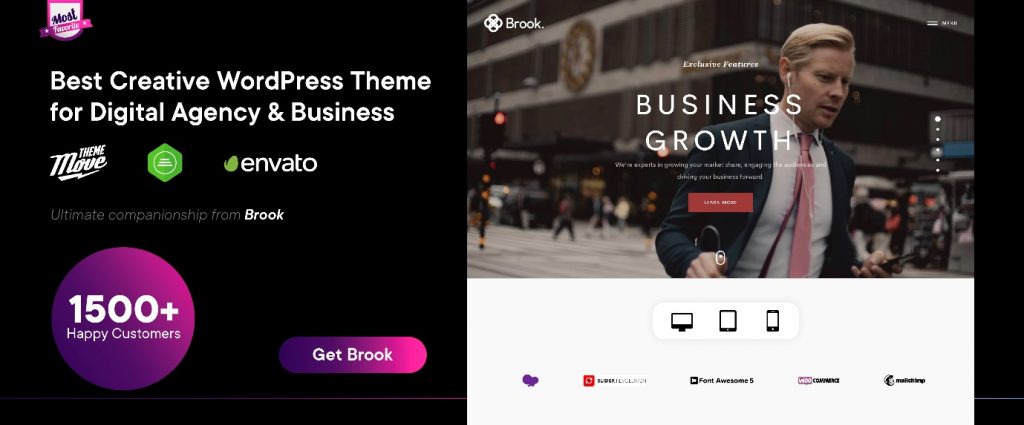 There's no doubt about it. Brook is a widely popular WordPress theme; especially among creative types. Its popularity no doubt hinges on its huge selection of customizable templates, design elements, and tons of shortcodes, plus Brook –
Is super-fast loading
Provides seamless performance
Features the WPBakery page builder
Offers crazy-fast support
"CUSTOMER SUPPORT 5++++++++++
Feature request 5+++++++++
Everything on the highest level
This is the first time I get this kind of experience." - souldisco

Click to discover why Brook will give you exactly what you require.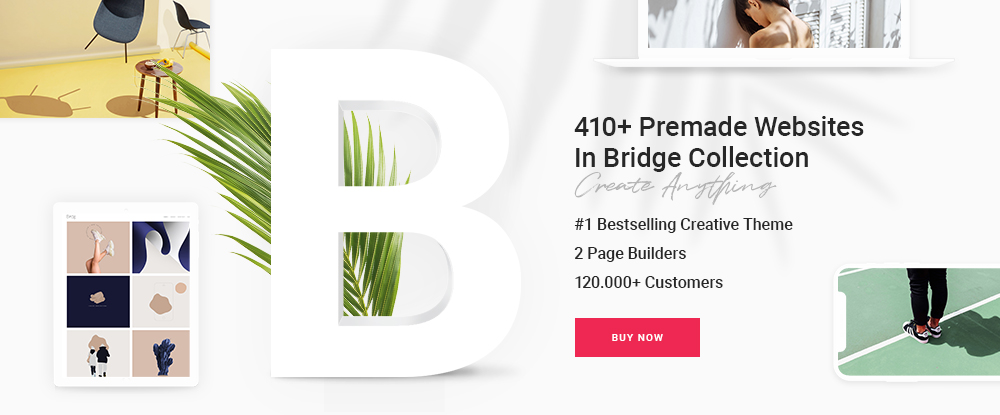 Its 126,000 sales make Bridge the biggest selling creative theme on the market. In addition to an awesome pair of premium page builders Bridge gives its users –
Modules for building any website type
Open-ended flexibility
A selection of 420+ professionally crafted pre-made websites
5-star support
"Fantastic customer support!" - esascosaspasan
Find out more about Bridge by visiting the site.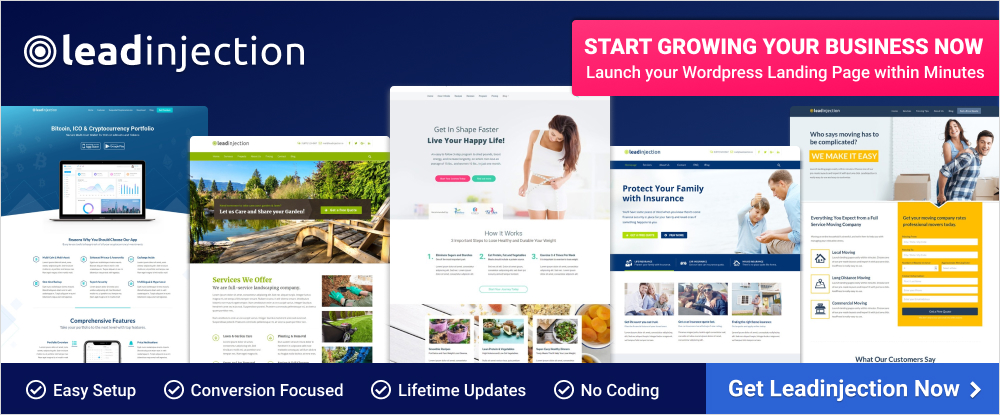 Here's another type of theme that can be hard to locate because of the special capabilities it features. Primarily, the ease in which it allows users to add pages to an existing website without undue hassle.

Leadinjection is drag and drop with no need for coding and it's easy to set up and use.

"Support is outstanding! They are listening to their customers and upgrading the theme according to newest standards. Thank you for playing fair!" - ars111

Click to learn more about Leadinjection's special capabilities.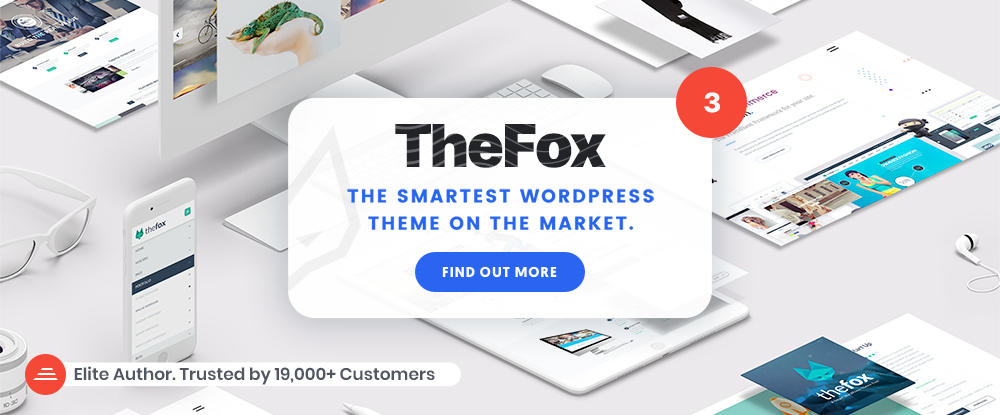 Smart like a fox, this WordPress theme has cleverly put in place all the essential website-building features you're ever likely to need. They include –
A comprehensive collection of design elements and useful design details
The WPBakery page builder
A selection of more than 30 modern and attractive design demos
TheFox is also WPML and WooCommerce ready.
"Excellent customer support! I received a very prompt response to a problem I was experiencing and the solution I was given worked perfectly. Very happy." - Southernx
Learn more by clicking on the banner.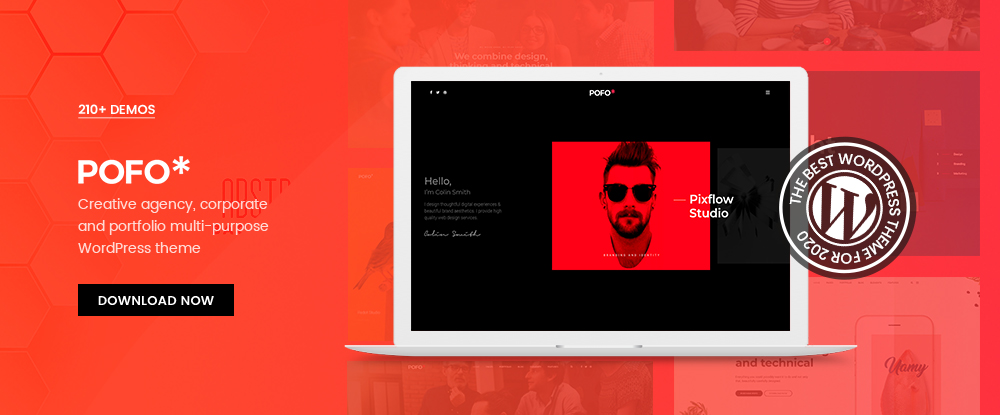 Although it is multipurpose, Pofo's strength lies in the portfolio website building capabilities it brings to the table. Any number of businesses, agencies, or creative types can put this theme to exceptionally good use. Pofo is -
SEO optimized
Gives you crazy-fast performance
Features 200+ demo pages, 25+ home pages, and 150 pre-built elements
"Perfect template! I selected "customizability" but it's very good also for design, code quality, feature, etc." - sarablu72

Check out this quality theme if you have a portfolio website in mind.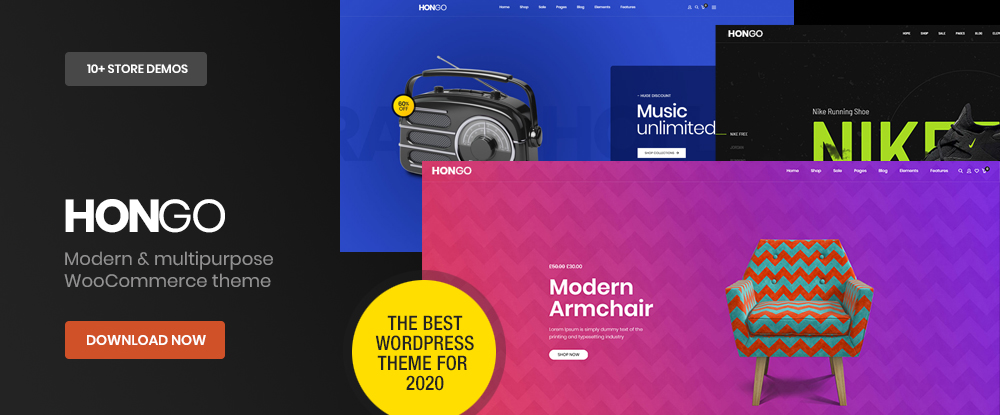 Hongo is a bright new multipurpose theme and consequently doesn't yet have a ton of reviews to guide. You'll have to see it for yourself, but it's guaranteed that you'll like what you see; features like –

The WPBakery page builder and an impressive collection of shortcodes
More than 200 creative design elements, 250 templates, and 11 ready-to-go store demos
Fast and friendly customer support
"Had the perfect answer to my question about theme customization tools." - canadianpremiersupplements

Learn more about this exciting newcomer by clicking on the banner.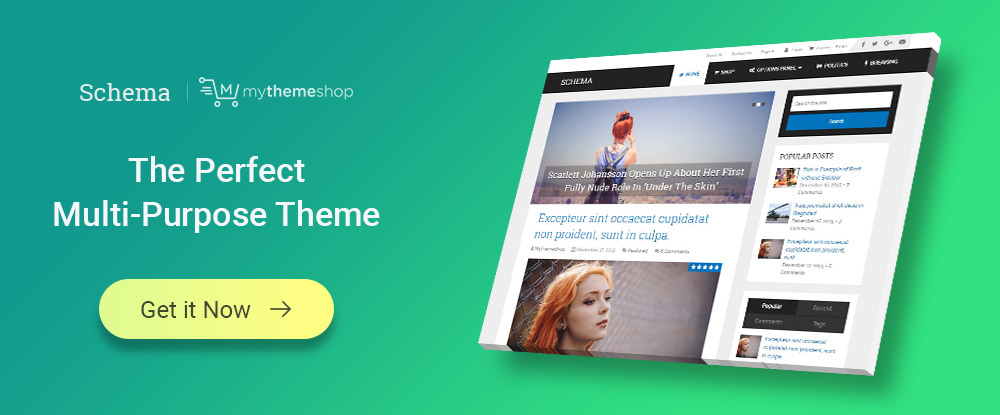 Schema won't make your day a single time, but every time you create a new website. The reason, it makes SEO a whole lot easier and it helps you do it well. This "must-have" theme's features include –

A Powerful Options Panel
A Built-In Review System
Multiple Page-Building Characteristics
SEO Ready and Ultra-Fast
"gorgeous design, super fast response to my question too. thank you for a wonderful theme :)" - simonehow

Learn more by clicking on Schema's banner.
WordPress is by far the most popular platform to work from. It is used to create professional-looking high-performance responsive websites.
When you take it upon yourself to select from top-of-the-line WordPress themes, whether they are multi-purpose, highly specialized, or somewhere in between, there's a good chance that using one of them will make your day, or that of a client's.
Share this article with a colleague or another web designer. Ask him or her to post it on social media – which they likely will. We hope you will as well!