In this list of multipurpose WordPress themes, you will find several which could best be described as premium, all-purpose themes, plus a nice selection of business oriented themes and community oriented themes. You will also find one that would make an ideal choice for creating a fashion shop, and one that specifically addresses magazines and blogs. All of these multipurpose themes are high quality themes, so it is simply a matter of choosing one that will serve your purposes best.
We hope you find what you are looking for. Visit those you find to be of interest, and view their demos or take advantage of a free trial some of the themes offer. Our list is periodically updated, so please come back later if you don't find what you want.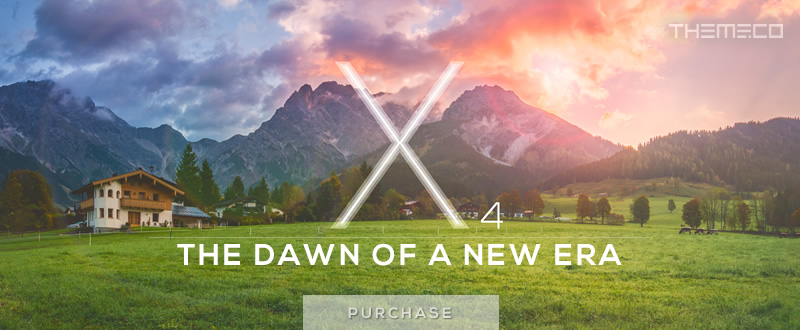 With the release of an incredible new front end page builder adding to an already impressive product offering, Version 4 of the X Theme will once again set the new standard for WordPress themes. As is often the case with premium themes, new updates bring with them exciting new features, in addition to improvements in existing ones. The new feature in Version 4 that is creating so much excitement is a new front end page builder, which is said to be incredibly fast and versatile, and extremely easy to use. X is considered by many to be the best WordPress theme on the market today. It has been a popular theme from the beginning, and it is the fastest selling WordPress theme of all time. This is unlikely to change with the introduction of Version 4, and it is in fact likely that the popularity of this theme, whose support is second to none in the industry, will only increase.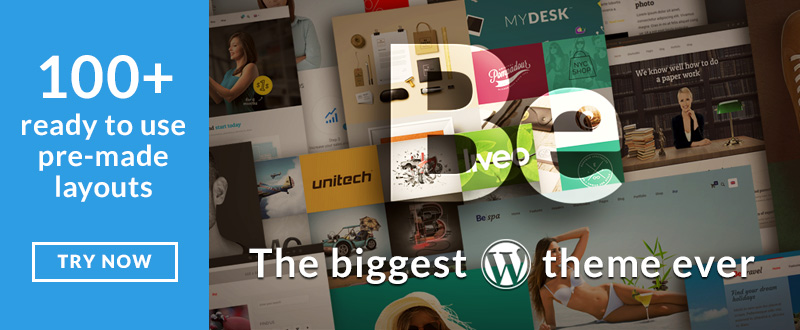 Being advertised as the biggest theme ever to appear on the market is not a false claim. Be Theme, with its more than 100 pre-made layouts, is indeed the biggest multipurpose WordPress theme of all time. If you compare the sheer number of this theme's excellent layouts with the handful of layouts many other themes have to offer, you will have to agree that bigger is indeed better. Be's focus has not been solely on providing developers with a huge selection of layouts however. Quite the opposite is true when you take its extremely rapid page loading capability, and the attention that has been paid to its multiplicity of other features into account. This is truly an all-purpose theme, but it is also one that will be an ideal choice for business and professional website development efforts.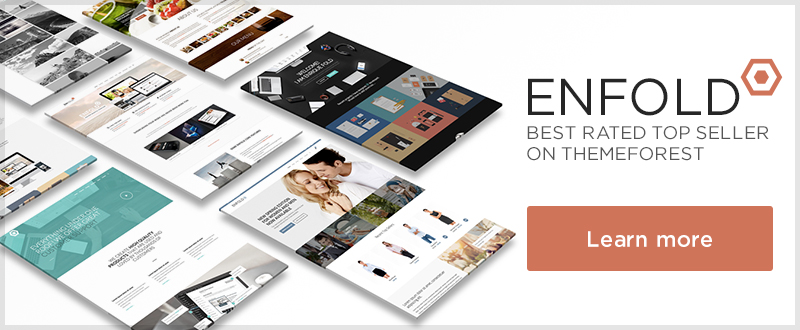 One very good reason to choose Enfold if you do not have something very specific in mind, is that it enjoys the highest rating among Themeforest themes, as well as being a Themeforest top seller. The features and options embedded in this multipurpose WordPress theme are designed to get your website development project off to a fast start. The drag and drop layout editor for example, is almost ridiculously easy to use, and should you require any assistance, or have any questions, Enfold's highly-related support team is second to none. This theme is WooCommerce ready, but it lends itself to creating any type of website. If you are looking for proof as to how easy it can be to building a website in a minimum amount of time, taking the time to view one or more of this theme's demos should be convincing enough.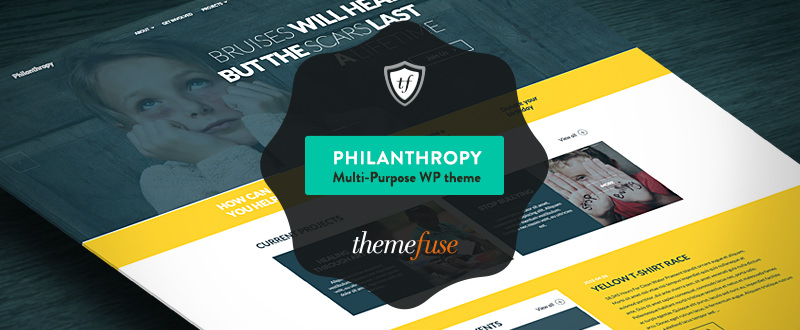 As its name would suggest, the Philanthropy theme focuses heavily on creating non-profit and charity websites. All of the necessary features and options have been included for that purpose. This multipurpose theme can still serve as an all-purpose theme however, but if you have something other than a non-profit theme in mind, you will find it worthwhile to check out the more than 30 products that Themefuse, the creator of Philanthropy, has to offer. Many of these themes are special-purpose themes that you can try out for free by opening an account.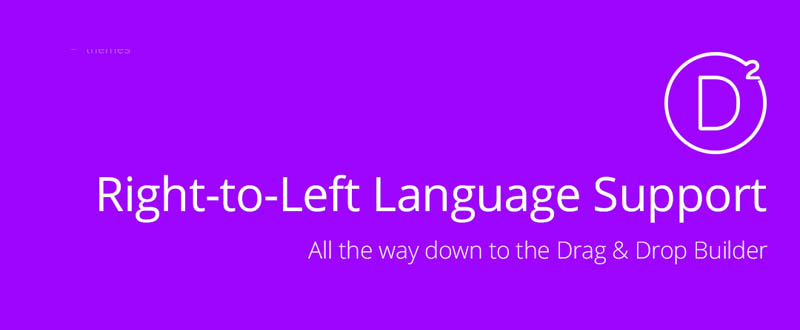 Elegant Themes has produced a number of outstanding multipurpose themes, and they regard Divi as being the smartest and most flexible theme in their entire collection. This multipurpose theme's popularity, and main claim to fame, is due to its global outreach. Divi was one of the first themes to follow the WordPress WPML lead, and was also the first to incorporate RTL into its multi-language capability. More than 20 pre-made layouts are included, and this theme may be exactly what you want if owning a global online business in the objective.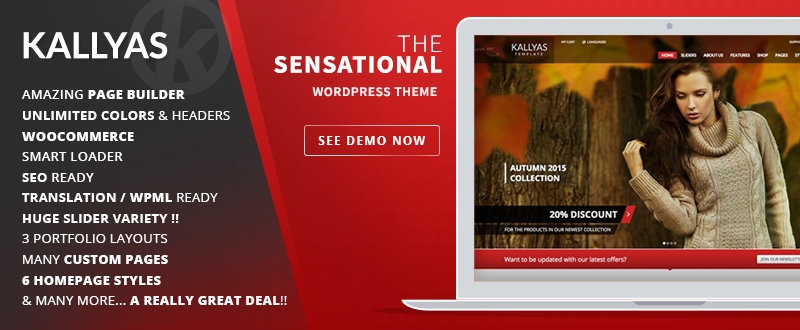 Kallyas has the distinction of being one of the best selling Themeforest items ever. It also serves as Hogash Theme Development Studio's flagship themes It has been put to use by more than 13,000 users to create over 14,000 websites, which would suggest that the authors of this exciting, fast and flexible theme must be doing something right. Kallyas has a number of features, including WooCommerce integration, that lend themselves to Ecommerce applications, and if it has a claim to fame, besides its wide usage, it may lie in its business website orientation.
Flatco, by Themewaves, has its own drag and drop page builder, which is loaded with useful elements and a variety of social sharing features. This theme's multiplicity of seemingly unique features almost defies description, but if you take the time to look at the demos, you are likely to be quite impressed. Flatco is compatible with Facebook, BuddyPress, WooCommerce, and Bootstrap 2.3x.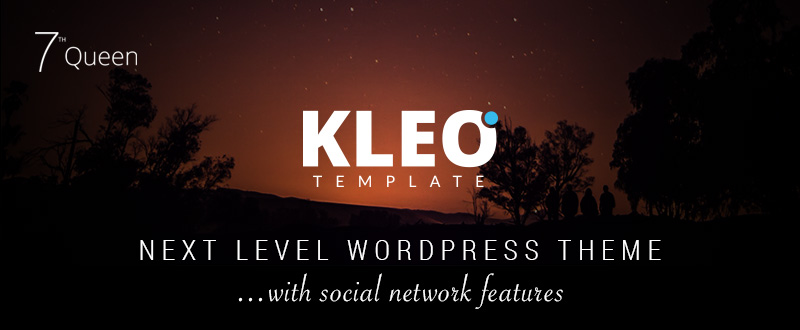 KLEO is a popular multi-purpose WordPress theme that can easily be integrated with Facebook, and it also features full and unique integration with the BuddyPress social networking plugin. It is the best-selling community theme so far this year, and it has in fact been a top seller since its inception. If your objective is to showcase your portfolio or publish a blog, this is the ideal theme to make that happen. You can also use KLEO's Ecommerce-friendly features and many customizing options to create an awesome online shop.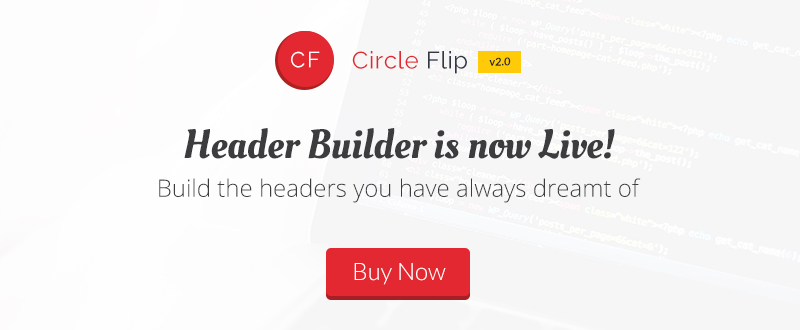 Circle Flip is a WordPress responsive multipurpose theme that has added a unique and impressive Drag & Drop Header builder to its list of features. This new addition has the capability to create a perfect header down to the finest detail. With Circle Flip, you no longer have to work long and hard, only to end up with a header that is not quite what you wanted. In addition to its 8 amazing multipurpose layouts, Circle Flip recently added a travel layout that will be ideal for travel websites; and you can try it before you buy it!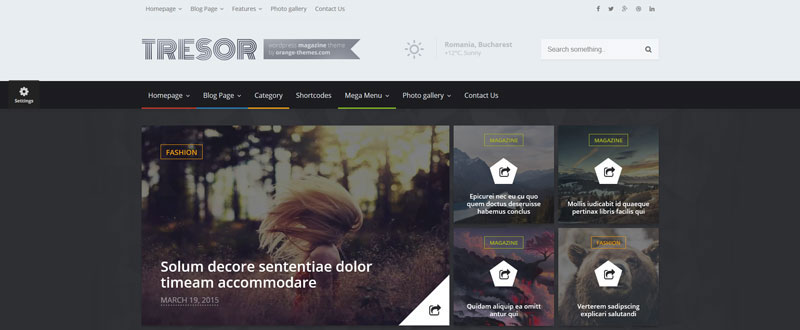 If magazines or blogs are your specialties, Tresor has all the tools you will need, with a number of Orange-Themes Exclusive features, including a photo gallery layout with a lightbox view, a smart and fixed sidebar capability, the Mega Menu drop down control panel and an Orange-Themes page builder. Tresor give you a fancy box gallery style and a standard jquery gallery, plus 2 blog styles and a unique banner system.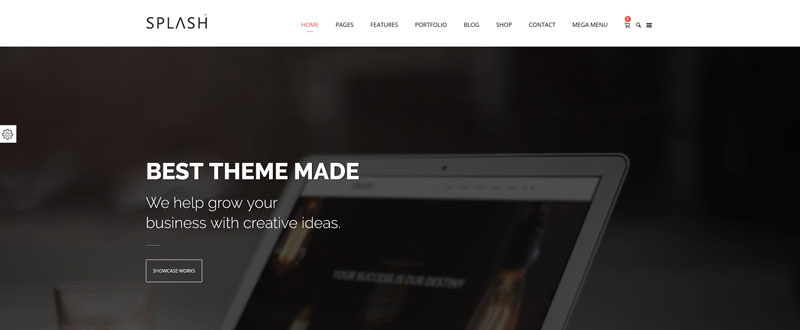 The Visual Composer page builder, the WPML and WooCommerce ready features, a Revolution Slider, and an assortment of more than 1000 font icons, are just the tip of the iceberg as far as the features SPLASH offers are concerned. This theme provides multiple layout options, and its powerful admin panel make the customizing process quick and easy. SPLASH would be a good choice for a business or agency-oriented website.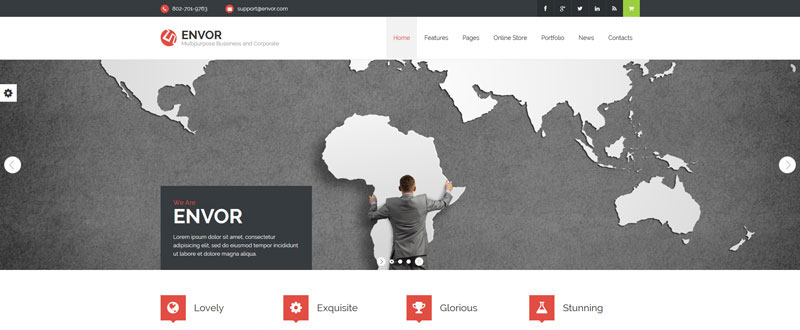 Envor is another theme that has been designed to benefit creators of corporate websites and online stores. It is naturally WooCommerce integrated and WPML ready. The LayerSlider responsive feature has rotate, slide, fade, scale and skew options. Visual Composer is the page builder, and Envor offers 8 Home Page styles, wide and boxed layout options, and the WordPress Mega Menu plugin.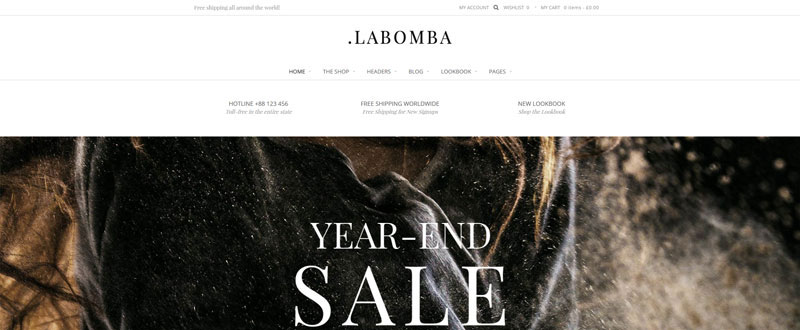 LABOMBA's theme features and options are in many ways similar to many other multipurpose themes, but every description, and every demo, point in one direction – Fashion. Product zoom, parallax background, and the lookbook capability options are all supportive of creating not just an online shop, but an online Fashion shop. If a creating an online fashion store is on your list of things to do, LABOMBA may be worth a careful look.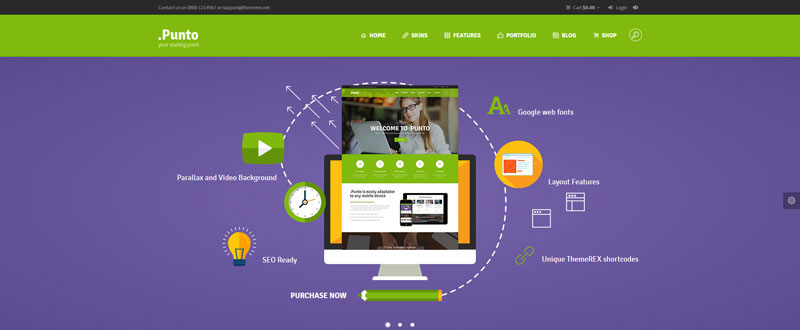 .Punto advertises itself as being a perfect theme for an entrepreneur or corporate website. If you take the time to scroll down its list of features, and there are a lot of them, you will definitely get the impressions that this multipurpose theme could serve just about any purpose. The plugins alone, which consist of Royal Slider, Revolution Slider, PO Composer, and Visual Composer, say a great deal about .Punto's capabilities.
This list offers a nice mix of themes that can be used for virtually any purpose, themes that are more useful for some website categories than others, plus a few that are ideal for a specific type of website, such as a magazine, a blog, or a fashion store. All of these themes are high-quality themes, and several of them definitely belong in the premium category.
It is of course good news if you have been able to find what you like, and we welcome your comments. If you did not find what you wanted, we hope you will come back later, but if you feel something is definitely missing, we would appreciate your telling us just what the missing theme or theme type is.