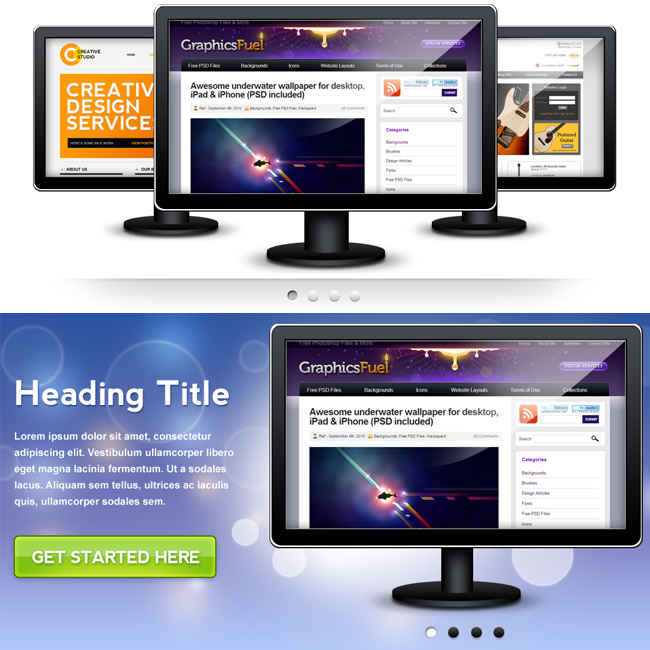 Hi guys! Today's download is a couple of PSD monitor graphics for your website header to help you showcase your works or services on a cool monitor background. Modern or corporate websites providing design and development services are more focused on showing up their portfolio or services right in their homepage main banner. Normally, these header banners are powered by jQuery scripts with eye-catchy backgrounds including desktop monitor graphic.
The monitor graphics released here as PSD freebie can serve as a website's header banner wherein you can showcase your design images with beautiful effects. You can also find small rounded buttons below the monitors which can be used to slide the images from left to right or vice versa or in any suitable jQuery effect.
Further, the width of the graphics is 960px, so I guess this a standard CSS size for 960 grid coders. However, the 2nd header with the bokeh background comes in 1600px width to help you set the bokeh background beyond 960px as necessary.
As always, this free download comes in fully layered PSD format to help you edit / add your own images or adjust the monitor graphics as appropriate to your website's header. If you use these graphics in your website, please do share the link so I can take a note of it. Thanks for the download. 🙂
Preview of the Monitor Graphic
Author: Rafi
File Resolution: 960px  & 1600pxl
Format: Photoshop & JPG
Size: 3 MB  (zip)