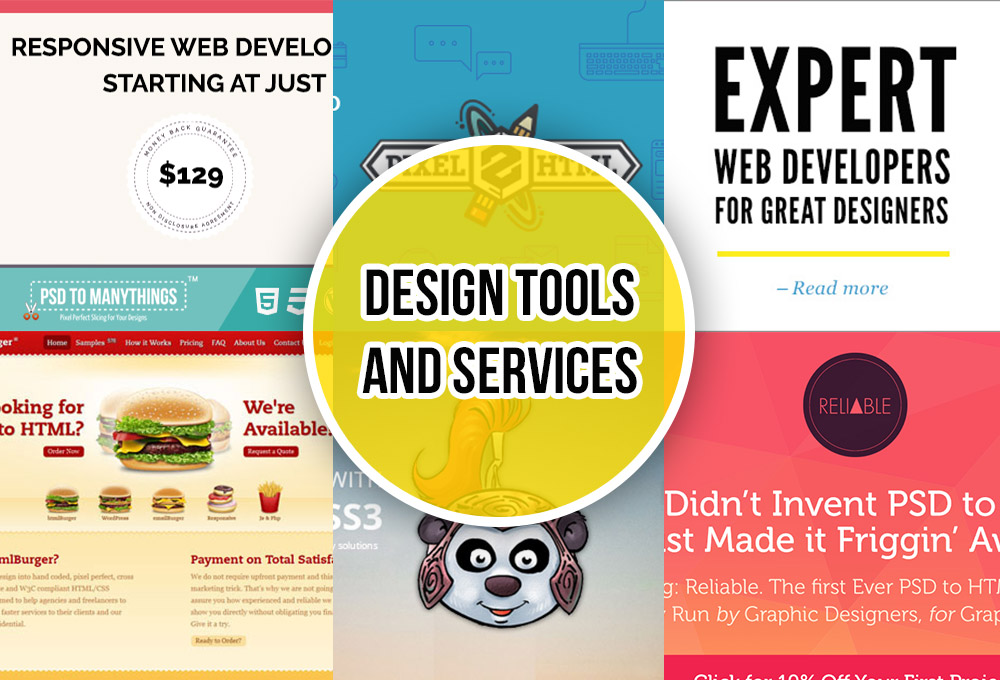 All of the software houses listed below provide excellent service. Prices and turnaround times naturally vary, and while several of the companies are full-service companies, others specialize in one or more areas. Most of them provide PSD to responsive service, and several specialize in responsive code and website development. Search engines are gearing up to provide greater recognition to websites and web pages that cater to the mobile crowd, so you may want to take stock of your present situation to see if you could use some assistance in that area.
We believe what we have included in our listing covers the bases as far as converting design to code. We've also include a plugin for those who like to do much of the work themselves.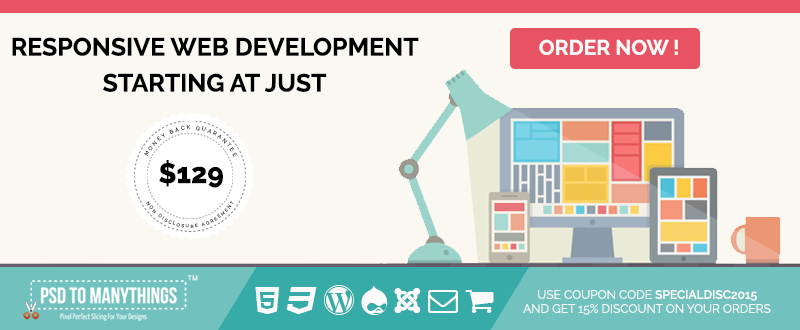 At the moment, one of PSD to Manythings' core competencies, the ability to convert PSD into Responsive HTML, has taken on greater significance than ever. Search engines are beginning to attach greater importance to mobile device-friendly web pages in their rankings. The world of Ecommerce is now as dependent on mobile users as it is on PC users. This full-service software company can provide support in many different software development areas, as they can assist you in any phase of your design and development project. Their services include PSD to HTML and Responsive HTML, PSD to WordPress and Responsive WordPress, PSD to E-mail Newsletter, and much more.
This company has one of the most impressive repeat customer ratios you will find in the business, which says a great deal about the quality of their service. Although they have been around for less than 4 years, they are regarded as one of the premier companies in the software development industry. If you expect pixel perfect, SEO and W3C compliant code, you won't go wrong by choosing PSD to Manythings.

Chop-Chop.org is a company that has received high marks for PSD to HTML conversion capability. Chop-chop means the same as slice, so you need not worry about what they will do to your design, beyond convert it into hand-coded, W3C-compliant markup. They are another company you can look to if your need is for Responsive HTML, and their core competencies extend to all areas of WordPress development support as well. Although your primary reason for engaging their services may be that of converting your designs to code, Chop-Chop.org can help you with just about any facet of your design and development project.
Whatever you submit to them is kept under NDA control. They offer one to three months of free support depending on the size of you project, and they offer a money-back guarantee if you are not satisfied.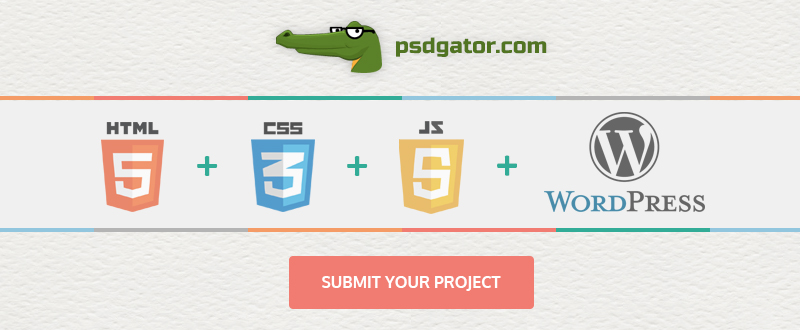 Send PSDGator your designs, your specs, and submit your project, and you have done your part. Some businesses will grind out code, and if there are imperfections in your design, they will show up in the code as well. It's the familiar "garbage in, garbage out" routine. This outfit does not allow that to happen. Before they proceed, they carefully review your project, and they will contact you if they have questions or recommendations. Whether your PSD is being converted to standard or Responsive HTML, turnaround time is generally less than 48 hours. Mobile-friendly websites are becoming more and more important in the world of Ecommerce, and PSDGator will be more than pleased to convert your entire website to a mobile-friendly website if you ask.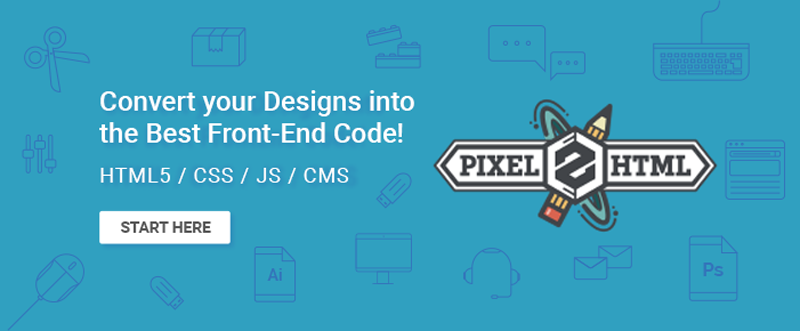 Pixel2HTML will convert your PSD/Illustrator/Sketch files to Desktop, Responsive, or Mobile HTML/CSS markup as needed. They claim to provide an outstanding quality services while beating most of their competitors' costs, although that is something you need to find out for yourself. Their turnaround times seem to be great too. Pixel2HTML is probably as proficient as any other company on this list in providing quality code, but their team can also implement CMS such as WordPress, Tumblr, Shopify or Jekyll, just select that on the order form and they will provide a tailored quote up to the needs of your website.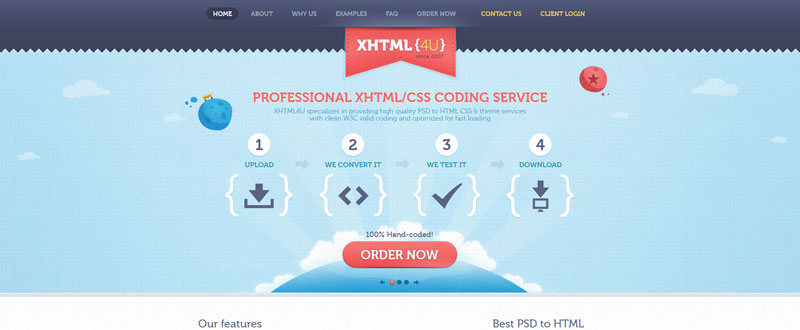 This Australian-based company will accept your designs in almost any popular or standard format. They request payment before slicing your design, but they will nevertheless inform you of any questions or concerns they may have before initiating the conversion process. They provide PSD to HTML/XHTML/ CSS conversion at competitive rates, and returning customers receive loyalty discounts. XHTML4U can legitimately boast of having a fairly large number of high-powered clients.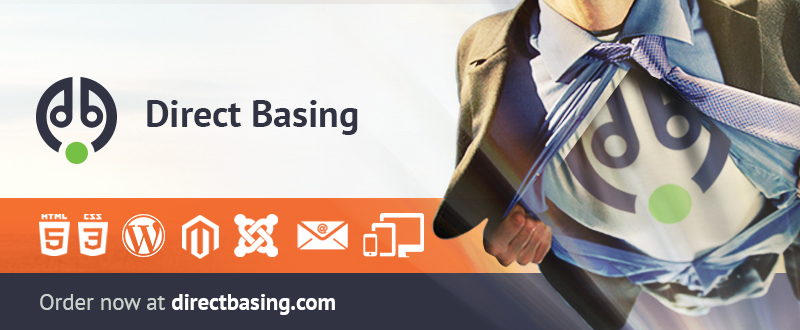 Any company that can legitimately claim to have successfully completed more than 10,000 projects should be worth looking into for PSD conversion to HTML, or Responsive HTML. They also convert PSD to WordPress, Joomla or the Magento CMS. They can even slice your PSD to a Responsive HTML file with only a desktop design. This means your website is scaling perfectly on all displays and you don't have any of the hassle at all! Direct Basing's 40+ developers have assisted nearly 3,000 clients in over 40 countries during the 7+ years they have been in business.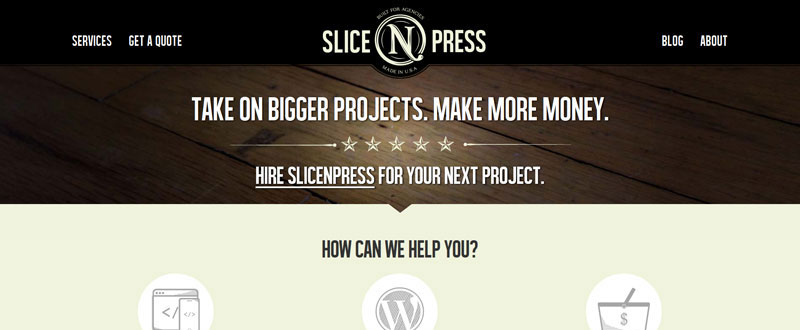 SlicenPress offers standard PSD to HTML/CSS slicing services, and the company is well positioned is to help you with your Responsive development needs as well. They can transform your designs into JavaScript code, or integrate them into WordPress. They also offer a full range of Ecommerce solutions. They have a range of support plans and services available, making it possible for you to get in touch with their team at any time, during any phase of your project.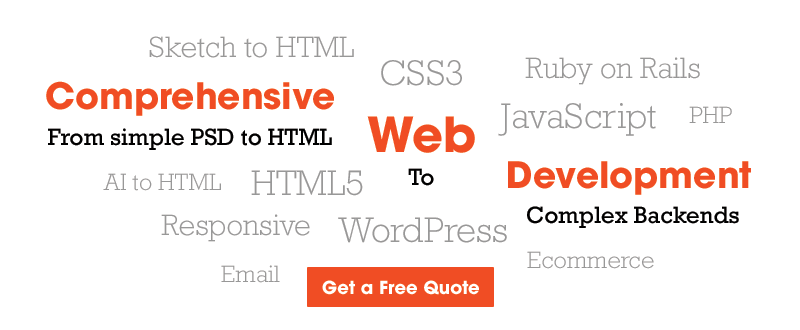 XHTMLized focuses on six primary areas; front-end and back-end development, PSD to HTML, Email and WordPress, and PSD to Responsive. The number of mobile and tablet users has been growing at an exponential rate, and the time has arrived when the vast majority of websites need to be responsive. If your desktop designs are not responsive, their coders are still able to code them responsively, so you need not be faced with an obsolete website. Now may be the time to check with XHTMLized about upgrading your entire website to address the mobile crowd.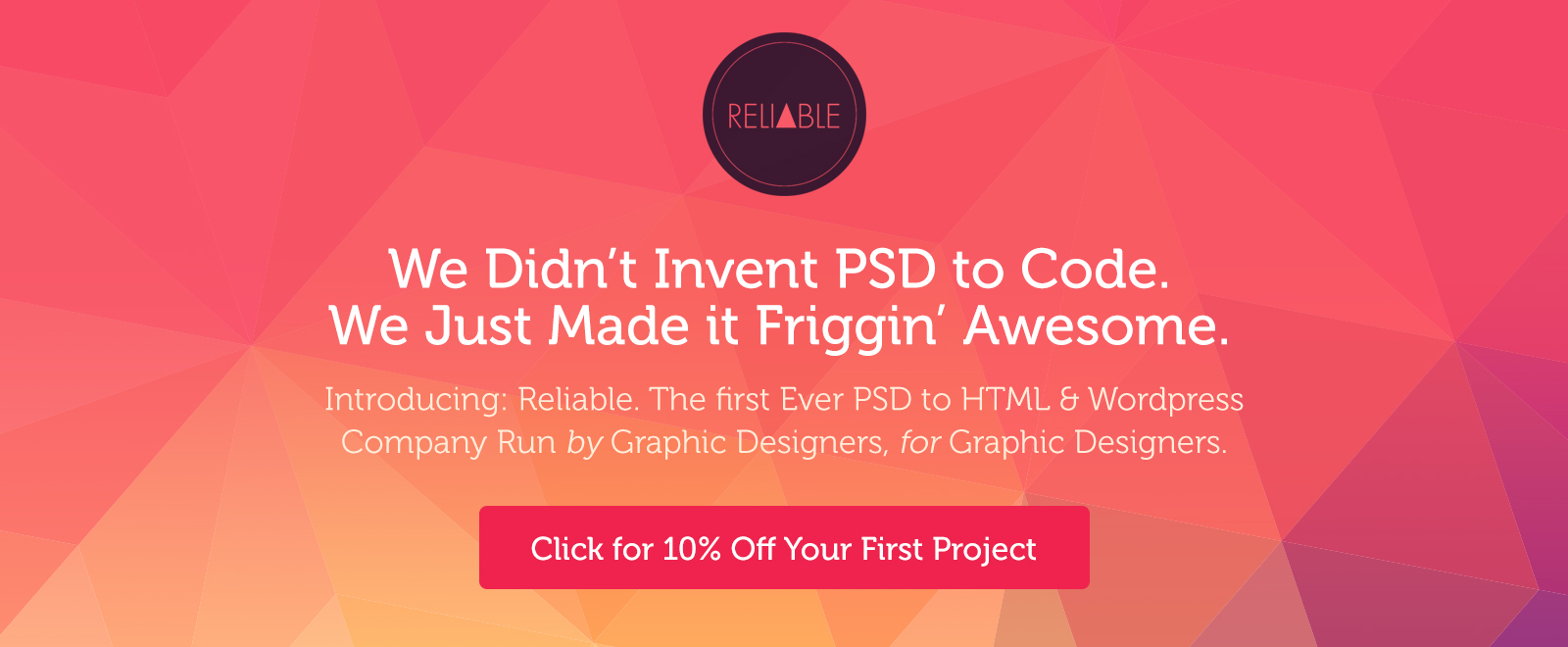 If a PSD-to-HTML / WordPress company were run by designers, what would it look like? Creative agency Unexpected Ways asked themselves this same question after being repeatedly let down by a multitude of these services. It turns out they had some good ideas about how to re-structure things, and they found themselves so passionate about it that they started their very own conversion service, Reliable PSD. The hallmarks of Reliable PSD are the extremely high-quality code, and friendly, fast, caring customer service. In addition, an "eagle-eyed" designer actually reviews each project to ensure it's pixel-perfect to the original design.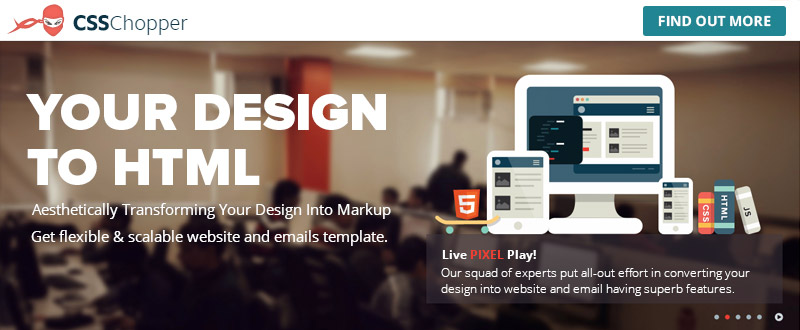 If converting your design, or your website, to responsive is one of your top priorities at the moment, CSSChopper would be worth looking into, since converting PSD to Responsive HTML is their specialty! They can also covert your Email templates to Responsive. Unless being buried deep in the search engine rankings is of no concern to you, which is unlikely, you would do well to consider looking to a company such as CSSChopper for your design conversions.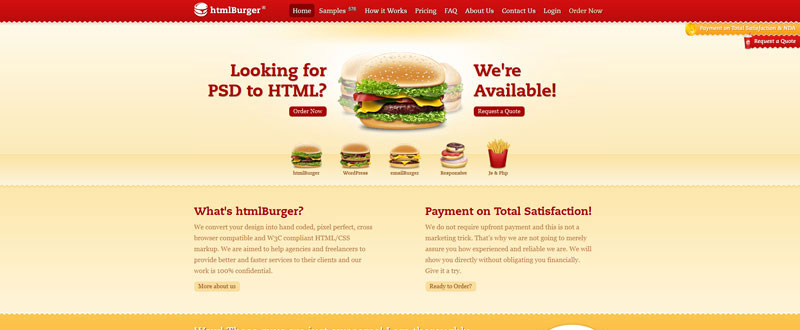 Take a design, slice it, and convert it into hand-coded, pixel perfect multi-browser compatible HTML/CSS htmlBurger; something other companies refer to as markup. This company has provided its services to hundreds of clients around the world, including agencies and freelancers. They deliver mobile/email-friendly markup as well, and you don't have to pay them until you see, and are satisfied, with the results.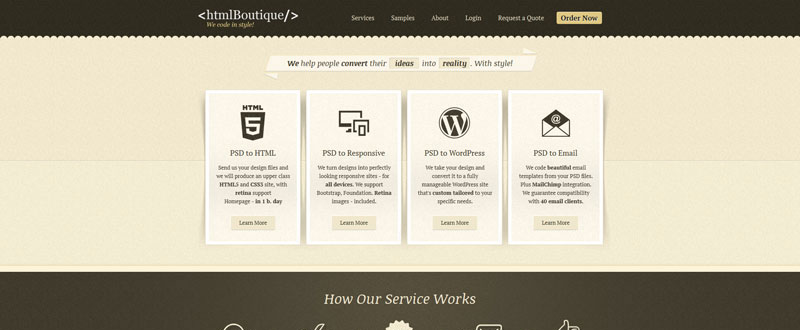 <htmlBoutique/> is yet another company you can look to if your requirement is for a PSD to Responsive HTML conversion. The also offer PSD to WordPress and PSD to Email services. In addition to standard HTML, you can request conversions to HTML5, XHTML 1.0 Transitional, or HTML 1.0 Strict at no additional cost. Specific fonts, including Google fonts, are also available.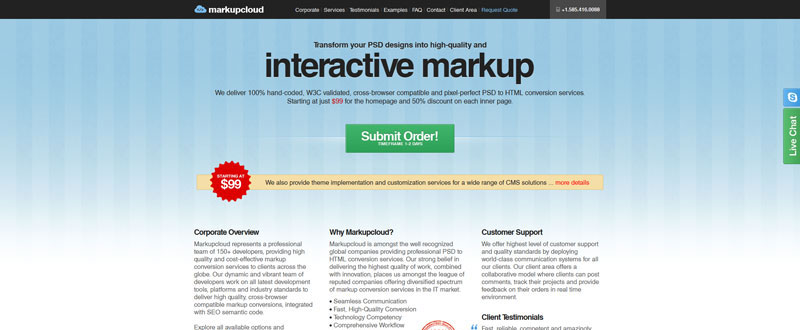 Markupcloud claims to have the quickest PSD to HTML/XHTML turnaround time in the industry. A one-day turnaround is par for the course, and an 8 hour turnaround is not uncommon. Your code will naturally be W3C valid and SEO compatible. They convert PSD into high-quality, interactive HTML, WordPress, Drupal, Jooma, or Magento. Discounts are offered on bulk orders.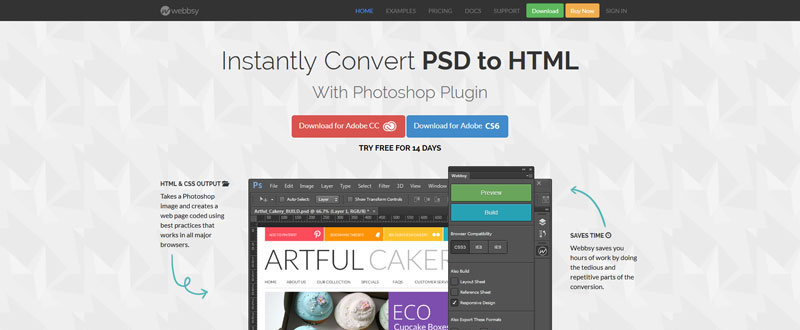 If you would rather make your own Photoshop to code conversions, Webbsy is a plugin you can use to instantly convert PSD to HTML/CSS. The process is quite straightforward, and using it can be a nice alternative to waiting a day or two for an outside company to do your conversions for you. Webbsy can be downloaded for Adobe CC or CS6, and you can try it at no cost for 14 days!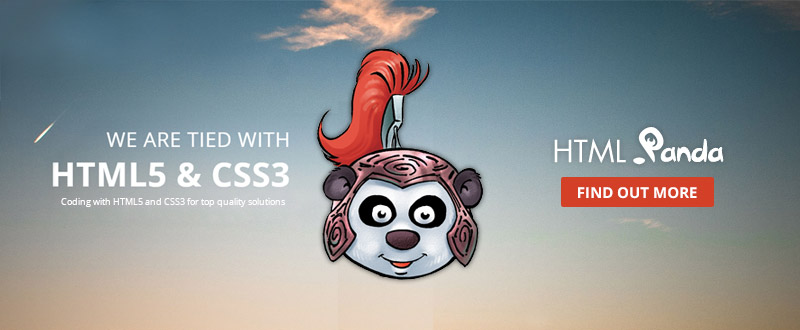 HTMLPanda is an established company currently specializing in PSD to Responsive HTML, as well as PSD to code strictly for mobile app development and hybrid app development. They also offer desktop email and responsive email conversions. They can convert designs submitted in virtually any format into W3C validated markup. HTMLPanda will be glad to assist you during any phase in your design/development process.
Conclusion
There are plenty of good choices here, whether your needs are somewhat standard or more specialized. We've even included a plugin for the DIY developer. We usually try to include one or two useful tools in our listings in addition to the companies that offer design conversion services. If you see what you like, let us know. If you don't, let us know that as well. Feedback is important to us, so please feel free to leave your comments below.