TemplateMonster is happy to advise its customers of the introduction of a  multipurpose HTML5 template. Starbis will impress both novice and professional, as it allows everybody to build different types of sites with a single template.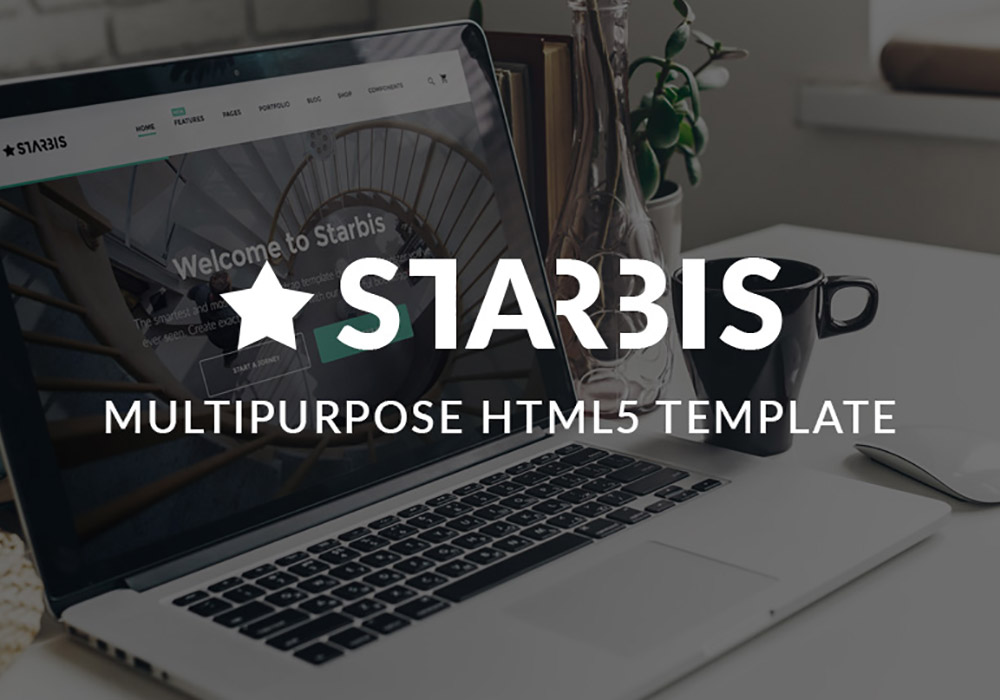 You are able to modify every piece of the theme and use the pre-designed layouts, blocks, and elements. As a result, you will get a wonderful design and high conversions.
SEO & Load Speed Optimized
The elements of the theme are optimized and boast really fast loading. Your visitors will be happy to explore the site. Moreover, it influences SEO ranking. This way you have more chances of attracting additional traffic to your web resource.
Responsive Layout Built with Bootstrap 3
Due to the design built with Bootstrap 3 functionality, the site is fully responsive. It works across a variety of modern devices whether they have a retina display or a narrower screen.
50+ Ready-Made HTML5 Pages
Here is an offer you just can't turn down. We recommend that you consider a Starbis package which includes 50+ pre-designed pages that you can use. Constructing each page from scratch is time consuming, when you could use ready-made samples and enjoy the process. Fill the pages with content, set the font and choose a color scheme. In just a few clicks you will create a perfect looking and effective site.
They have taken care to add as many layouts as possible. You will find the usual pages like registration and FAQ pages or something special for your unique site. Pick the right ones and start your business immediately.
Here are some of the most popular examples of the pages.
Registration page
The registration form is in the foreground and the nice picture on the background accompanies it. In general the design is minimalist, but still attractive. No problem in creating an account as everything is understandable.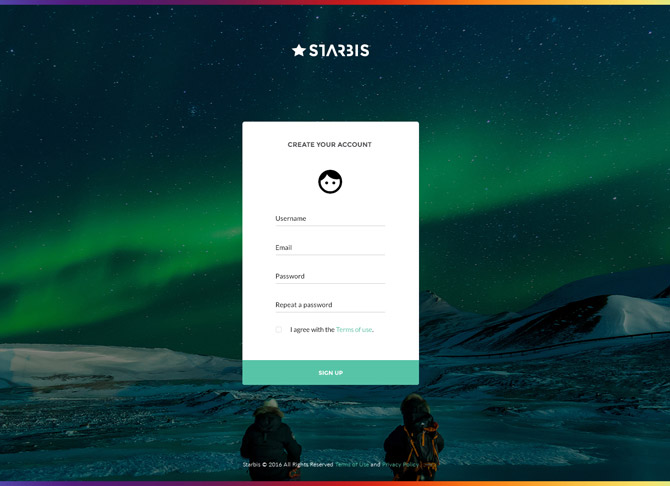 FAQ page
This page aims at displaying the answers on the frequently asked questions. The layout is not overcrowded and easy on the eye. Use it to simplify the browsing for your audience.
Pricing page
Obviously, this page is obligatory for a serious site. To make the information stand out, it is formed into tables. Users will see all the pricing plan offers and may compare them at once. You can put a CTA icon to get query letters from the visitors.
Coming Soon page
This page is made to inform the users about upcoming products or events. The countdown is available to let customers track how much time is left until the release. There is also a form to subscribe to a newsletter which will keep the audience informed.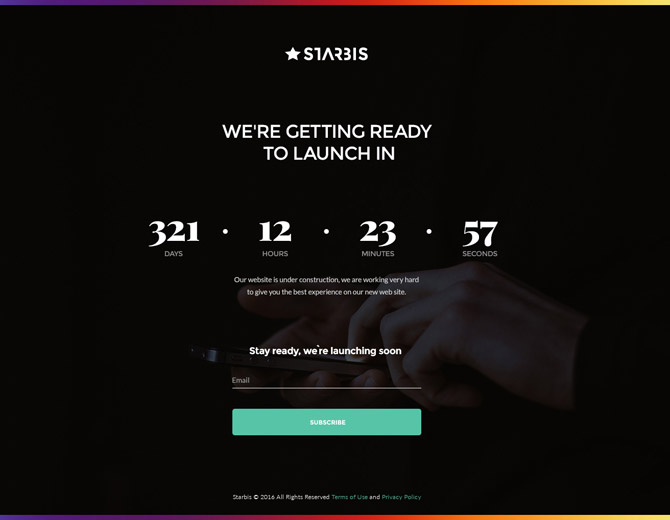 404 page
This page appears when the user has mistyped a URL or tried to enter an already deleted page. There are also buttons to bring visitors back to the homepage or contact you.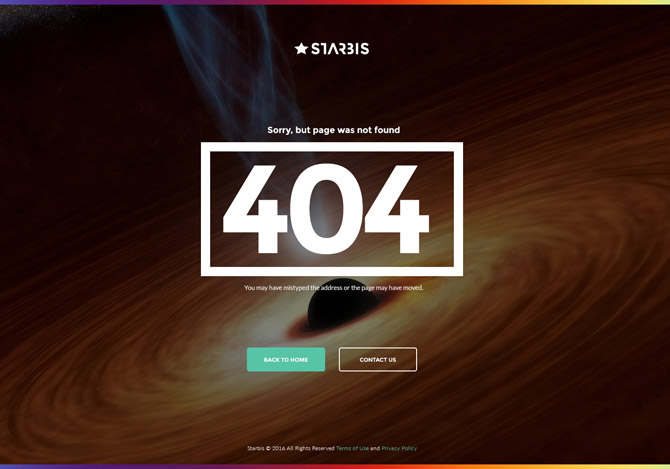 Many Header & Footer Layouts
Another useful option is the variety of header and footer types. There is a wide range of different combinations, so you can mix and match until you create the perfect one. You can choose something minimal, like a burger menu, or a corporate version with an extra bar for contact details. In addition, pick a light or dark tone to display the information. These key areas can be changed according to your needs and the site's whole style. If you don't have enough skills to customize it, you're free to apply to TemplateMonster's Service Center.

Variety of Pre-Designed Blocks
Here is a feature to present your content in pre-designed blocks. Play with the forms, as they have added a great variety of different ones. Take a look at some of them.
Our Team
Introduce your team in circles or rectangles. On hover, visitors can see the contact details of each employee.
Client Testimonials
This element is a must-have for every significant enterprise. You can display testimonials one by one in a carousel or in columns.
Massive Set of UI Elements
Use different UI elements for your content presentation. Make it readable and easy to scan. It can be engaging as well, check out some examples.
Buttons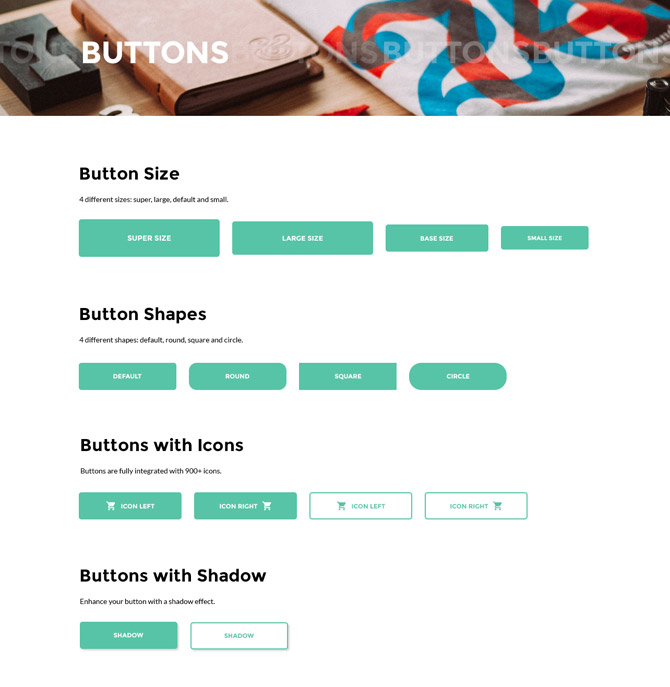 Call-to-action buttons can be changed, so you may choose the size and shape. As a special option, you can add icons to CTA buttons and decorate them with shadow effect.
Icon Lists
Icon lists and boxes allow for better content structuring. Icons serve as visual cues to present different areas of information.
Progress Bars
Use the progress bars and dynamic counters to their full extent. This way you can show off your company's skills and achievements.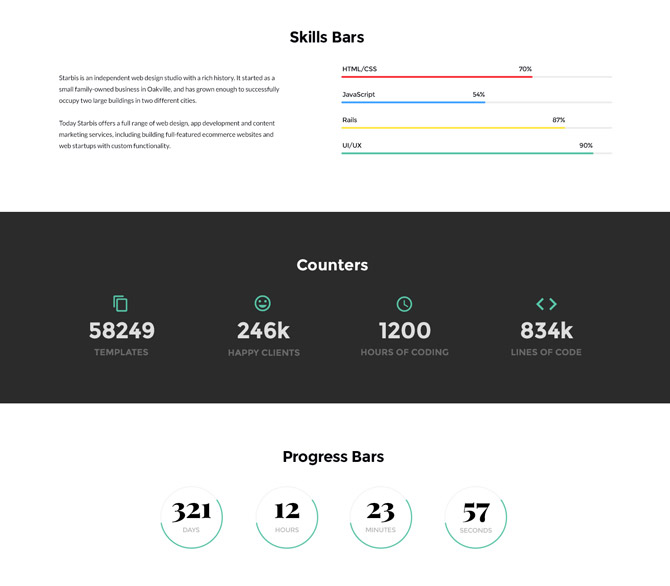 Sleek CSS3 Animation Effects & Transitions
Our team paid attention to the visual aesthetics of Starbis. They united CSS3 animation and transition and you can see the result. Around the layout there are various effects that are visible on hover. They are not only engaging, but also make the site more interactive.
Multiple Forms
To encourage interaction with the users they have included contact details, but here is one more useful tip. Starbis has different web forms to let the visitors log in to your site, subscribe to your newsletter, and leave their feedback about your services.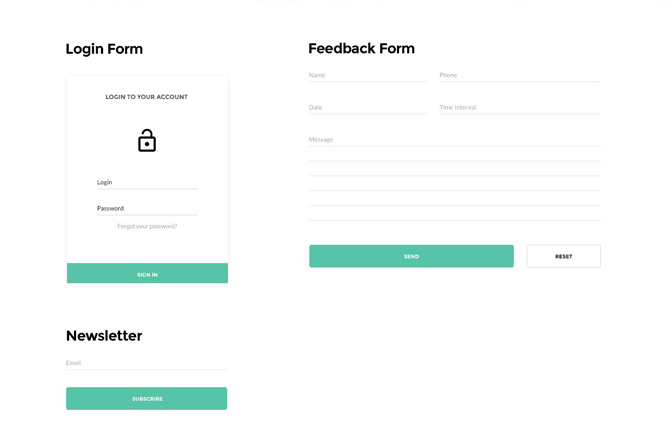 Live Search
One more advanced feature is a Live Search. Besides adding usability to the template, it allows you to view instant search results in a drop-down. If you type more characteristics into the search box, the more relevant the results you get.
Various Blog Layouts
It is difficult to imagine a proper site without a blog. It helps to attract more clients and boost SEO ranking. They have prepared a pre-designed blog layout to refresh the site.
Multiple Gallery Types
Of course you need to know that there are different types of galleries in the Starbis package. Every type supplies an effective presentation of your projects using tabs, thus enabling viewers to sort your works by categories.
Cart Page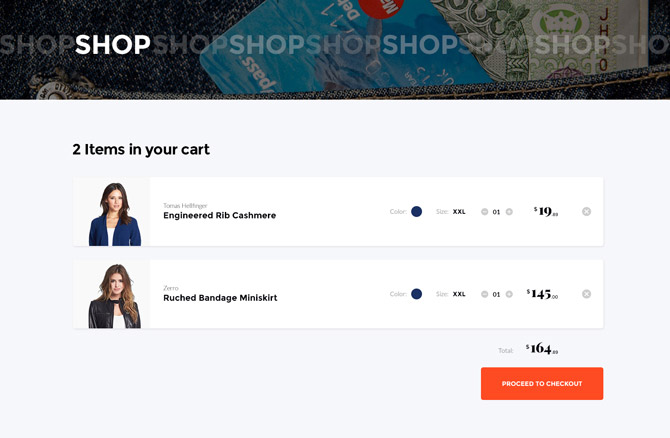 This page shows all the goods that are already in a cart. The user can pick more items if needed. This is helpful for bulk buying. It is also possible to remove individual items from the cart at this point.
Checkout Page
This is the page for the final step of shopping. Customers can add shipping and billing details, see all the orders, and pick the type of payment.
Child Themes
We are sure that you are already impressed with the Starbis, but this is not all. You will receive a number of child themes with the Starbis package. They are suitable for different businesses, from law firms to insurance agencies. Each theme has a special feature especially useful for its niche.
Starbis is a multipurpose theme that performs a wide range of functions. We are confident that it will become a bestseller very soon. Don't miss your chance to get it now. Visit TemplateMonster.com and order Starbis now.