Do you enjoy quality web design items as much as we do? We bet that you won't miss the chance to purchase the preferred digital items at the good discounts! On May 14-16, TemplateMonster digital marketplace slashed the cost of all items available in their inventory by about 70%. WordPress themes are available for the download at the lower price also. So, if you were waiting for the chance to purchase high-quality WordPress themes at the lower cost, then the time for the reasonable investments has come!
May Promo Terms & Conditions
TemplateMonster digital marketplace slashes the cost of all digital items from the inventory. If you are looking for the best Photography WordPress themes for your future creative project, then you can save 25% on every download. If you are looking for WordPress templates that are suited to be applied to any other niche, then you can go ahead and browse the collection of 1,888 WordPress themes that are suited to be used for all purchases imaginable.
In order to buy a theme with a discount, you do not need to enter any promo-codes. All prices are already slashed. Simply browse the inventory, preview the designs in action, and pick the ones that match your own needs perfectly well. The number of items that you can download during the May promo campaign is not limited either. Just mind that the offer is valid on May 14-16 only.
Are there other types of products that you use regularly for the construction of the site? Here is the entire list of product types that are available for download at the lower cost
WordPress themes - 25% off
Landing page themes - 5% off
Magento themes - 45% off
Shopify themes - 45% off
PrestaShop themes - 45% off
OpenCart themes - 15% off
Joomla themes - 30% off
Drupal themes - 30% off
ZenCart themes - 70% off
VirtueMart themes - 70% off
MotoCMS3 themes - 40% off
Website Templates - 30% off
WooCommerce themes - 45% off
Moto eCommerce themes - 40% off
Other product types - 35% off
EasyJet - Multipurpose WordPress Theme
This specific WordPress template is a great solution for both corporate and personal websites. If you want a fast loading and SEO-friendly solution for your business site, pick this fully editable WordPress template. The following theme was developed to help you make an information-rich resource where people can find out your business concepts and objectives, look through your projects, read what others think about your services, leave their personal comments, and share your content on social network sites. The template is easy-to-handle even by the users with no programming skills owing to Elementor page builder.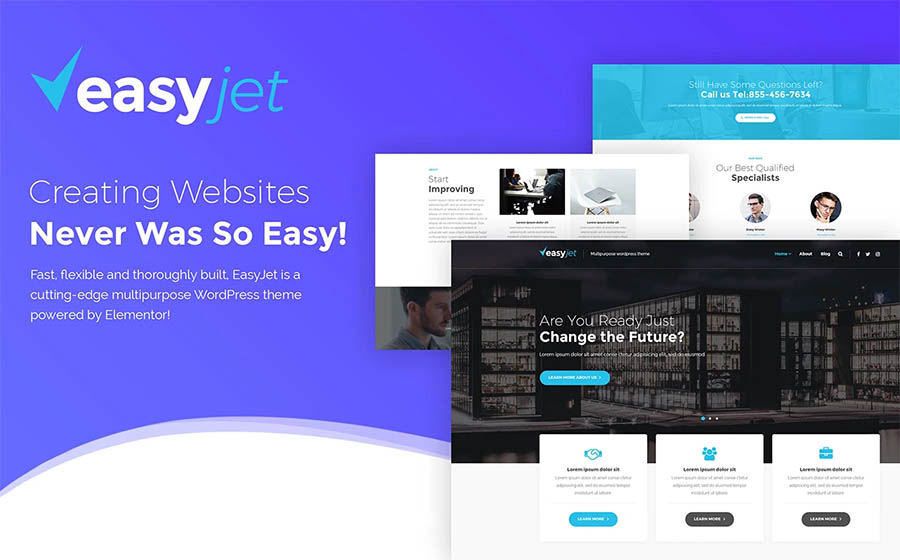 On The Road - Travel Blog WordPress Theme
This is one of the best Traveling WordPress Themes, indeed it comes with a variety of effects and features that you can hardly find in any other theme. Created to promote sports and adventure sites, this responsive theme is an ideal solution for the effective promotion of your project in public. It contains several layout styles and Elementor page builder that allows you to tweak the design in the visual mode. The theme is Ecwid-ready, which allows you to enhance your site with eCommerce functionality.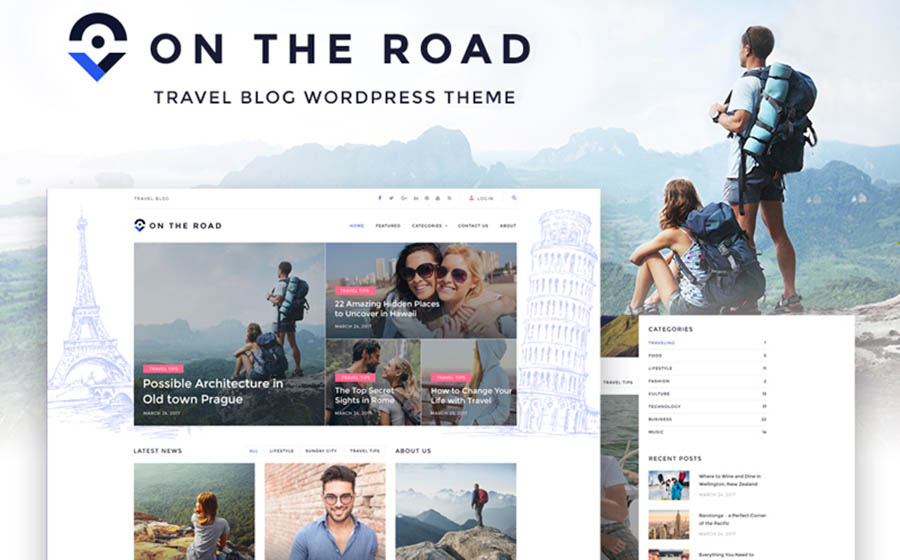 FrameMe - Photography Studio WordPress Theme
This photography WordPress template kills the distance dividing you and the web users. From our standpoint, it's an attractive, dependable option for any creative design and photography agency. Have a look at the live demo to enjoy it in action. Being 100% responsive, this website template will make it possible to you put up a web project appropriate for all the today's devices. It boasts a nice and clean page layout that is enhanced with stunning galleries, making the theme the perfect choice for photography portfolio sites.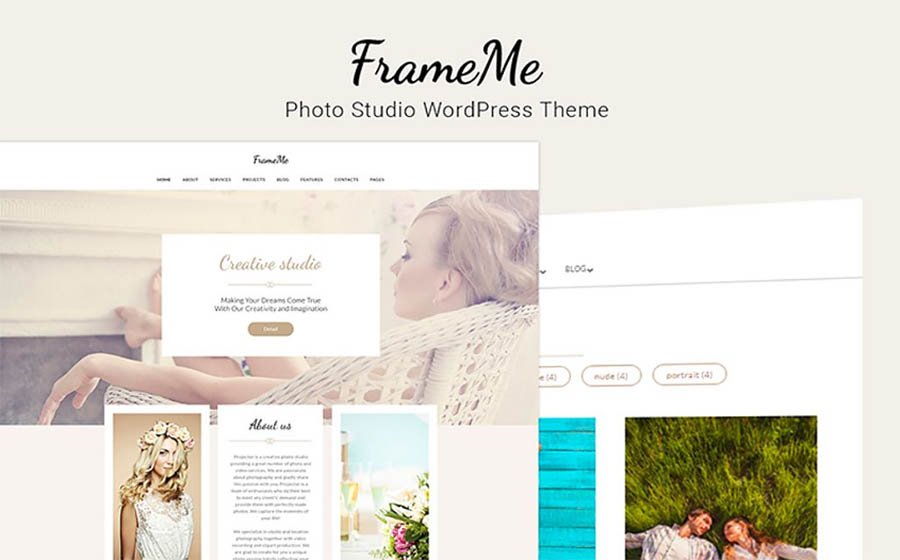 Zoomin - Photographer Portfolio WordPress Theme
Refine your website design using this WordPress template that has an aesthetically attractive design. Because of the simple and intuitive design, your site will get new visitors turning them into new clients. Thanks to custom post types, each page of your web project will have an original look. 100% responsive layout gets this web template operate just as well on any device providing steady targeted traffic.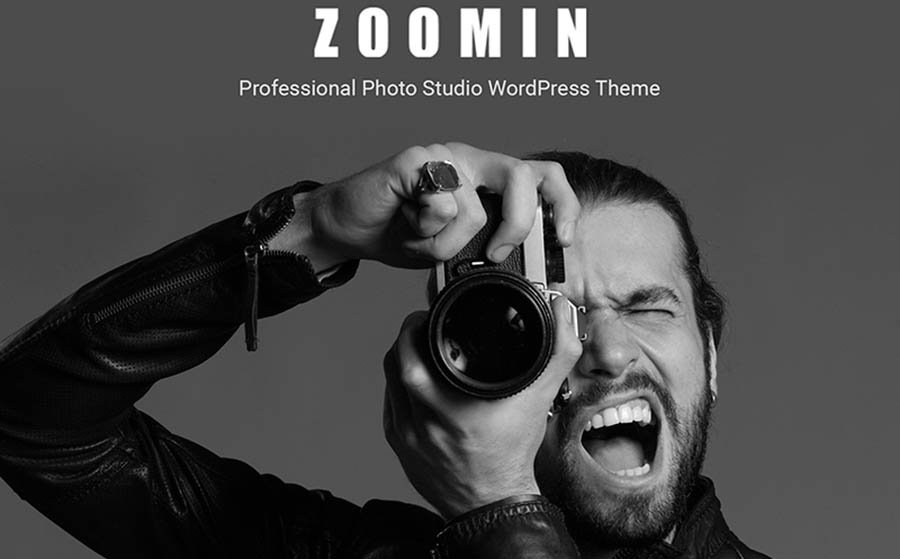 Dezingo - Creative Startup WordPress Theme
Ready-made startup WordPress theme can help you create a solid website with no extra effort and hard work. The responsive structure offers a perfect user experience. With an assortment of versatile tools and features, even non-tech guys will customize the website in accordance with the characteristics of their online project. The theme features Elementor page builder and Cherry Framework 5. 4 blog layouts, several headers and footers, and JetElements pack provider for a quicker and seamless modification of the theme's layout.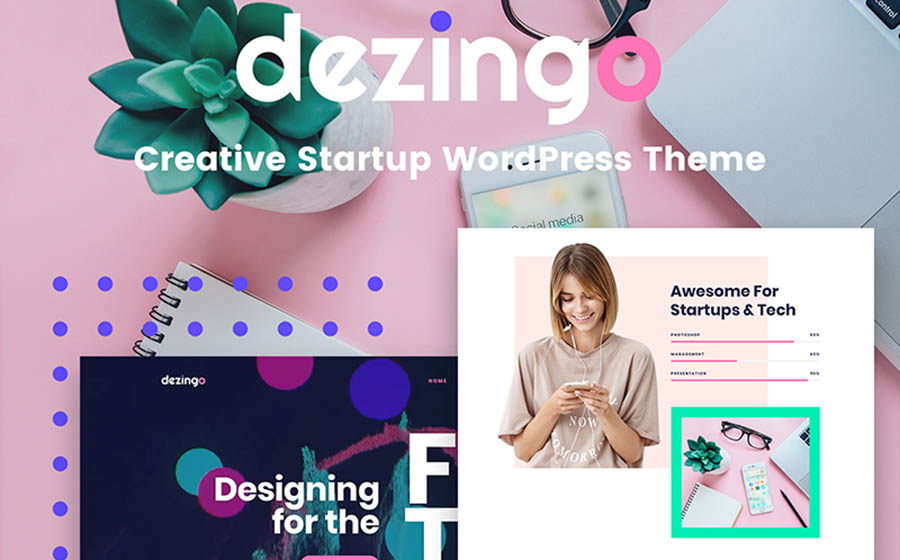 Qhub - Coworking and Office Space WordPress Theme
Here is a perfect WordPress template that will attract freelancers and remote workers that your coworking space is worth a visit. The 100% responsive layout of the template will run smoothly in all web environments. The theme contains the visual composer that allows you to modify the web pages in the real-time. It contains the Appointments Booking plugin that helps the users reserve the time online.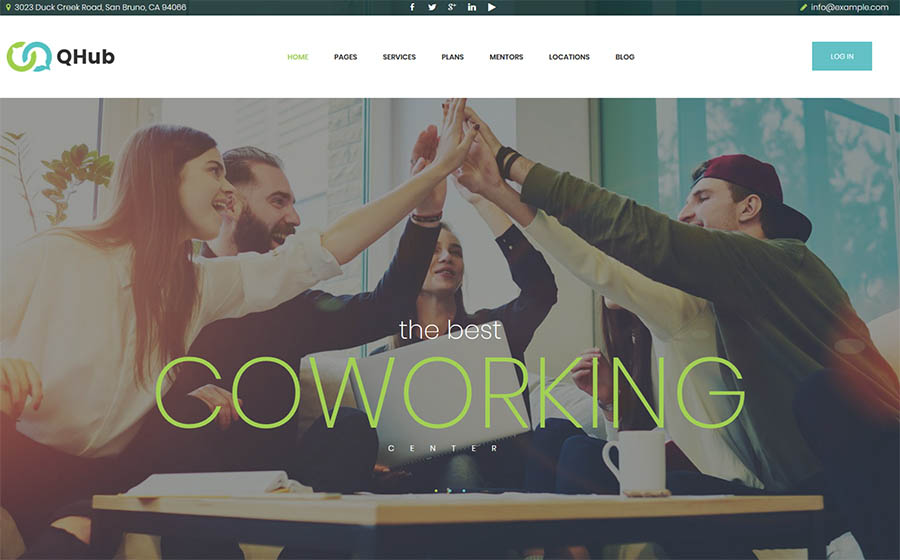 Daisy - Exquisite Blog WordPress Theme
The blog WordPress template was designed by experienced developers and will definitely make your website perform to its maximum potential. Here is a great solution for information-rich online projects. Neat, valid coding and comprehensive guidelines will aid you in modifying this template exactly how you desire. The clean and minimal layout structure enhances the readability of the theme's content. The 100% responsive layout is enhanced with a range of customization options that provide for its quicker and effortless modification.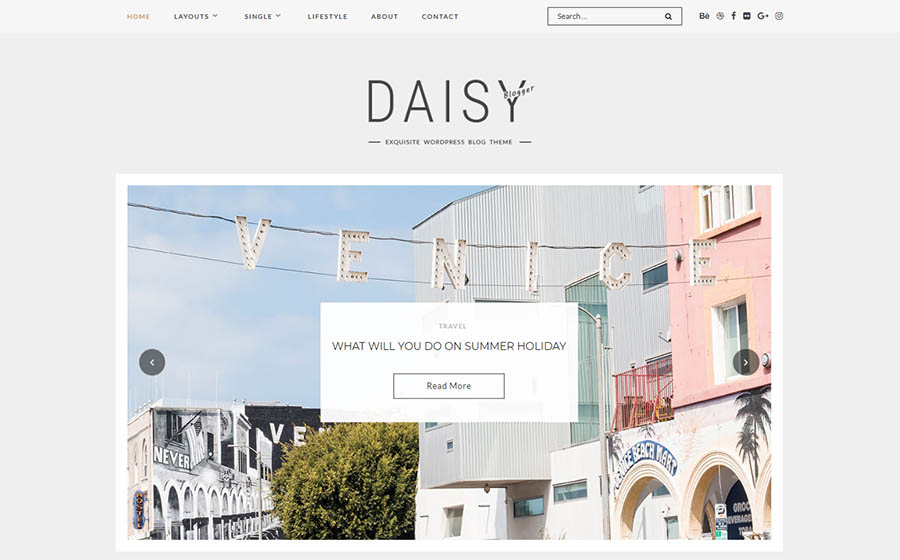 Creatica - Multipurpose WordPress Theme
Creatica is a responsive WordPress template with a refined layout and multi-purpose design. Developed with neat and clean code, this ready-made web design is most effective for IT, software and design sites. Also, it can be adjusted for almost any other niche. 16+ ready-made layouts are included for a quick start of your web project. The theme includes Visual Composer and WooCommerce support. The theme features Slider Revolution plugin, which provides an impressive showcase of the portfolio of your works.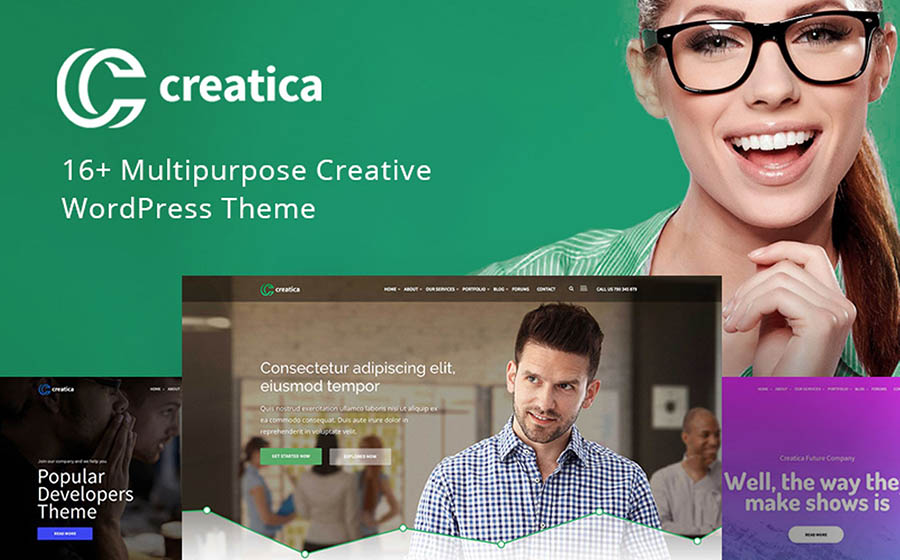 Ineco Minimal Creative Portfolio WordPress Theme
Ineco WordPress theme shown here is a usable and feature-rich option for web pages of various creative projects. Created to boost the presentation of your photography portfolio site, this responsive WordPress template is a fantastic solution for your content-rich site. Richly documented and featuring cost-free round-the-clock support, the actual theme will allow you get started with your online project straight away. It is retina ready, which lets you feel confident that all pieces of data will be shown properly on the last-generation devices. The theme's layout is quick and easy to modify with the integrated Page Builder.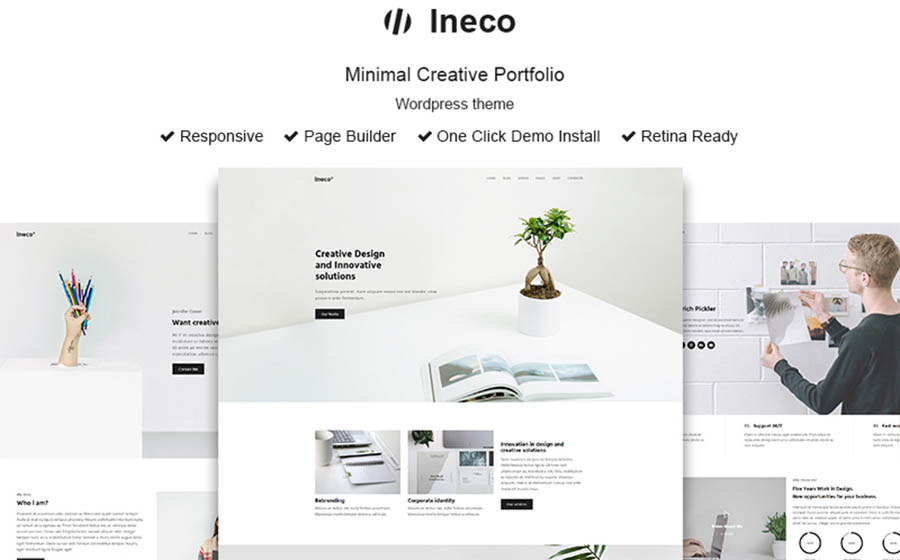 Raymond Jones - Photographer Portfolio Landing Page WordPress Theme
Do you consider bringing a smart and effective presentation to your content-rich portfolio site? Think of this user-friendly WordPress design as its quick starting point. The theme's clean design is professionally created to give you the very best consumer experience to your targeted traffic. You can be confident that this particular 100% responsive theme will present all the content accurately, despite what browser and screen measurement the readers will opt for. Today, search engines and social media sites are the first providers of traffic, that is why this template is integrated with social media and has a valid, SEO-friendly code. Neat, valid code and explicit documentation will aid you in enhancing this WordPress template just how you desire.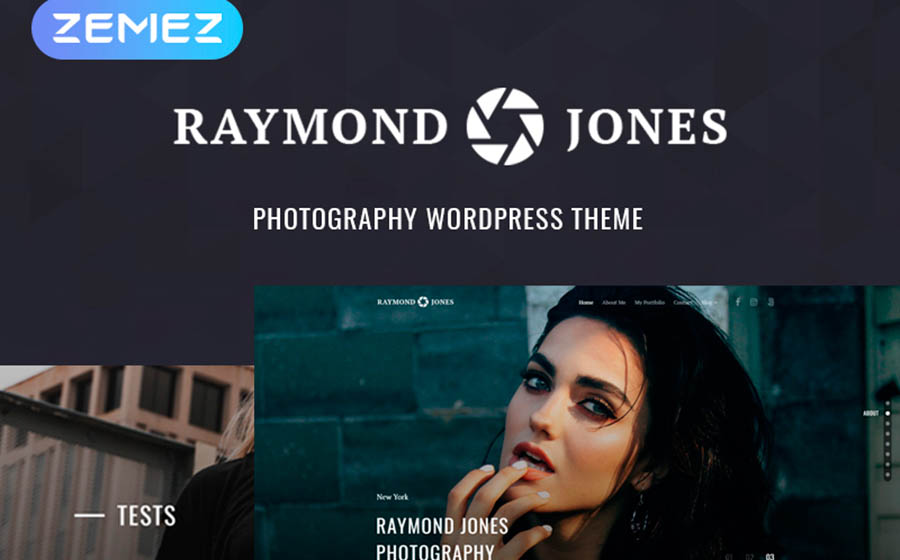 Decoz - Minimal Portfolio & Photography WordPress Theme
Decoz is a totally responsive photography portfolio WordPress theme created to bring an advanced and professional presentation to your creative project. Make use of this unique web template for setting up your own online site for a photography project to match any personal taste and spending budget. Currently being mainly a discotheque WordPress template, it boasts multiple blog styles and post formats and hence can be used as a foundation for a niche blog.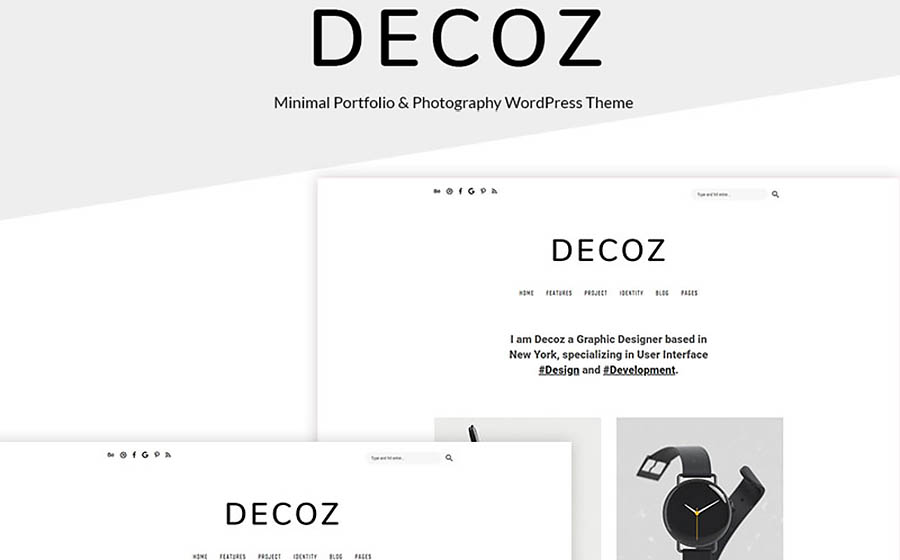 Skyscraper - Architecture And Construction WordPress Theme
Here is a ready-made WordPress template intended to be used for architecture, interior, and design-related sites. Fully-featured and 100% responsive, it consists of every element that you require for the beneficial presentation of your business online. Your target visitors will figure out easily what you are and what your services are because of the helpful content sections with visuals presenting your projects. Built with a lot of ready-made page themes, social network sites icons, the theme is equipped to go without any configuration or modification. In the event of any trouble with this template, you can contact one of the skilled tech support managers and they will solve the problem of any nature for clients.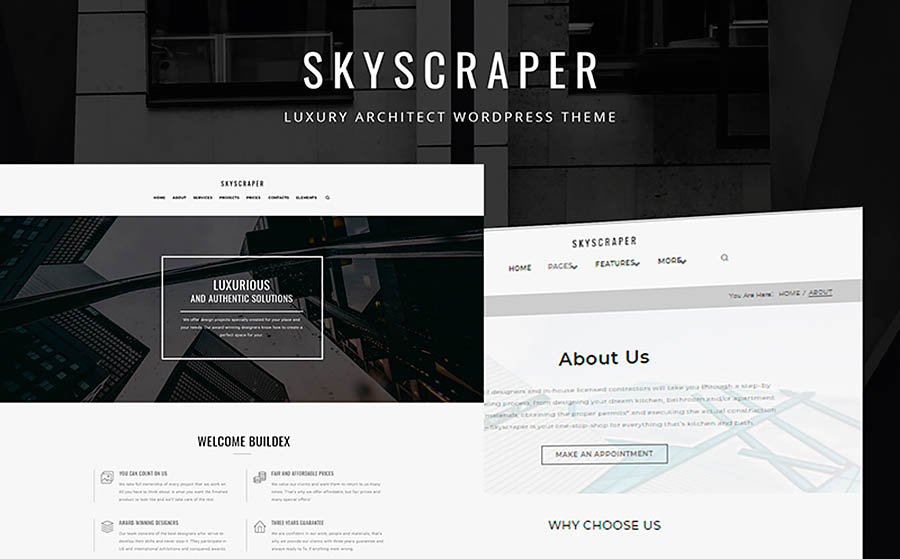 SocialVideo - Viral Youtube And Vimeo Video Magazine WordPress Theme
Get your site off to a flying start through this media WordPress theme. This actual website template was tailored for the web projects that are rich in video content. You can select from a large number of layout versions. Owing to its fully responsive essence, you will effortlessly reach out to customers who browse the Internet on the run, whereas SEO-friendliness will enable you to improve traffic rates of your online project. Your site visitors will easily figure out who you are and what your services are thanks to helpful text blocks with vivid illustrations or photos showing your projects. Because of its laconic style, people will quickly get all the required information with nothing distracting their focus.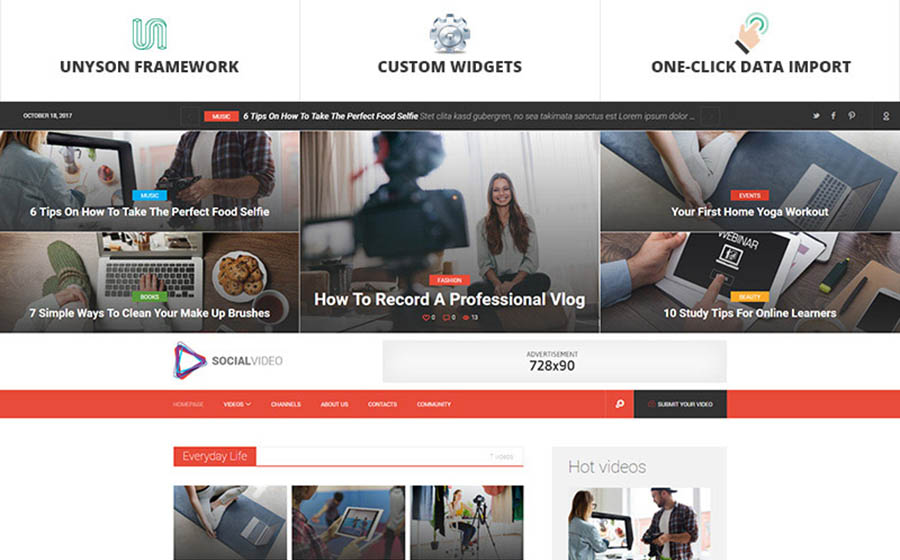 Carmen Design Portfolio WordPress Theme
Carmen Design WordPress template boasts a trendy and beautiful appearance in addition to a range of great features. The vast majority of the theme functions can be changed immediately with WordPress customizer. It combines a fresh and contemporary design with impressive features that make the webpage up-to-date both in and out. It features a simple layout that guarantees the consumers concentrate on the content provided.
Kraj - Music Band WordPress Theme
Kraj is a totally responsive music band WordPress theme meant to bring an advanced and high-quality look to your web page. Featuring a spectacular user interface style, it will deliver the site visitors a fantastic user experience. Make your web project even more lucrative with this pre-designed WordPress layout. Furthermore, buying this layout you get 24/7 tech support and explicit documentation. Making a choice on this specific website design as a solid foundation for your web project, you can make your brand more recognizable over the Internet.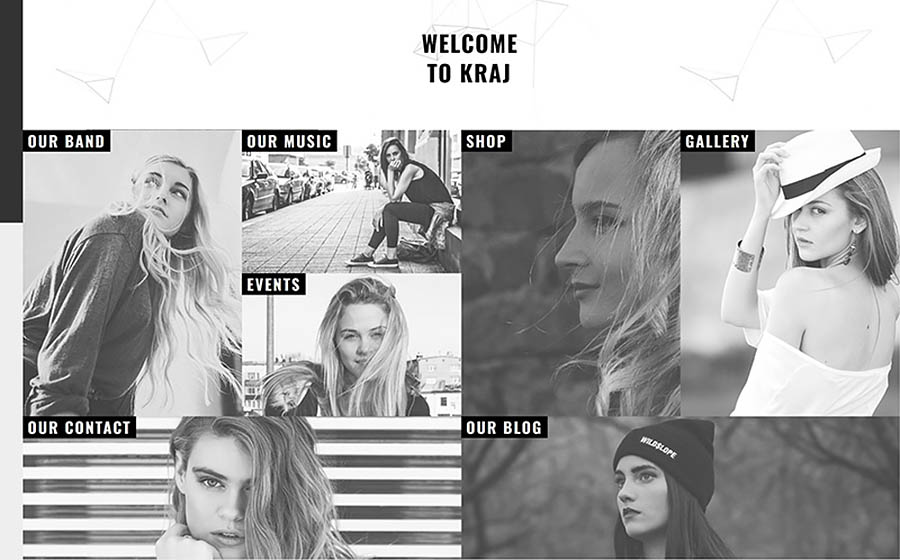 Randomo - Creative Management&Marketing Agency WordPress Theme
Randomo is a fully responsive marketing WordPress template meant to give an up-to-date and top-notch look to your website. This specific web template lets you create a professional and powerful marketing agency site with a stylish design and unequaled functionality. The template is 100 % responsive, which allows your site to reach smartphone users as well. You'll be able to change fonts, color palette, backgrounds or other parts of the theme by using exceptional theme options. This template has a trendy design for both corporate and personal websites. Richly documented and offering cost-free round-the-clock support, the particular web theme will allow you get started with your web project straight away.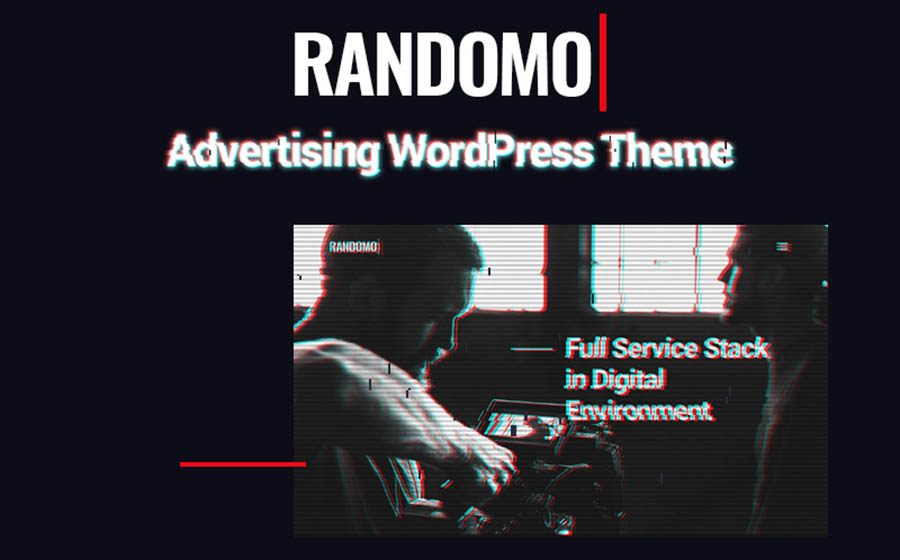 Art Deco - Gallery Art Gallery WordPress Theme
Art Deco is a ready-made art gallery WordPress theme created to provide you with a chance to promote your online resource successfully. There are no insignificant details in web design, this is why dozens of this template's features will enhance the user experience of your webpage significantly. Buy this specific theme to introduce more useful functionality and elegance to your website.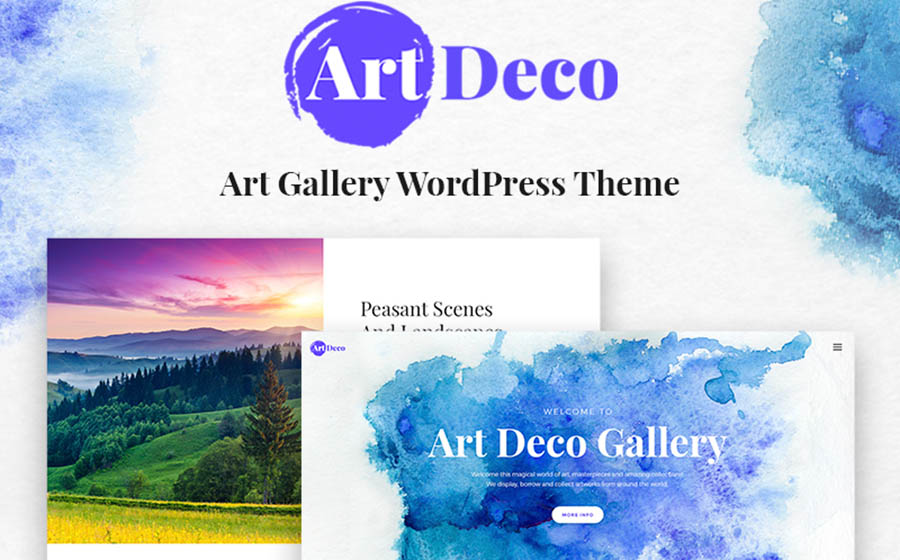 Hanna - A Beautiful Blog & Magazine WordPress Theme
Hanna is a pre-made responsive WordPress theme designed to present your website in the most favorable way on the web. This specific template will encourage visitors to find out way more about the content presented on your media site. Totally intuitive visualization of information in this theme can help wisely organize a large number of articles and other content and browse it conveniently. The following website layout is very easy to setup and maintain, so even a beginner will be able to create a first-rate blog or internet site within a few minutes. This theme's focus on pictures can make it suitable for a site of any product just upgrade the imagery with your own to get a unique style. Obtaining the design as a platform for a website, you can effortlessly modify it to meet your requirements.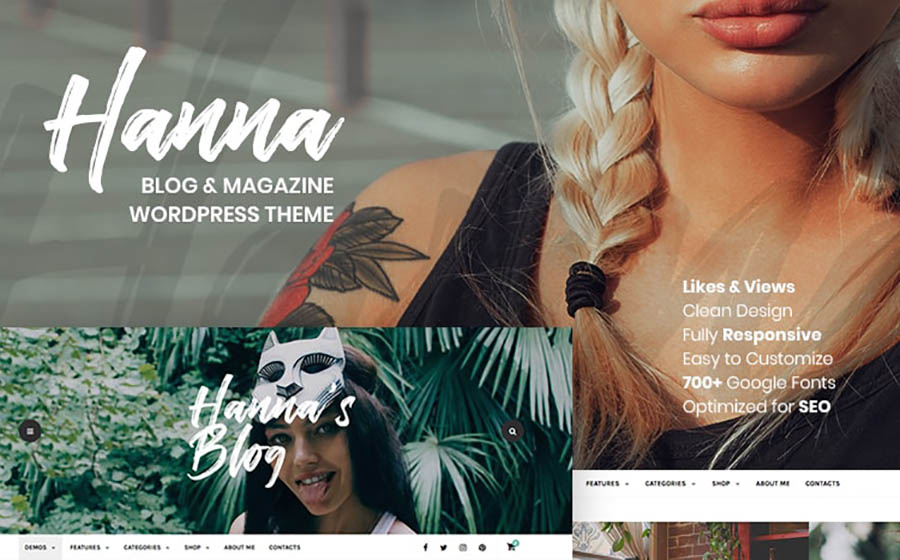 Shootz - Photographer Portfolio WordPress Theme
This particular photography WordPress theme will help you start or redesign the already existing website to meet your requirements. Overall, this theme is a great solution for the creative online portfolio projects. Introducing extra interest and style to the web page's overall look, this web template retains harmony with well-placed sections and blocks that allow focusing on the content. The theme is easy to modify, with a variety of custom page designs. Pick this pro WordPress theme to build a solid website. Clean, valid coding and comprehensive guidance will aid you in enhancing this WordPress template the way you want.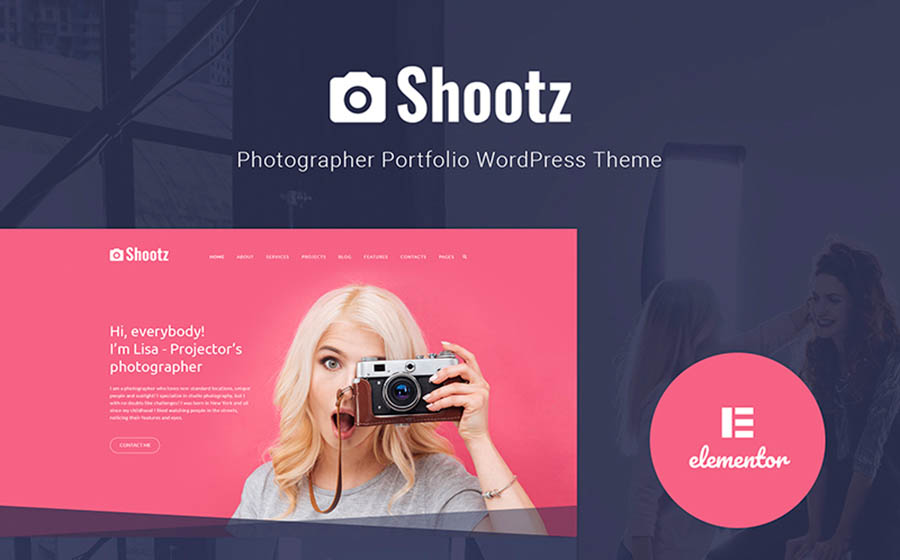 Primrose - Multipurpose WordPress Theme
Choosing this easy-to-customize WordPress theme, it will be possible not only to get more site visitors but also to secure solid online presence. Adding extra style to the web page's visual appeal, this particular web theme retains harmony with well-positioned blocks and sections that allow being focused on the content. Almost all of the template functions can be changed promptly using WordPress customizer. SEO optimized, it can be effortlessly found by potential customers whichever search engine they are making use of. By making use of this neat template you are able to create a user-friendly and easy to navigate web resource.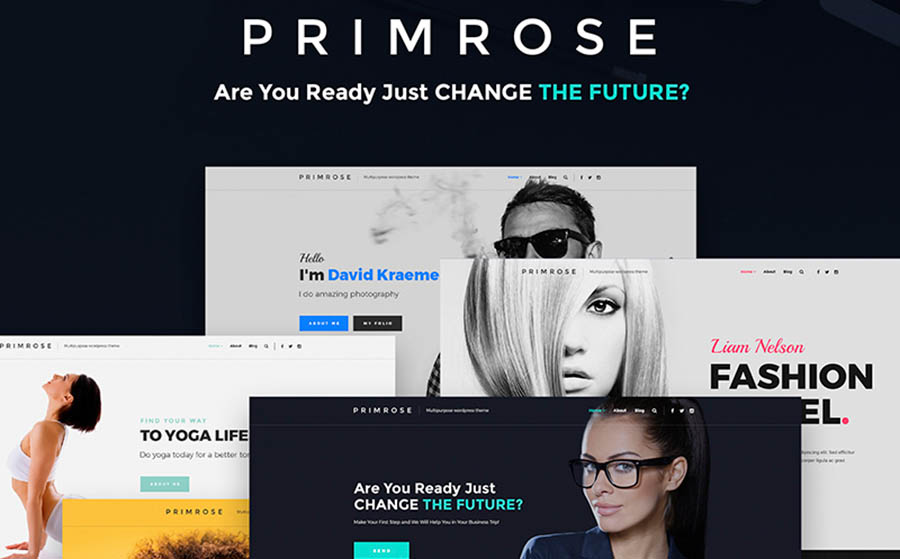 These are 20 of the highlighted photography portfolio WordPress themes from the digital marketplace. Professionally designed and crafted with the modern-day web trends in mind, the themes are carefully reviewed and tested by the marketplace Review Team. If there is any different type of products that you'd like to purchase at the discounted cost, then go ahead and browse the inventory. All prices are slashed by about 70% on May 14-16 only.