There's an emotion behind choosing Template Monster's Intense pre-built template. Everybody knows that feeling. You wasted hundreds of bucks and countless hours to find just what you were looking for, but the results are unsatisfactory and you're left deeply unhappy. It's especially true in the case of launching a website that you want to be perceived as a modern, contemporary online experience. It has to be beautiful, smooth and consistent in every bit of its design... And you can't find the way to do it.
That's where Intense comes in. There are millions of pre-made design templates for everything from WordPress to Joomla, but there's nothing quite like Intense. This is the hottest website theme of this 2016 Summer - possibly of the whole year: flawless in its technology, gorgeous on the design front. The designers behind Intense made a point of creating the best pre-built template they could imagine. It is like a Tesla, a glimpse of our high-end future that is both intoxicating and deeply enjoyable. Have you heard about what AI-powered technologies can do these days? Well, Intense looks like the Internet from that particular cyberpunk future.
However, there's a difference between installing an Intense theme as a fresh coat of paint for your website and purchasing a Tesla to ride around your city block. Intense is affordable. It was made for the people, it was conceived as a way to make the Internet a better place. You can purchase an Intense template for less than fifty bucks. Quite impressive, huh? Well, wait a moment: the whole multipurpose package, consisting of ten themes for various types of websites, blogs and online portfolios, will cost you only $75. Here's the deal of the century.
If you're still not convinced, let's go over some of the advantages of the Intense template. First and foremost, it's a ready-made theme by TemplateMonster. It means that a) you don't have to bicker endlessly with a freelance designer or lose a lot of money to a design firm. The template you like can be yours today. b) You'll get lifetime support with your purchase, provided by one of the most trusted and respected support teams out there. Secondly, Intense is the pinnacle of modern day HTML5 web design. It boasts a minimal style layout, that is not going out of fashion soon, responsive design, that makes your website look great on any device, fluid animations powered by HTML plus JS and Parallax, Bootstrap-powered customization and SEO-readiness that you'll definitely find helpful. And perhaps, most importantly, Intense is a multipurpose theme, meaning there's not one, but a dozen choices for any kind of online business you would like to build. Want to see Intense in action? Look at the video below:
Today, we'll talk about those choices. With Intense, you do not experience the frustration of a fruitless search for the design of your dream. Let us offer a guarantee to you: by the end of this article you will find something ideal for your business needs.
The All-in-One Intense Multipurpose Template Experience
This version of Intense will be a great choice for you if you want to build a company portfolio page or a mission statement website. The clean, unobtrusive interface of the main page leaves enough space to tell your clients about the culture of your company and the reasons you are different. A huge crisp image under a simple animated menu in the header attracts attention instantly, turning a website into a memorable visual experience. And don't forget to pay attention to how the Intense-powered website looks on a mobile phone or a tablet: the responsive interface is a marvel of continuity and consistency, making it possible to provide mobile users a native experience without supporting a separate mobile version. By the way you feel free to check out the free webinars from TemplateMonster.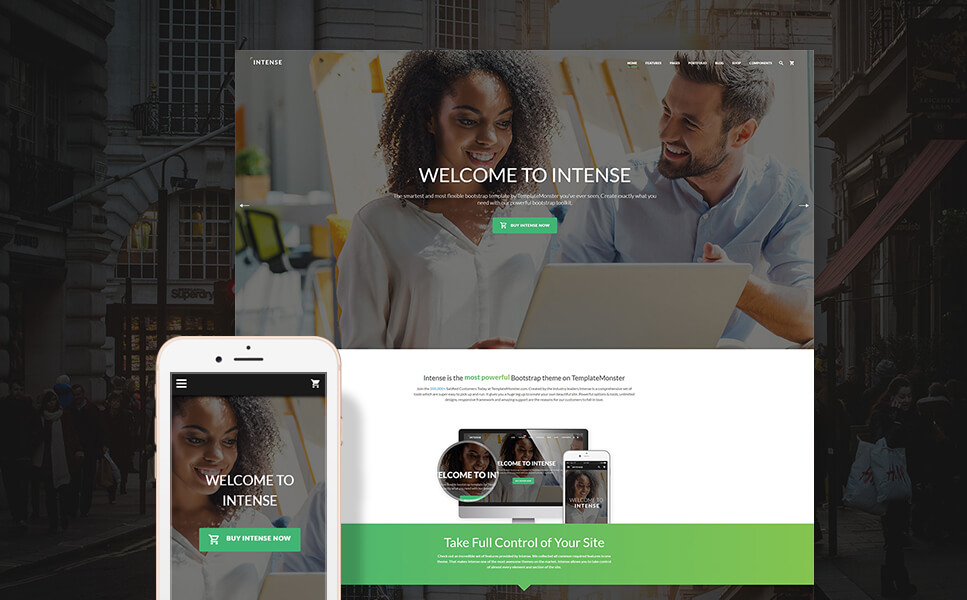 The Photographer Intense Multipurpose Theme Experience
If you decided to become a photographer it's a given that you have your own way of looking at things. But it could be hard to make people view thing your way if you don't publish your work online, and what's the point of photography without an audience? Go with the Intense photography pre-built template and get a photography-tailored portfolio design that will make your work stand out on its own. The main page of this template consists only of an eye-catching image-carousel, but when you get to the gallery, the experience kicks in. The photos are so crisp, well aligned and fluidly animated, that it would be hard not to look at them for hours.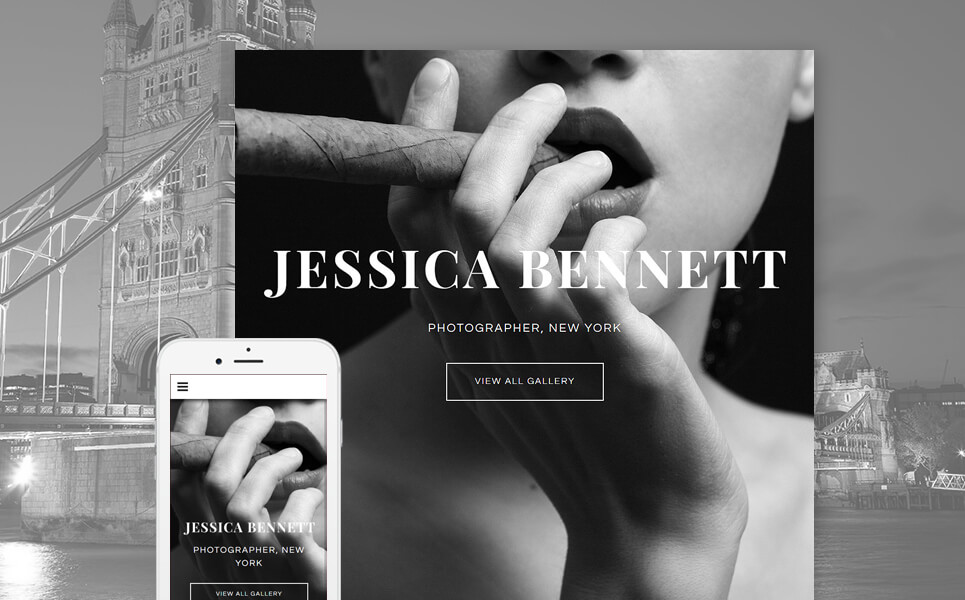 The Real Estate Agency Intense Multipurpose Design Experience
What would you say to a website that sells on its own? That was the mission statement behind this Intense template variant: make a real estate design that is suited to a problem-free purchasing experience. The search field placed in the middle of the header section is a great way to start your clients on their way to what they are looking for, while images on a white background is a neat presentation of what you're advertising. Perhaps the best element of this template is its structure: the simple grid-like approach makes the experience of looking over various properties, easy and readable.
The Restaurant Intense Multipurpose Theme Experience
This is the Intense template, specifically structured around the idea of a a successful European-style restaurant. Want your business to be perceived as fresh, trendy and fashionable? Well, your online image better be worthy of such talk: with Intense for restaurants, it can be. Pay attention to the beautiful header with a crisp image overlaid by a single call-to-action button. They bask in the beauty of Parallax-powered animations which make transitions between one part of the website to the other as fluid as possible. The crisp typography of a very convenient menu section makes this meal a deal: it very possibly may be the most gorgeous restaurant design out there.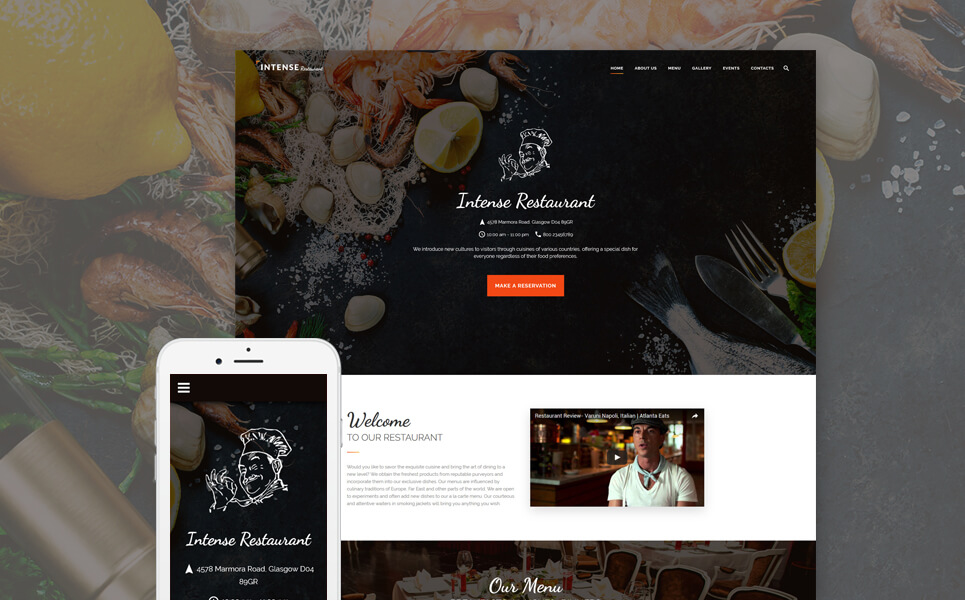 The Job Market Intense Multipurpose Template Experience
Looking for a job is already a difficult task. If you're running a job market business, making it even harder by overcomplicating your design and making the experience gruesomely slow is not a great idea: you will lose a lot of potential customers. Instead, choose the Intense pre-built job market template and go the simple, minimalist route. The approach behind this theme is decisively user-centric. The layout is simple and easy-to-read, job listings are presented in a neatly structured way right on the main page and all the categories and various sections of your website are organized and well-defined.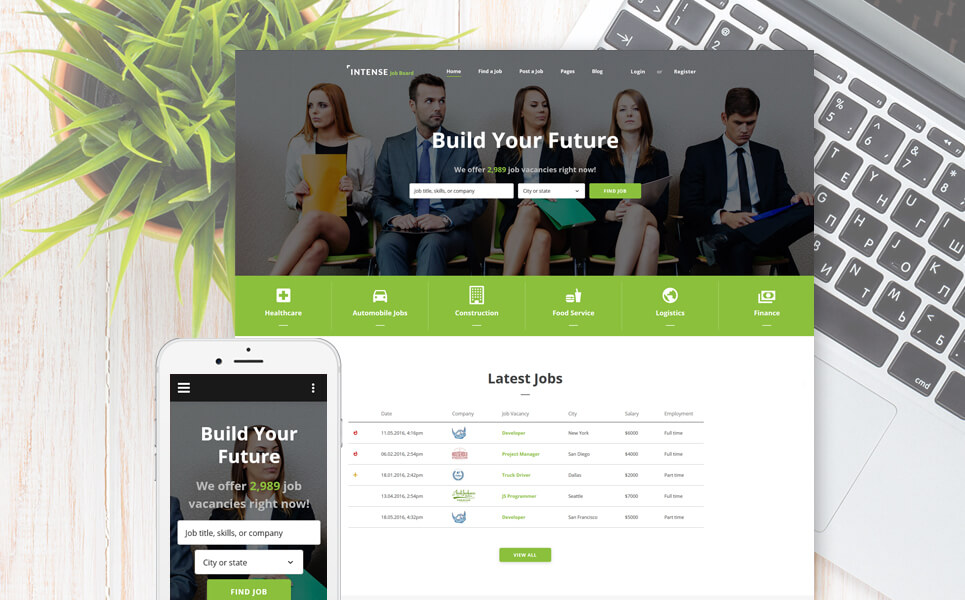 The Blogger Intense Multipurpose Design Experience
In the XXI century, blogging is more important than ever. It became one of the best ways to break into the journalism or media industry, to present yourself online or just to organize your brain and thoughts: it's no coincidence that writing is considered to be the best self-help practice. When you look at it, blogging is still all about the words you publish. But the last 20 years have made an impact: the way you actually present those words can make a huge difference. The idea behind this blogging-specific Intense template is to make simple black and white typography as beautiful as possible.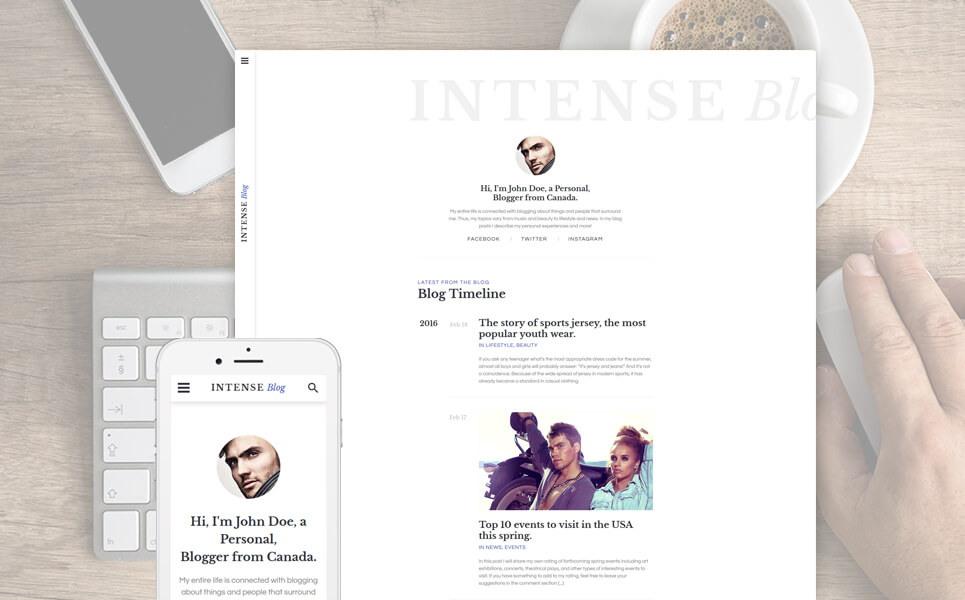 The Fitness and Health Intense Multipurpose Template Experience
If you're thinking about launching or relaunching your gym or fitness website, think about getting it in shape first. Who would want to visit a website on making one's body beautiful if that website looks gaudy? Well, thankfully, the Intense gym-tailored template will come in handy if you acknowledge that you are facing this situation. This template is very well-organized, structured in several sections which come one after another. The main focus of the design is on eye-catching imagery, which then helps your visitor to focus on the text below.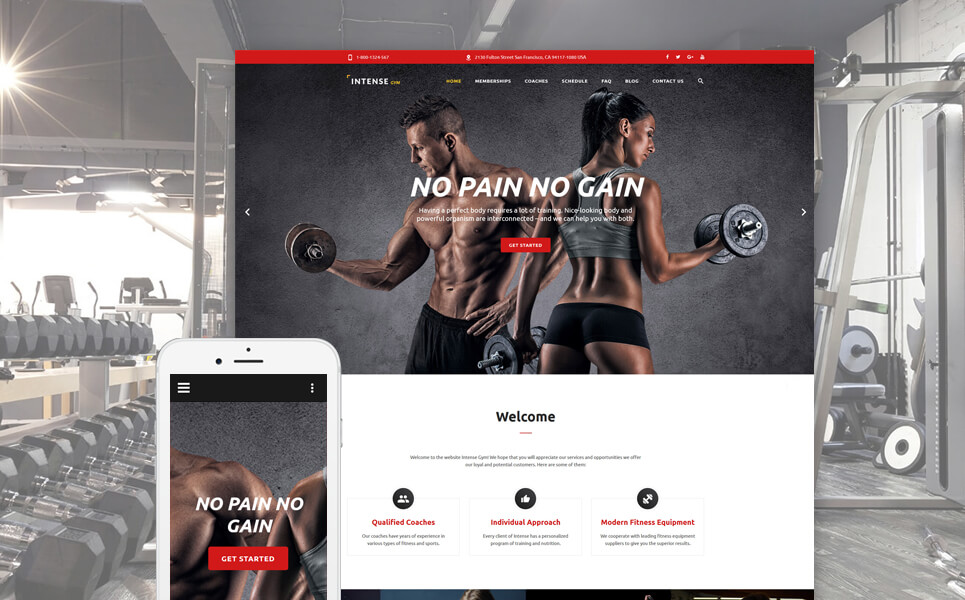 The Shopping Intense Multipurpose Theme Experience
Want to launch your own online shop? There's certainly no better way to do it than giving your website an Intense makeover. The eCommerce Intense template was specifically tailored to make the shopping experience as smooth and comfortable as possible. That's the reason why the designers behind it utilised a simple grid-like structure to present what you're selling. In case you want to get a bit more personal with your clients or involve them in various activities, there's a neat blog at hand and an 'about us' section which will make it easy to tell the world about your team's goals and beliefs.
The Child Care Intense Multipurpose Design Experience
When it comes to child care and children, parents don't want to look at a complicated website. They have more than enough to worry about at home, thank you. This Intense theme designed for a child care service makes it as easy and no-frills as possible to browse the website and obtain the essential information at first glance. That's why, for example, that top bar with your phone number, working hours and location exists: it's essential information, so this template puts it right at the top of the page. This reasoning is evident throughout the design. Simple informational blocks are spread around the main page in a cohesive, user-friendly way.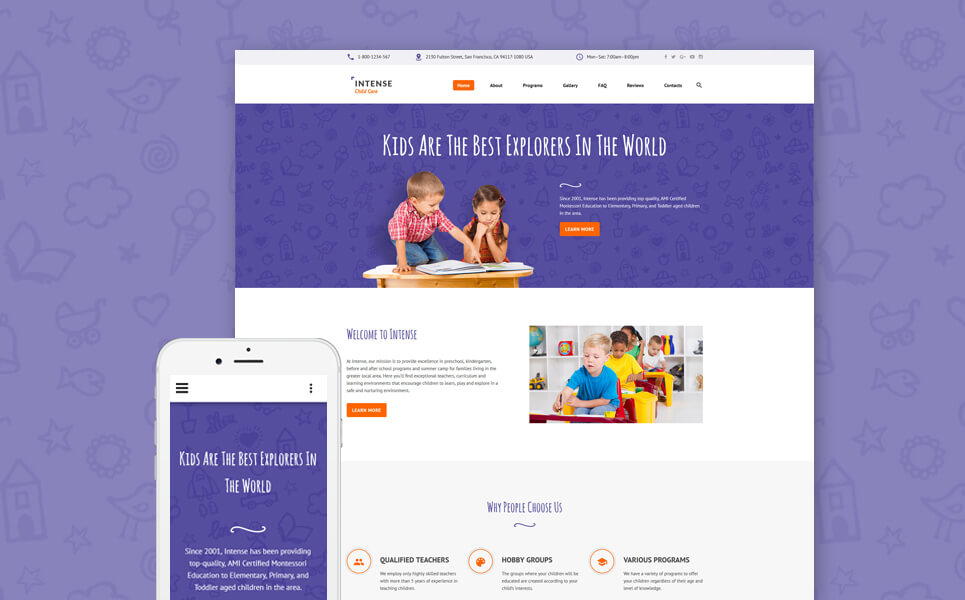 The Healthcare Intense Multipurpose Theme Experience
If your clinic or healthcare facility is looking for the next design for its website, you can stop looking, because the Intense for healthcare template jam-packs everything a clinic's website needs into a single elegant design. The well-balanced palette evokes feelings of confident professionalism, while the grid of various blocks on the main page structures why and how to use the help of your facilities. There's a map on which to find your location, a testimonial section to make sure that people are saying nice things about you and a simple yet effective blog to tell your clients the latest news and keep them up to date with everything.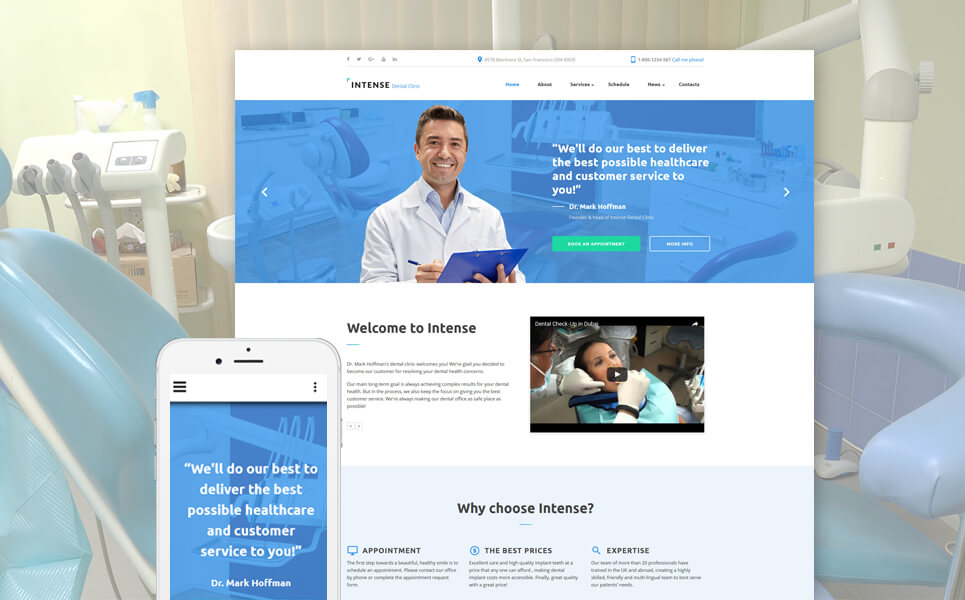 The Business Intense Multipurpose Template Experience
This is an all-business Intense design for the services of a financial firm or a business consultant. The combination of green and deep gray makes for a stunning visual look, while the Parallax-powered animations inject some rich fluidness into the experience of browsing your website. Those animations are a neat trick, as the users will find themselves interested in scrolling a little more in order to see more of them. The clean and bold typography closes the deal: this is one of the most visually effective design templates out there, especially for a financial business.