A carefully personalized online portfolio is an excellent way to impress clients, customers, and even random visitors. It's a relatively easy and inexpensive way to showcase your work, talents, or products.
If you intend to create an online portfolio, you're naturally going to need a website builder to do so. Preferably one that either specializes in portfolio website building or has the necessary tools and features than enable you to create a high-quality online portfolio quickly and with relative ease.
You'll also want a quality, high-performance tool to do the job. Any of the 6 tools presented in this article will be more than up to the task of helping build an impressive income-generating or career-boosting portfolio. Best of all, these 6 tools are free or offer free trials, giving you a great opportunity to see what works best for you.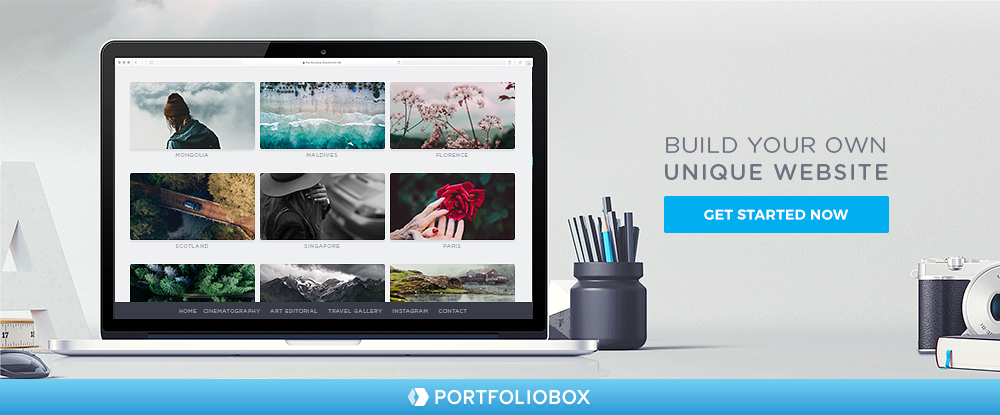 Portfoliobox would be a great choice for building a site that will showcase your projects or products in the best way possible, and with a minimum amount of hassle. While this portfolio website builder was especially designed for creative types, it will serve small businesses equally well.
Since Portfoliobox is so easy to use, you can have a portfolio website up and running in a few hours at most if your content is close at hand. You won't face some of the design constraints many theme-based tools place on you either. Portfoliobox is not a theme-based software solution. A lack of flexibility is simply not an issue; nor is coding, as it is not required.
This Stockholm-based company offers a free plan and a pro plan, as well as a student account. We recommend trying the free plan first as it has the tools you'd need to build a medium-size portfolio. The pro plan features web hosting and a personalized domain plus unlimited page, blog, and product hosting, and hosting for up to 1,000 images.
2. Wix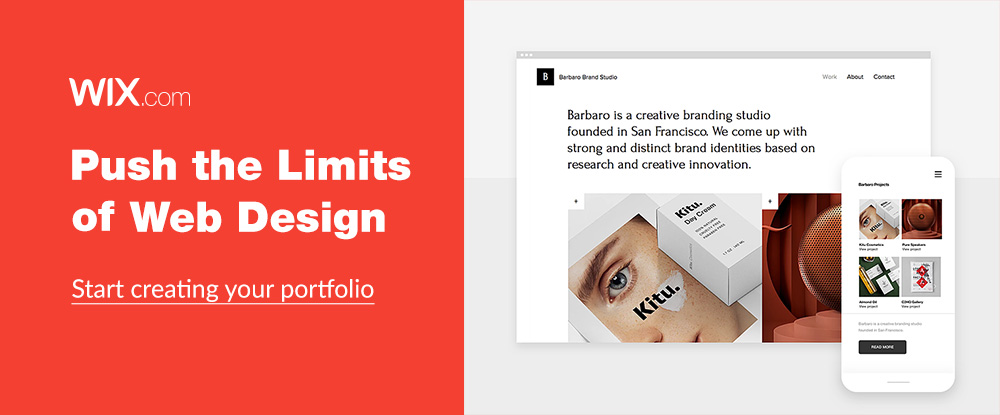 Wix has everything you need to put together a personalized, professional-looking online portfolio, which is just what you would expect from a top portfolio website builder.
Wix is also free!
This high-performance software solution features 500+ designer-crafted templates to help you create a portfolio website that will showcase your projects in the best possible way. You can also start building your website from scratch since all the necessary tools and features are at your fingertips and can be used to achieve the same amazing results.
Some website-building tools simply allow you to cleverly adjust your portfolio's images to make your portfolio more engaging. Wix goes a giant step farther with its innovative state-of-the art drag and drop website builder that allows you to customize anything; plus, you can easily incorporate animation and scrolling effects and video backgrounds to make your portfolio site come to life.
3. Weebly
With Weebly, the only limits you'll face in building a portfolio website will be those of your imagination. If you visualize an attractive and user-friendly portfolio site that will thoroughly engage visitors, you can build it. The tools you need are there and no technical expertise or coding is required.
You shouldn't have to settle for anything less since Weebly gives you everything you need. Interested in a free website hosting service? Or, maybe a state-of-the-art mobile app with which you can track performance and manage your portfolio site from anywhere?
If you wish, you can purchase your domain from Weebly or simply transfer one you already have.
Should you require professional-looking photos of any or all of your products, ship them to Weebly's team of photographers and download the images to use in your portfolio. 24/7 support is there for you as well.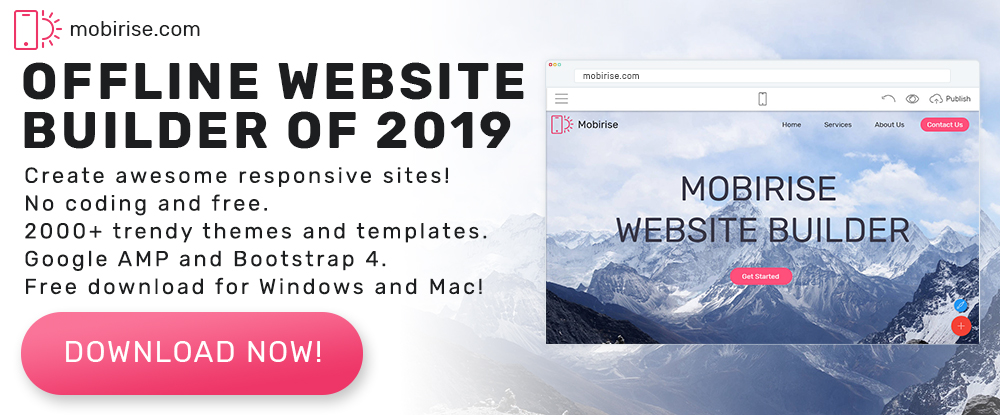 Mobirise has a deal for you that you might not want to pass up. This portfolio website builder is free for both personal and commercial use, building your site does not require coding, and your site will be 100% mobile-friendly.
Everything is drag and drop, plus you'll have a wealth of trendy templates and website blocks and a huge library of images, fonts, and icons to work from.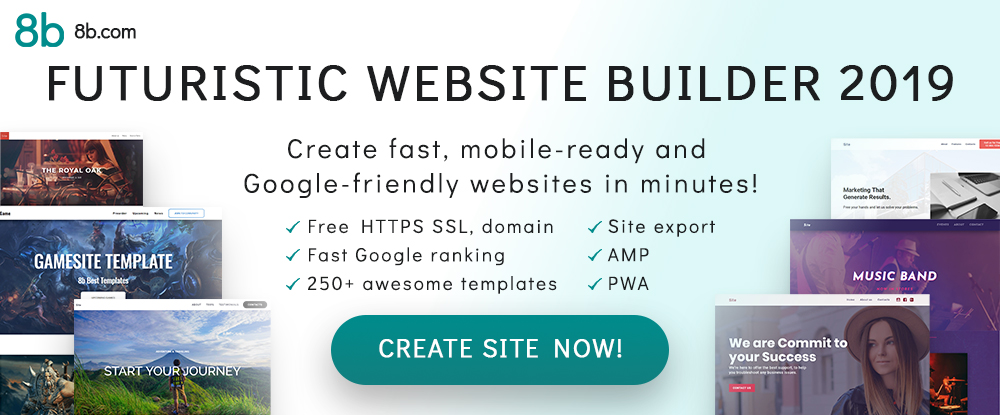 8b is a new kid on the block, and it's impressive to say the least. You'll find its interface futuristic and super-simple to work with, and you can use it on your desktop, on your mobile device, or both, as you build your site. 8b's features include 250+ cool website sections and 18 equally-cool starter templates to work with.
Paid plans are in the works, but 8b is free at the moment – so why not give it a try?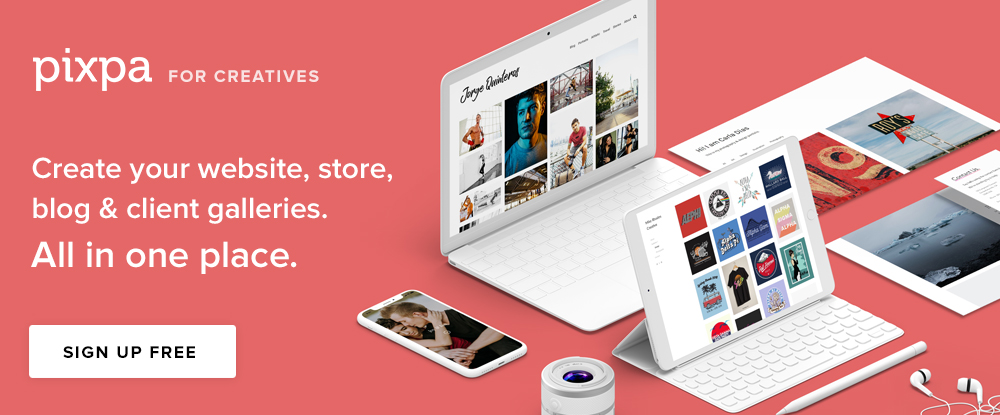 Pixpa's website builder makes it easy to present your projects or products in a way that will help them sell. You'll find every tool you need to produce an awesome portfolio. Since a full-featured eCommerce platform comes with the package as well, you can impress your site's visitors with your gallery displays, make sales, and accept payments via Stripe or PayPal.
You can start right now by signing up for their 15-day free trial.
Tips for creating a professional-looking and engaging portfolio website
Why would you want a portfolio website?
it gives you a unique and effective way to showcase your work.
It's also a great way to showcase your talents, show people who you are, and what you're capable of doing.
It makes you searchable. Being easier to find is good for business.
Your portfolio should include your logo, a tag line, and your best work or featured products. It's also a good idea to include a few testimonials and any interesting case studies you have. Blogs can also be included to give your portfolio additional substance and a little extra pizzazz.
Your portfolio is like a shop window, where the items on display are there to entice people to enter the store. By making your "shop window" entertaining, engaging, or both, it will be easier to connect with customers, clients, or potential employers.
Given the right platform, building an outstanding portfolio can be easier than you think. To get everything right, however, keep these tips in mind.
Highlight your best work or show it upfront
Make sure your portfolio site is easy to navigate
Don't forget to introduce yourself. Tell your audience what you are and what you do.
Include any awards or special mentions you may have received
Don't neglect the power of blogging or social media and use either or both appropriately.
Do your very best.
When you're done, you will have created something you can use to put your talents and display and boost your image. You may also have well learned some new things along the way.
Conclusion
In today's world, having an online portfolio can be indispensable, whether you're selling a line of products or selling your own works and creations. Consequently, you need to put a lot of thought into designing a portfolio to make sure it will be effective. Fortunately, you don't have to put a ton of effort into building it.
Just let a portfolio website builder do most of the work for you. Better yet, select a free builder or take advantage of a free trial offer. Do that, and you'll be off to a great start.