Thousands of different font styles for free? That sounds too good to be true; and you know what that sometimes means. So, what's the catch?
FFonts.net is a free fonts directory. It features a Premium Version. Yet, you don't need to shell out $29 annually to take advantage of it unless you're a heavy user.
A heavy user is one that may need to download up to 200 font files a day. If you don't need more than 50 per day, you're an occasional user, and this excellent service costs you nothing!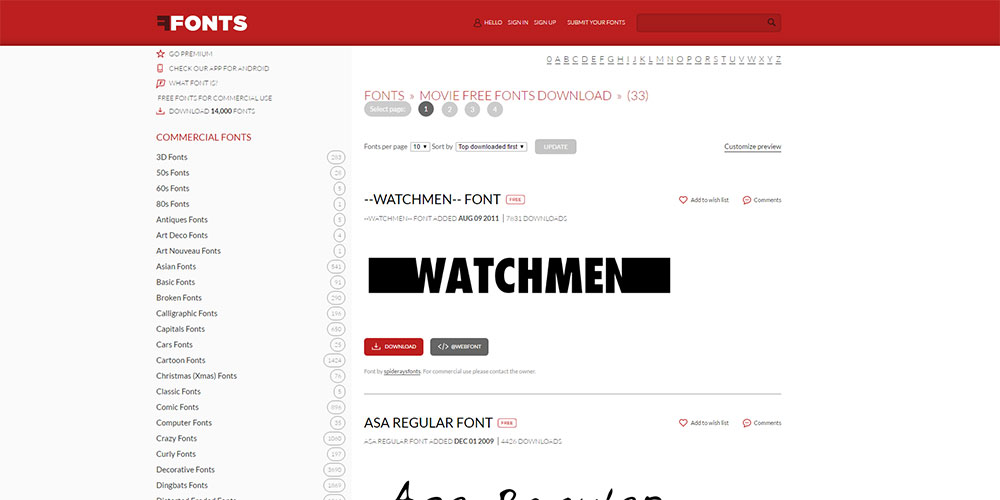 FFonts offers classic san-serif to hieroglyphics fonts and script to Cyrillic fonts. Plus, everything in between. A visit to the FFonts.net website will give you a hint of what's available. You will also find out how you can immediately begin to narrow your search.
Better yet, you can write out a string of text to see how a certain font will appear in actual use.
Multiple Font Categories Make Searching Easy
Upwards of 50,000 available fonts sounds attractive. But if they aren't arranged in meaningful categories, you won't know where to start. For this, you will need to know the font's name, a keyword, or have a general idea of where you'll find it.
FFonts has assigned nearly half of the fonts in its directory to 87 different categories. Thus, finding what you want will be just that much easier.
Some of these categories contain but a handful of fonts. Others can contain several thousand. The 87 categories range from standard to weird and wonderful. The probability of finding exactly what you want is excellent. In fact, it should approach 100% if you find yourself working your way through the 25,000 fonts.
How to Search For, Preview, and Select a Font
You can select a font by browsing through the categories. Or, you can do so by the numeric or alphabetic listings or by using the search box.
There is only one problem you might encounter if you choose to browse through the categories. That is doing so can become addictive. The reason?
There are so many fonts to choose among that are intriguing, and potentially useful. The "must have" and the ones that you're tempted to keep searching are also there. Fortunately, you can use the FFonts' wish list to download and save any gems you come across.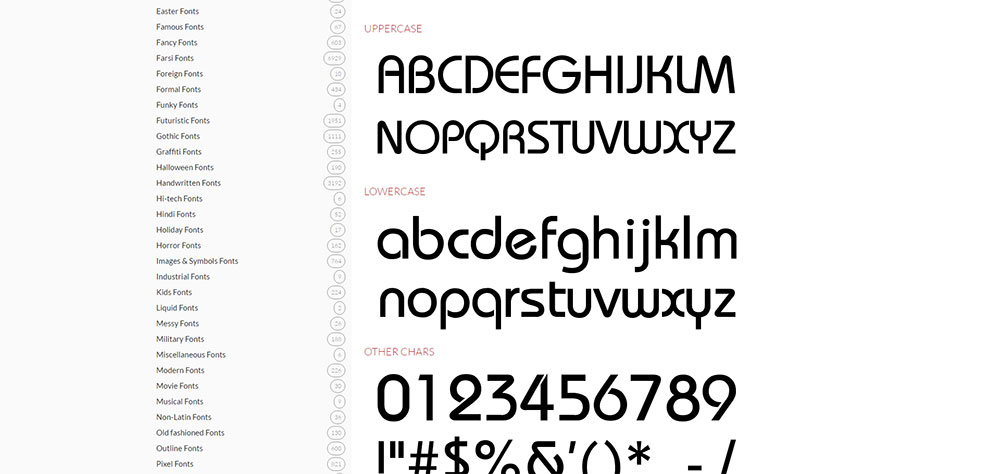 Whenever you find a font you like, just click on it. You'll get a preview that displays both uppercase and lowercase. Plus, you will get the number of characters and a listing of them. You can either download, the font or add it to your wish list. You can also share fonts with friends.
Downloading Fonts
The FFonts website provides the details needed to install fonts in Windows, Linux, and Mac. The instructions are simple and straightforward. Simply click on the Start Now button to get started. There's no need to register unless you plan on using the Premium version. When you come across a font you want, you can simply download it, and receive it as an exec file.
A cautionary note. Free stuff is often accompanied by adds, and these free fonts are no exception. You, therefore, need to pay attention to what you click on. Ads are not present in the Premium version.
The Premium Version
If downloading 50 fonts a day isn't enough, the Premium Version allows up to 200 per day. You can also download a 14,000+ collection of fonts which will be presented to you in 3 Zip files. As mentioned earlier, the Premium Version, priced at $29 per year, gives you a ton of value for the money.
Security Issues
Simply put; there are none. FFonts.net is quite safe. FFonts.net has been tested by MacAfee and Symantec-based Norton Safe Web. No security issues have been reported. In addition, Scam Advisor has given FFonts.net an excellent trusts rating.
Summing Up
You may not necessarily need thousands of fonts in your design activities. But it still makes sense to have as many resources as possible at your fingertips. Finding exactly the right font often pays significant dividends.
You'll also discover that browsing this free font website's offerings can be inspiring. You seldom design a website around a particular font style, fonts, as design elements. However, it often makes outsized contributions toward creating a superior UX.
Don't be surprised if you come across a font style that you'll find much more engaging than your favorite style. With FFonts, you will be experiencing this a lot.