This is a compilation of top themes designed specifically for real estate business niche. All of them are powered by WordPress, so they inherit all its user-friendly features.
The themes are of premium quality. They were developed by one of the industry leaders, TemplateMonster.com.
Why choosing a ready-made design for your real estate agency?
Because they were developed by professionals.
Because they have attractive layouts.
Because you don't need to be a web developer to customize your website.
Because it's the quickest and the most cost-efficient way to launch a website.
Because the designs are responsive and cross browser compatible.
The themes are powered by Cherry Framework offering easy installation, Bootstrap options, shortcodes, widgets, and update possibilities.
The themes are well documented and come with 24/7 well-trained support.
The themes are highly customizable. Adjust theme look easily: upgrade typography, logo, or navigation. Do the same intuitively with slider, blog pages, portfolio, and page footer until every detail delights your eye with a classy style.
Use unique types of posts for various info like customers' testimonials, team bio posts, company services description, and other posts you would like to highlight. Every page of your website can be inimitable. All you need to do is choose from a list of available post formats, individually designed to match different tastes and needs.
We guess it's a good time to start browsing 20 WordPress Real Estate themes.
Here is a couple of links that are worth to visit if you are a little bit confused about starting your website:
TemplateMonster WordPress Video Tutorials
WordPress Startup - get to know the simple steps to take to set up your own WordPress website.
And don't forget to check out a free eBook available at the end of this blog post.
Bellaina - Real Estate Responsive WordPress Theme
If you want to create a true real estate monster, choose Bellaina. The theme lets you add properties to your site and allows your clients find exactly what they need. They can filter the search results by required categories and see where exactly the property is located on a map with preview markers. Of course it's just the tip of an iceberg; view the short video below to know more about this incredible theme.
Real Estate Agency Responsive WordPress Theme
 
This theme for real estate companies is responsive and retina ready. This means that your website will quickly adapt to any gadget with any screen size the user has at hand. Text and images are also flexible, so they will be rendered correctly, which is utterly important for the given business niche. Besides, your retina ready website will look and perform awesome even on displays with high pixel density.
Real Estate WordPress Theme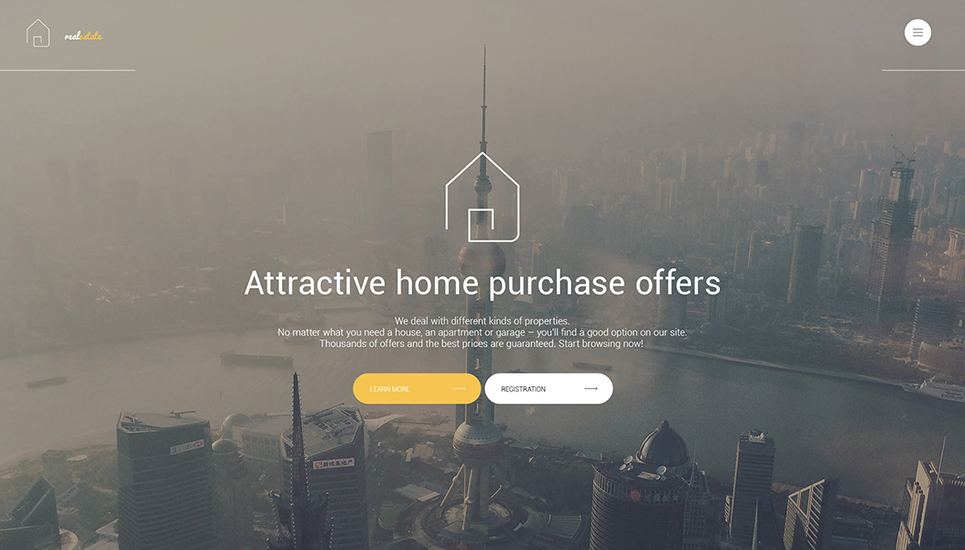 This theme looks so spectacular because it is equipped with trendy parallax effect. This miraculous feature lets you turn your tedious 2D website into the jaw-dropping one featuring 3D environments. The illusion gives the visitors the feel of true immersion; it makes their experience on your site better, which means that they will come back every now and again. Building a loyal community is always good for business, isn't it?
Real Estate Agency WordPress Theme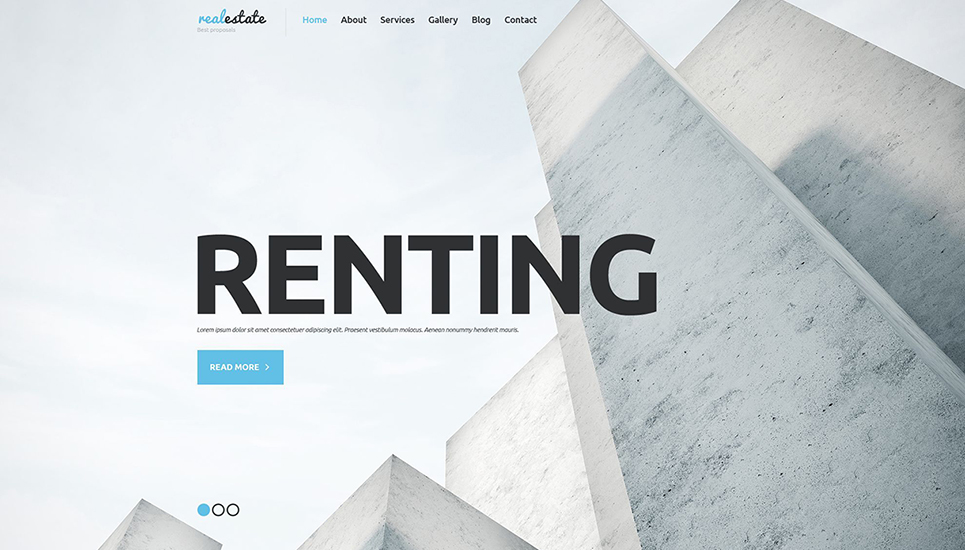 This theme made in grey tones is easy for the eyes and looks serious enough to help you create a trustworthy online image. It is 100% responsive and fully editable. You can tweak each and every element until it fits your personal taste and corporate requirements. Fine-tune the slideshow, change sidebar position or remove it at all, choose the typography that will reflect your company feel and style.
Real Estate Agency Responsive WordPress Theme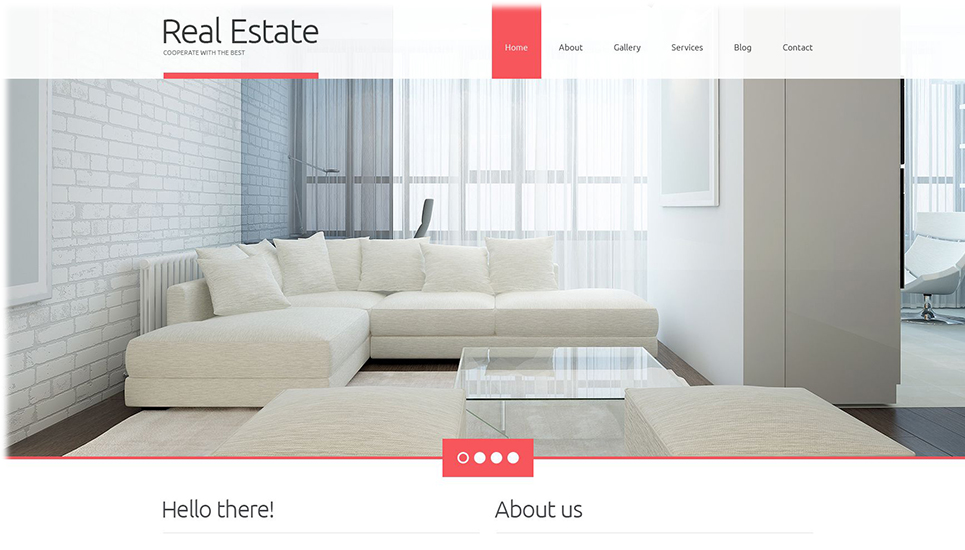 Big slider of this theme captures visitor's eyes as soon as he/she enters the website. Slider is great in terms of presenting information. You can place up to 10 custom slides with promos, new products, or any other things you need to emphasize there. Theme's slider has quite a number of customization options. It is difficult to find a better attention grabber for your site. So, just enjoy all the power it offers.
Legacy - Estate and Mortgage WordPress Theme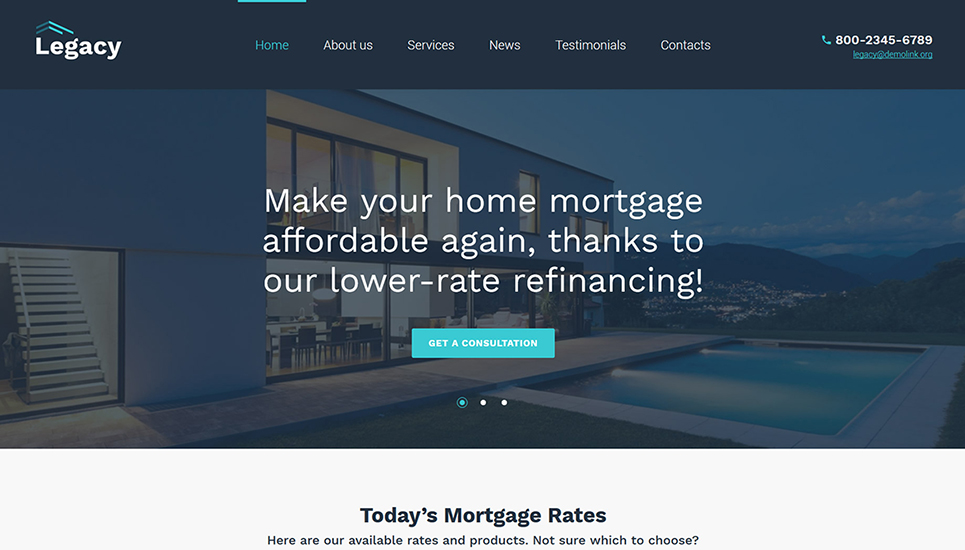 It doesn't matter whether you have extensive technical skills or not, you will easily cope with the customization of this theme. It is equipped with TemplateMonster's drag-and-drop page builder. Build your pages as if you play without touching a single line of code with flexible Power builder. You can also take advantage of 25+ modules, and a library of presets. In a word, take full control over your website with Power.
Apartments for Rent WordPress Theme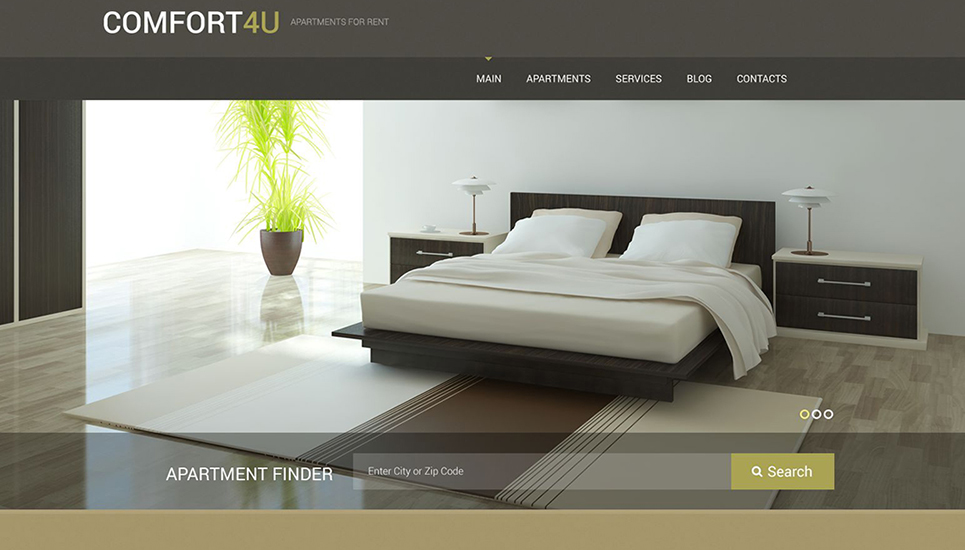 This beautiful theme is built on Cherry Framework. It's a simple, accurately crafted framework that offers you easy-to-install themes with solid Bootstrap options, numerous shortcodes and widgets, and a super simple way to update the current design with Parent/Child theme possibilities. Bootstrap efficiently scales your site with a single code base, from phones to tablets to desktops with CSS media queries.
Renting Apartments WordPress Theme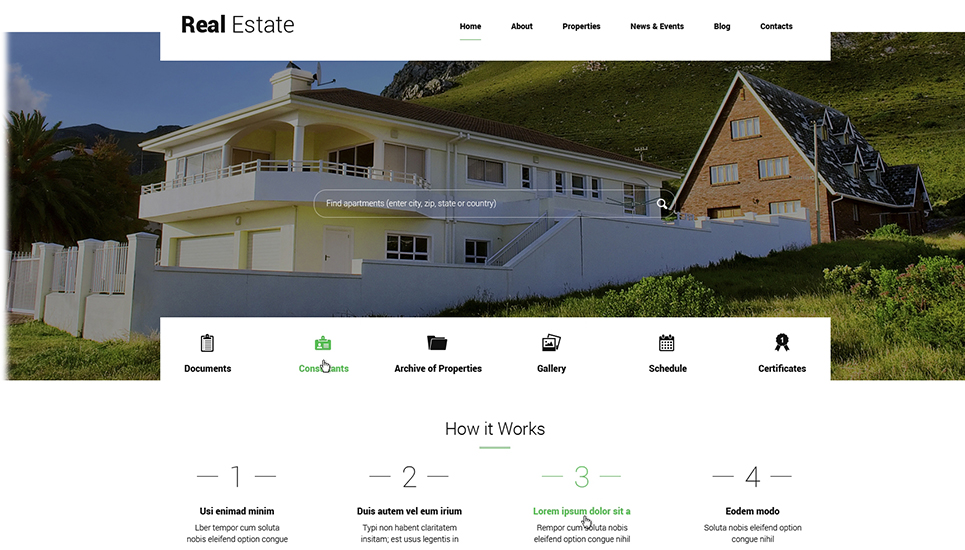 This theme has a thought out navigation. The visitors can use not only main menu, but also additional menu, supplied with neat icons, that is placed under the slider. Latest properties are arranged in four columns. They come with images and text. 'News & Events' and 'Contacts' sections are also available on the home page. You can choose Custom Post Types & Post Formats to make your web pages unique.
Apartments for Rent WordPress Theme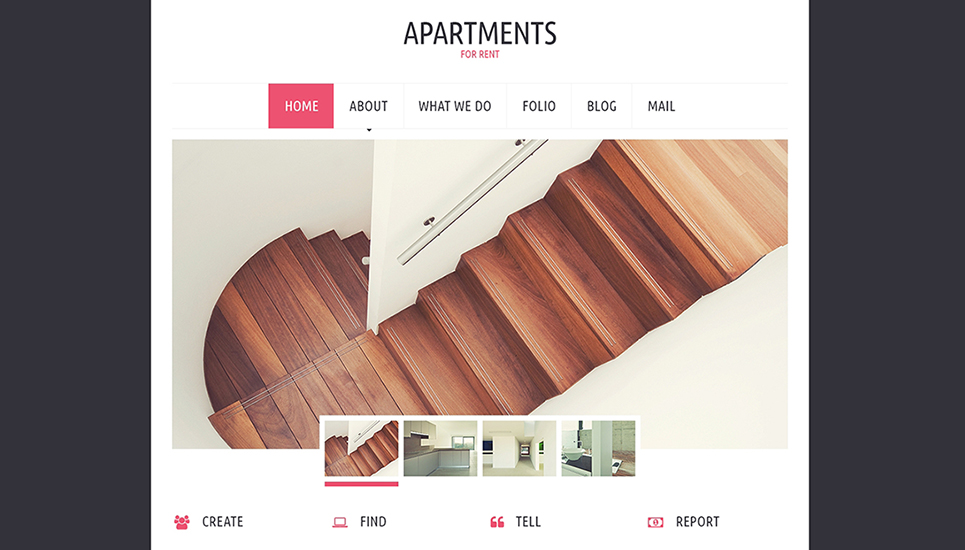 This clean theme is a perfect fit for real estate agencies of any size and class. As soon as you enter the website you see round social media icons. You can link them to your social media profiles and promote it there. The theme has a sticky menu, which is very convenient, as the user can see main navigation links all the time. Slider has image based navigation, which looks cool.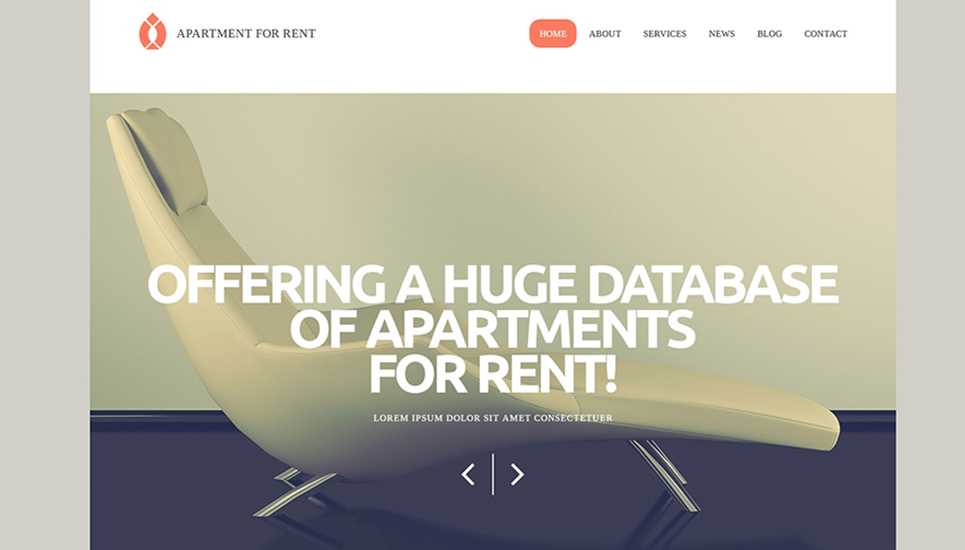 Soft colors of the layout make it spacious and airy. Main menu of the theme is drop down and sticky. Image slider shows modern houses and apartments. Welcome section is illustrated. The pictures are provided with hover effect. Google Maps will indicate the location of your office, which will boost customers' trust to the company. The information about the company can be found right above the footer.
Perfect Rent WordPress Theme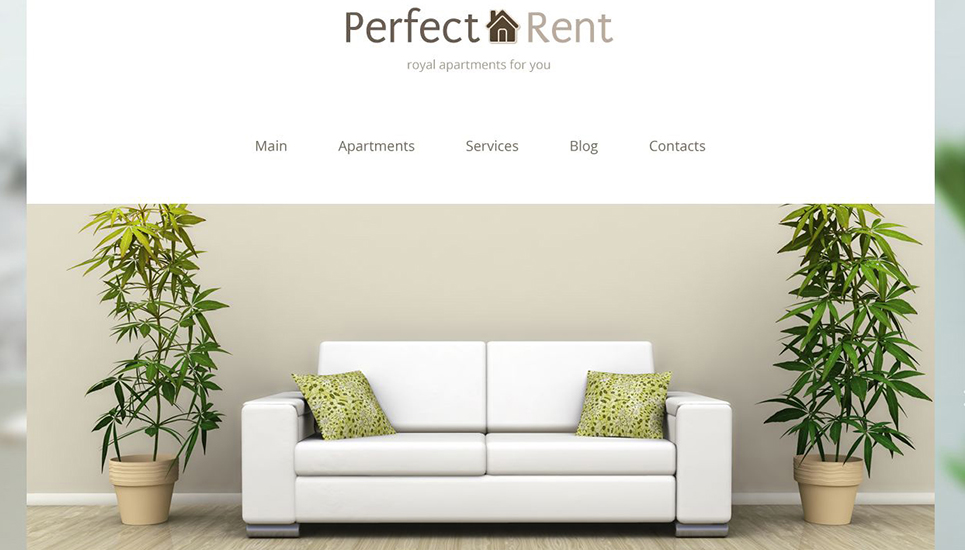 This theme is optimized for search engines, which is essential as the customers will never find a website with poor SEO rankings on the net. The developers have integrated advanced SEO support into this WordPress theme. The feature allows managing page meta data and heading tags. This way, your SEO optimized website will be easy to find on the web. Increase your website conversion with a SEO optimized theme.
Realtor Services WordPress Theme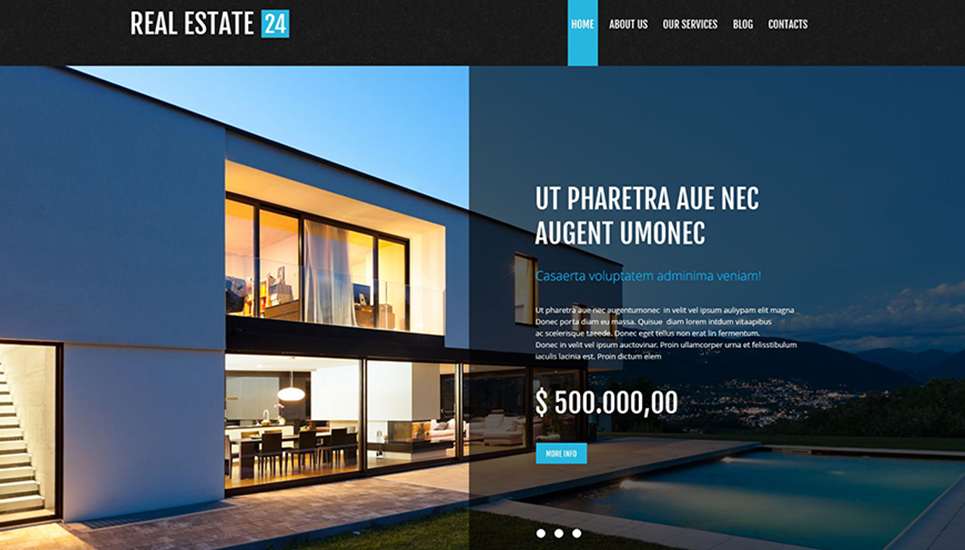 This theme with fashionable transparent elements is provided with Auto-updater. This means that as soon as a new update rolls out, the system automatically installs an update ensuring your site's packed full with the newest features. The theme is widget ready as well. Widgets allow you to add static and dynamic content to specific areas of the theme such as: sidebar, footer, and header.
Real Estate Agency Responsive WordPress Theme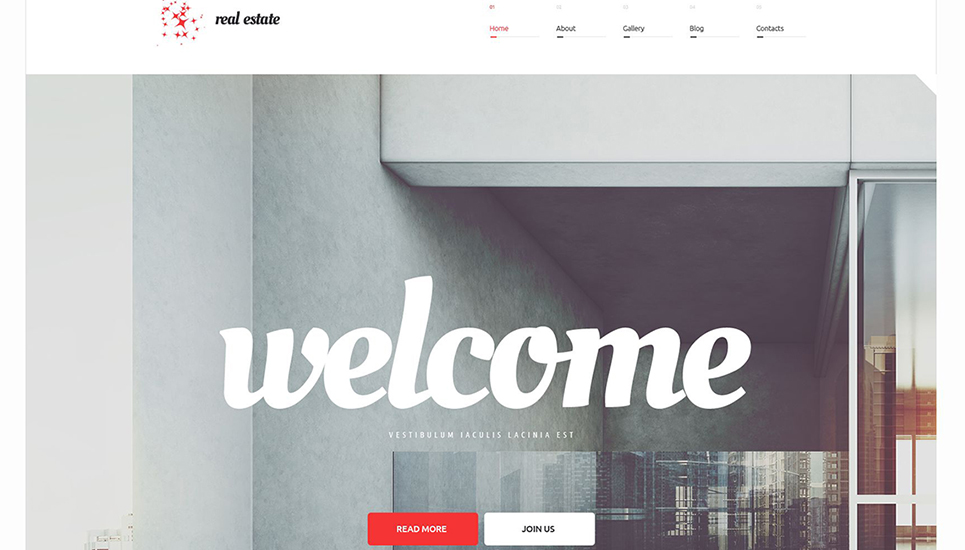 Quality HD images are very important for real estate websites. Here you can see amazing photos in slider and portfolio sections. Pictures in the portfolio have hover effect. They can be opened in the pop up window on click and viewed in detail. The theme has a simple memorable logo. Header of the theme has fixed position on the page. 80+ shortcodes will help you customize your website no sweat.
HomePro Real Estate Portal WordPress Theme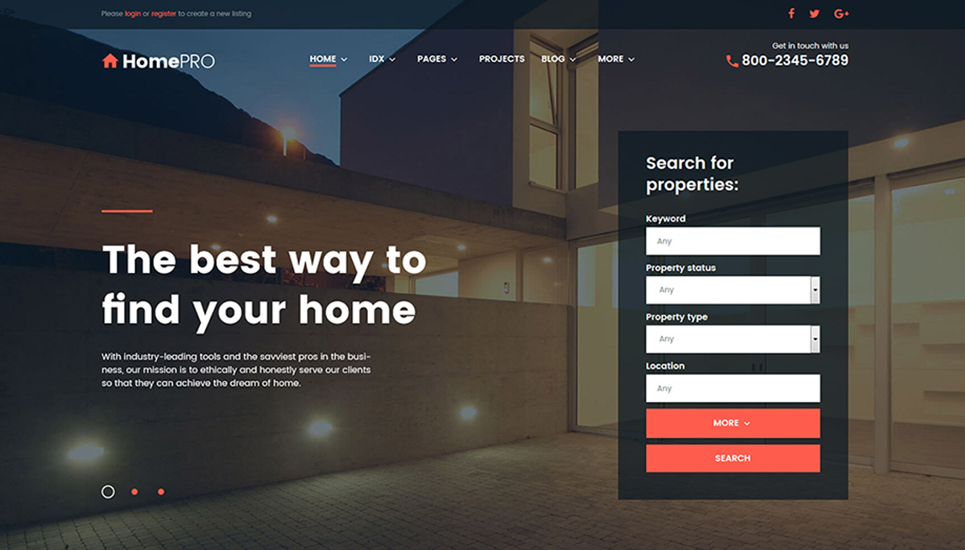 The theme has a very sleek and contemporary look. Its content modules allow you to add multiple content types to your page. This includes buttons, images, pricing tables, contact forms, sliders, and many more. Each of them has an extended set of options that you can tweak to match the style of your website. The theme gives you the possibility to showcase your projects using a large variety of layouts and filter options.
Realtors' Help WordPress Theme
This theme made in black and white colors will differentiate your website from many other resources. Yellow elements guide visitors' eyes through the web page. Big search bar is placed over the slider images, where it is noticeable. Interactive elements breathe life into the web page, making it more dynamic and interesting to research. Customers' testimonials come with people's thumbnail images. They are placed into slider.
Real Estate Agency Responsive WordPress Theme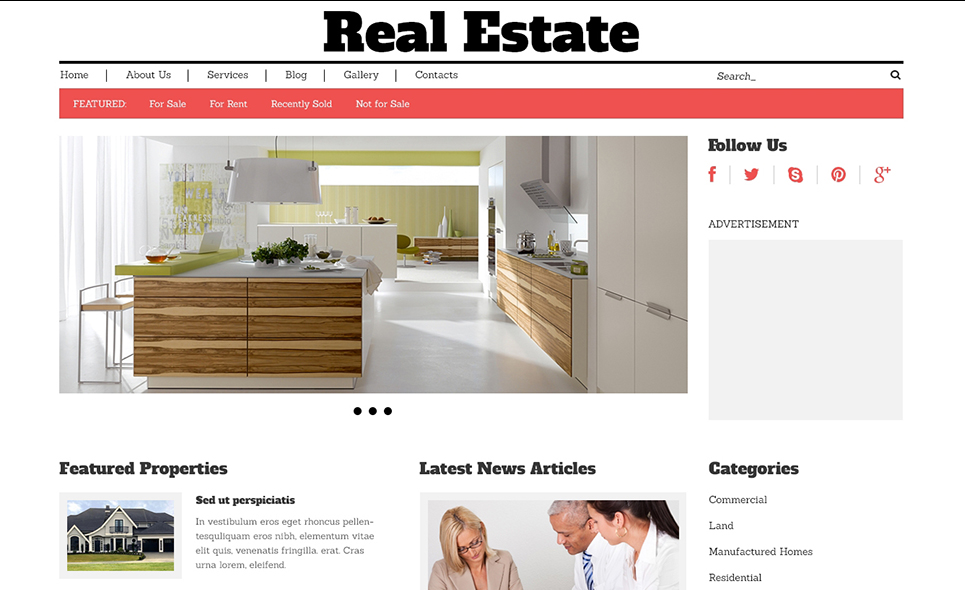 This theme for real estate agency is rather content rich. However, the layout doesn't look cluttered. All content blocks are arranged wisely, so the text is clearly legible. Big headings help the user to scan the layout. Social media icons are place on the right side of the page. The theme can be installed just in two steps. Free lifetime updates and support are included into template's package.
Real Estate Agency Responsive WordPress Theme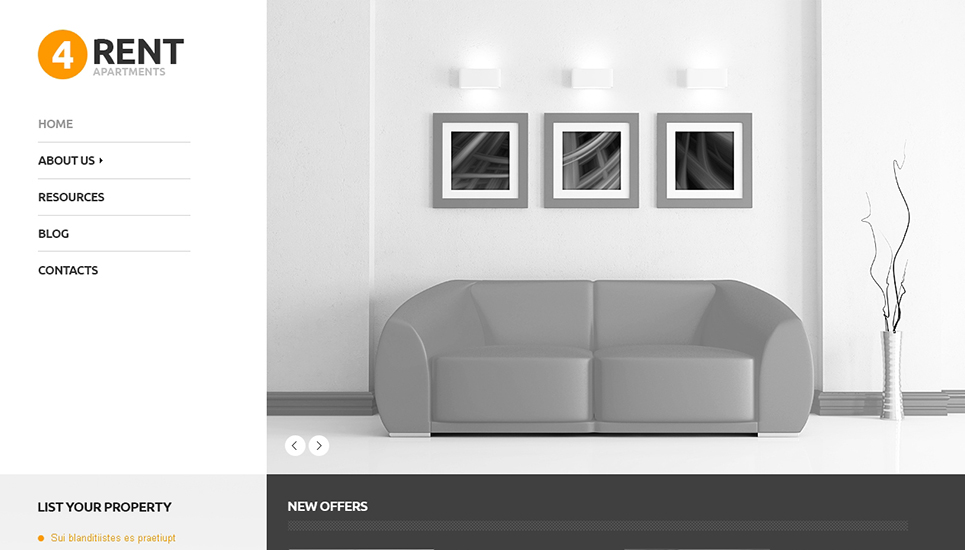 The theme has an unusual elements arrangement. Theme menu is available at the left sidebar. Newsletter subscription form and additional links are also there. Slider features modern stylish interiors. New and special offers come with details and call-to-action buttons. Famous customers' logos contribute to the reputable look of the website. Social media icons are placed at the footer of the page.
Land Brokers WordPress Theme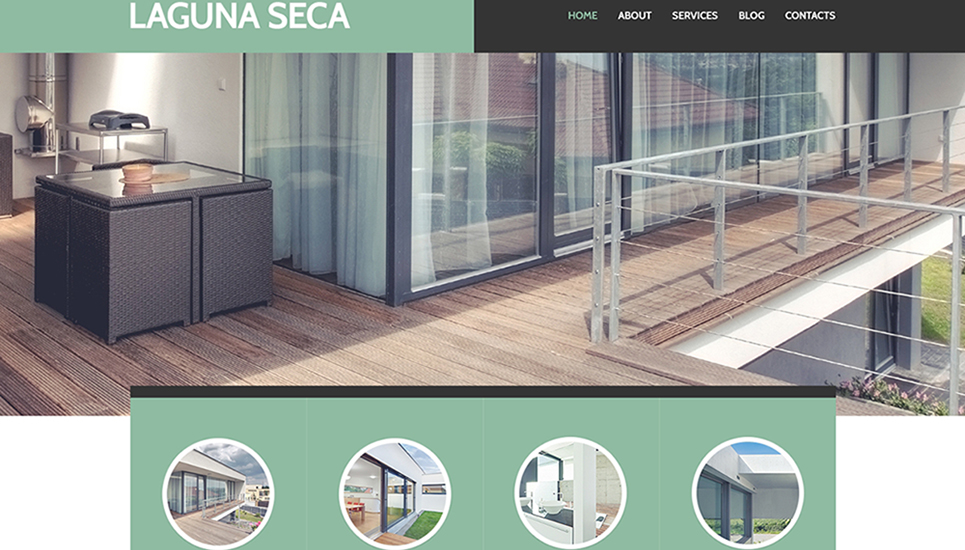 Greenish color scheme of this theme is pleasant for the eyes. Although, you can change it if you want using multiple color options. Theme's animation prompts the users their next moves. Slider is supplied with incredible transition effects. You can choose between the fantastic sliders when customizing your theme. Filterable portfolio will help the users find exactly what you need quickly.
Dream House Bureau WordPress Theme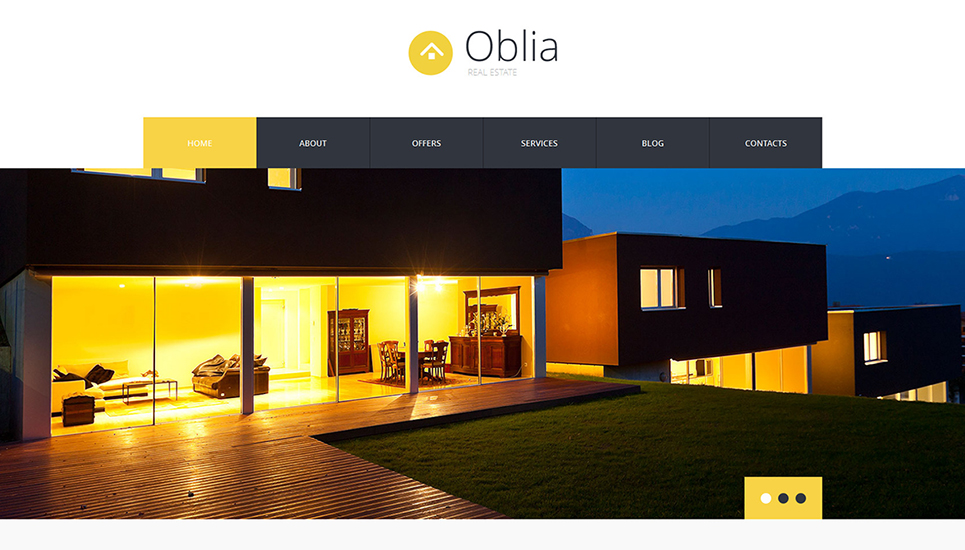 This theme in bluish colors look business-like. The combination of dark and yellow colors lets put the important information into focus. Main menu of the theme is sticky. Theme slider is big. It incredibly decorates the layout and tells the visitors more about the company. Round banners draw visitors' attention. Big headings create a perfect hierarchy on the page. The author uses numbers, which can be considered a smart trick.
Rent Buy Property WordPress Theme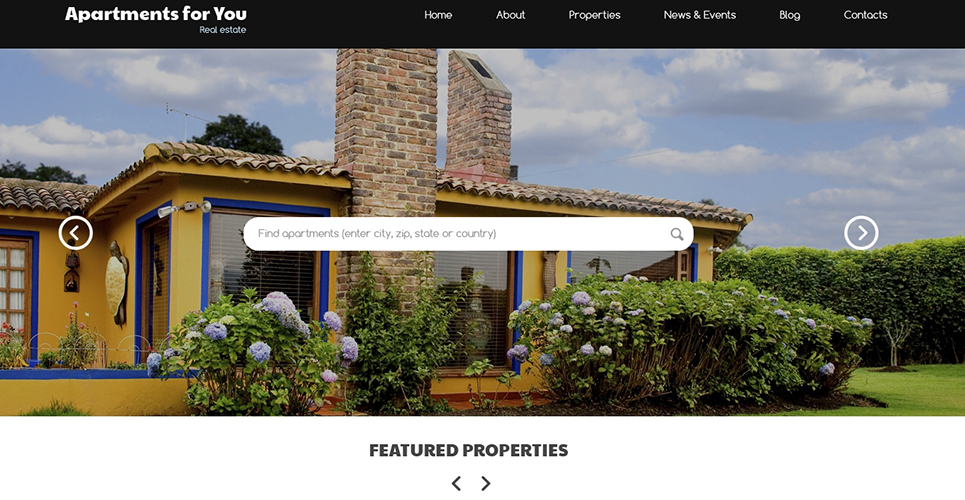 Use this feature-rich appealing pre-designed theme to promote your real estate business online. It is designed according to the latest web standards, so it will be easy to customize your website and maintain it in future. Your website built on the basis of premium theme will serve you for many years and raise your business to the next level. Thanks to parallax effect your website's layout will provide the best possible user experience.
How to Attract the First 1000 Visitors to My New Website - Free eBook
There's never too much of a good thing, isn't it? So, here is a free eBook written by smart marketers who are ready to share their knowledge with you.
That's pretty much of it. We hope you have picked out a decent theme that meets your requirements from our list. Please drop us a line about your choice at the comment section.
We wish you best of luck with you brand new website!