There are a number of excellent prototyping tools on the market, and five of the very best are listed and described here. These tools offer such features as ease of testing, ease of collaboration, version control, and the ability to create high-fidelity mockups in a short time. To guarantee successful outcomes however involves adhering to best practices, including those addressed here – using real content, testing, and the use of animation. Check out these tools by visiting the websites, and take advantage of free trials when offered.
Three best practices that will serve you well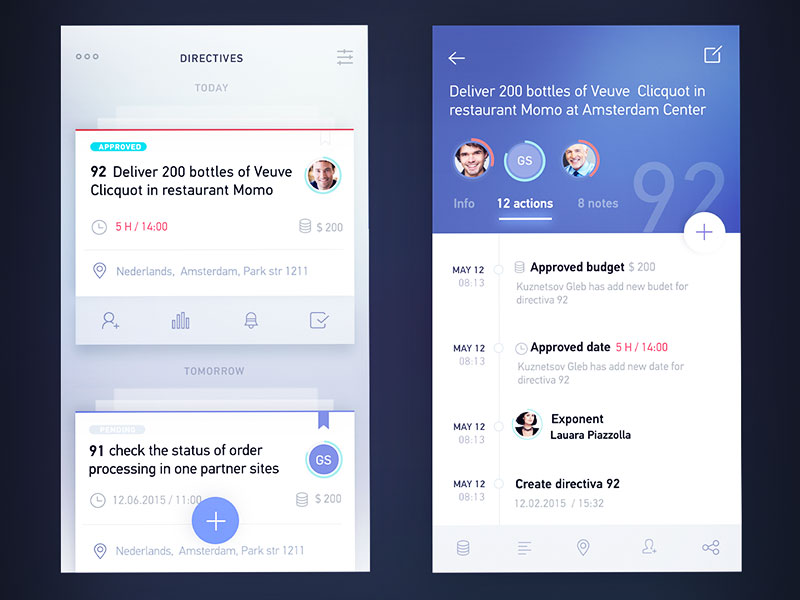 Of the three best practices described here, testing is all-important, but using real content and incorporating animation provides needed realism whenever usability testing is conducted.
Use Real Content – Don't make the mistake of adding content to your prototype at the last minute, or using placeholder copy in its place. Text and images are design elements too, and when real content is not used, your mockup loses some of its meaning. The content should be a close enough to the final version to adequately support usability testing.
Test the Prototype – Traditional design methods save testing for last, in part because the products involved are not usually ready for testing until they are nearly complete. Test results more often than not indicate a significant need for error correction and redesign. Prototyping allows you to test early and often and catch errors before they become embedded into the final design or the code. Start testing as soon as your mockup begins to take on meaning.
Animations – Animations are playing an ever-increasing role in the use of mobile devices, plus the fact that, when done right, they make a genuine contribution to the overall user experience. Just as is the case with content, don't save animation for last, or neglect to incorporate it into your mockup. You want your high-fidelity mockup to be as close to the real thing as possible to get quality feedback from user tests.
Five Prototyping Tools Designed to Best Fit Your Needs
Whether you are looking for an online prototyping tool, a standalone tool, or you are a PowerPoint user, there is something here for you. The same is true if you are an individual designer or a member of a large team.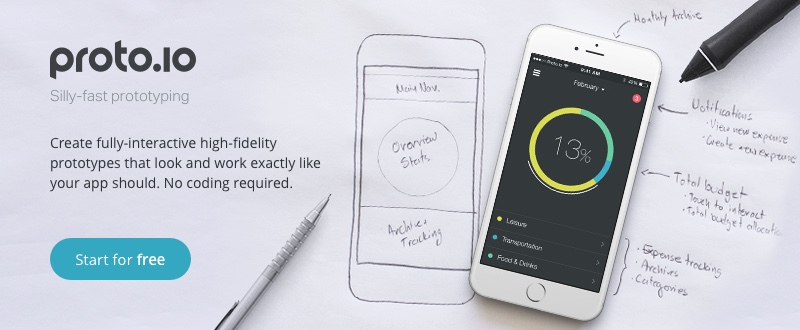 If your objective is to create a richly featured, animated, high-fidelity design mockup in a matter of minutes, Proto.io would be the right choice for you. You can accomplish all of this without having to write a single line of code, and if you are a member of a design team it gets even better. This tool bridges the communication gaps that can exist between designers, project managers, developers, clients, and other stakeholders.
Everyone involved will be more than impressed with high-fidelity prototypes that resemble real apps. Your design will be complete, and all that remains is the development effort. Large and small companies love Proto.io. They use it to build and test prototypes of new ideas before committing resources to a design and development project. This powerful mobile prototyping tool will work for you if you're a beginner or an advanced prototyper as they have a great library of video tutorials and resources to get you started.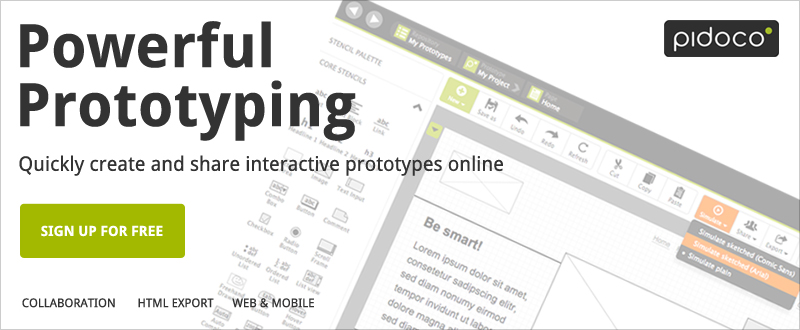 A team made up of expert designers can falter in their drive to meet a project's objectives when communication is poor. This can be especially true of teams whose players are distributed all over the map. Pidoco is the solution for any project for which having a strong collaborative environment is a prerequisite for success. The secret lies in this prototyping tool's strongest feature: It gives project stakeholders the ability to work together on design issues, share information and feedback, and manipulate existing mockup designs in real time.
To further facilitate collaboration, Pidoco offers teams the option to create custom templates as building blocks for their projects to ensure that design remains consistent as well as a version history so teams can go back in time. Another welcome feature is the ease in which real users can participate in usability tests - whether on a stationary PC or a mobile device. Visit Pidoco's website, and view their video. You'll be impressed.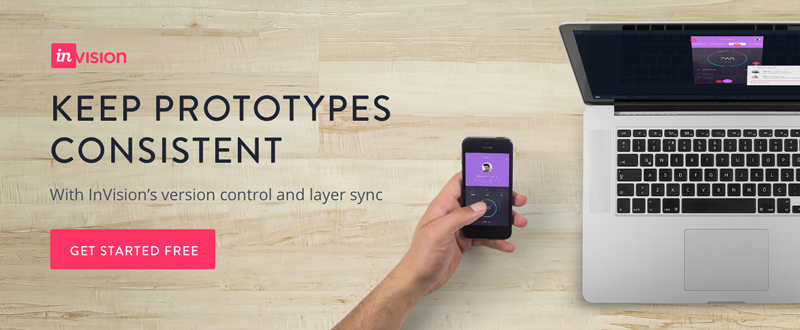 If your toolkit lacks a prototyping tool that makes design collaboration quick and seamless, InVision's just what you're missing. This is an ideal tool for design teams whose members are dispersed over a large area, or even globally. LiveShare, InVision's presentation tool, enables design team members to collect feedback and comments in real time as if they're in the same room. An even more powerful feedback mechanism is in the works, but the wraps haven't yet been taken off.
Nevertheless, InVision is an extremely useful tool for creating, reviewing, managing, and testing prototypes.
Though individual designers might not put all of the many powerful collaboration features to use, InVision's still a best bet for sharing work with clients and getting feedback from usability testing participants.
A key feature is its ability to tie feedback, comments, or any other pertinent data to a specific point on a mockup, and reference the information for use at a later time. InVision claims to be the world's leading prototyping, design collaboration, and workflow platform—and it's tough to argue with that.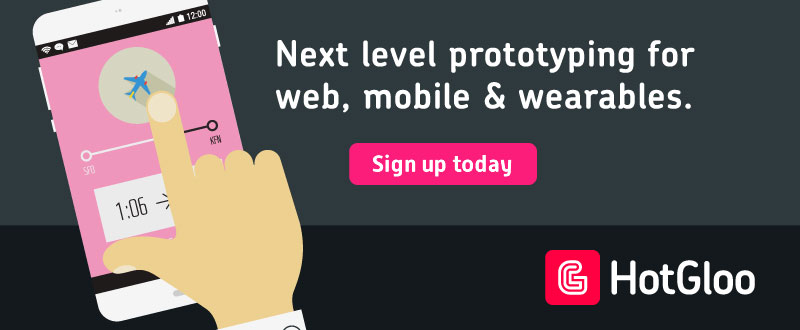 HotGloo is a UX, wireframe and prototyping tool - designed to build wireframes for the web, mobile devices and wearables. What makes HotGloo stand out from others is the ability to share prototypes and feedback among project stakeholders in real time. The professional tool is also known for it's ease of use. Save time by starting off with their readymade UI stencils from a huge UI widget library abd produce a picture-perfect blueprint of your intended end product in a very short time. Sign up for a free trial, and give it a try.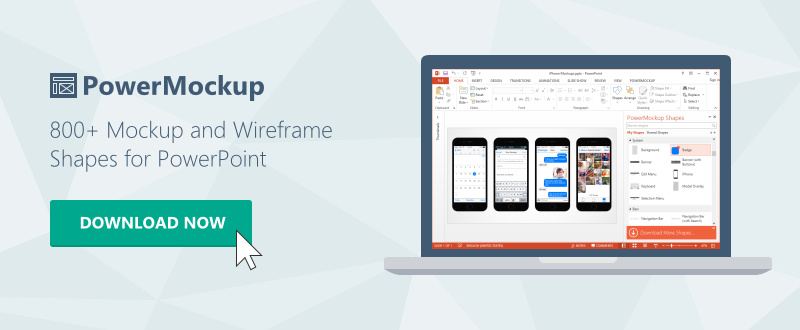 If you are a PowerPoint user, PowerMockup may be just the prototyping tool you've been looking for. The fact that it is a Microsoft PowerPoint plugin makes it an ideal match. All of the 800+ design elements and icons contained in PowerMockup library are based on PowerPoint shapes, you can drag and drop them onto PowerPoint slides for presentation purposes. You can store your own design elements in the library as well. Take full advantage of what the PowerMockup-PowerPoint combo offers. Sign up for a free trial, and check it out!
Creating Effective Prototype was never Easier
It boils down to a two-step process. Pick one of the best tools currently available from this list, and adhere to the best practices that were briefly discussed in the beginning. Do these two things, and your prototyping efforts should be producing superior results in a relatively short time. If meaningful collaboration has been a problem or nonexistent, any of the tools listed here will provide a solution. When a team can work closely together, and produce a prototype that has the exact look and feel of the real thing, it is a beautiful thing to behold.