Professional web developers frequently offer their services as freelancers these days, which is not surprising. The revenue they avail from fulfilling such orders is often much higher as compared to that they get, when working in offices. However, to gain user recognition, a freelance web designer should have a decent portfolio.
The best way to present your works to the audience is to create a freelance designer website. This is the place, where you'll be able to add your works, personal information, contacts and other content you consider necessary. Such website can be updated when needed and used for your business goals. So, if you have made up your mind to create a freelance designer website, you won't find a better solution than using a website builder. Website builders are built with convenience and ease of use in mind. They are meant for users, who lack web design experience, but still need quality websites to reach their personal or business goals. The number of website builders is impressive these days and it keeps growing. Let's have a look at the best services that can help you build a freelance designer website with comfort and ease.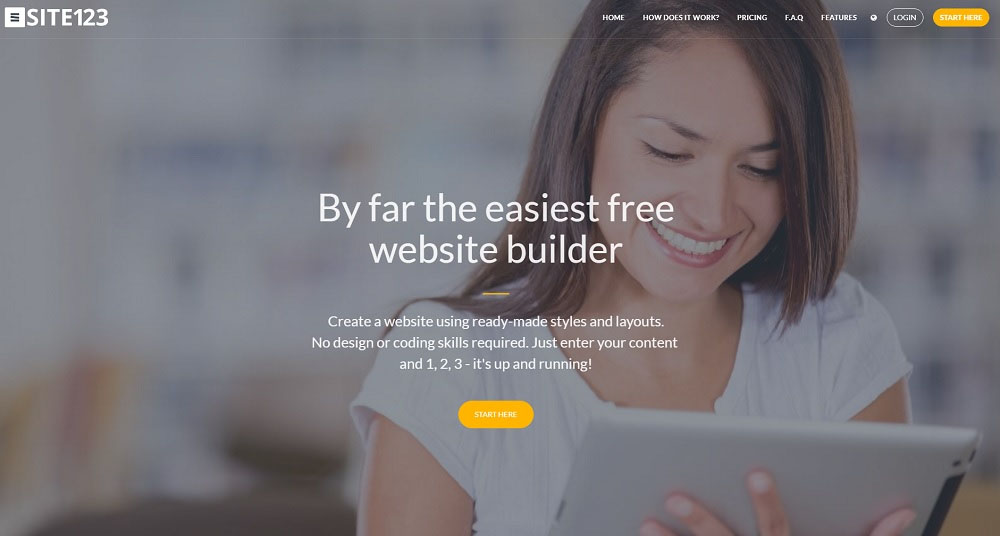 Site123 is a cloud website builder, which deserves the attention of users due to its simplicity, ease of use and a variety of features that contribute to the effective web building process. Whether you need a website for personal or business use, you will easily create it with Site123 in less than a couple of hours. The system can be used to develop promo websites, blogs, landing pages, online stores, portfolios etc.
Site123 is a smart choice for newbies and advanced web developers. It comes with a rich set of stunning responsive thematic templates, easy-to-understand design customization tools, free hosting, 24/7 tech support, free professional fonts, extensive image and icons library (which is also free), social media integration options etc. The multilingual tool the system offers makes it possible to create different language versions of your website in few clicks only, thus contributing to its popularity abroad. You can build one page or multi-page websites with unlimited number of pages here, depending upon the goals you have.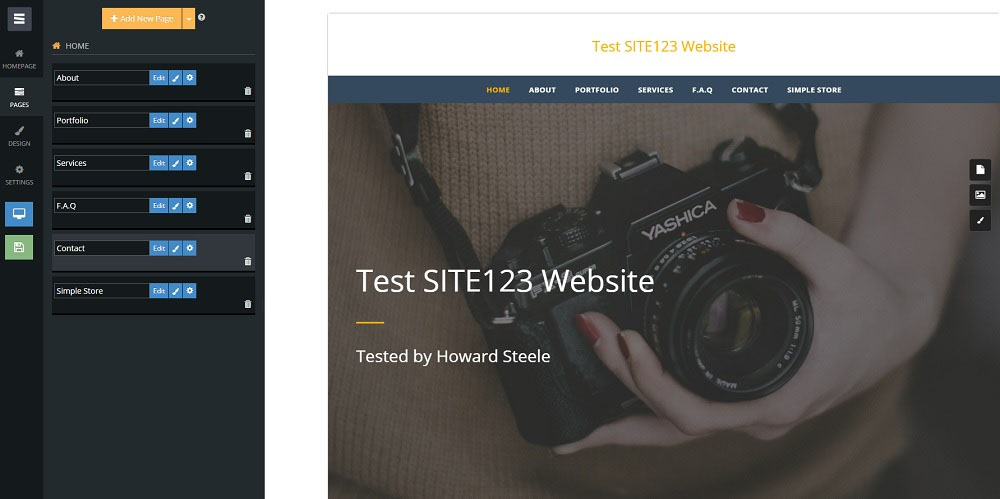 Speaking about the cost, it is calculated with regard to the location a user lives in. All in all, there are five plans here. If you are just going to test the features of the service, then you will certainly appreciate the availability of a free plan. The rest of the plans have diverse features that come up to different web building objectives as well as the volume of the disk storage space and bandwidth needed. Whatever plan you go for, you'll be able to create any number of websites on one account.
Site123 is convenient and understandable to everyone. It is easy to use and makes it possible to create one- and multi-page websites of different types, including promo websites, blogs, landing pages and small eCommerce websites. The website builder offers a broad range of features that may be chosen with regard to the web building needs of a user. This is how you get a perfect chance to launch a quality website with almost no hassle that is so common for the web building process.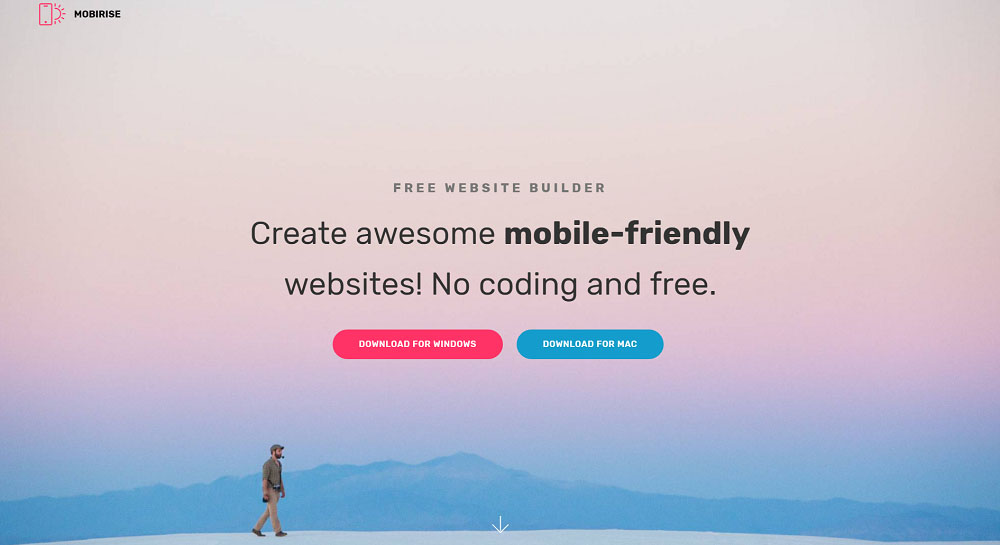 Mobirise is a unique downloadable website builder, which is so simple and user-friendly that everyone may use it with almost no coding skills and web design experience at all. Promo websites, portfolios and landing pages, however, look more appealing here. The only thing you'll have to do prior to using the system is to download and install it. This won't take you long, but the time you'll spend is definitely worth the result.
The website builder can be used by professional web designers working at the development of multiple client projects, although, it is primarily meant for the beginners - so easy and convenient it is. You won't find any templates here. Instead, the system offers over 400 blocks that can be dragged and arranged at the page to give it the desired look and structure. The blocks include sliders, lightbox galleries, articles, full-screen images, photos and videos, price lists, charts, contacts forms, Google maps, social network buttons, background videos, reviews and more. Just choose those you need for your website, arrange them at the page, replace the content with that of your own and publish your website from scratch. There is no need to create a mobile version of your website - it is responsible by default.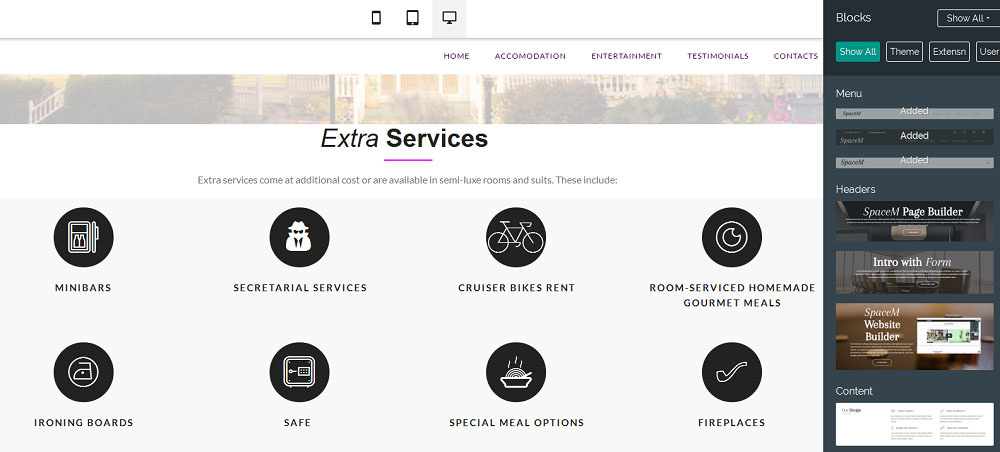 Mobirise is completely free for everyone. You pay for the hosting and domain name only. There is also an opportunity to purchase extra extensions to give your website a more advanced and professional look, but this is rather an optional variant than a must. Your Mobirise-based website will look stunning even without these extensions.
If you need a functional, affordable and easy-to-use website builder, then Mobirise may work well for you. The fact that the platform is downloadable and requires installation should not puzzle you, because the result you gain will exceed your expectations. What's more, the system doesn't have any fees or plans. You just have to buy hosting and domain name to publish your website. This is an exclusive offer you won't find anywhere else.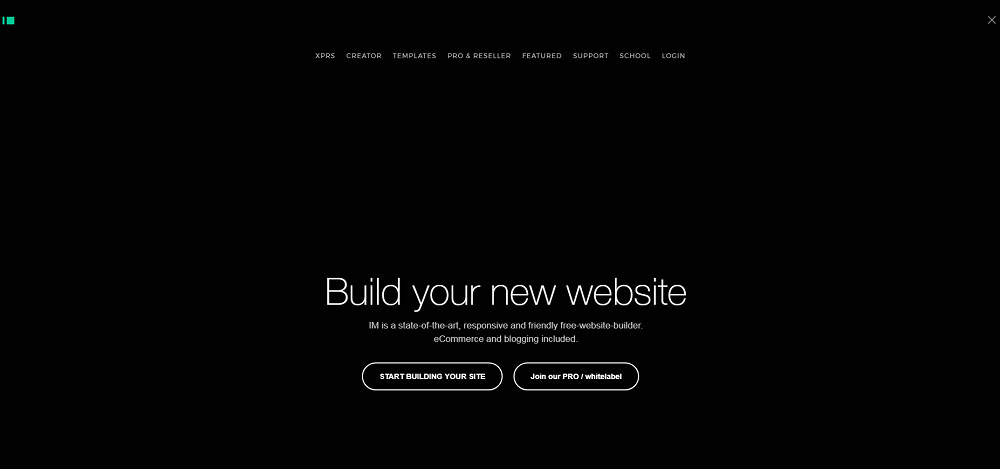 IM Creator (XPRS) is a cloud website builder, which ensures quick, easy and effective web building process. The system is super-simple, while websites created with it are fully responsive as well as SEO- and user-friendly. The platform is used to build promo websites, landing pages, portfolios, blogs etc. There is also an opportunity to launch an eCommerce website with IM Creator by using Stripe. With lots of impressive niche templates, your online store will have great look, presenting your products and services to the advantage. This is right what you need to effectively grow your business.
IM Creator (XPRS) doesn't require any coding skills, which makes it a great choice for newbies. The web design process is simple, intuitive and doesn't take much time. The system offers an extensive selection of flexible ready-made sections that can be easily re-arranged at the website to meet your needs. It is you, who has control over the image settings, animation effects, layout changes, choice of icons and fonts, creation of galleries and slideshows, blog posts, multiple website elements etc. A special mobile app makes it possible to update the content and publish new elements right on the go, which is also very convenient.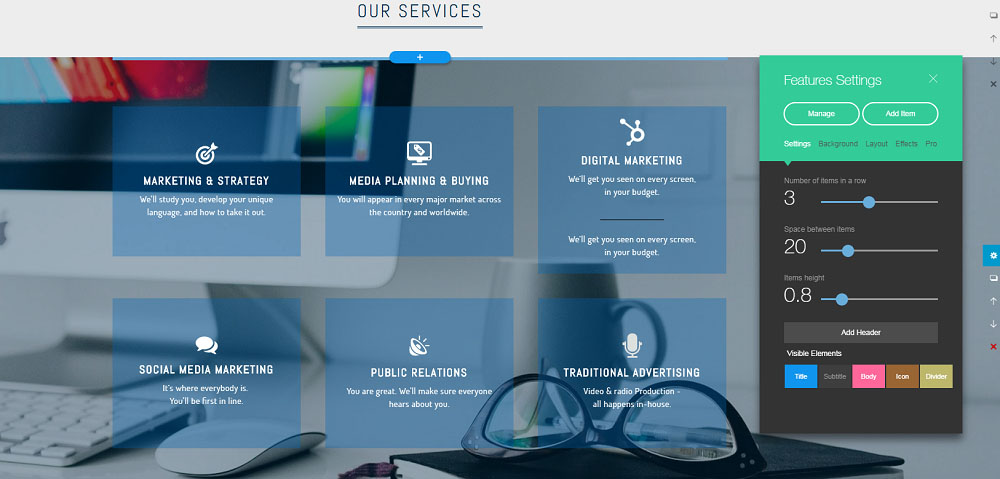 As far as the system is mainly oriented on the needs of creatives, it offers a free plan to students, artists and nonprofit organizations. The plan grants access to all the templates, offers eCommerce options, unlimited hosting and ability to add your own domain. It is also devoid of ads. The service has a Premium Plan for business owners that comes with unlimited hosting and bandwidth, 24/7 customer support and other web design features. If you wish to use the website builder under your own brand, you should make use of the Pro and White Label Plan, which is also available here.
IM Creator (XPRS) is a website builder, which is easy-to-use, understandable and effective. The system is used to build different types of websites, but it is mainly oriented on creatives and business owners. No coding skills are needed to create quality websites with the service. It is simple, intuitive and affordable. As of today, this is the most effective white labeling solution available in the contemporary web design market.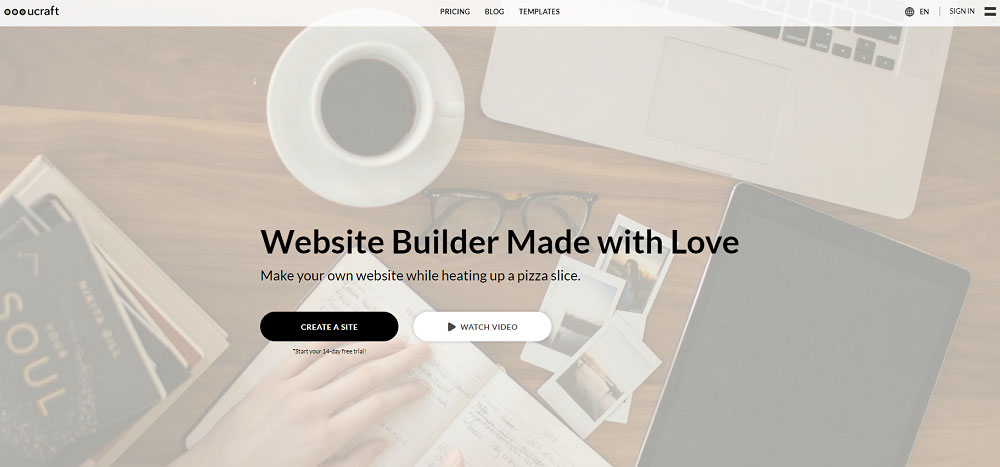 Ucraft is a drag and drop website builder that makes it possible to create quality websites for effective brand promotion. The system is mainly used to design landing pages, promo websites and online stores.
The service is easy-to-use even for newbies, who don't possess any coding skills, but have a strong desire to create professional websites. It comes with responsive and easily adjustable templates subdivided into thematic categories, free subdomain and an opportunity to connect your own domain name, 24/7 customer support, blog article managing options, adjustable website blocks, safe hosting without any traffic limitations, advanced SEO features and design tools, integration with other useful services that can help grow your business. It's also possible to build multilingual websites with Ucraft, which is a benefit for all contemporary businesses.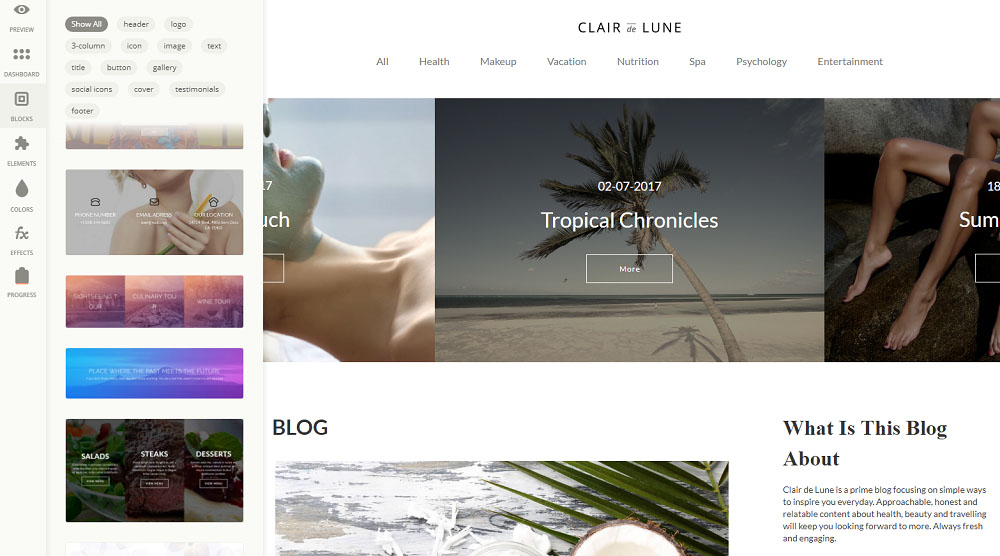 You won't find many plans in Ucraft - the system has only two options. The first one has certain limitations and is generally used to test the service. It is free. The second one is meant for professional web designers, who aim at building quality websites. This plan, however, is not that expensive and constitutes $8 per month only - a nice solution for web designers! By the way, you can save up to 20% when subscribing for an annual plan. What's more, you will also get a free custom domain name in this case.
Ucraft is a cloud website builder, which deserves the attention of users due to its simplicity, ease of use, functionality and affordability. With a rich collection of responsive templates, impressive choice of widgets, powerful design customization options and availability of two plans only make the system a decent choice for building websites, the quality of which is on the top notch level.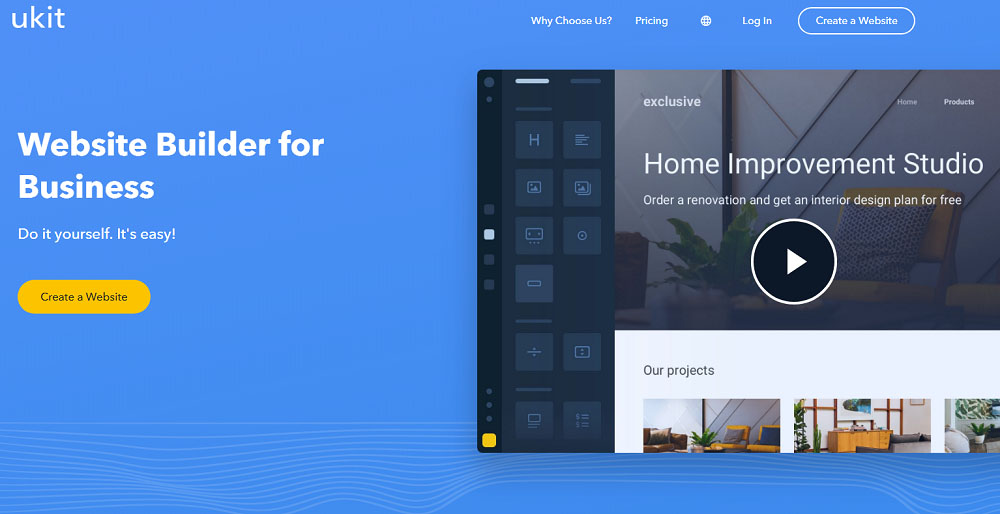 uKit is a website builder, which is initially created to help users build small business websites. All the features and functions of the system are geared towards this goal. Whether you need an eCommerce website or any other business website to establish reliable and profitable web presence, uKit is the number one solution.
Building websites is super easy with uKit. The system comes with around 400 responsive templates available in 38 thematic categories to match any niche. The developers working for the service have taken care of users' convenience by choosing the most suitable images and texts for each category. There is also a niche choice of widgets that are easily integrated into a website. uKit can boast stunning typography, rich color palettes, grid-based layouts, drag and drop and eCommerce functionality. Whether you are a newbie with no coding skills and web design experience at all or a professional web developer working on client projects, you won't regret having chosen uKit for your web building needs.
uKit has 4 plans, each of which has special features to come up to the requirements of users. Irrespective of the plan you are going to choose, you'll have a chance to test it for free during a trial period. The cost of the plans is quite affordable for everyone. For example, a Premium Plan, the terms of which may suit anyone, costs only $4 per month, ensuring great result. This is an unbelievable offer for most users. The terms and cost of other plans are reasonable as well.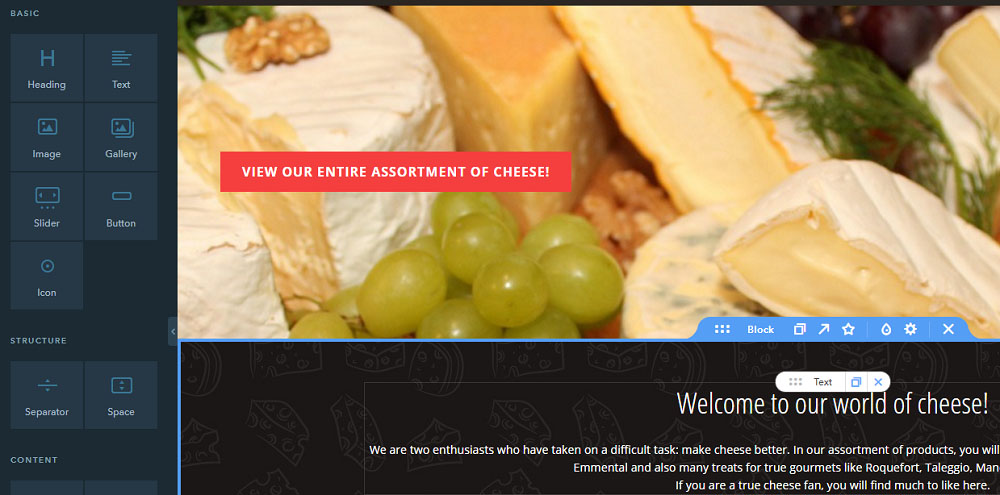 If you are oriented on business success and are currently looking for a decent and powerful website builder to get a website of your own, then uKit is definitely one of the best options available. It is easy, convenient, affordable, effective and intuitive. What else is needed to create a visually appealing and functional website for effective promotion of your small business?
Bottom Line
Building a freelance designer website may be a real challenge, if you don't manage to choose the right web building option. By using one of the above mentioned website builders, you will be able to gain success much quicker than you could even hope - so functional, powerful and simple these services are. They ensure excellent result with minimum investment of effort, money and time. These systems come with lots of beneficial features and versatility of options that can make your designer website stand out from the crowd. No coding skills and web design experience are needed to master the systems and work with them. Just take a look at the service you are interested in most of all and enjoy the process!
Author: Howard Steele