Sports-oriented websites can have many different formats and features. They may focus on the latest sports news and events, show upcoming team schedules, delve into personal or team statistics, or sell sports clothes or memorabilia.
Understanding who the audience of your website will be is where you want to start. An audience consisting of football or NFL fans will be vastly different than an audience of golfers or NASCAR enthusiasts – and gender also plays a role.
A few facts:
Those who look for sports information on the Internet are mostly males – by a 2-to-1 ratio over females. For specific sports or sporting activities, this ratio can yet be quite different.
Some studies show that the average male user spends at least 68 minutes per month viewing online sports information, with those in the 25- to 34-year age bracket being the heaviest users.
NASCAR, the PGA, and the NFL have larger numbers of female followers than most other sports. Women account for 37% of NASCAR followers. At the other end of the spectrum, only about 30% of those who follow the NBA or MLB online are women.
If you design sports-oriented websites, you need to be aware of the fact that this trend is changing.
The percentage of female online viewers is on the rise, as the professional leagues have begun to realize that there are benefits to be gained my marketing their products to the female gender.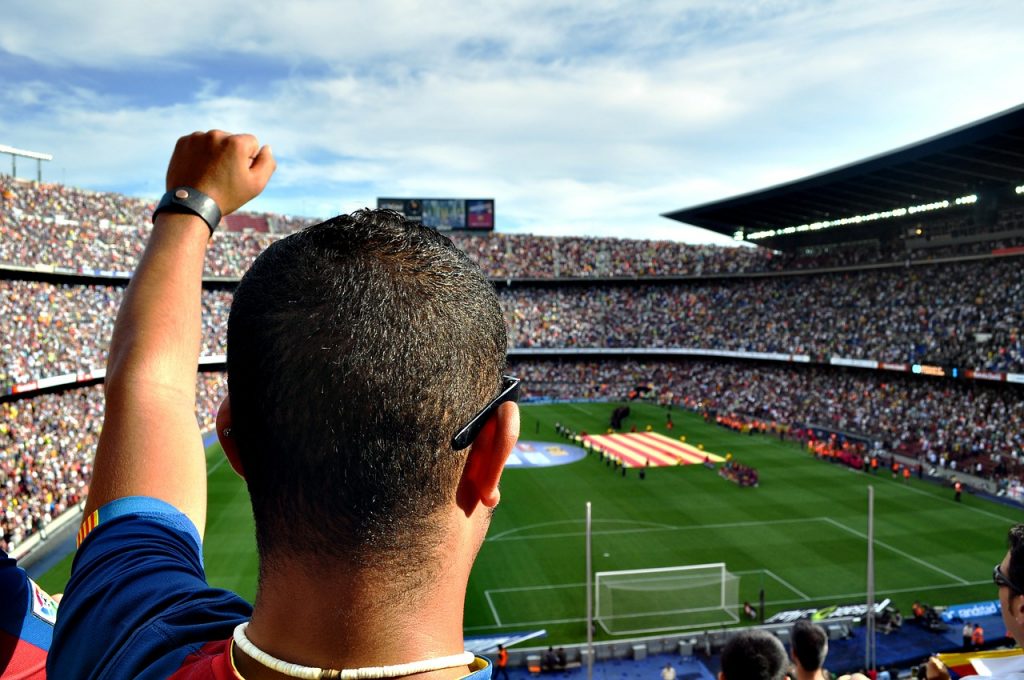 Social media is playing an increasing role as well, as more and more sports fans comment on and share sports information with others. Social media users often bond with like-minded individuals. By linking your website with Facebook or Twitter, you can gain access to entire communities of sports fans.
Working with Data-Driven Content
Large numbers of sports websites provide their users with statistics, information based on statistical analysis, or both. Creating solid, data-driven content, including charts and tables, can be a challenge.
This is especially true if it is necessary to work with big data.
wpDataTables, a powerful WordPress plugin that works in combination with MySQL, is up to the task. This best-selling WP data manager makes number crunching a manageable task, and presenting sport results in a form that is easy for users to understand is uncomplicated and affordable.
With its help and some API, you too can display sports results and statistics like ESPN, Eurosport or like in this livescore.com example below.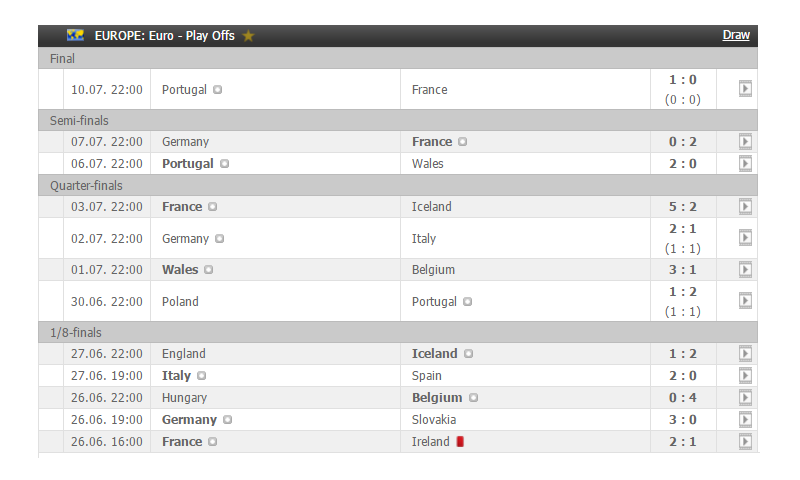 Portugal's path to glory - Euro 2016
Why Delivering Clear and Concise Information is Critical to a Sports Website's Success
Every country has its share of sports fans. Some follow a specific sport, some follow national teams, more than a few are attracted to any sporting event, and others are primarily interested in the performance and statistics of individual players and competitors.
On sports website penetration, the USA is the global leader. Turkey, the European leader is a close second, followed by Ireland, Spain, and the UK.
Internet users visit at least one sports website each month.
This indicates the size of the Internet sporting sector, and subsequently, the level of competition a sports website designer faces. A smart path to success in this online sector is to take advantage of wpDataTable's powerful data management features.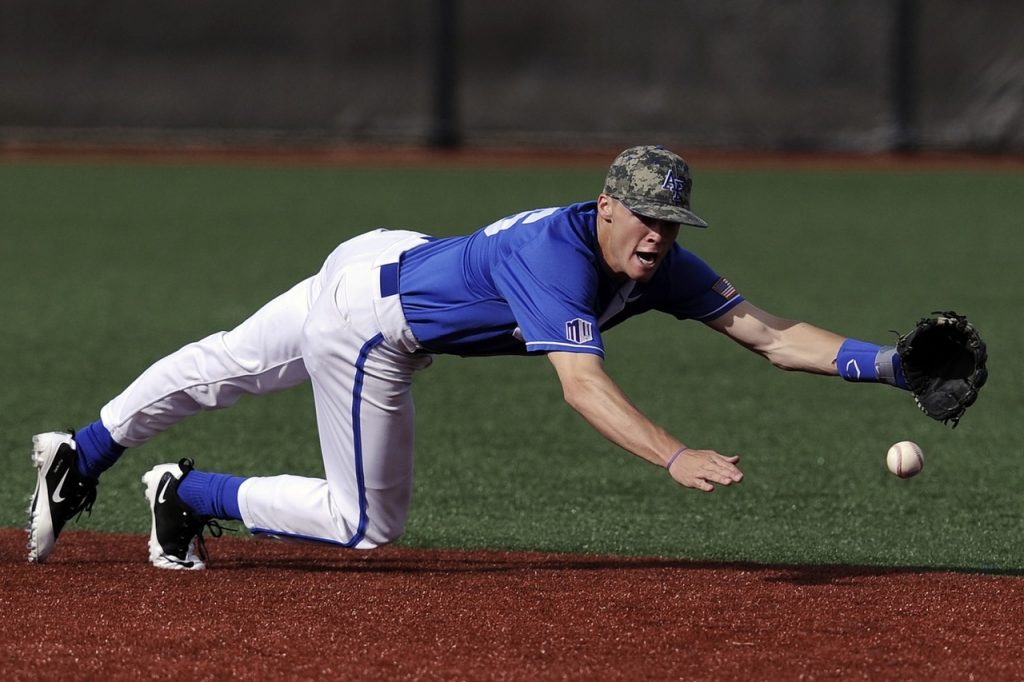 Baseball, a national pastime in the USA
create beautiful, highly customized tables and charts that show a team's progress over the course of a season, or throughout many seasons; including individual team member statistics.
create responsive charts so mobile users are not left out. Tables and charts created with wpDataTables are naturally responsive.
work with huge amounts of data. Since myDataTables can handle millions of rows and columns, you can rest assured it can manage anything you are apt to throw at it.
pull data from any conventional source, including live MySQL data. No coding is required on your part, and you don't have to know MySQL.
allow users to edit charts and tables, and highlight in selected colors, information that is of special importance to them.
use the myDataTables Wizards for the heavy lifting required to build customized tables and charts – just like financial, scientific, educational, and agricultural data analysts do.
With this plugin, you can seemingly perform magic, or at least provide sports fans with facts and figures in a format that you once thought impossible to meet.
Current Sports Website-Building Trends
A large percentage of sports website content is typically devoted to images, and more often than not, action images. Using professional-quality images is strongly recommended for most types of websites, but this is especially true for sports websites, where crisply and clearly capturing the action is essential in capturing a user's attention.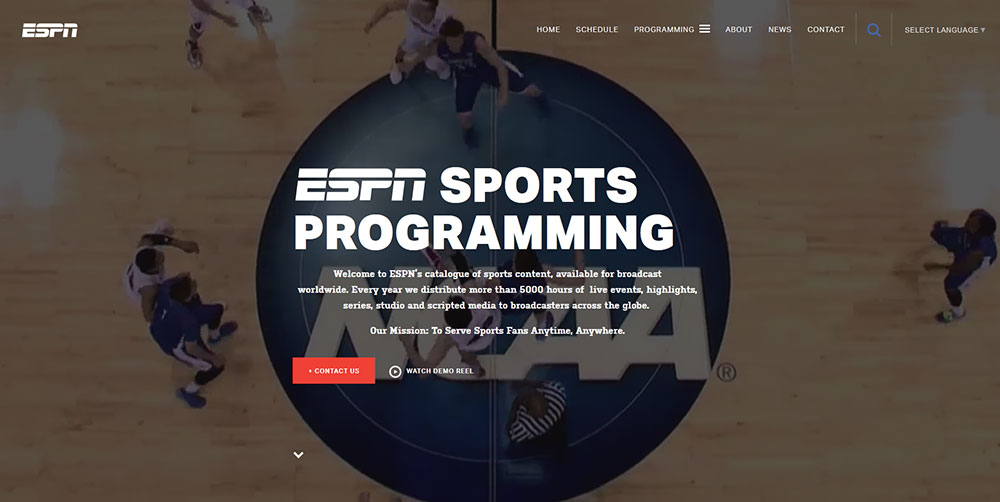 As important as high-quality action shots can be, your sports website should offer a relaxing UX. This seemingly paradoxical bit of advice is easy to explain.
An action-seeking, action loving audience will still be turned off by an excess of flashy features, unnecessary animation effects, or glaring headlines that, while meant to attract attention, are essentially distractions.
When you select design elements, select them with the thought in mind of helping the user find what he or she is looking for. Users don't like to be pushed; they prefer to be helped.
Large fonts and white face can be effective navigation aids. Either or both can focus a user on the UVP or a call to action.
Pay close attention to branding techniques. Your brand is your website's identity.
Responsiveness is more than an important website quality– it is crucial. More than half (approaching two-thirds) of your potential audience use mobile devices, and you want them to view your text, charts, and tables accurately.
Dedicate special pages for information requiring extra text, detail, or a heavy dose of statistics, to avoid cluttering home or key landing pages. This of course goes hand in hand with making it easy for a user to navigate to, or from, a page.
Key Recommendations for Building Your Sports Website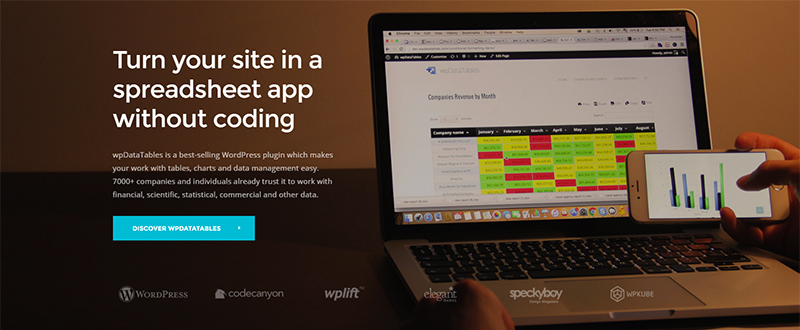 Key recommendations you want to take into account:
Know your audience. An effective website will be the one whose content attracts and engages its audience.
Present information clearly and in a format that is easy to comprehend. wpDataTables lets you create beautiful, easily to understand, charts and tables created from large amounts of raw data. Users will like what they see, and you will save hours of effort when using this WordPress plugin.
Think responsive. Don't neglect the one-half to two-thirds of online users who rely on mobile devices. wpDataTables charts and tables are inherently responsive.
Keep the latest web design trends in mind, including minimalist design, an effective use of white space, and above all, striving for a relaxing UX.