It's Black Friday once again and it means amazing discount deals! Here are the best deals for great design, development, and project management tools.
These products will make your day-to-day workflow activities easier. They will also expand your design or development skills and capabilities. Or, perhaps, they will simply make you or your team more productive.
There's definitely something here for you! So, don't let Black Friday slip away without investigating the deals further. You might want to see where you could benefit by purchasing one of these tools at a discount.
It can be a multipurpose WordPress theme or a no-frills website-building tool. Check out the chart and table builder and a project management aid.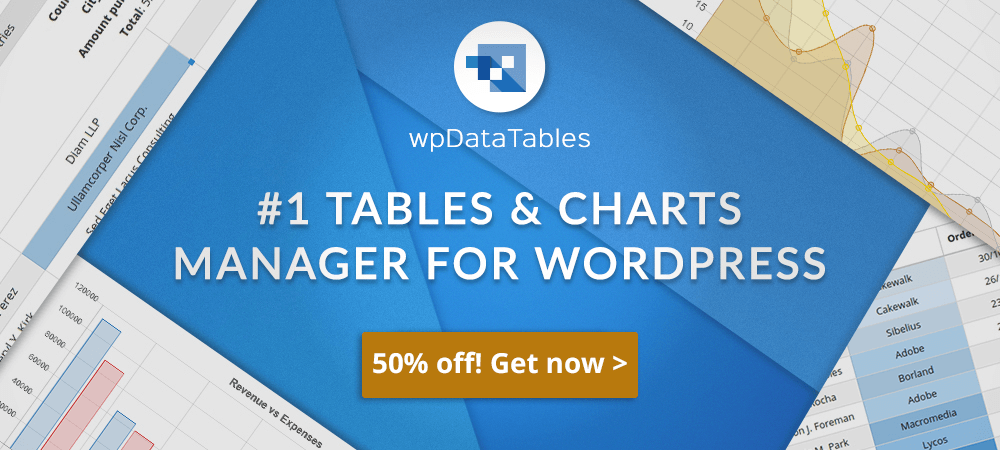 How would you like to have a WordPress plugin that can do so much for you that some users even decided to take up using WordPress just to realize its benefits and advantages? If the answer is yes, wpDataTables is for you.
With 13.000 paying users and an average customer rating of 4.6, wpDataTables has the right to be called one of the best WordPress themes.
Table and chart building is not always the easiest of web design tasks. Tables and charts can sometimes be based on large amounts of data, the data can be quite complex, and they can be a pain to maintain and update should that be necessary.
wpDataTables requires no coding to use, you can build tables and charts with just a few clicks, the end products are natively responsive, and this WordPress plugin can easily manage huge amounts of data.
You can perform various calculations on your data (sums, averaging, min., max. etc.) and if you want to jazz up a table or chart a bit to make it more readable or informative, you can bring wpDataTables's conditional formatting features into play.
For Black Friday only, this popular plugin is priced at a 50% discount from Tuesday, 21st till Wednesday, 29th November 2017 (2pm AEDT).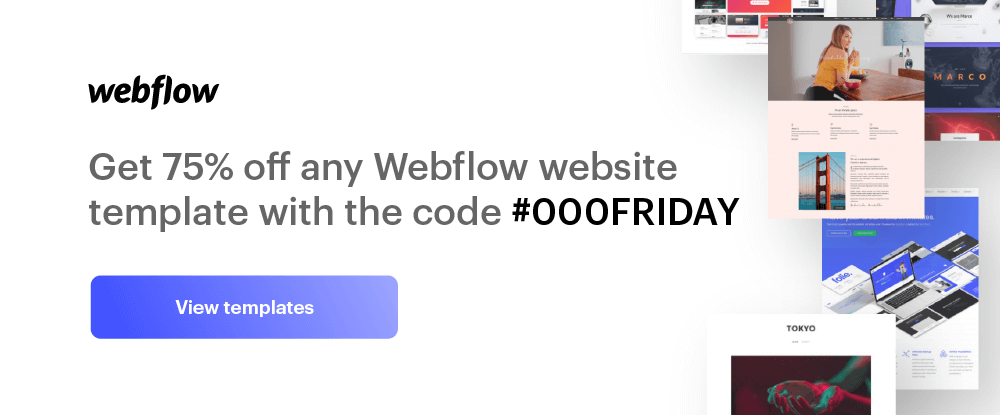 Webflow Templates offer a powerful way to get your web design project off to a lightning start. Using one of these templates will also give you an insight into how Webflow works, and why it might provide just the right web-building solution for you.
Which is why this Black Friday offer has somewhat of a twist. The offer is this. You can pick any one of Website's templates at a 75% discount, build your website, and see if Webflow is something you've been looking for all along.
This Black Friday special is a low- to no-risk approach to trying something new. You can build a high-performing, responsive website without the need to write a single line of code. That means you have more time and freedom to put your creative juices to work.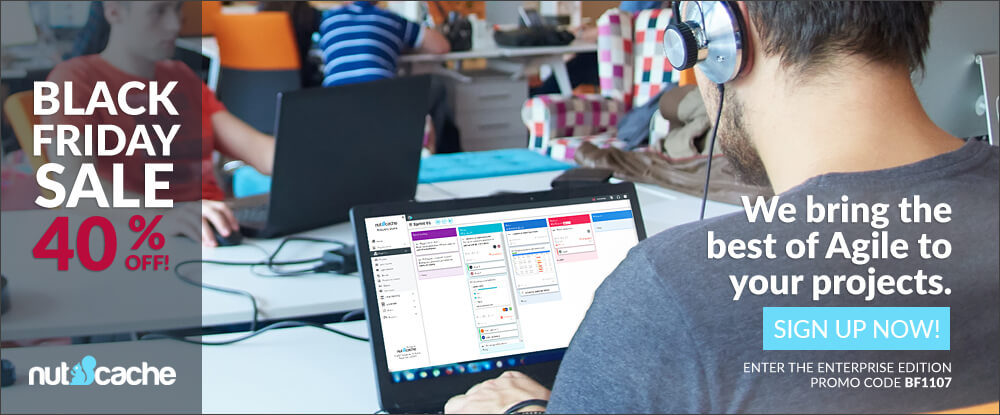 Managing a complete project delivery lifecycle can entail keeping track of a variety of sometimes conflicting or competing tasks. Doing so manually, or with an inefficient to ineffective tool, often takes up time that could better be devoted to other tasks.
More and more managers and teams are subscribing to the Agile set of principles, and more and more of them have found Nutcache, a business-oriented Agile/Scrum project management app, to be just the ticket they need to keep projects running smoothly and on track.
Nutcache isn't just another PM app either. Several financial tools come with the package, tools that normally must be purchased separately.
The Black Friday special for new customers: a 40% discount on a one-year subscription to their Enterprise Edition.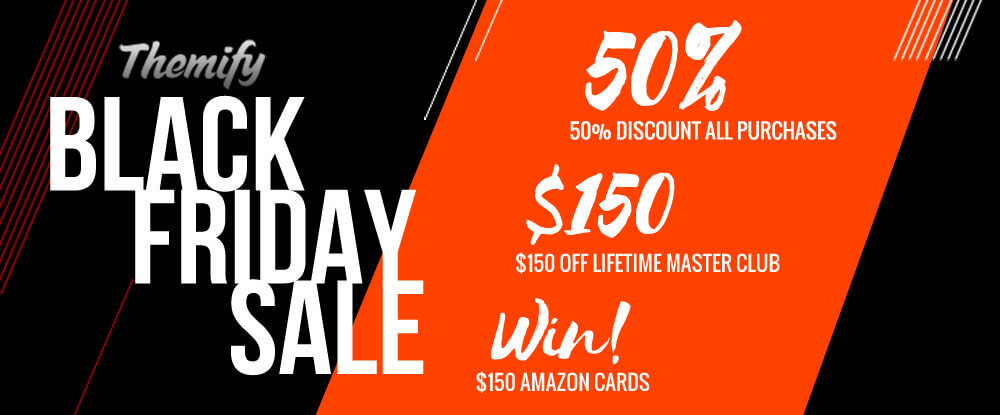 Themify's excellent selection of WordPress themes, plugins, Builder Addons and Club memberships will be discounted 50% Black Friday through Cyber Monday– your chance to do some productive shopping. The promo code, BLACKFRIDAY, is also good for membership renewals and upgrades.
You can use promocode BFLIFE150 if you would like to sign up for a Lifetime membership for only $199; a $150 savings!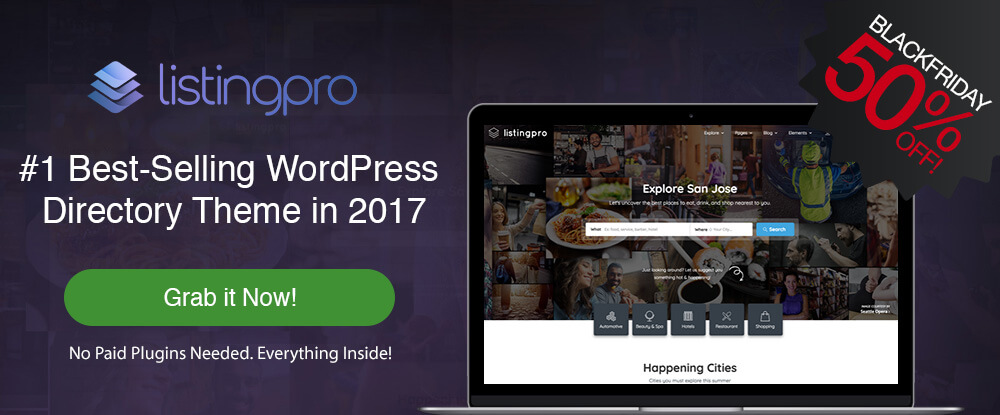 The ListingPro Directory WordPress Theme is 2017's top selling Directory theme. A key reason for its popularity, is there's no need to purchase additional plugins to use this product to its maximum extent. Everything you need is already inside the package. ListingPro can be yours for half-price, a 50% discount, but only on Black Friday.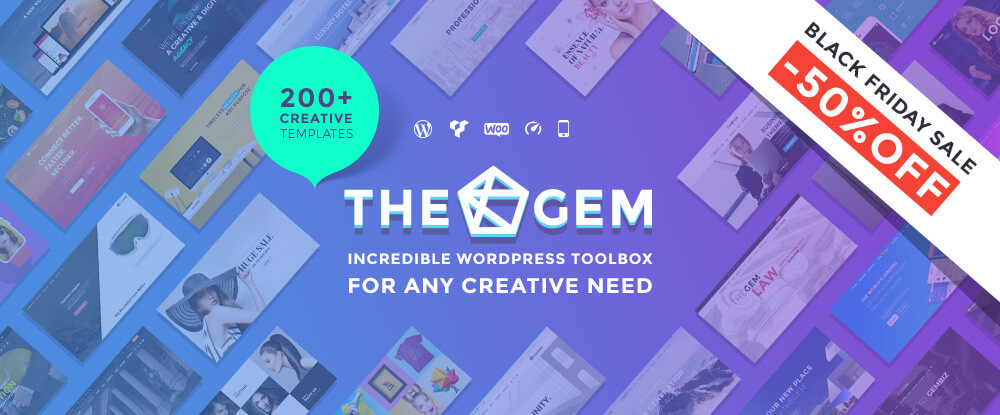 TheGem – Creative Multi-Purpose High-Performance WordPress Theme may well be the ultimate toolkit, when it comes to providing everything a web builder needs to get the job done.
It is in fact, often referred to as the Swiss Army Knife of WordPress themes. It includes over 70 multi-page design concepts and more than twice as many demo pages among its many features.
TheGem is fully compatible with WooCommerce, offering tons of its own features, which makes it perfectly suitable for any web project, be it corporate / agency websites, ecommerce stores of any size or even personal creative portfolio / blog websites.
The whole package with all the concepts, demo pages, and premium plugins is yours at a 50% discount on Black Friday.
Getting a little tired of switching from one platform to another to complete a project? Simbla gives you several useful tools to work with on a single platform. Simbla is both a website and app building tool, and a database builder as well. Better yet, with Simbla all aspects of the user interface can be edited to create your own special database-driven apps.
It's yours at a 50% discount on Black Friday.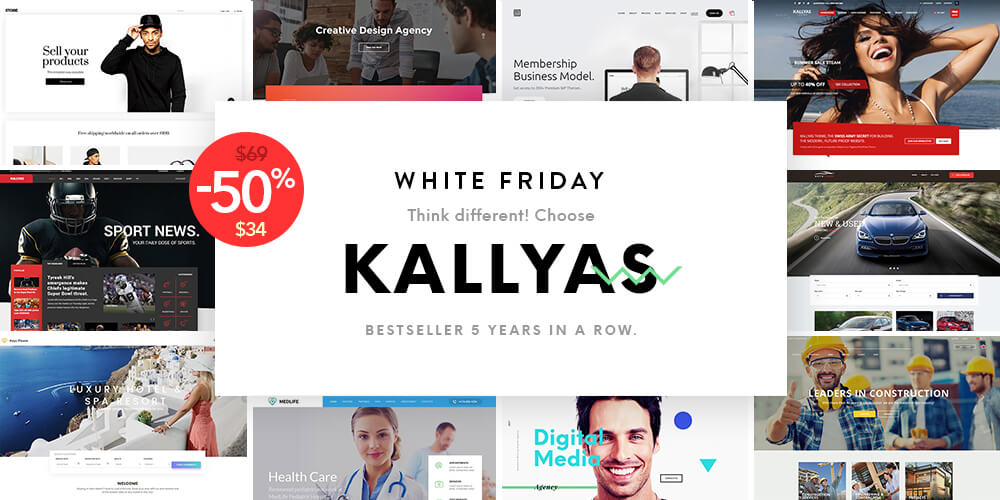 Kallyas WordPress Theme's reputation alone, makes it a worthy addition to this list of Black Friday specials. This best-selling, multi-purpose theme is especially noted for its super-fast performance; something that can be expected of a product that is built around a Bootstrap framework. The websites you can produce using Kallyas are typically high performing as well, in addition to being responsive, and SEO friendly. Kallyas' Black Friday special? A 50% discount.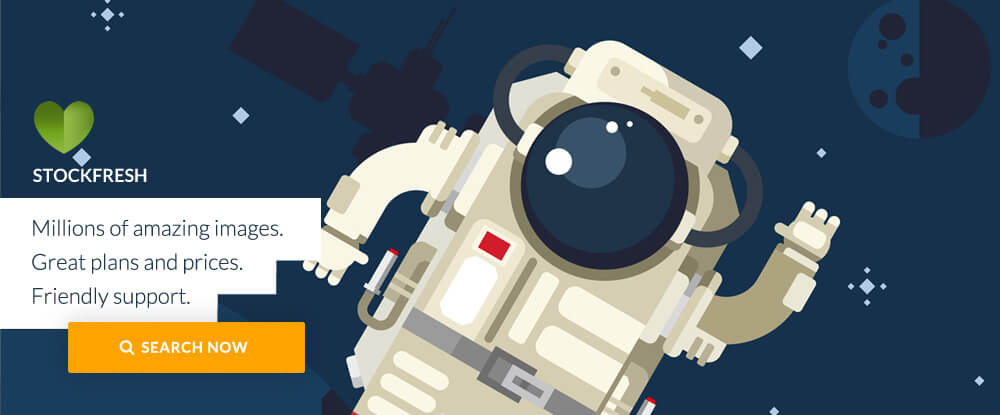 Meet Stockfresh – a collection of hand-picked high-quality stock photos and vectors, which are capable of meeting the needs of even the most sophisticated web developers and designers out there. Yet, be warned – you might get lost in the abundance of choice this user-friendly website offers!
Make sure to type in the code for this Black Friday special of 20% off every plan - BLKFRD17.
Summary
Don't let Black Friday come and go without first spending a few minutes going over these 8 specials. You are able to buy a popular high-quality web-building tool at a significant discount. This is isn't something that happens very often.
You don't even have to stand in line in the rain waiting for the store to open either. One of more of these Black Friday offers can make your day.