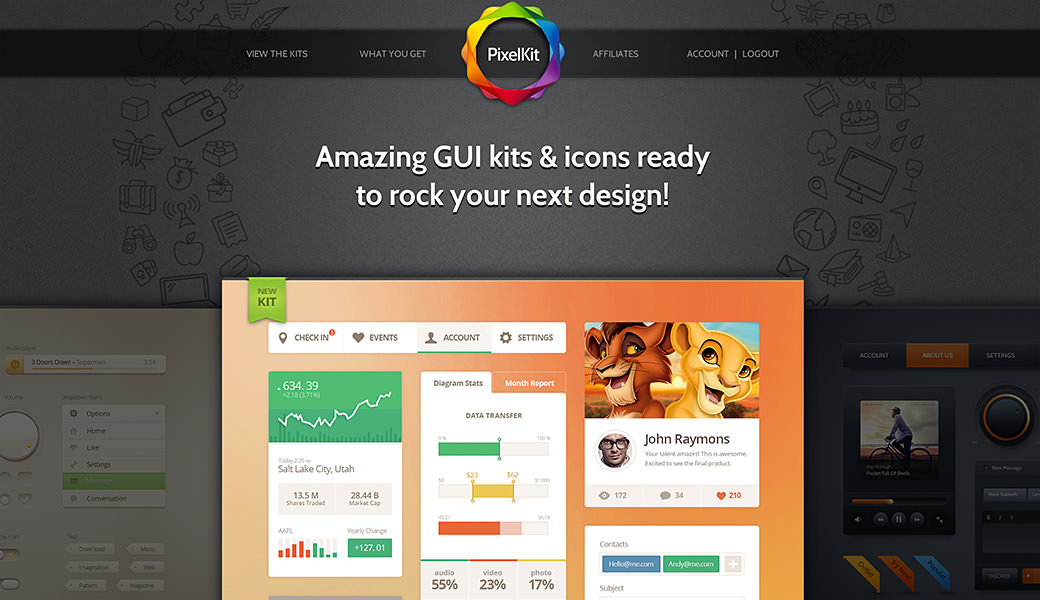 The amazing team at PixelKit is about to share 3 Annual Membership Subscriptions with our readers! Isn't that a good way to start the day?
The 3 lucky winners will be able to subscribe to an Annual Membership Account at PixelKit.com for free.
PixelKit has thousands of different graphics available that make it the ideal solution for any web designer. In fact, PixelKit is 100% specialized for UI kits. This means it includes everything you need in terms of navigation controls, app screens and more. Take a look through what's available and you'll find all of the icons, sliders, buttons and other elements you could ever want.
So, how do you get your voucher? Here's the way to enter:
Leave a comment on this post telling us exactly why you should win, and where you will use PixelKit premium graphics if you are chossen.
Let the Twitterverse know by tweeting: Win a free @PixelKitcom Membership Account from @graphicsfuel (RT to Enter).
Tell all your Friends by hitting the "Like" button on the PixelKit Facebook page.
Winners will be announced 10 days from the posting of this giveaway.
If all of the above information sounds enticing, consider the primary advantage here – you save time, hassle and energy. You get high-quality UI kits and you get them immediately. That means you're able to finish up one project and move on to the next in record time.
Take a look at some if the UI kits and icon sets that you can get:
Chubby Stacks - Fresh UI Kit
It's beyond doubt that with it's fresh and playful look, this UI kit is gonna make your website pop out. With over 100 vector elements you have all you'll ever need to create a cohesive design.
Flat Jewels - Flat Icon Set
A colorful flat icon set that will make your website or mobile application shine, that's a given. It works best with a modern flat, metro look and feel website.
File Manager - Mobile App UI Kit
An iPhone UI kit ready to be implemented that has a flat, minimalist look and feel to it.
Dark Velvet - Dark UI Kit
With it's clean and sharp look this dark UI kit is bound to bring your website an elegant, corporate feel.
Swanky Outlines - Outlines Icon Set
A vector outline icon set that will fit like a glove on your flat or metro designed website or app.