Would you like to get a beautifully designed WordPress theme for your next project? Or maybe you feel like your current website needs a fresh look? Then, read on to learn more about some of the most striking WordPress themes and how to win them.
Our friends at MeridianThemes are giving 3 lucky winners the opportunity to get a one year access to all of their themes. Regular price is $89.
About MeridianThemes
The company offers beautiful and functional WordPress themes that are carefully designed for bloggers, photographers, startups, journalists and other creative professionals. The themes are responsive, well-coded, and easy to customize thanks to the native WordPress Customizer and the Meridian Styler plugin.
How to Win WordPress Themes
Winning the prize is pretty easy: simply let us know which of the Meridian WordPress themes you like best and why.
Here is what you'll need to do:
Look through the Meridian WordPress themes on the official website.
Come back to this post and leave a comment which theme you like best.
Giveaway Details
Dates: August 7 - August 18, 2017.
Prize: a one year access to MeridianThemes.
Winners: we will choose 3 winners at random. Each of them will get a one year access to all Meridian WordPress themes.
Important: we will email the winners, so make sure to use a valid email address we can get in touch with.
Now let's take a closer look at some of the themes you can win.
The Traveler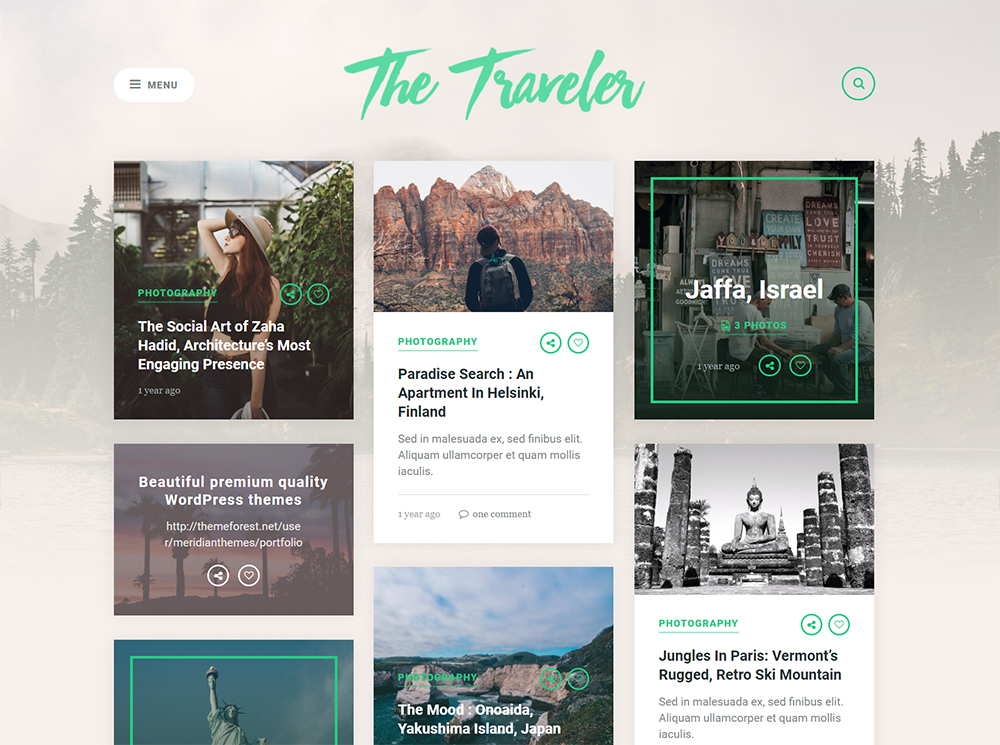 This WordPress theme is meant for travellers who like to share their travel plans, travel experience and pictures, of course. The theme features a grid-based layout, a hamburger menu and is integrated with Instagram so you can easily share your latest Instagram photos with your audience. The Traveler has 5 different layouts and is easy to customize because it uses the native WordPress Customizer; also it comes with the Meridian Styler plugin that lets you make changes without getting into code. And of course, the theme is mobile friendly. The thing is that responsive design is a must have for you if you're building a blog for travellers because your readers will more than likely visit your blog when on a trip.
The Essence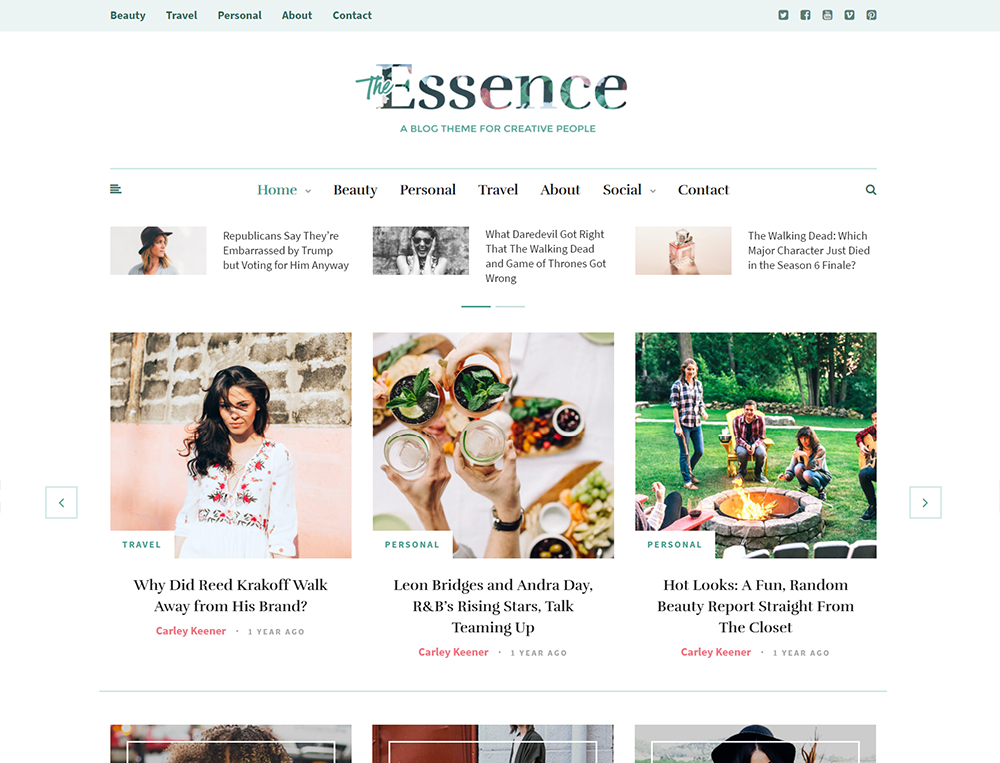 The Essence is a blogging WordPress theme for anyone looking to build a frequently updated website. The theme looks great on all devices because it is fully responsive. It has a number of features, like a news carousel (which is a dynamic way to engage the audience with your site), built-in promo boxes (when enabled, they are displayed above your main content), 17 blog layouts to choose from (to ensure you can easily find the design that fits you best). The theme is equipped with social sharing icons so your readers can easily share your content on their favorite social networks. Also, the Essence comes with some custom widgets, including an Instagram widget that allows you to display your Instagram photos on your website. Finally, the theme is easy to edit thanks to the WordPress Customizer and the Meridian Styler plugin.
Florentine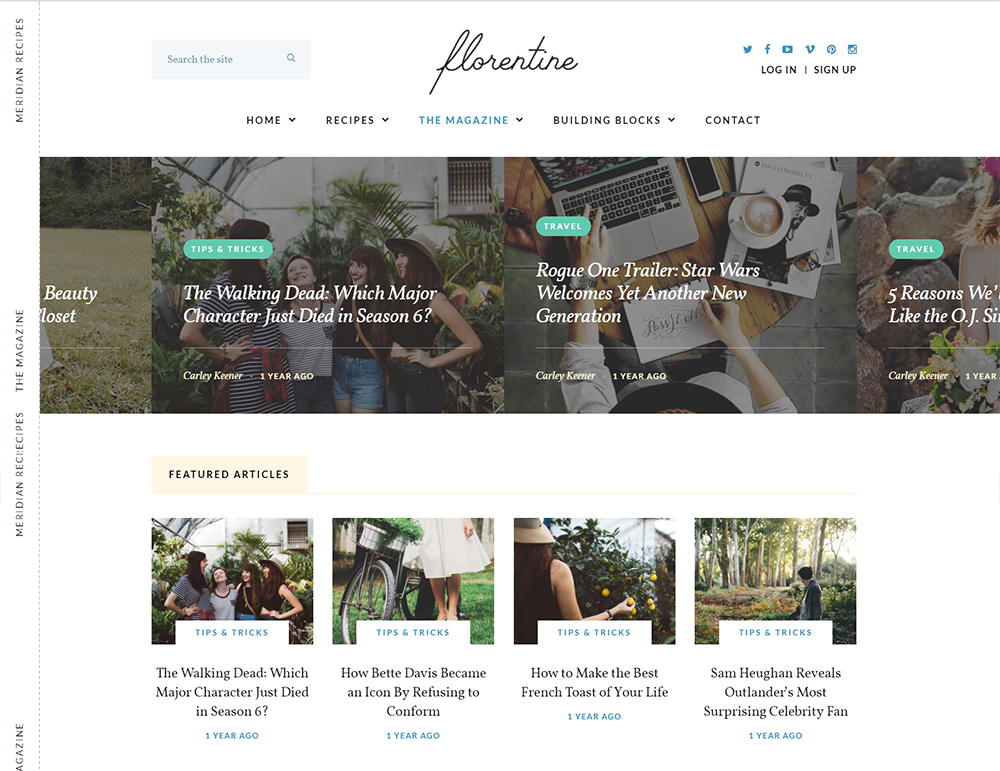 Florentine is a multipurpose WordPress theme that is perfect for online magazines, food blogs, travel blogs and other content heavy websites. With this theme you can easily publish various formats of content on your site, from blog columns, to news articles, to recipes. Florentine is fully responsive and can be easily edited using the WordPress Customizer and the Meridian Styler plugin. Other features include a sticky menu, a hero image, a built-in newsletter module, a news carousel, formatted recipes, built-in social sharing options, etc. In fact, you can switch between different layouts (modules) to ensure your content is displayed exactly the way you want it.
No matter whether you are planning to build a website for yourself or your clients, it seems to be a nice idea to use a premium quality WordPress theme, especially if you can win it now.
The giveaway is running through August 18th, 2017. When it is over, we'll randomly choose three winners, and each will get a one year membership to MeridianThemes.
Good luck!