The holiday season is upon us again, and with it, Cyber Monday. Cyber Monday has been with us since 2005. That time, it was created as an alternative to Black Fridays.
Since then, it is a way for online shops to experience a holiday shopping frenzy at this festive time of the year.
Cyber Monday has been a resounding success, and this year will be no exception. It's an excellent time for web designers like you! You can realize your significant savings on the best online web products and services.
If you come across a high-quality product or service you need, and you're able to get it at substantial savings. Isn't it enough to make your day?
So, what are you waiting for? Go for it!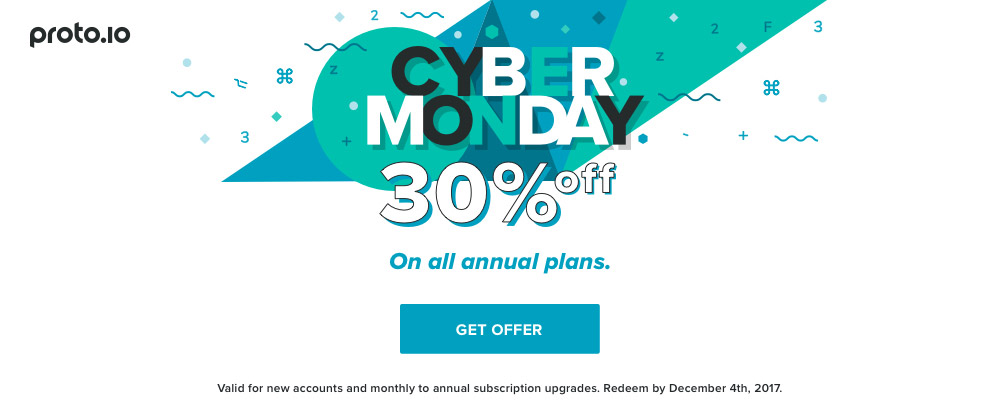 Wireframes and mockups serve useful and important purposes during the design phase of a website or app project. A prototype serves a similar purpose, but typically provides superior performance, and is much faster to create.
With Proto.io, a user can create a prototype of any desired fidelity; from low-fidelity to demonstrate a design concept, to high- or ultra-high fidelity to emulate the proposed final product for testing, sign-off, or delivery to a developer.
This application is ideally suited for projects in which rapid prototyping is expected to play a key role. With Proto.io, you should not worry about coding - Proto.io takes care of that aspect of managing the project for you. Moreover, now you can prototype for Virtual Reality straight within Proto.io.
The regular price for this design tool is a genuine bargain, considering the value received for the money. An even greater bargain is yours to take advantage of this Cyber Monday, as Proto.io is offered at a 30% discount on all annual plans.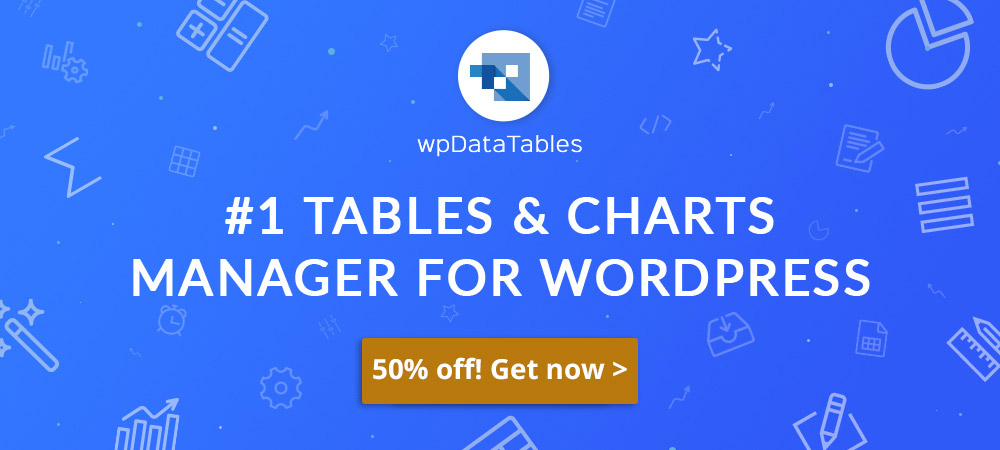 wpDataTables enables its users to create responsive, easy to edit tables and charts from massive amounts of data, including large MySQL tables. It is easy to use; even when complex data is involved, and no coding is necessary.
wpDataTables has become so popular, that web designers have even switched over to WordPress to be able to use it. wpDataTables is also a genuine time saver. It's so fast and efficient, that its users can create tables and charts in mere minutes, even when millions of rows of data are involved.
With wpDataTables, users can quickly create attractive, easy to read, and highly informative tables or charts. Calculations include sums, averages, min and max, and others. Users can highlight rows, columns, or cells of data, or lines and points on a graph, in color.
To help celebrate Cyber Monday, wpDataTables is offered at a 50% discount that is valid until Wednesday, 29th.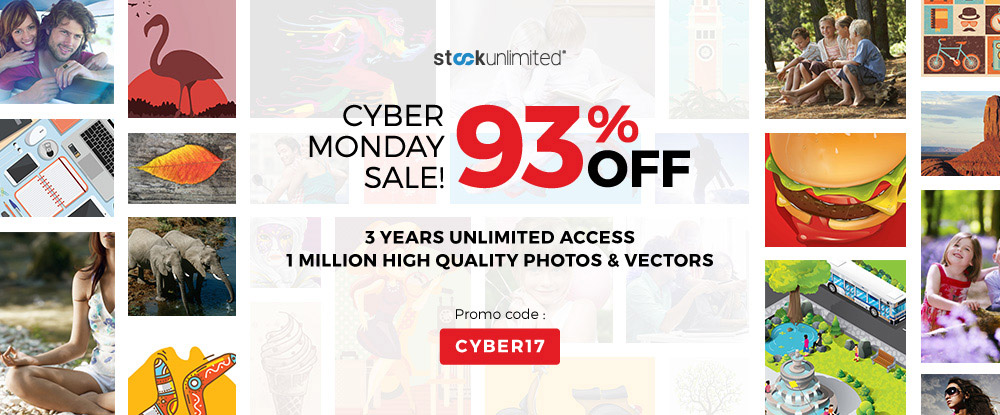 Find images #FAST & download #UNLIMITED for 3 years @ $49!
It can be overwhelming to find the perfect photo, graphic or vector in a hurry. However, StockUnlimited always delivers with their high-resolution images. This subscription-based website is a gem because by paying a fixed subscription fee, you'll get unlimited access to more than 1 million premium stock photos and vectors, with new content added weekly!
Usually, a StockUnlimited 3-Year Membership costs up to $680, but this Cyber Monday, you're getting it for only $49!
Use promo code 'CYBER17' at the checkout page to claim this deal today. Valid until 12/31/2017.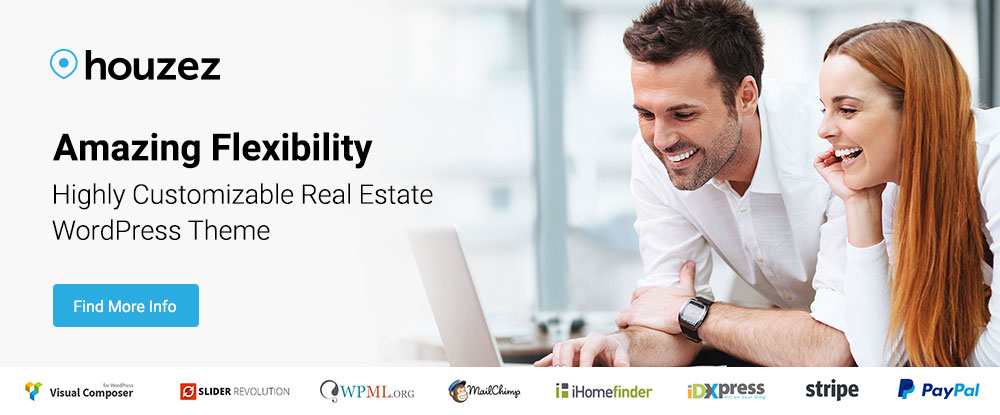 Houzez is the perfect solution to any web designer catering to a real estate client or to the real estate sector. The specialized, yet highly customizable WordPress theme has all the features and functionality needed to create the kinds of websites realtors and real estate agencies want and need.
Once you see what Houzez has to offer, you'll agree that the Cyber Monday discount of 35 % presents an opportunity you don't want to let slip away.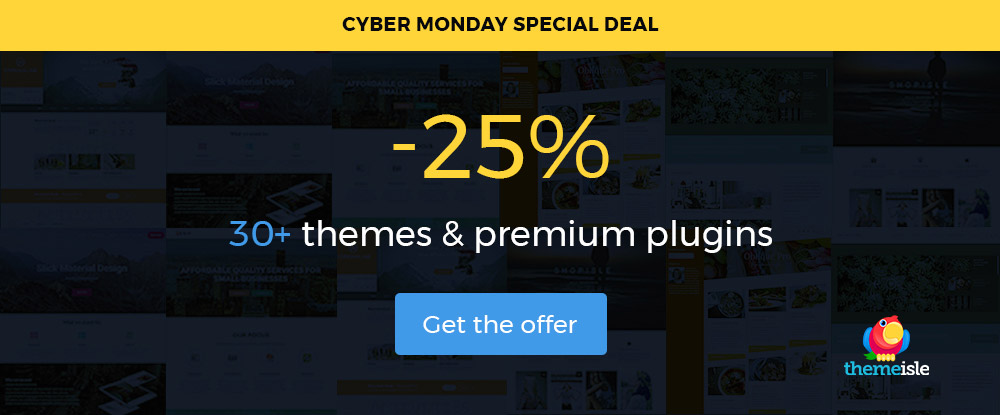 If you enjoy working with WordPress themes and plugins, or would like to start doing so, here's an offer you don't want to let slip away. To help celebrate Cyber Monday, ThemeIsle is offering a 25% discount on each of its three plans.
Each of these plans gives you access to ThemeIsle's product line of more than 30 WordPress themes and 10+ plugins, plus updates, new releases, shared hosting, and quality support.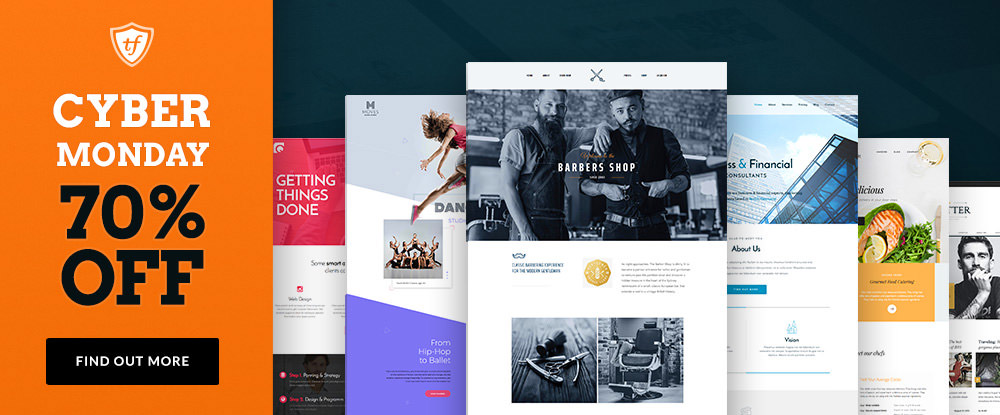 Whether you end up with a single item in your shopping cart at checkout, or several, Themefuse will give you a 70% discount on your total purchase. You can purchase a single premium WordPress theme, or sign up for their Developer Plan (yearly subscription), or for a Lifetime membership, and have ready access to 45+ themes, plus updates and support.
The discount applies to the plans as well, making this a tremendous Cyber Monday bargain. Use promo code cybermonday2017.
7. Orion Icon Library – 68% off Pro account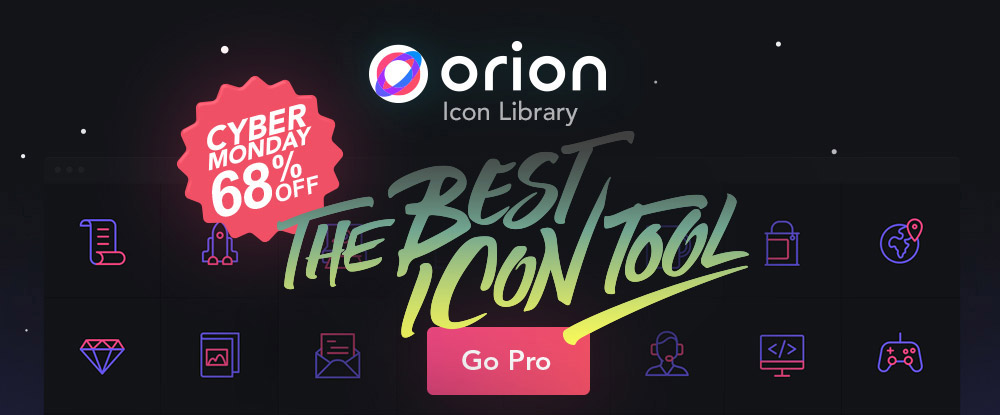 Its inventory of 4836 free vector icons in SVG and PNG formats makes the Orion Icon Library a premium resource for design elements of this type. To help celebrate Cyber Monday, Orion is offering a 68% discount when you sign up for a Pro Account. By doing so, you'll receive an additional 1431 icons, a commercial license, and access to unlimited app functionalities.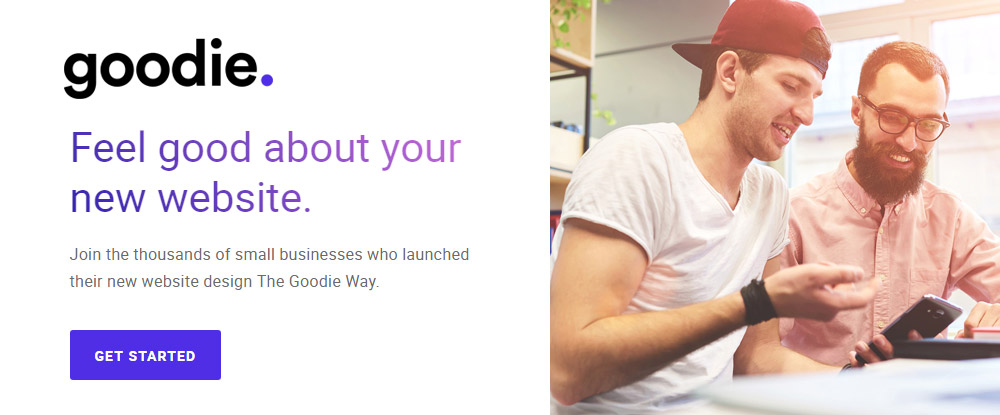 Are you in need of a flawlessly coded website? Goodie has your back here – this online platform connects web developers and those, who are in need of their services.
Do not waste your time and hurry to get your professionally coded website for just $999 this Cyber Monday. You will just need to provide the design, kick back and relax!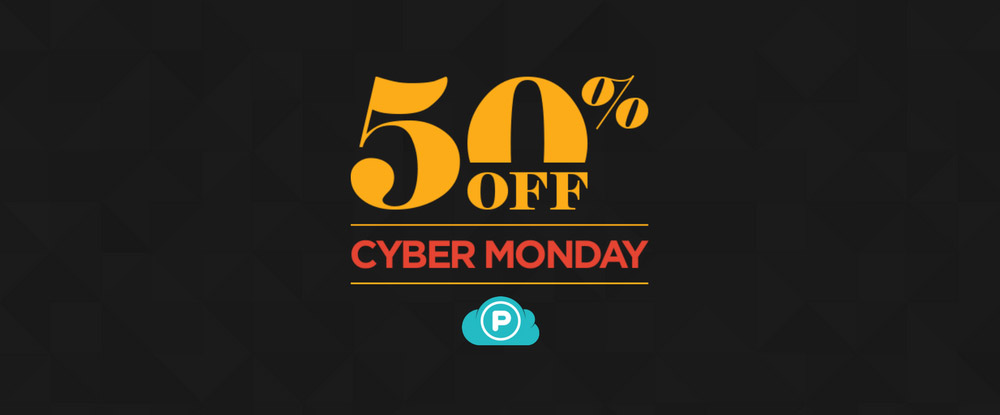 You can also take advantage of pCloud's Black Friday specials on Cyber Monday. Two secure Swiss cloud storage packages have been marked down 50% to celebrate the occasion:
Premium 500GB storage with pCloud Crypto – normally $47.88 each. Get both for $47.88 on Cyber Monday.
Premium Plus 2TB storage with pCloud Crypto – normally $143.76. Yours for $71.88 on Cyber Monday. Both deals are for one year.
10. NomNom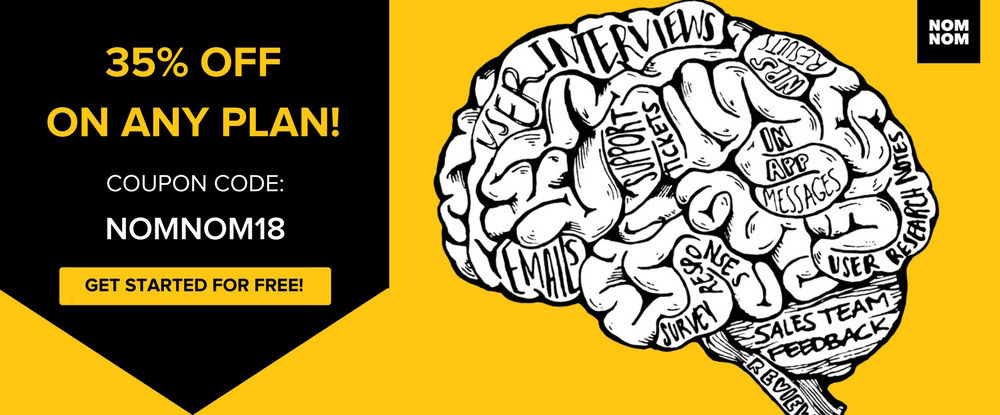 NomNom is customer research made easy. Search, organize and share all your customer feedback in one place. NomNom is used and trusted by fast-growing companies like Contentful, Booking.com, and Usertesting.com. NomNom can be yours at a 35% discount on any plan for 6 months. Use discount code NOMNOM18. Get 2018 off to a strong start!
Enjoy Your Cyber Monday Shopping Spree!
A shopping spree implies making multiple purchases. Given the products and services presented here, a purchase of just a single item can be enough to make your day.
When you come across premium products and services, no one can blame you for impulse shopping. This is especially the case when all offered at significant discounts.
You can fill your cart, or find just one item you need or can use. Either way, enjoy your Cyber Monday shopping experience!