Friends, you know GraphicsFuel is a place to download quality design resources ranging from mockups, icons, textures, graphics, text effect, UI kits, to templates and more. Ever since GraphicsFuel was started in 2010, I have been serving the design community with quality design resources and there has been a tremendous response from friends like you over the years. I am thankful from the bottom of my heart to each and every single user of my blog.
Behind the scene of GraphicsFuel
Let me be transparent about how I run the blog and what's the behind-the-scene story in creating the resources. Honestly, I am a one-man army and I create all the resources myself. Yes, you heard it right. I have not hired any designer to date to lend me a helping hand in creating the resources. You know, it takes a lot of time and energy to keep creating quality resources consistently for years.
I also get submissions occasionally from fellow designers but I carefully go through them and accept only if they meet my quality standards. If you have a design resource that you'd like to feature on GraphicsFuel, feel free to submit here.
Apart from designing, I also look after the maintenance of the site including publishing, marketing, updating the site layout, coding and hosting and all the nuts and bolts to run a site. I don't have a second hand to take care of these non-core tasks. But I do hire programmers from time to time to take care of the coding tasks, but again that pull away my additional time and energy.
Why Going Premium?
First of all, freebie resources will always remain at the core of GraphicsFuel. You can browse through the blog and download tons of freebies. More freebies will keep coming. But then why you have launched premium plan? Two reasons: To provide you with exclusive quality resources and to run my blog!
Don't expect me to create huge quantities of resources and release them as premium content. I prefer quality over quantity. As I mentioned, I am a single person and I design at my own pace. But, like always, I try my best to release quality designs.
What is Premium Membership
Premium membership lets you have access to my premium resource library stocking over 90+ files as of writing this post to download immediately after you join the membership. The library will keep growing each month. The premium plan is just $10 per month. No quarterly or yearly payment commitment. You can cancel membership anytime if you don't like my resources.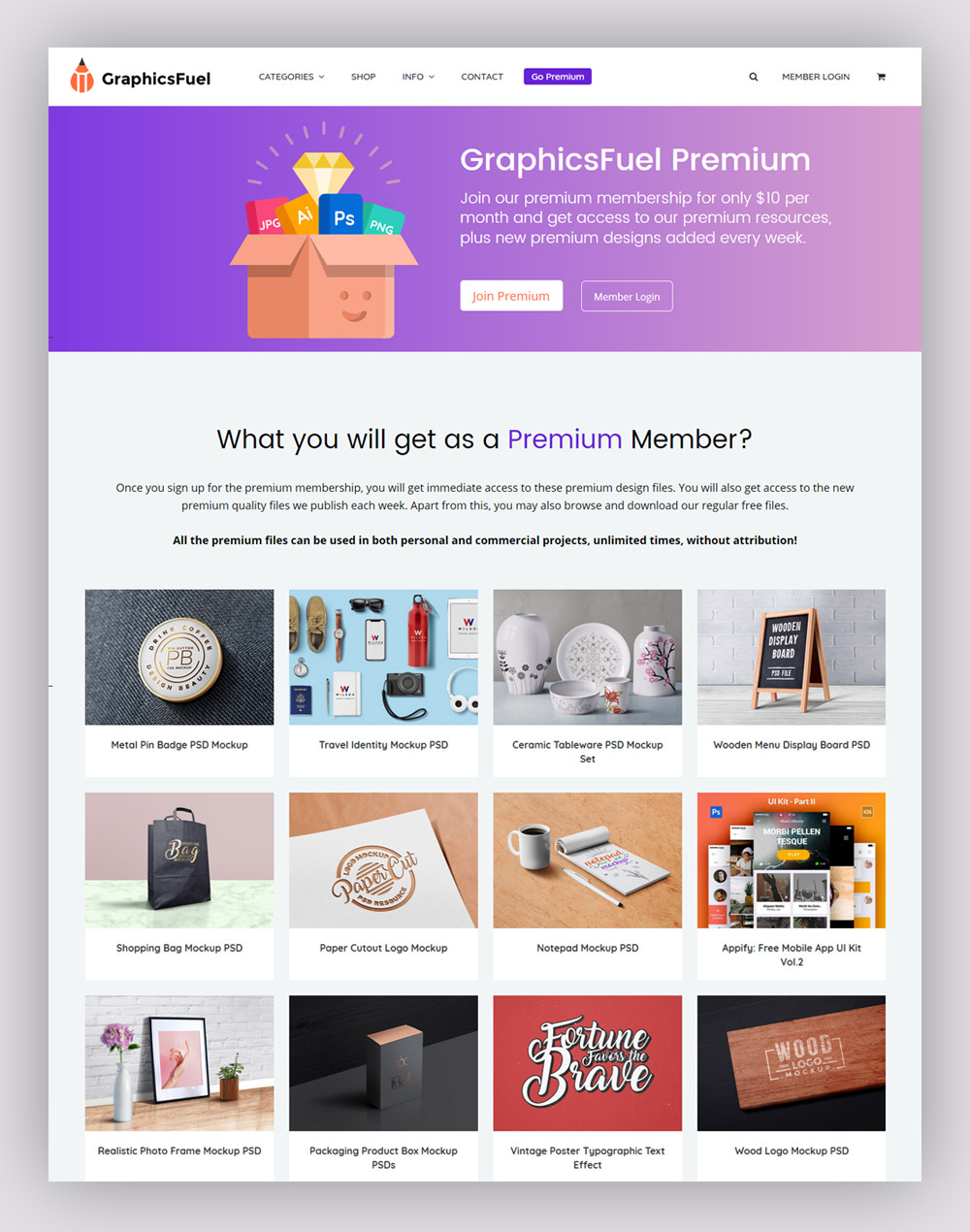 What you will get as a Premium Member
Get immediate access to 90+ premium design files
Weekly new files added
Personal and commercial use allowed
Use resources without attribution to GraphicsFuel
Use even free resources without attribution
Unlimited downloads
Simple monthly, recurring membership
Cancel membership anytime if you are not satisfied
If you have any questions, feel free to contact me