Not just any approach will suffice when opening a new business, nor will it do when launching an online store – even if the business it represents is already a success.
It takes the right tools and design philosophy to build an online store that will attract and engage customers and generate an impressive conversion rate. Not every WooCommerce WordPress theme has both.
Once you are fortunate enough to come across several cool WooCommerce themes that appear to offer the optimal tools and design philosophy to get the job done, you still have to pare the list down until you find one that suits your needs perfectly.
Here are the 10 best WooCommerce themes on the market. At least one of them should have your name on it.
You will find every tool, setting, and option you need to build any website type embedded in BeTheme's 40+ powerful core features. It's been that way for a long time, but BeTheme has also addressed the special WooCommerce-related features you will need to build a successful online store.
There's BeBuilder Woo, and absolute gem of a tool accompanied by selections of single product layouts, WooCommerce theme options, and shopper-centric design elements.
BeBuilder is another tool you'll want to have at your fingertips. It's the fastest and most flexible page builder for WordPress and combined with BeBlocks it gives you tons of design options and flexibility.
With Be Header Builder 2.0, creating responsive headers becomes an easy task. This drag and drop builder helps you create responsive headers in no time at all.
Not to forget Be's library of 650+ customizable pre-built websites. Their embedded UI functionalities can save you a ton of time.
Click on the banner. There is plenty more to see.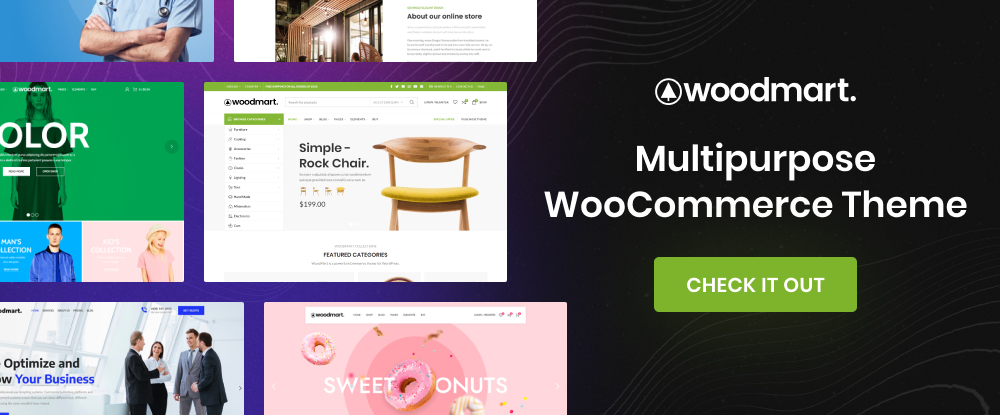 A mere glimpse of WoodMart's website suggest that this WooCommerce theme not only has the right design philosophy but has the right tools in spades.
For example, WoodMart features –
Pre-built demo websites that will help get any online store building project off to a quick start,
page-building support from the most popular WordPress page builders on the market – Elementor and WPBakery
400 pre-made templates you can use to create pages, or create prototypes if you're not exactly sure of what you want
A full Ajax shop along with Ajax Quick Shop that has the tools to create smooth-running, time-saving product search and checkout features that can increase conversion rates.
Click on the banner for a closer look at WoodMart's capabilities.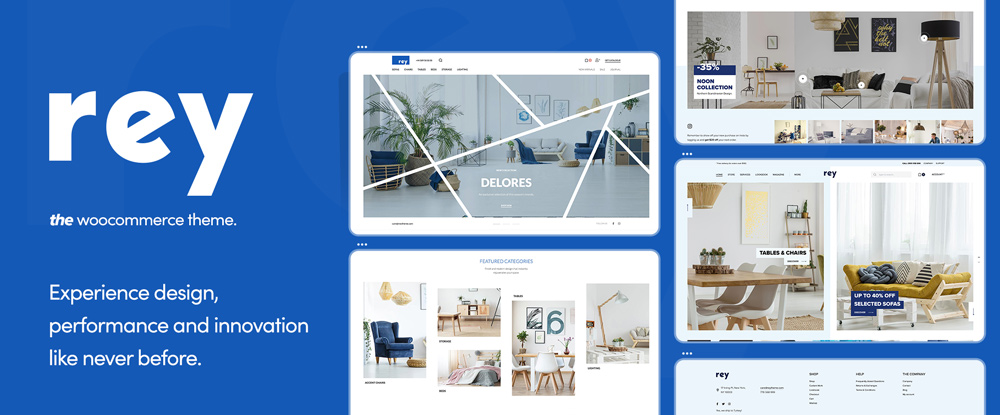 Rey's concentration on filtering, searching, navigation, and presentation, the 4 pillars of eCommerce ensures that when using this WooCommerce theme you will experience design, innovation, and performance as never before as you incorporate them into your online shop.
You can do this using –
Rey's spiced-up Elementor page builder with its innovative eCommerce-oriented features and extensions
Ajax navigation options that include a smart search function to help customers find what they want quickly, which in turn leads to higher conversion rates
Predesigned plug and play pages including a cart page with a progress bar and customer discounts
Specially designed headers for eCommerce applications with mega menus, caller headers, wish lists, and more.
Rey is SEO optimized for improved organic search rankings that will allow you to get more customers without spending more on ads.
Click on the banner to learn more.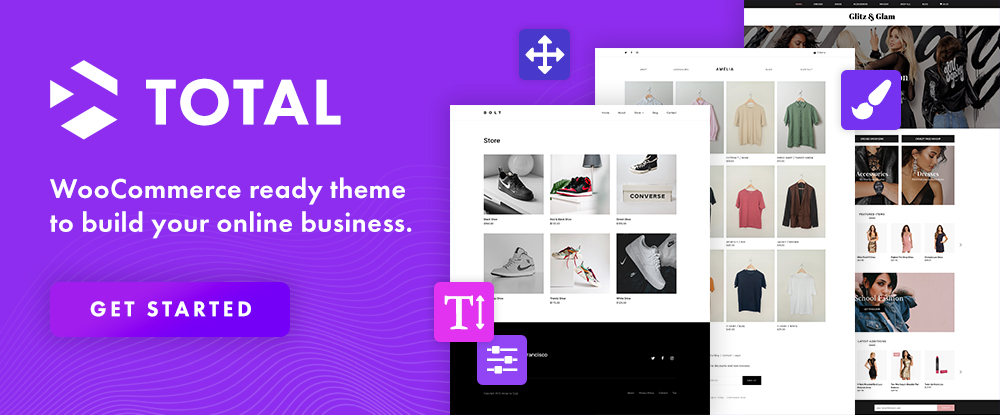 Total is a WooCommerce-ready theme that has every tool and design feature you need to easily build a stunning online store.
These tools and features include –
Total WooCommerce integration
Professionally-designed section templates, site-building elements, and quick-start demos
Plenty of WooCommerce styling options for colors, fonts, social sharing, product pages, etc.
An extended version of the popular WPBakery page builder.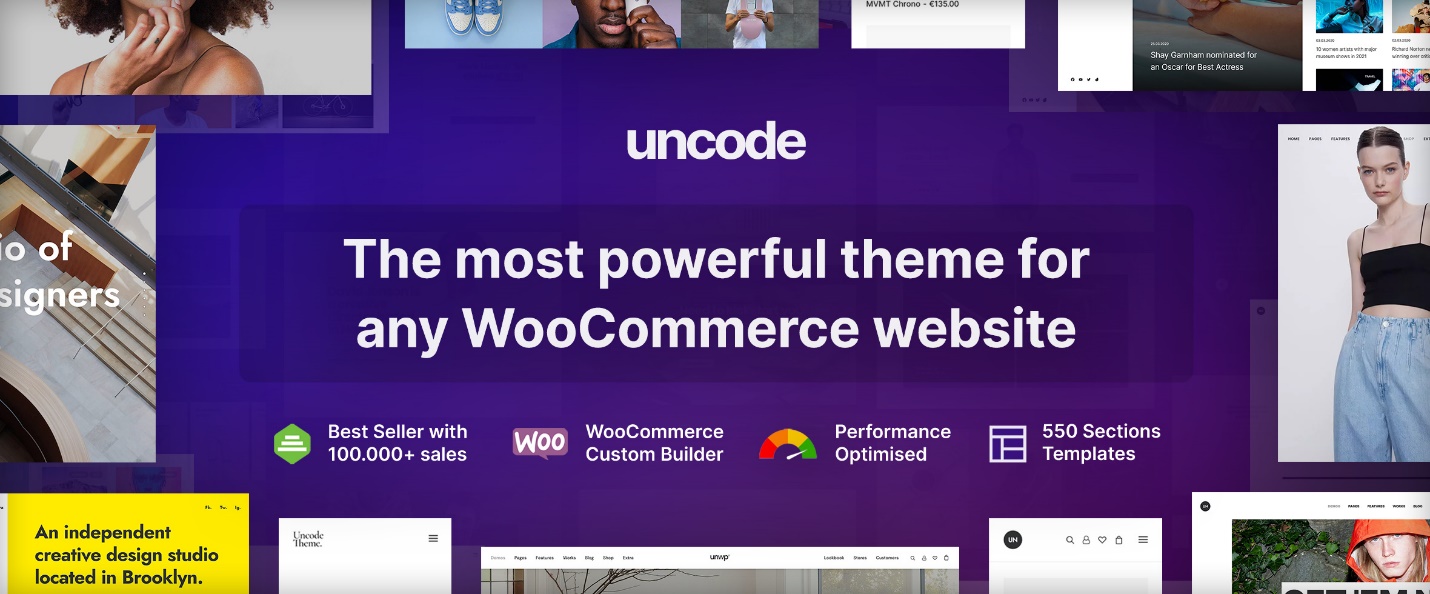 This pixel-perfect multipurpose WordPress theme is especially popular with creatives, businesses, and agencies as they have found it to be perfect or their eCommerce needs.
With Uncode you can –
Enjoy what 100.000+ happy buyers have already experienced.
Work with Uncode's souped up Page Builder, professionally-crafted WooCommerce shop design features, and the Wireframes plugin with its 550+ section templates.
The best way to fully appreciate Uncode's capabilities is to browse its gallery of user-created websites.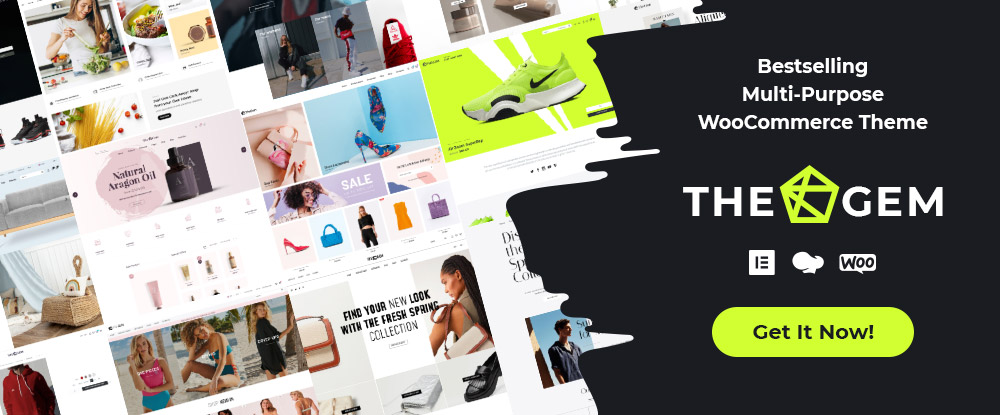 This best-selling WooCommerce theme provides the ultimate WooCommerce toolbox with which to build a modern online shop. Its unlimited customizability options serve to improve CTR through the use of unique layouts and designs.
TheGem's WooCommerce toolbox features –
400+ pre-built designs, the Product Builder, the Cart & Checkout Builder, Ajax filters, and more
TheGem Blocks and 500+ pre-built page sections
Elementor and WPBakery page builder compatibility
one-click optimization for quick loading and high conversion rates.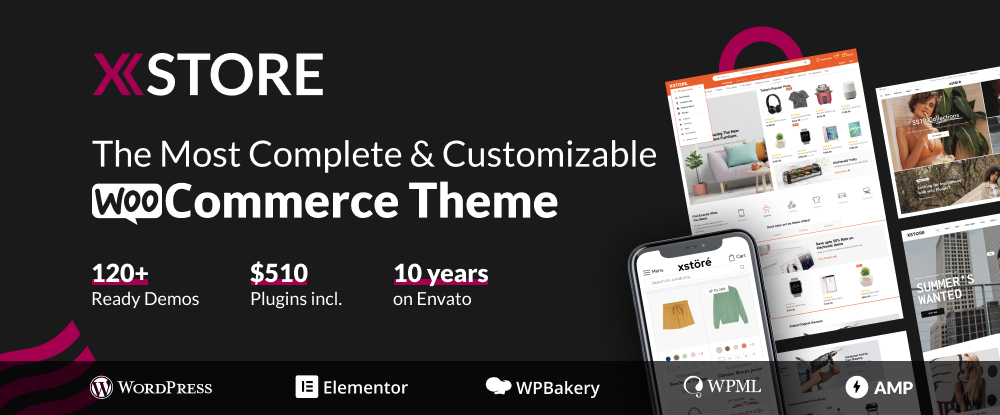 The XStore WooCommerce theme can already claim 65,000+ delighted customers.
XStore –
is built for speed because quick site loading results in more enjoyable visitor experiences
works with the top page builders on the market – Elementor and WPBakery
features outstanding collections of 120+ ready-to-customize shops and 500+ pre-built blocks
features a live Ajax theme option together with $510 worth of premium, "must-have" plugins.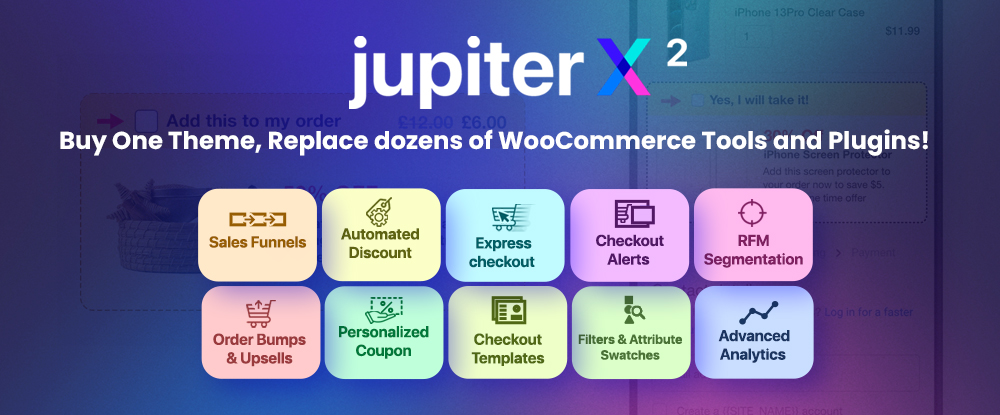 With its X2 upgrade, Jupiter X update introduces advanced segmentation and personalization features designed to increase engagement and conversion in WooCommerce stores.
They include a full-site editing layout builder and automated discounts, personalized coupons and checkout notices that enable online store owners to –
Show personalized content to different audiences
Show personalized product loops based on customer shopping behaviour
Create personalized coupons, automated discounts, and display smart checkout alerts
Introduce promotional campaigns based on shopping histories.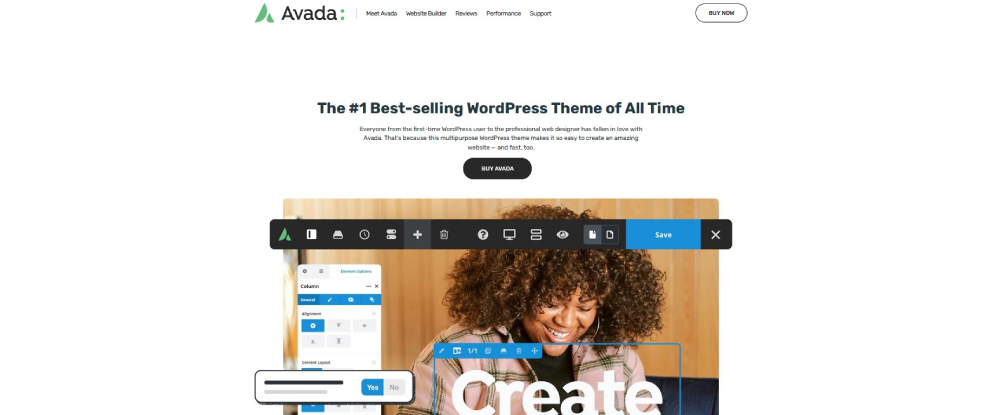 What does Avada have that other WooCommerce WordPress themes may lack? One thing for certain is its recognition as the #1 selling theme for 6+ years and running.
Avada has the ability to create an intuitive, gorgeous, and engaging shopping experience.
Avada provides all the design options you need including custom settings for each and every page.
Avada features the popular Fusion Builder and the Fusion Core toolbox of powerful tools and premium plugins.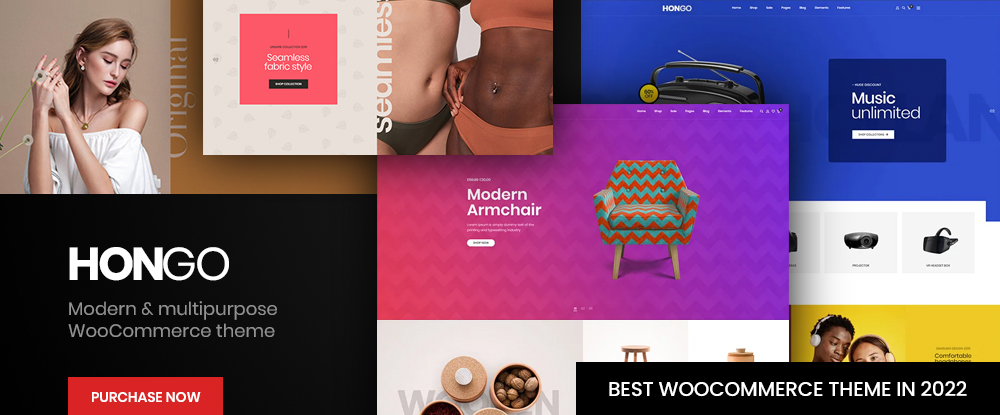 The Hongo modern multipurpose WordPress theme is particularly rich in tools and design options created with building WooCommerce stores in mind.
They include –
unique and impressive selections of store demos, modern product display styles, and elegant product page styles that will get your creative juices flowing and enable you to beautifully showcase your products
quick view, compare products, wish list, catalog mode, advanced filters, and more
200 + creative elements and a library of ~250 templates.
It obviously takes a WooCommerce theme with the right tools and design philosophy to build an online store that attracts and engages customers and generates impressive conversion rates.
Once you come across several candidates that appear to offer the right tools to get the job done, you still have to settle on one that suits your needs perfectly.
Here are the 10 best WooCommerce WordPress themes on the market. At least one of them should do exactly that.