WordPress is the most popular website platform on the market. Its multiplicity of WordPress themes has only added to its usefulness and popularity. More than 42,000 useful WordPress plugins have served to significantly extend WordPress's capabilities. Also to increase its popularity even more.
A plugin is a piece of software that is designed to improve the performance or extend the capabilities of a system, in this case of a website.
In spite of the super-abundance of these essential WordPress plugins, familiarity of a few is usually sufficient for most web designers. This is especially true when those few are tops in their respective categories; like the 9 top WordPress plugins for 2022 featured here.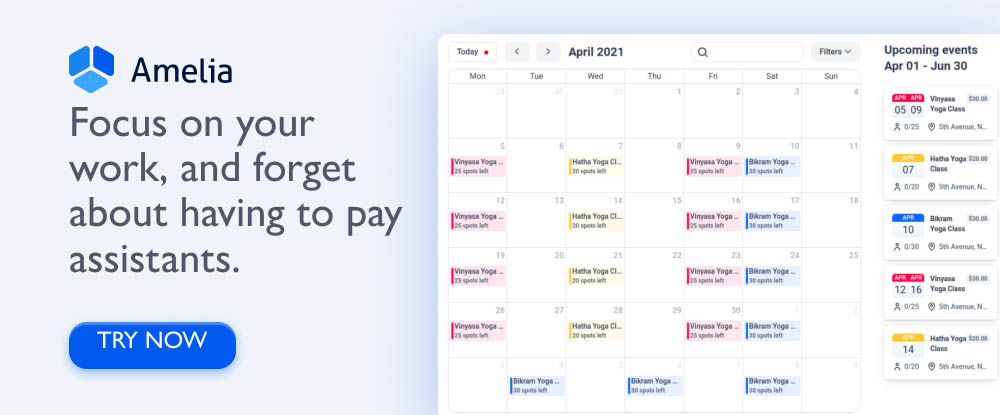 In conjunction with a WordPress website, this time and money-saving WordPress plugin can streamline and fully automate a business's booking operations by helping clients book an appointment online for a specific time and at a particular location 24/7.
An automated system like this is beneficial for service-oriented businesses such as beauty salons, health and fitness centers, training centers, and barbershops.
How does Amelia help you gain new customers and keep the old ones?
Clients can change or cancel their booking appointments online.
Can manage an unlimited number of appointments and events, employees and locations
serves multiple locations from a single platform and form a single website dashboard
sends clients automatic reminders, news of upcoming events, and notices of payments due
encourages and allows clients to make their payments online or accept deposits
allows a business to customize the system's booking forms to fit its brand
Amelia is well documented and is easy to install and use. Click on the banner to learn about the full range of features and capabilities.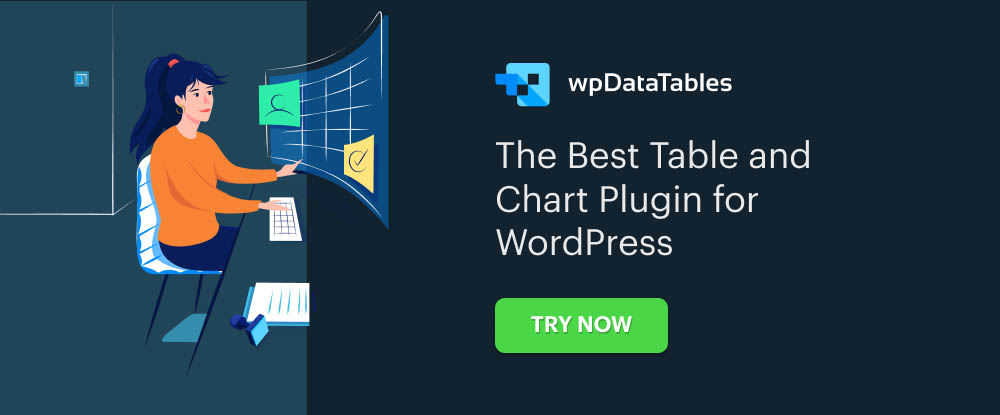 The wpDataTables plugin can benefit anyone from individual web designers to corporations to research teams and has helped more than 50,000 users to date. In addition, this robust table and chart-building tool can benefit anyone working with large amounts of complex data and need to quickly process the data to create responsive, interactive, and frontend editable tables or charts.
The wpDataTables plugin can –
accept data from multiple sources and in multiple formats
help its users construct tables manually or from spreadsheets, databases, and real-time data
use table data to create charts
the ability to highlight key data and use its conditional formatting feature to color code tables or charts
wpDataTables is thoroughly documented and is easy for first-time users to work with.
Click on the banner to learn more about this powerful time-saving plugin.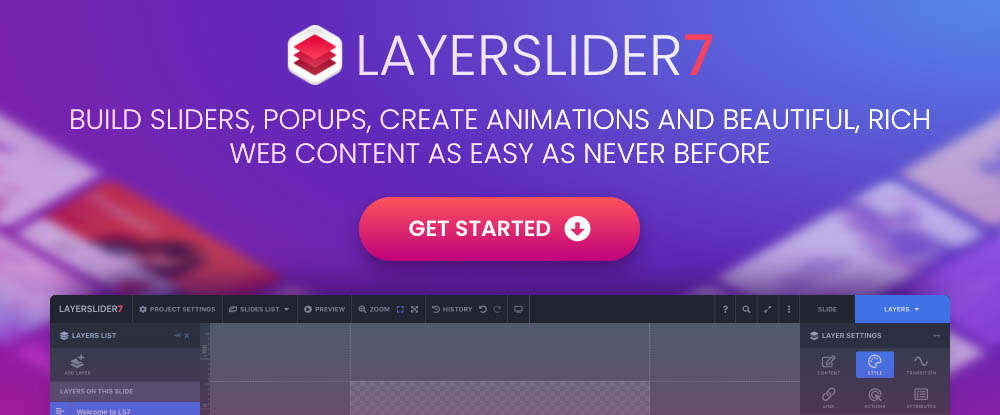 LayerSlider's stunning set of features is based on more than a decade of experience in web design and animation, with more recent updates taking this plugin's capabilities far beyond creating sliders.
The star of the show may well be LayerSlider's completely redesigned project editor that is an absolute delight to work with and gives its users the power to design practically anything that comes to mind.
Popups are an exciting way with unique effects powered by LayerSlider's extraordinary animation capabilities to get your visitors' attention.
Since LayerSlider is extremely easy to use, there is no need for coding, and users have instant access to its selection of professionally crafted templates.
Click on the banner to learn even more about this multipurpose animation and content creation tool.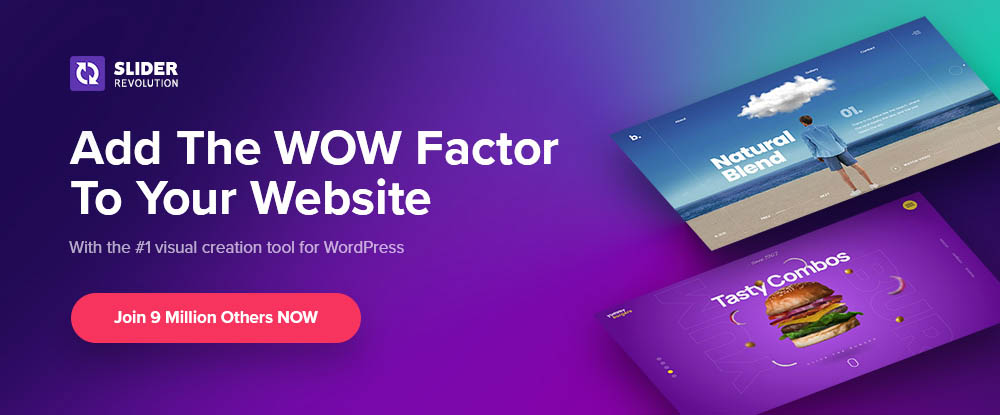 Slider Revolution is not just for sliders, far from it. This cutting-edge plugin is packed full of cool features that can take an underwhelming website design and transform it into a visual-grabbing, supremely-engaging, and responsive website with just a few simple clicks.
It does so with the aid of –
200+ website and slider templates and 25+ powerful addons
dynamic content from external sources like Facebook, YouTube, etc.
dazzling WebGL slide animations.
Essential Grid gives web designers the ability to transform their gallery and portfolio websites and their blogs from the ordinary to the breathtaking.
Essential Grid readily accepts cool content from website pages and posts, WooCommerce sites, audios and videos, galleries, and social media.
Content can be displayed in boxed, full-width, and full-screen layouts featuring adjustable grids and spacings.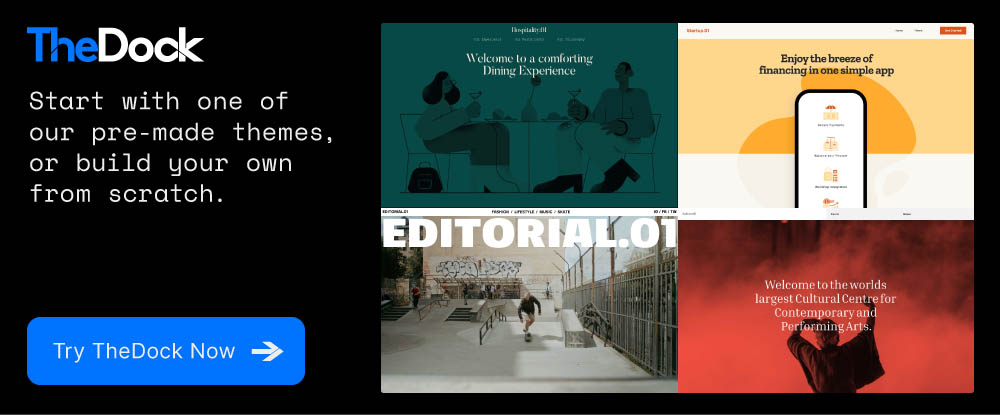 Theme building is no longer a skill reserved strictly for others. Even beginning web designers can build their own themes with the help of TheDock.
A knowledge of developing for WordPress is not required.
Full site editing (design, layout, and architecture) can be done without writing a single line of code.
Websites designed using TheDock-built themes are always responsive.
Key design elements (color, typography, etc.) are easily adjusted.
Why not give TheDock a try now?
Heroic Inbox enables your company to manage its emails in shared inboxes, from a single platform, and in WordPress.
Heroic Inbox stores customer previous purchase data and emails and pulls the information into a slider next to your customer-company dialog
Key metrics are tracked so you know each department's performance and that of the company as a whole.
The system can manage as many shared inboxes as you want.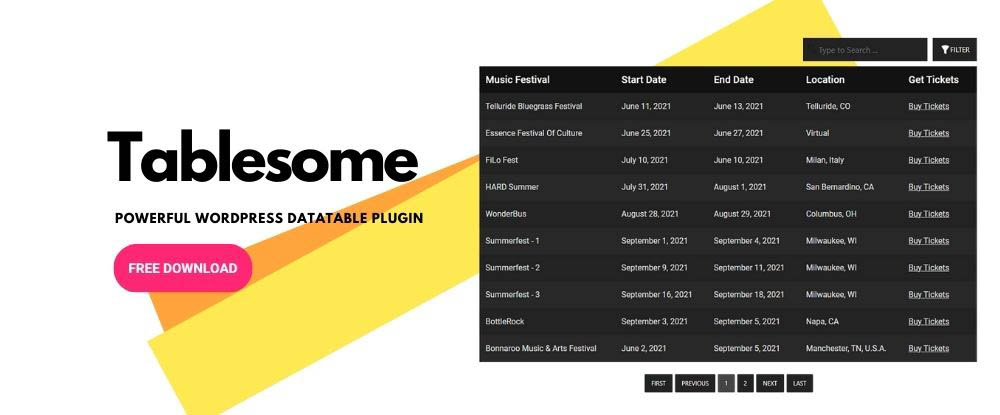 Tablesome is a WordPress table plugin that can be used to quickly create a variety of table types.
Tablesome's search, sort, advanced filters, and pagination features makes it especially useful for creating large data tables.
Users can take advantage of Tablesome's multiple responsive table display options, plus Tablesome is the only plugin that enables users to create tables with links, buttons, and tags for better SEO
Tablesome also can be used to save Contact Form 7 submissions to your database.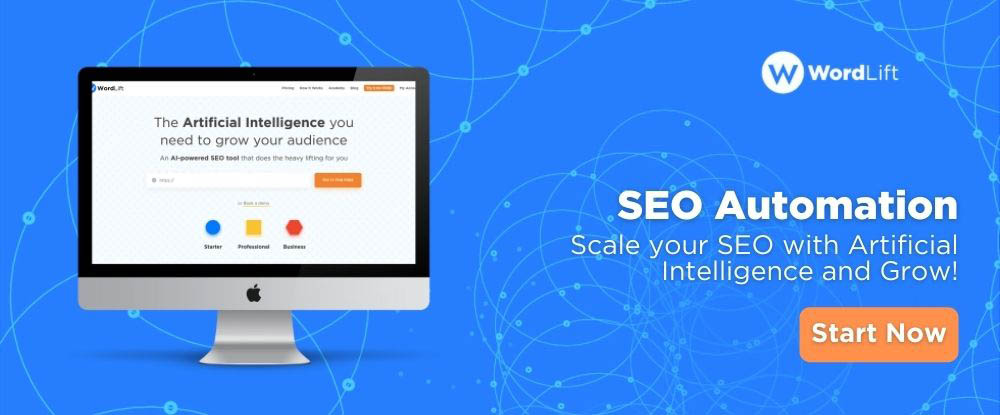 The WordLift plugin is an AI-powered SEO tool that helps users create custom Knowledge Graphs they can use to build up the authority and trustworthiness of their website and improve its structured data.
These Knowledge Graphs serve to –
assist search engines in understanding their website's content
help Google understand the relevance of and the relationship between website pages
use AI-recommended content to keep visitors engaged.
42,000 cool WordPress plugins may appear to be way more than enough. There is always room for more. Especially if there are issues that relate to website appearance, performance, or functional capabilities that need to be resolved.
This selection of the best WordPress plugins is an excellent example of that need for more, given the special needs they address. We hope that at least one of them might find a place in your designer's toolkit, where it could serve you well.