What are WordPress plugins and how are they used to improve a website's performance or give a business a boost?
A plugin is a software add-on. When added to a website's design, can be used to positively affect that website's performance or add to what it is capable of accomplishing.
Top WordPress plugins, like those featured in this article, are capable of accomplishing very important tasks. They are generally easy to work with. They are compatible with other WordPress themes and other WordPress web design tools.
These essential WordPress plugins, when installed on a website, can add features. They can extend website's functionality, optimize SEO, boost speed and performance, and more. Having the right WordPress plugins at your fingertips can enable you to markedly enhance the performance of your blog. Also your website, or the growth of your business.
Check out the following top rated WordPress plugins for your 2023 website projects.
Any one of them could be a game changer for you.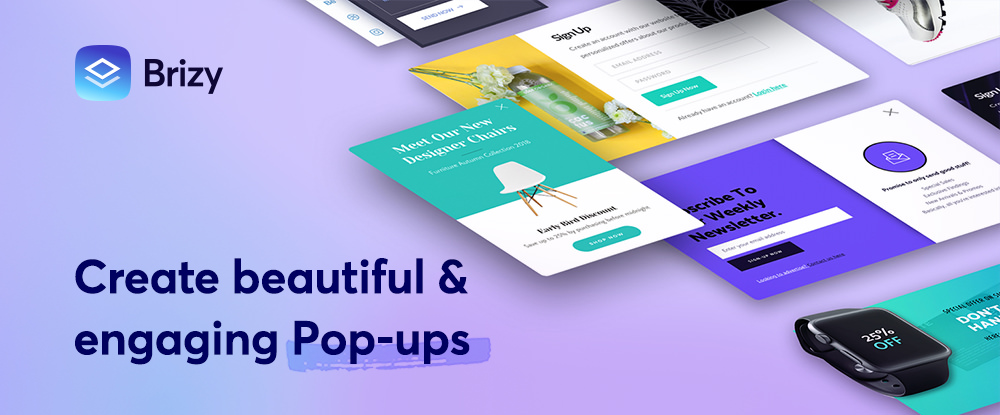 The Brizy cloud-based website builder/theme builder for WordPress offers its users an easy way to improve or add functionality to an existing website, or to build a new one.
Brizy is fast, powerful, great for beginners and non-techies, and you don't have to worry about code.
Brizy's Theme Builder offers a smart and easy way to customize any part of an existing website.
The Theme Builder can also be used to create dynamic templates for headers, footers, and login, blog, archive, 404, and other special pages.
WooCommerce integration allows you to customize your shop site.
You can select one of Brizy's 100+ high-converting pre-made templates or import Brizy pages, blocks, or pop-up designs to get started.
A White Label option is available.
Brizy is free to download, and a Pro version is available.
Click on the banner to learn more about this cloud-based website and theme builder. Once you go Brizy, nothing else feels as easy.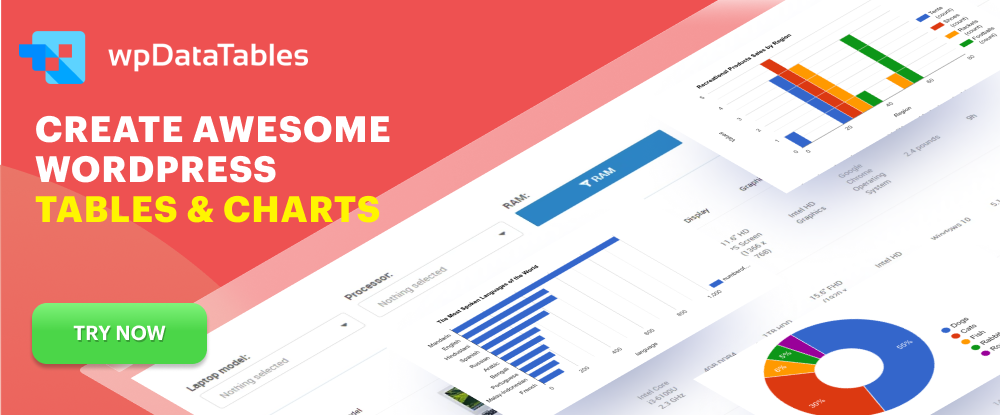 Building a table or chart that will be of significant value to its user can be immensely satisfying.
On the other hand, while organizing and managing huge amounts of complex data you may easily have experienced periods of uncertainty or frustration, or in the worst case, near-total exhaustion.
66,000+ companies and individuals working with various types of complex data could tell you how the best-selling wpDataTables plugin made their efforts much easier, yet still satisfying, due to their ability to –
choose from wpDataTables' 4 chart-building engines
connect to multiple database sources and work with multiple data formats
create responsive, informative, and easily maintainable tables and charts
take full advantage of wpDataTables integration with Elementor, Divi, Avada, and WPBakery
color code key information using the Conditional Formatting feature.
Click on the banner to find out more about how using wpDataTables can make a daunting task relatively easy.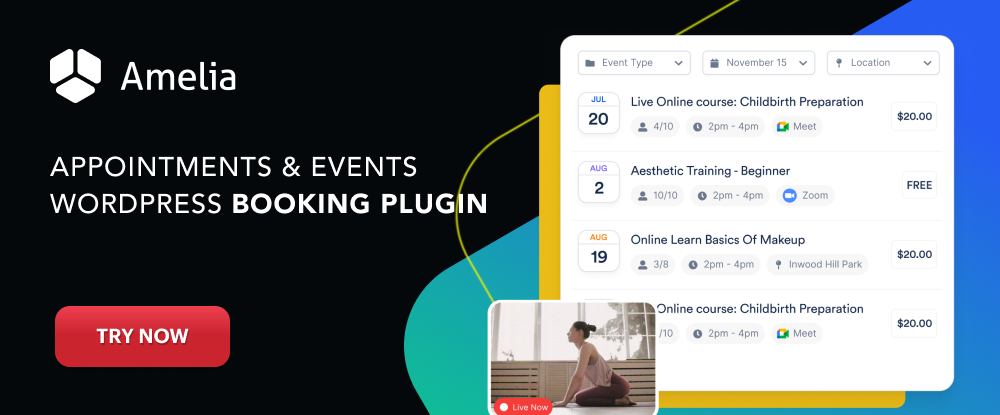 Adding Amelia WordPress booking plugin functionality to a WordPress-designed website can cause amazing things to happen for a business, and all of them good. The website's user suddenly owns an automated booking system that can flawlessly manage an unlimited number of appointment bookings at multiple locations from a single platform and dashboard.
Which is one reason why Amelia is an excellent choice for client-dependent enterprises.
There are others:
Clients can make and manage appointments online 24/7.
Clients can receive reminders via Email and SMS, contacted via WhatsApp. or attend virtual meetings or conferences.
Amelia also manages bookings for events, groups, and packages.
Booking forms can be customized to match a business's brand
The Amelia plugin supports PayPal, Stripe, Mollie, and Razor payments.
Click on the banner to find out more about what the Amelia automated booking system plugin could do for your business.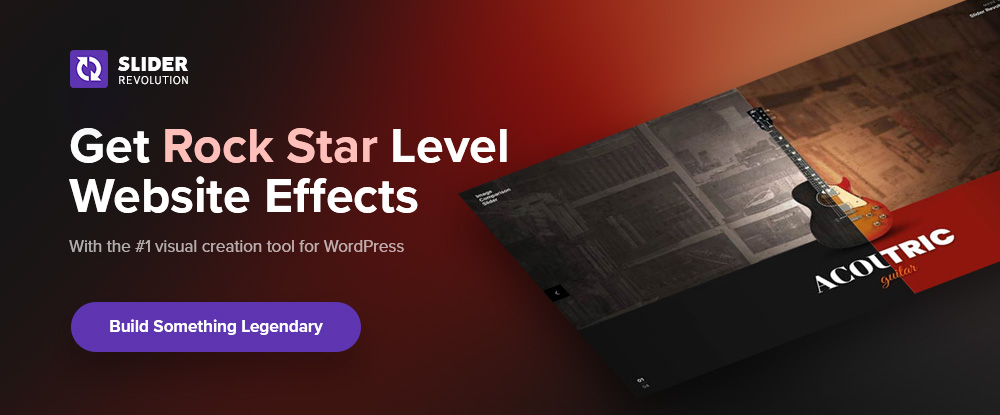 No longer just a highly popular WordPress slider plugin, Slider Revolution has undergone a welcome change in the eyes of its users. Newly incorporated features and functionality have transformed Slider Revolution into a WordPress tool that web designers can put into play to enliven their websites using –
innovative edge animation effects
any of 250+ trendy website and slider templates
Slider Revolution is trusted by more than 9 million worldwide users.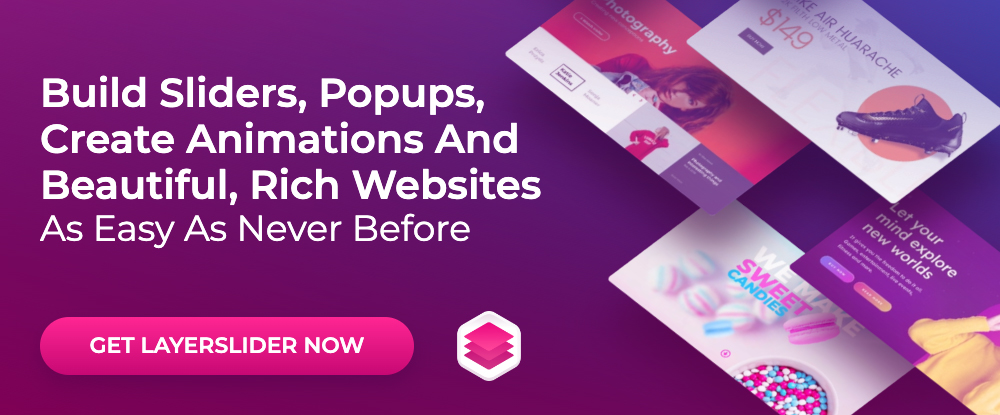 LayerSlider has always been one of the best WordPress slider plugins for creating sliders to incorporate into website designs. It has now evolved into a WordPress tool you can use to add other types of engaging content to a website.
With LayerSlider, you can –
add innovative animations and other unique effects to amaze your audience
create stunning image galleries, popups, and parallax and scroll scenes
build an entire website with animated page blocks.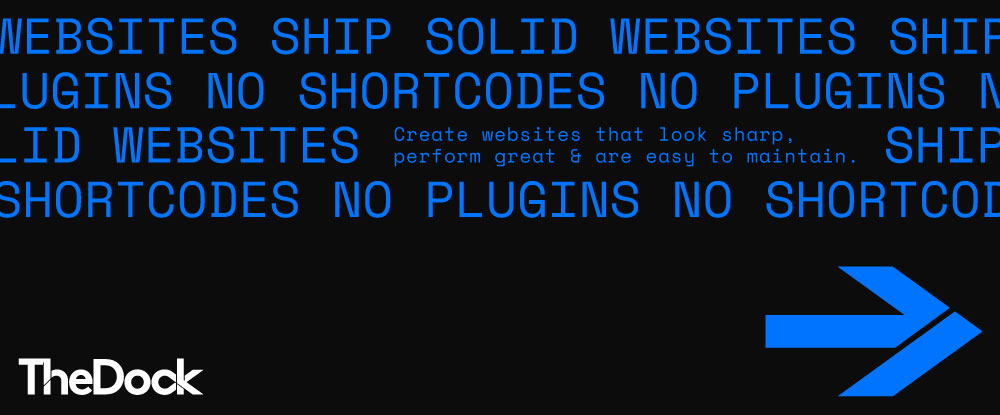 TheDock is a team-oriented WordPress theme builder designed to help teams create picture-perfect theme architecture on the cloud, streamline workflows, and promote easy team collaboration.
Key features include an auto-adjusting layout system, a templating system, global UI components, and a White Label builder.
TheDock writes clean code and TheDock-built themes feature fast page loads.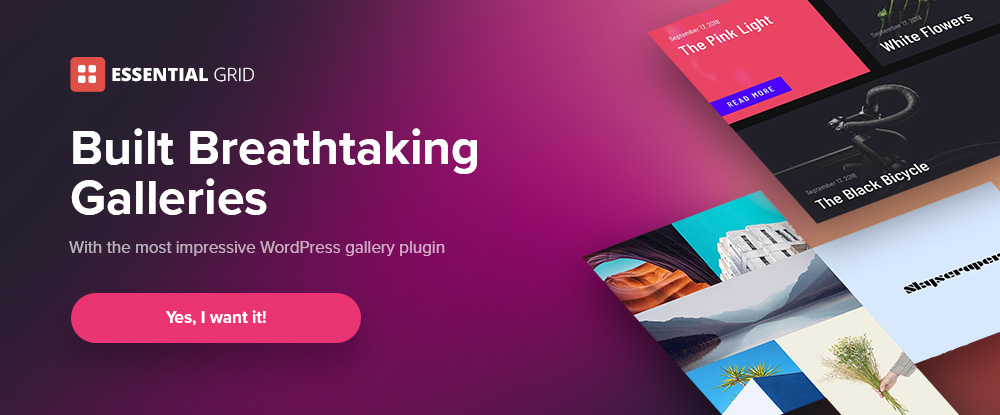 Essential Grid is aptly named. It is the best WordPress grid plugin for creating a gallery that is intended to be the focal point of your website. Essential Grid makes that happen with its –
50+ customizable grid templates
array of stunning grid layout options ranging from boxed and full-width to full-screen layouts to customized rows, columns, and spacings.
Essential Grid galleries can accept social media content from Facebook, Instagram, Twitter, and others.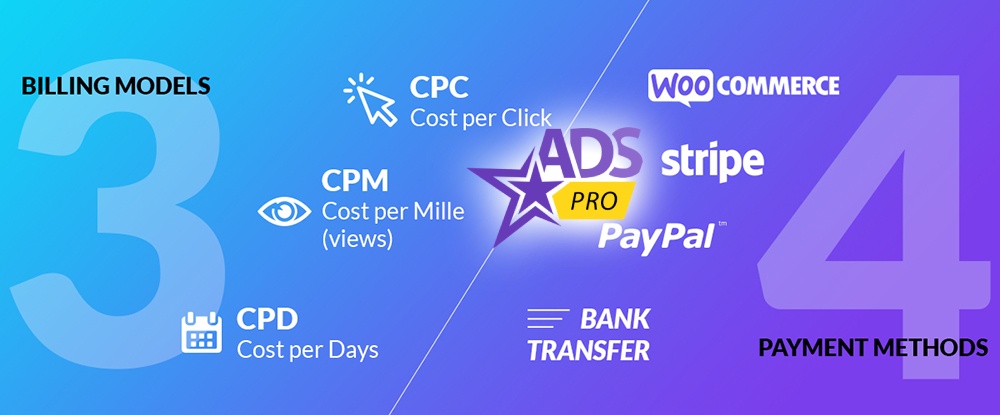 Attempting to manage vast numbers of ads can be a bewildering experience. That's not the case with the Ads Pro, an ad manager plugin. Ads Pro offers an attractive selection of advertising sales, management, and display options and the following ad management aids –
Admin and Frontend User Panels for managing large numbers of ads.
customizable ad templates and ad display options
3 billing methods, 4 payment methods, and click fraud and ad block protection.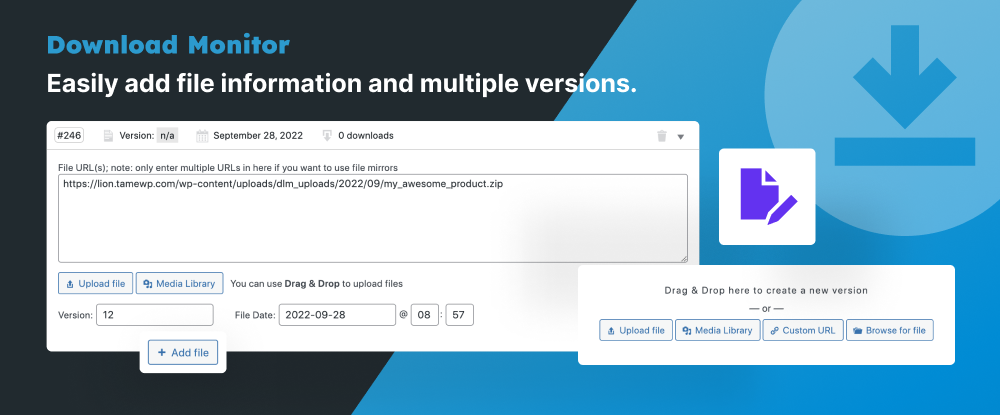 Busy web designers and WordPress users will appreciate how this popular (100,000+ users) WordPress downloads manager can help them both track & protect their file downloads.
Download Monitor enables its users to –
track multiple types of file downloads – e.g., ZIP, PPT, XSLX, and PDF.
access statistics on file download types
integrate seamlessly with Gravity Forms, Contact Form 7, and Ninja Forms.
Plugins are installed in websites to add features, extend functionality. To boost speed and performance, and more. Having the right WordPress plugins in your design toolbox can influence the growth of your blog. Or your website, or business in a positive way.
Choosing the right WordPress plugin can also be crucial. For the useability and user-friendliness of your website in addition to monetary considerations. That said, one or more of the 9 top rated WordPress plugins described in this article most likely deserves inclusion in your web design toolkit.