Graphic design is an increasingly complex field, with new tools, functions, and features added every single day. Considering that graphic design is a career path that's growing in demand, there's never been a better time to sharpen your skills and get to work.
That said, graphic designers need a range of tools in their arsenal to create their best work. The more programs they know how two use and have access to, the quicker they can turn out projects and finish their work. That's why it's essential for every graphic designer to make the most of the best design template tools out there.
We've collected the top 5 free design template tools on this list, helping you to excel in a vast range of different graphic mediums. We'll be covering:
Easel.ly – Best for infographics
WiseStamp – Best for creating email signatures
ColorMind – Best for color scheme generation
Pablo – Best for social media
Inkscape – best for vector graphics
Let's get right into them!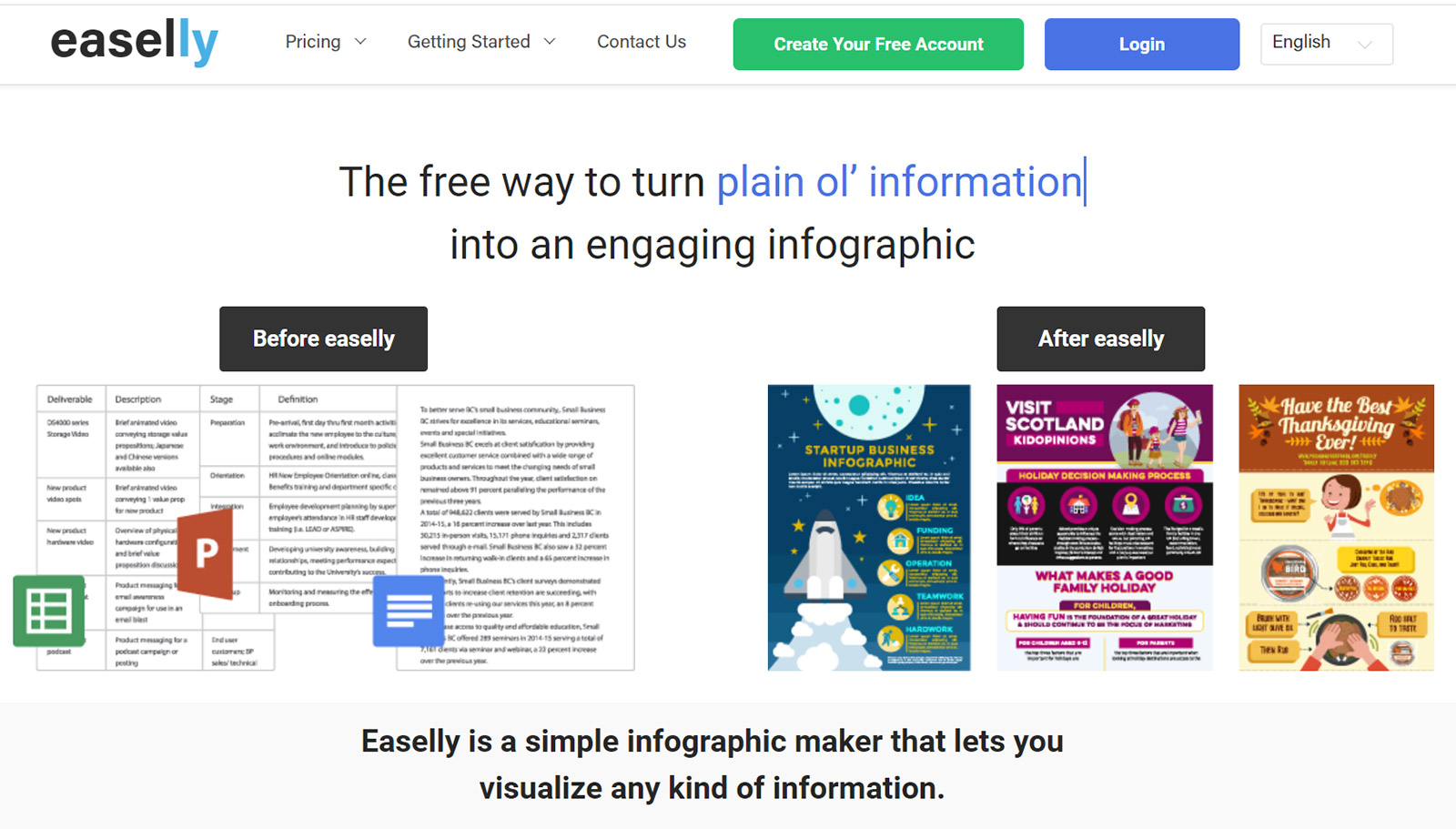 Easel.ly turns long-form written content into engaging infographics in seconds, saving you time and hassle while producing beautiful final images. Considering that infographics are 30x more likely to be read than long-form content, integrating this into a blog post will significantly boost how effective your online communication is.
The Easel.ly platform has a three-step process for creating infographics out of your content. The first step is to select a design that you like. You'll be able to scroll through hundreds of different infographics, finding ones that you love. Once you've found one that strikes a chord, you'll be able to select it. 90% of your infographic will be ready to go with that one tap.
Next, the Easel.ly platform asks you to further customize your infographic, selecting colors and fonts to match your brand, adding specific artwork from your computer, or just swapping out bits of text with the click of a button. By combining Easel.ly with a tool like Colormind, you'll be able to easily find a color scheme combination that works exceptionally for your brand.
Finally, once you've finished customizing your infographic, you'll be able to hit share. No matter if you want to download the image as a PNG, PDF, JPEG, or share it directly to social media, you'll be able to with the click of a button. With Easel.ly, it couldn't be easier to make and export infographics.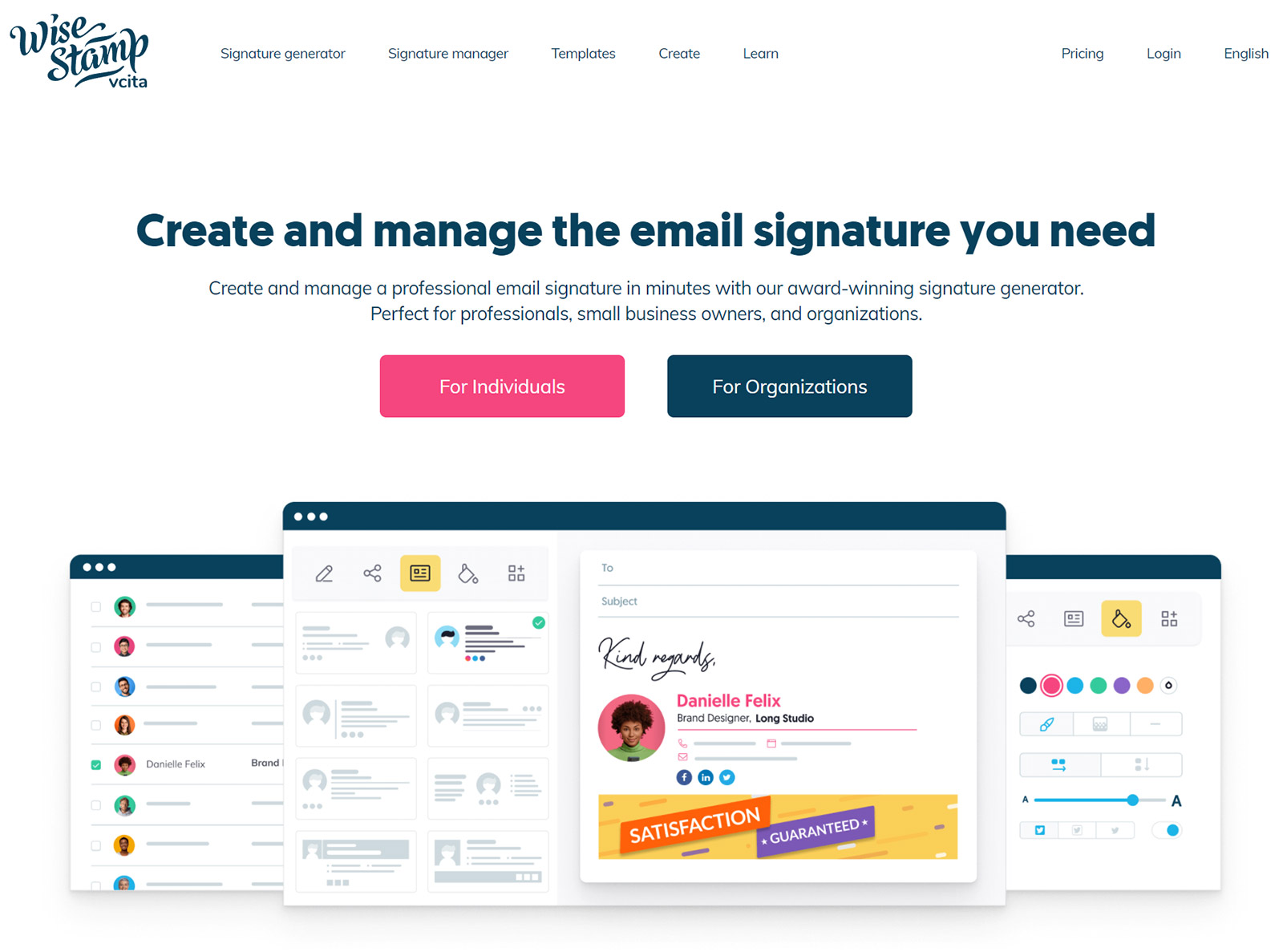 WiseStamp offers an easy way of creating email signatures, providing a free design tool that you can utilize to make a signature in minutes.
Whether you're looking to come across as more professional in emails or generate more leads with an eye-catching finish, an email template is one of the easiest ways of doing so. You'll even be able to attach further links like social media channels in order to provide an interconnected system within your email signature.
WiseStamp also offers an email signature template section where you'll be able to browse by profession, selecting from categories like Teacher, CEO, Realtor, Student, and more. This function makes it easy to find an email signature that is appropriate and applicable to your field.
This tool allows you to create email signatures by using a range of professional templates. No matter which email software you use, the final product is compatible with Gmail, Outlook, Apple Mail, and Yahoo email, covering all your bases. As the tool creates templates using responsive HTML, you'll be able to paste them into anything and instantly get the design you want.
An additional feature that makes WiseStamp accessible to everyone is that it is mobile compatible, ensuring that your signatures will show up even when someone opens your emails on their iOS or Android mobile device.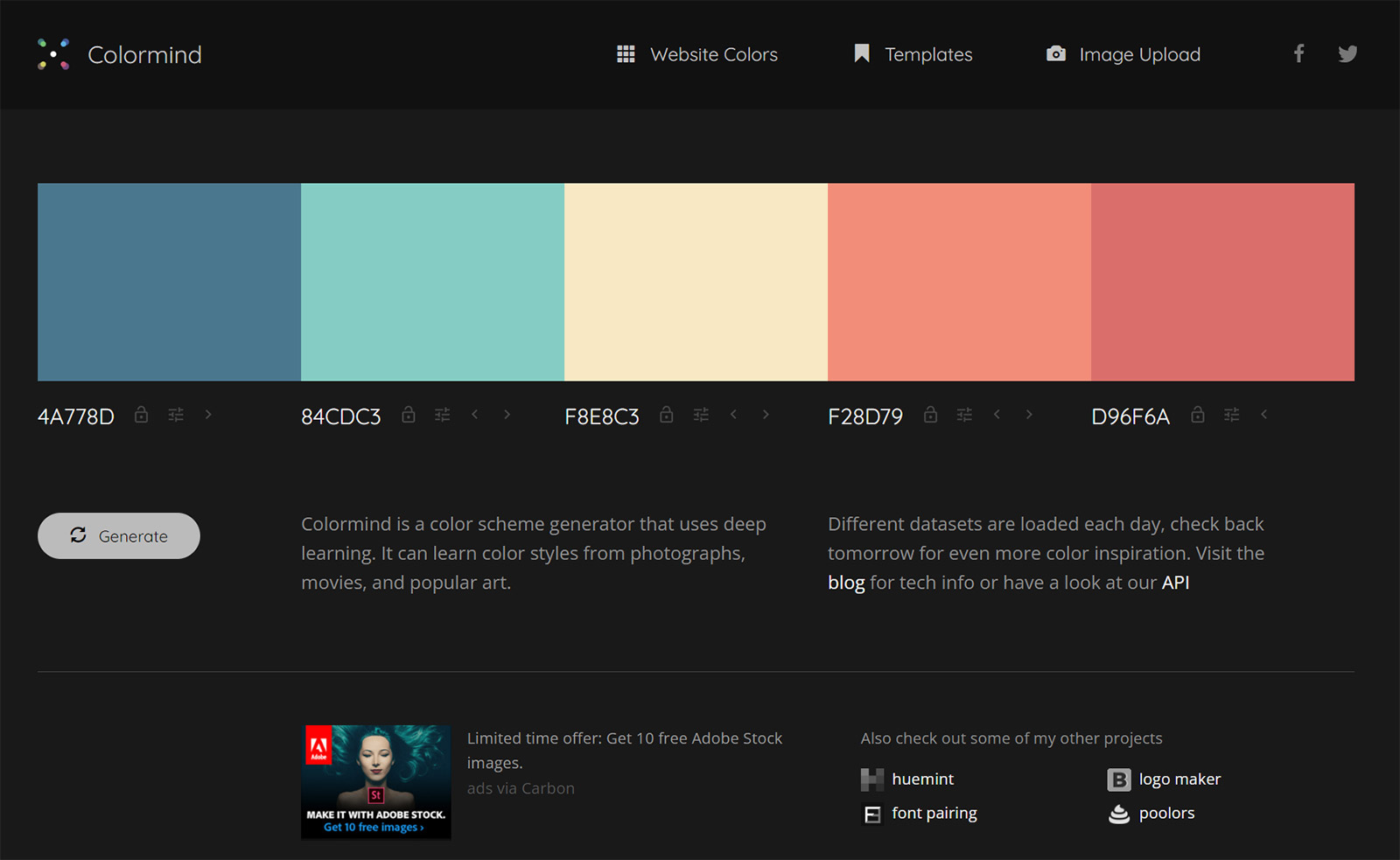 Understanding color theory, how certain colors blend together, complement each other, or interact is vital for graphic design. While this used to take a lot of technical skill and years of practice, Colormind has simplified the process for everyone. You'll be able to navigate to the home page of Colormind, hit 'Generate', and have a perfectly balanced color palette of 5 ready to go.
You'll also be able to head over to the demonstration page, where the cleverly integrated tools then automatically apply the palette directly to the homepage. From there, you'll be able to see how the colors work together on an actual website, giving you a good idea if this particular palette would work well on the site you're designing.
Every palette with colormind consists of two highlight colors, the main brand color, a dark color, and a light color, giving a good range for designers to use. One final impressive feature of Colormind is the color selection tool. You'll be able to select the main color you want, and then the design software will recommend the other colors that should make up the palette.
By clicking on a color, you'll be able to see its color code, allowing you to reproduce it in other editing platforms.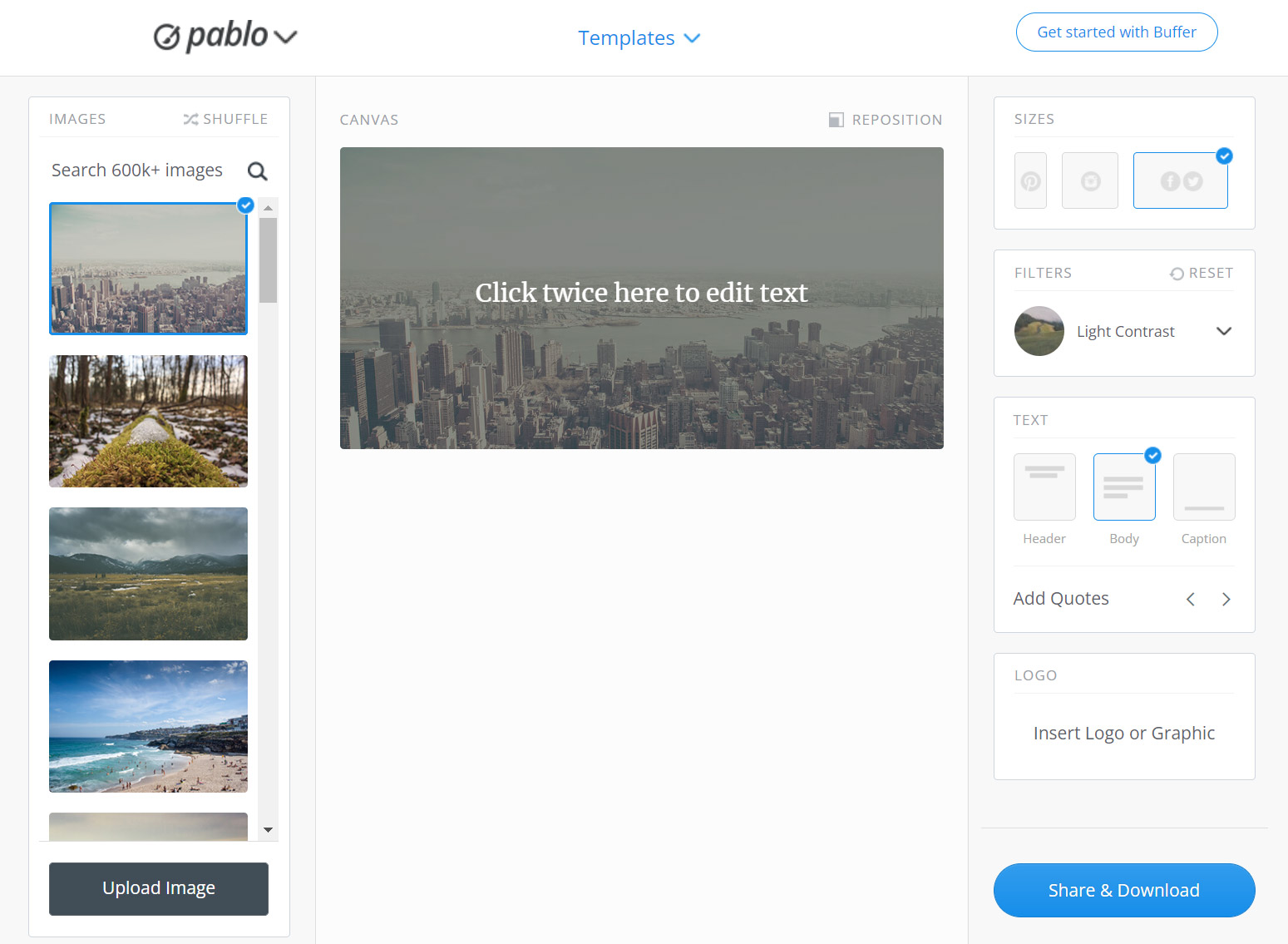 Pablo, created and run by Buffer, is an online graphic creation tool that allows you to make posts for social media with ease. Instead of having to learn a more complicated tool like photoshop, you're able to log into Pablo, scroll through over 50,000 royalty-free images, add text, change fonts and sizes, and hit publish.
What sets this tool apart for social media use is the embedded sizes tab. This is where you can click on the specific social media that you want to use the picture on. Knowing the recommended size dimensions for a photo on each social media, Pablo will then automatically transform your image, making it look correct despite the size change.
Due to this feature, you'll be able to make an image once and then quickly change its format depending on whether you want to upload it to Facebook, Twitter, Pinterest, or a different social media. If you want to save the file to your computer before posting, you can also do so from this application, exporting your image directly onto your computer.
With a simple drag and drop functionality, Pablo makes it easy to bring your imagined social media posts to life in moments.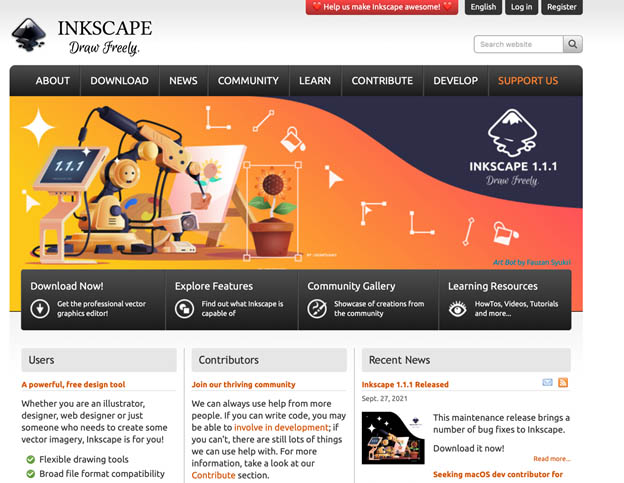 If you're looking for a comprehensive, free design tool that covers everything from text design to drawing to spiro curves, then Inkscape is the platform for you. Within this platform, you'll be able to create, manipulate, fill, and edit objects with the tap of a button.
The premade shape templates will allow you to make complex designs in a fraction of the time, scrolling through the different tool possibilities before selecting one that works for you.
The reason that Inkscape has made this list is due to the extreme breadth of creative tools that you'll have access to. No matter if you're looking to create simple text-on-image graphics or a more complex 3d model rendering of something, you'll be able to do so in Inkscape.
Additionally, considering that you can export files in a range of different formats, you'll be able to get the final product exactly how you want it. No matter what you're looking to design, Inkscape has a free solution for you.
Design templates make everything easier. From doing most of the work for you to helping you to generate ideas, these tools will provide every graphic designer with automatic solutions to help them in their day-to-day work.
Whether you're looking to make professional email signatures with WiseStamp or social media posts with Pablo, you'll find something for you on this list.