Maybe you've given some thought to what to look for in the way of a Cyber Monday special, even though you don't yet have a clue as to where the bargains will be.
Not to worry. You can continue to do some looking on your own, but we're here to give you a helping hand by telling you what you can expect.
Some of the products listed here are no doubt familiar if you've been doing web design for a while. There are others you might not be familiar with but would still be worth taking a look at. If you're a beginner, you can have a field day. Your only problem will be trying to choose among a number of excellent options.
There are plenty of great Cyber Monday bargains if you own or manage a business or know someone who does you would like to help.
In any event, Cyber Monday, is fast approaching.
May good things happen for you on your shopping adventure.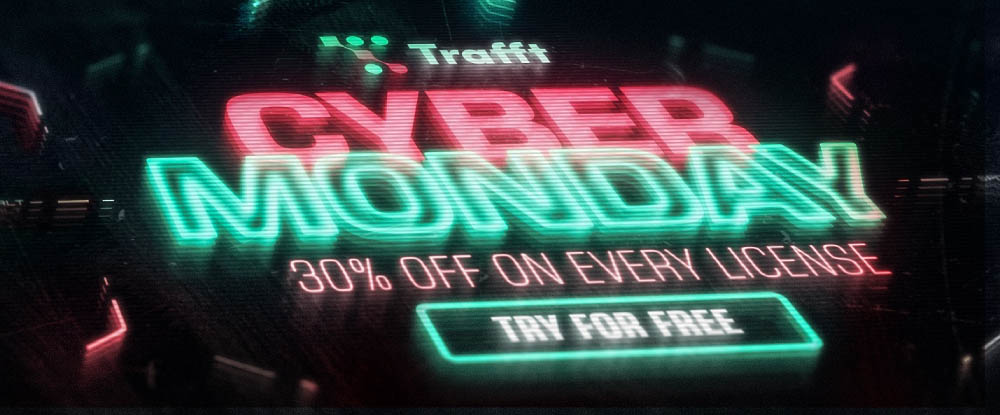 Trafft is a new software booking application that is designed to provide appointment-driven businesses with a robust means of streamlining their appointment booking operations.
Businesses than can profit from implementing Trafft include beauty parlors and salons, gyms and fitness centers, training centers, medical centers, and consulting firms and organizations.
Trafft can manage unlimited appointments
The system also manages employee assignments and schedules and tracks KPIs, all from a single administrative dashboard and for single or multiple locations
Group appointment bookings are easily and efficiently handled as well (an events booking feature is in the pipeline)
Any business can customize booking pages to fit its brand
Free, Basic, Pro and Expert Plans are offered; free trials of the latter 3 plans are available as well.
Payments can be made online via PayPal or Stripe
Other features include SMS messaging, and store and forward email protocol
Communications and virtual meetings and can be conducted via Zoom integration
Click on the banner to learn more about Trafft and take advantage of the Cyber Monday 30% discount.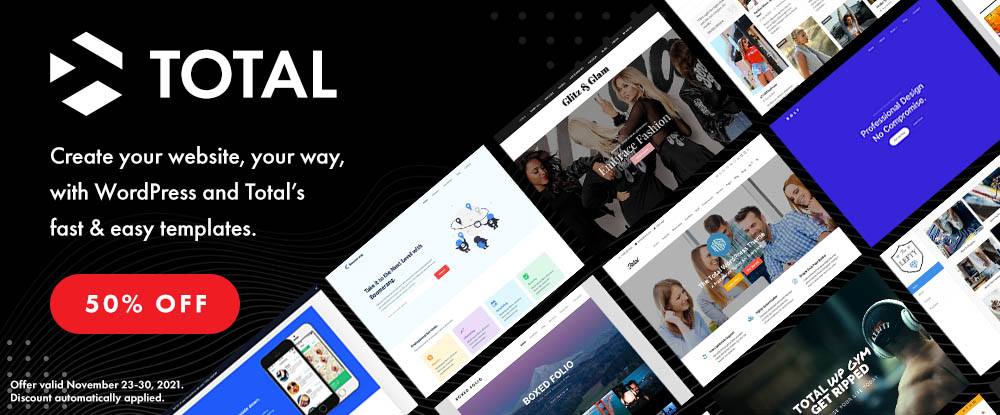 Total allows you to create your website, your way. Unlike some other premium themes, Total's users are able to avoid design restrictions and limitations through the use of section templates, styling options, and other flexible page-building features.
Total makes web design an easy, straightforward task for both beginners and advanced web designers
In addition to the NEW selection of 90+ section templates Total features 45+ quick-input sample demos and 75+ pre-styled post entry cards for designers to work with
Total is compatible with WooCommerce and most popular WordPress plugins like Yoast, bbPress, the Events Calendar and more
Popular website creating and customizing features include Total's frontend drag and drop page builder, a built-in font manager, and more than 500 customizer settings
Total is developer friendly thanks to its selections of snippets, addons, and built-in hooks and filters
Click on the banner to learn more. (Discount automatically applied. Offer valid November 23,2021 at 5am UTC through December 1, 2021 12:59pm UTC.)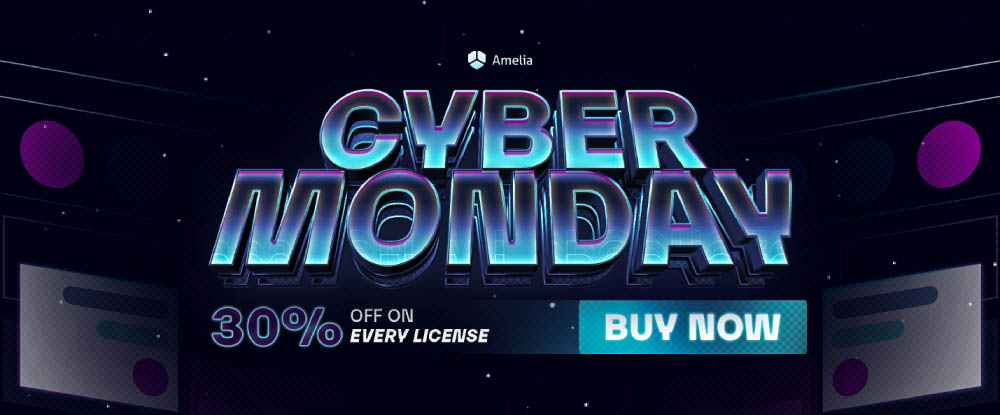 The Amelia booking plugin can save a business time and money and reduce stress and frustration for all parties concerned by replacing a slow, mistake-prone manual system with a streamlined automated booking system.
Amelia –
Can manage an unlimited number of customer booking appointments
Booking appointments and employee assignments and work schedules can be managed at multiple locations from a single platform and from a single dashboard
Allows customers to make, change, or cancel appointments online 24/7, receive reminders of appointment times, and make payments online
Allows businesses to fully customize their user-friendly booking forms to match their brands
Both yearly and lifetime subscriptions are available as is world-class support to address any problems or concerns.
Click on the banner to learn more about Amelia and its Cyber Monday special.Click on the banner to learn more about Amelia and its Cyber Monday special.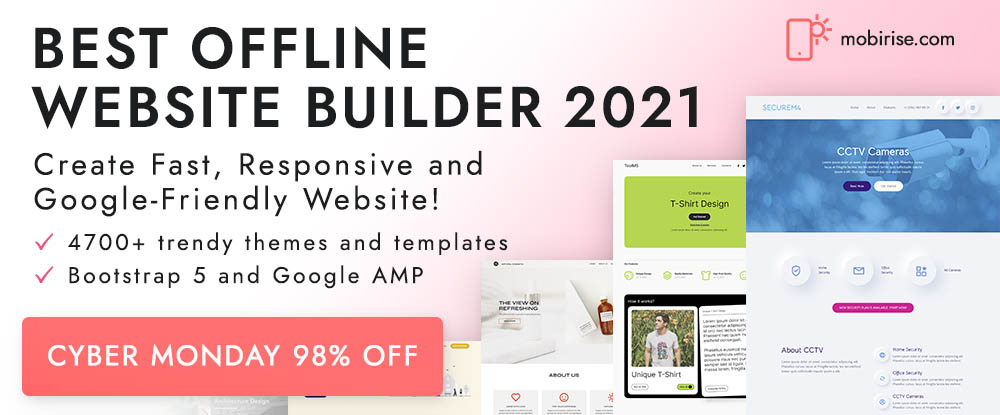 This easy to use, drag and drop only, offline website builder doesn't tie you to any platform, it gives you total control over your design, and you can host your site anywhere.
Since Mobirise is based on Bootstrap 5 or Google Amp your website will be super fast.
Features include eCommerce functionality, 4700+ website templates and blocks, and tons of icons, Google fonts, and free images.
1.5+ million Mobirise-created sites are up and running.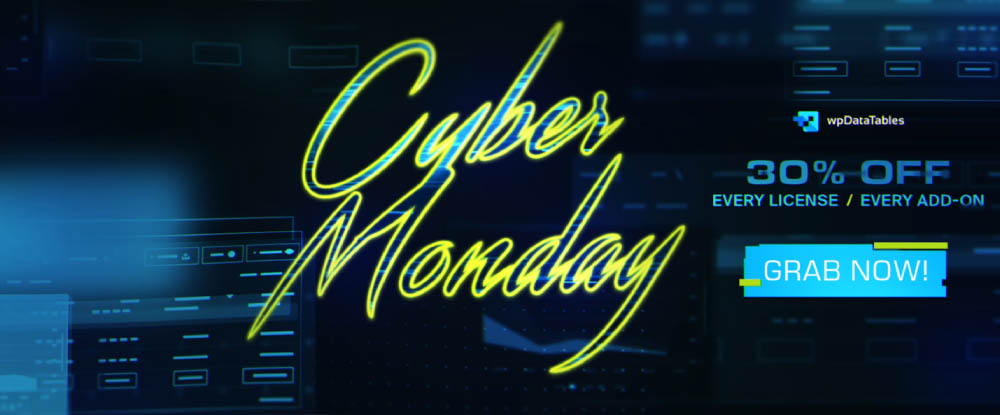 wpDataTables is by far the most popular WordPress table and chart-building plugin on the market.
It quickly processes thousands of rows of data from various sources and in various formats to create responsive, interactive, and maintainable tables and charts.
You can create highly informative tables and charts using sorting, filtering, and conditional formatting to highlight or color code key information.
Click the banner to learn more about wpDataTables and the Cyber Monday special.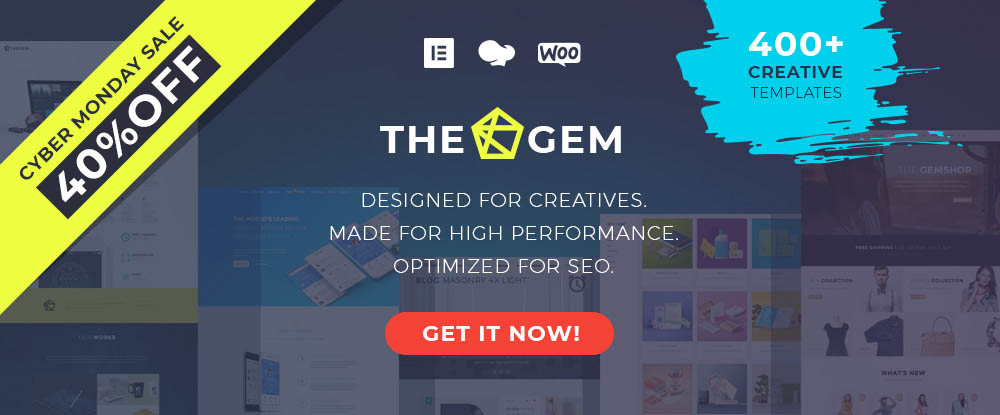 TheGem, the ultimate multipurpose WordPress toolbox, includes all the features and functions needed to create high performance, award-winning websites.
These include –
400+ attractive pre-built websites and templates for every purpose
The popular Elementor and WPBakery frontend page builders for ease in editing & customizing
A rich collection of WooCommerce templates & features for building a high quality online shop
TheGem Blocks with its 300+ premium section templates to speed up your workflow
Excellent webpage perfromance results thanks to one-click optimization feature, including popular WP Rocket plugin
Click on the banner and TheGem can be yours at a 40% Cyber Monday discount.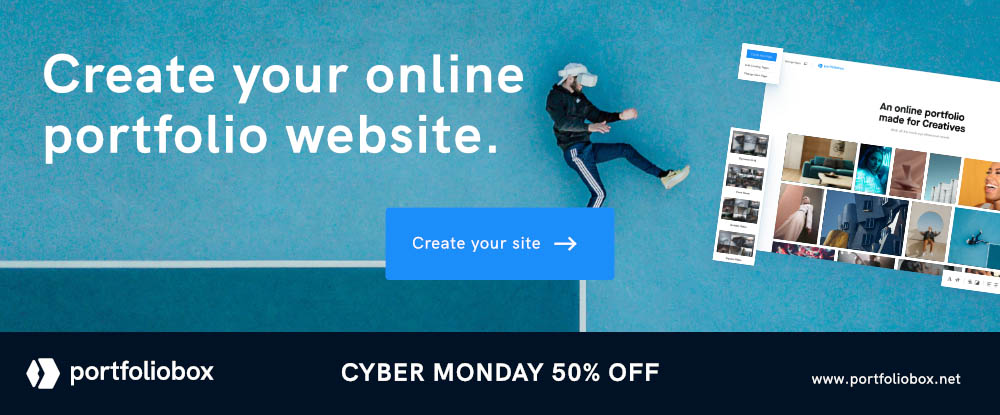 Since an online portfolio could be the key to your business's success, it makes sense to get the best portfolio website builder possible.
And that would be Portfolio box, with its –
Mix and match templates that provide the flexibility needed to achieve the look you want
Built-in eCommerce and Lightroom integration
Private client galleries and other security features
The price is right if you take advantage of Cyber Monday, and you can expect excellent support.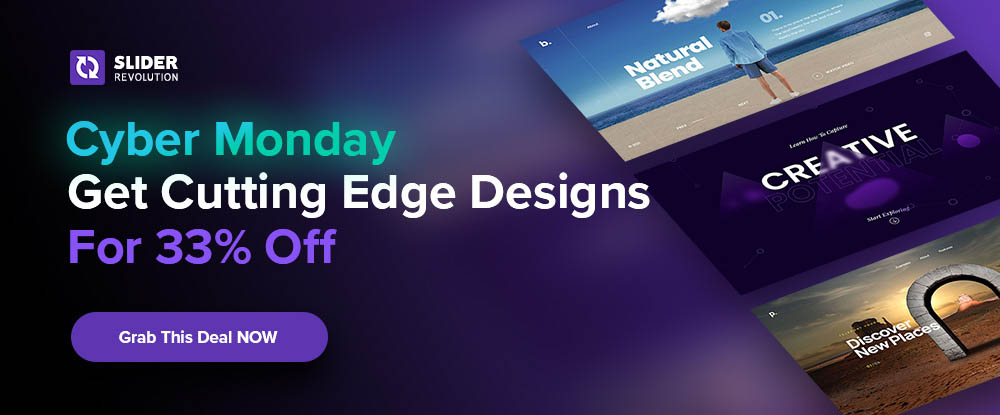 Grab Slider Revolution for 33% off as your Cyber Monday prize and guess what you'll get for your investment.
An opportunity to take any website to the next level and WOW your clients by incorporating Slider Revolution's advanced animations and special effects
Access to more than 200 state-of-the-art templates and 25+ addons
Ready access to Slider Revolution's highly acclaimed customer support
Don't miss out on this one!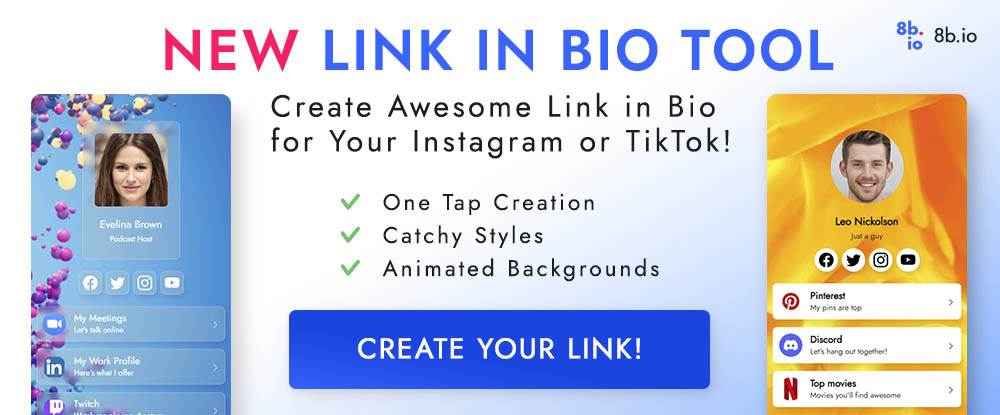 With this amazing and useful tool, you can easily create a link to add to your Instagram or TikTok profile
Once you've created the link in 8bio, enter your social media username and your link will be incorporated into your social media profile.
Your link can be accompanied by a catchy animated background
You can add a tip jar, a shopping card, a contact us section, and more.
Mention code CM8BIO for your 50% discount.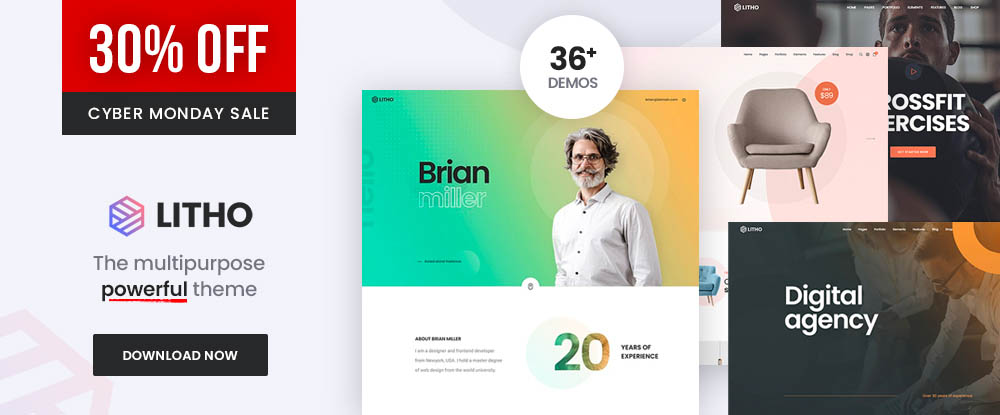 Litho, with its unique selection of home pages, template blocks, Bootstrap 5 features, and Elementor compatibility makes it an ideal choice for creating small business, agency, and startup websites.
Litho's features include –
One-click demo import
The premium Slider Revolution plugin
Superior flexibility, loading speeds, and SEO results
Online detailed documentation and superior customer support
Litho is also an ideal choice for blog, portfolio, and eCommerce website building.
Cyber Monday is one of the biggest, if not the biggest online retail holiday of the year. To prepare for this special day we've worked hard to get a jump start on our awesome Cyber Monday specials coverage.
Cyber Monday deals often offer the lowest prices of the year, and we expect the same will hold true for 2021's deals and discounts.
We hope and trust that you will find one or more items in the above selection that will make your day!