Black Friday, and in most cases, Saturday and Sunday as well, is once again upon us. As usual, there are a host of deals in the WordPress space that you don't want to let slip by. Refusing to spend time standing in line or fighting crowds of people isn't an excuse. You don't have to do either anyhow.
Web designers and developers can check out these great offers at home or on their laptops.
Our love of offering freebies and discounts is no secret. Putting this list together has given us as much enjoyment as you can expect to get while perusing it.
Go down the list and you'll quickly discover why it would be a shame to put your shopping off. You don't have to wait until the next Black Friday rolls around.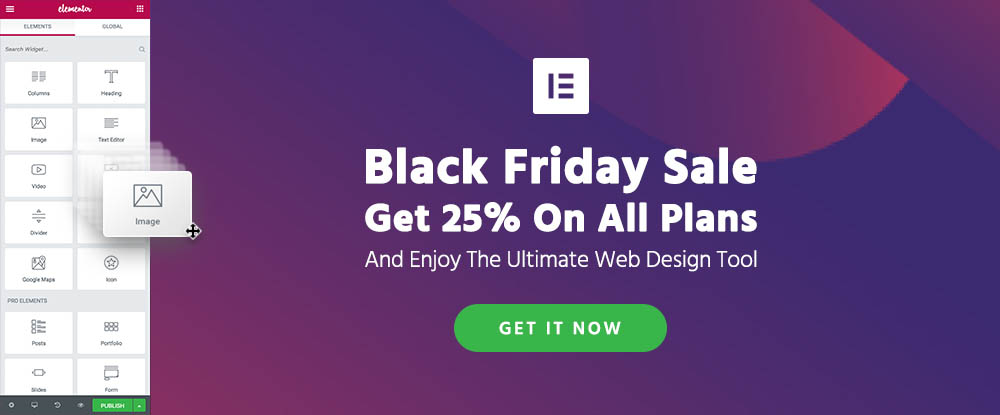 Elementor is a good starting point. This free open source page builder enables you to create websites precisely the way you want to without coding. The Elementor team designed a theme builder that solved a long-standing web designer's problem; that of "getting stuck" in a theme to the point where you could never quite get down to the level of detail you wanted in your quest to build the website of your dreams.
Elementor uses a building block approach in combination with futuristic content, header, and footer customizing features. You can build whatever you want, and since Elementor will give you crazy-fast performance you can do so in less time than you thought possible.
Elementor offers live, frontend editing, it works with any theme or template, and it is incredibly developer friendly. There's a free plan, but Black Friday is as good a time as any to invest in one of the paid plans which can be yours at a 25% discount.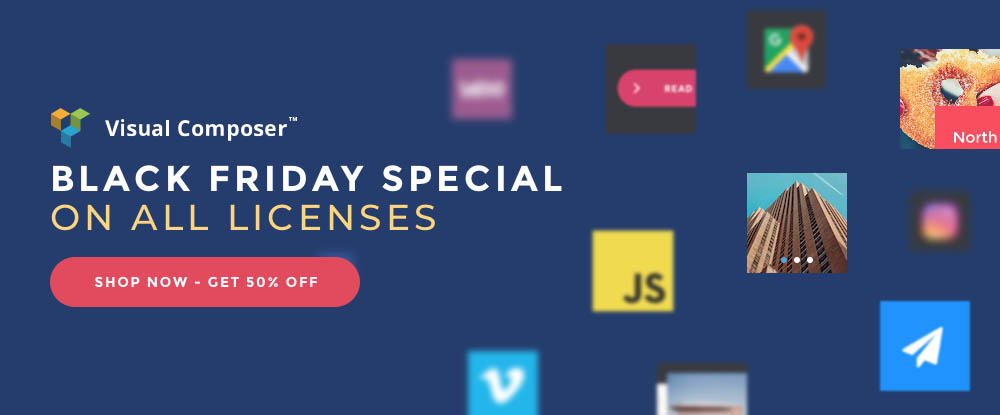 You've probably heard of the popular Visual Composer page builder plugin and may have used it with another theme. Black Friday gives you the opportunity to boost your website-building capabilities to a new level by investing in the Visual Composer Website Builder.
You'll receive 50% off on all licenses, which when you consider everything you'll be able to accomplish, especially when you have access to the Visual Composer Hub's many offerings – is indeed a good deal.
Visual Composer is definitely a web designer's top pick and it's a dream for developers to work with too. The VC API gives you the tools to build advanced projects for demanding customers you once thought to be out of reach.
Design-skill challenged? Lacking in experience? No problem. Visual Composer makes customizing anything you want with its easy-to-use design options a snap thanks to its powerful content, sidebar, and header and footer editors.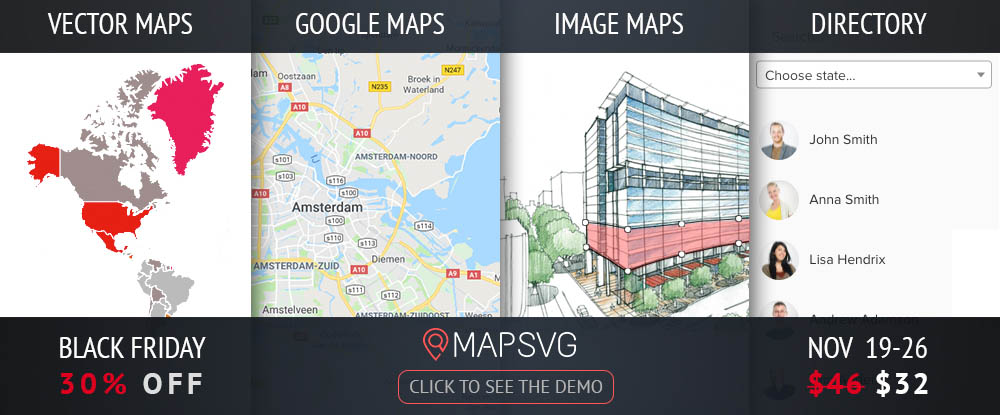 The MAPSVG WordPress map plugin allows you to add a variety of useful and informative mapping features to your websites and have fun doing so. You'll enjoy discovering all the features and functions this plugin offers as well as planning how you can start putting them to use.
You can for example turn any vector or PNG/JPG image into an interactive map with a range of user options.
MAPSVG lets you display popups, create HTML content, visualize map regions in various shades of color, and allow regions of maps to serve as links. With this plugin in your toolkit you can also add markers to your maps and create region-based directory links. Map styles include roadmap, satellite, and terrain as well as hybrid.
Since even a boring map serves a useful purpose, just imagine what the MAPSVG plugin can do for your future website creations.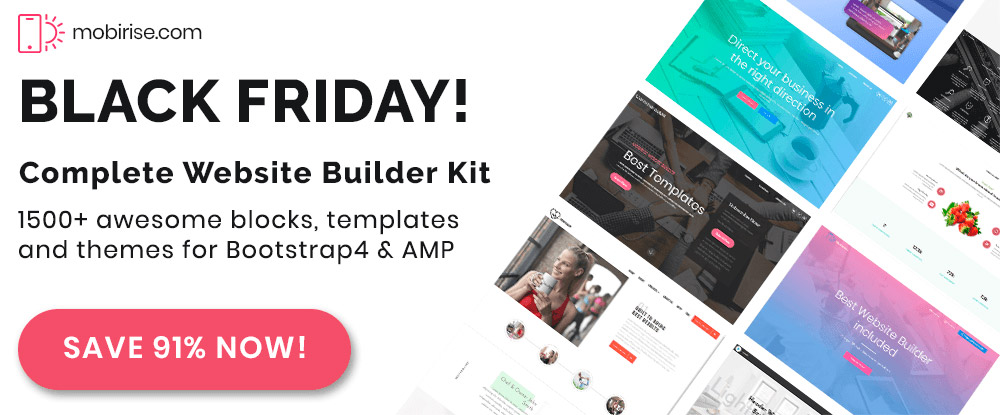 Celebrate Black Friday by saving huge on the Mobirise website-building machine. Mobirise is an offline builder so you're not tied to a specific host or platform. You have more than 1,500 trendy website templates and blocks to work with along with a host of Google fonts, icons, and free images.
Don't hesitate to act. The Black Friday 91% discount expires November 25th.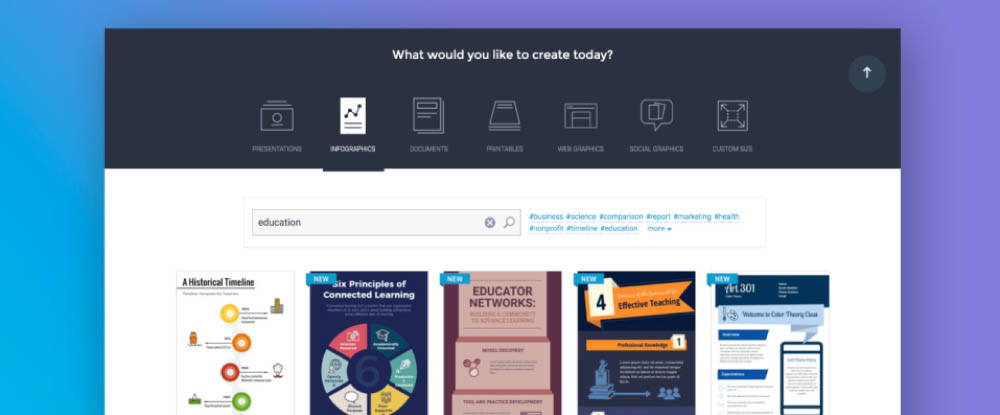 Visme is the only design tool you're ever likely to need to prepare presentations, tell your stories, and take otherwise boring data and translate them into stunning visuals.
With this ultimate all-in-one visual communication tool you can create stunning infographics, reports, charts and interactive presentations in minutes, from Black Friday on. Use their discount code THANKS19 at checkout to save 30% off any Visme Monthly or Annual Plans, except for Education plan.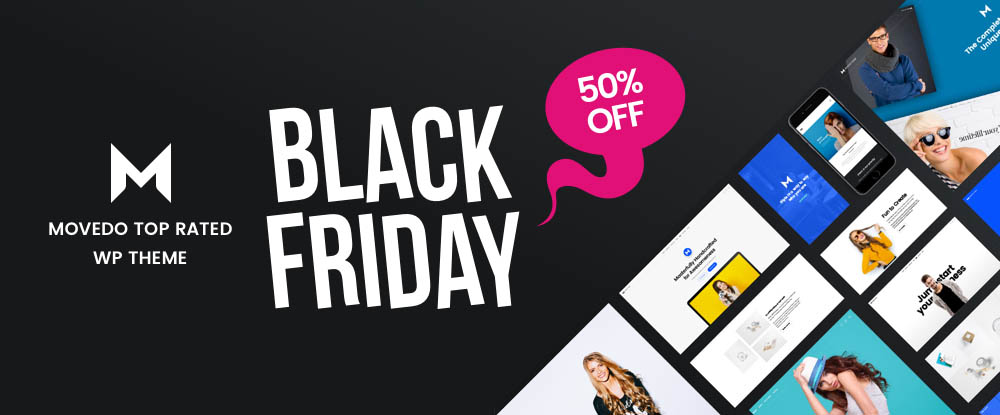 This Black Friday gem justifies its name by introducing motion dynamics in columns. It sets in motion a host of new features including ultra-dynamics parallax and moldable and manipulative typography and header elements.
MOVEDO adjusts to your creative instincts. Move your mouse and the world moves with you. All this is yours at a 50% discount on Black Friday.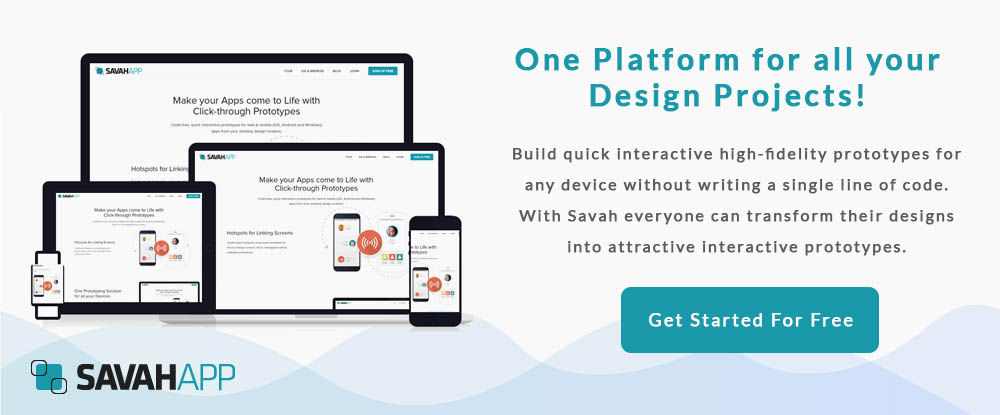 SavahApp consists of an impressive set of prototyping tools that are easy to learn and easy to work with. It's also a super Black Friday for small teams and freelancers. Savah offers a free forever 3-project plan and 3 paid plans of which the Team and Company plans can be yours this Black Friday at a 50% discount. You can keep track of all your design projects at one place including version history and feedback from stakeholders and client.
Conclusion
We think you'll agree that there are some outstanding Black Friday choices here. This includes premier multipurpose themes and an incredible mapping tool. There is also a set of prototyping tools to speed up your mobile app design workflows.
You'll find more than a few discounted items you really don't want to let slip by. Grab a cup of coffee and take a closer look at what one or more of these products could do for you.
Happy hunting!